About This File
4 – to – 13
SimCity 4 to SimCity 2013 Plugin Converter
Release 0.42 beta

On behalf of the newly formed Modd Squad '13 Team, I'm proud to present to you publically for the first time, our latest release, the SimCity 4 to SimCity 2013 Plugin Converter.
From this morning's news post:
 
In a breakthrough development, a group of SimCity modders have developed a means of importing any model originally created for SimCity 4 directly into SimCity 2013, removing the previously thought requirement of access to the original 3D files. This process can be carried out by the end user on their own PC's via the use of an automated tool, which has been released today at Simtropolis.com.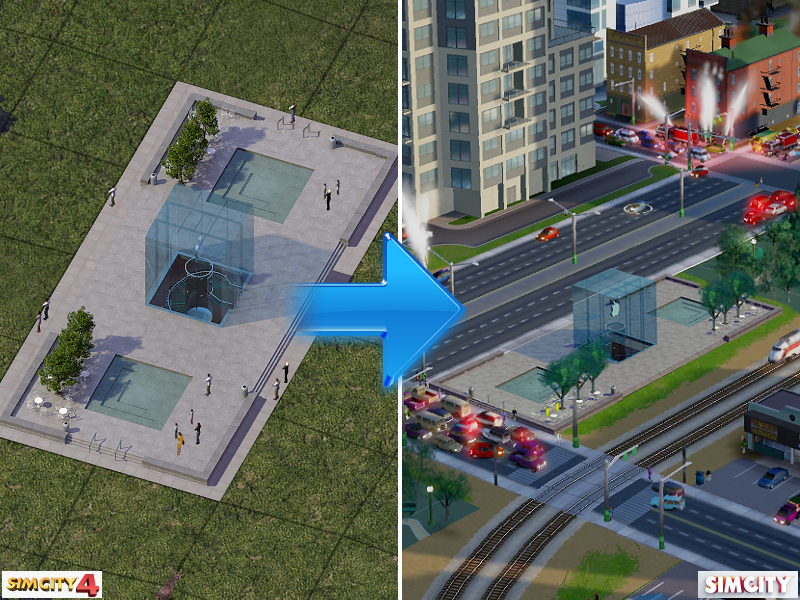 First a little background.

Our team was formed and our efforts commenced after RippleTurbine, a prominent member both here and at SC4inmotion.com, made an interesting discovery late last year. He found that FSH files along with the LOD data contained within a standard SC4Model file could be extrapolated in such a way that allowed for the generation of a low-detail yet fully 3-dimensional version of the model. However, as was expected, the FSH files only aligned to form a coherent image at a specific angle (the isometric viewing angle of SimCity 4) and that at all other possible angles, the model would appear to have become distorted in some way.

However, this was not the end of the road as many predicted it would be! It was soon discovered that with the help of a modified version of the BlueFish 3D scanning script (a script created some years ago by the BlueFish R&D group in an attempt to convert static PNG images to 3D geometry on the fly), a mostly accurate representation of the original model could be generated simply through scanning the low-detail model at the point where the FSH files align correctly. Two scanning passes, from the North and South views, were all that was required to completely rebuild the model, including materials, into a highly-detailed three dimensional format. From here, all that was required was to export the 3D data into OJB format (the model format used in SimCity 2013), bake in the textures and import into the game via the use of Ohpee's geometry import hack.

After many months of continuing development, we are now at the point where we are confident that a public release is possible (we were working on this even before the game was out!). Please keep in mind though, this is still beta software! We have yet to iron out all the bugs, and some features (such as the ability to convert night lighting) are still under development.

Known issues:
- Imported models are only available on the PC on which they have been installed. Loading a city with custom models on a different PC (where they have not been installed) can lead to game instability.
- Models greater than 1024m in any direction will cause a bugged model to be generated and the import to fail. We are trying hard to find a way to remove this limitation.
- OJB export crashes when running Mozilla Firefox at the same time. We are looking into this, possibly a co-scripting bug…
Installation:
- Simply run the standalone exe file, there is no need to install.
- Once at the main screen, select your SC4Model file, as well as your SimCity 2013 program files directory.
- Now press convert. A series of dialogue boxes will automatically appear and you will be able to see the conversion taking place. Once the 'Importation Successful!' dialogue box appears, close the program and open SimCity 2013.
- Your imported model will be available in game as a landmark.
As of yet, we have not implemented the night-light conversion option into the public release (this feature is currently only available in the private beta – see below for more information). This feature is still under development and will appear in future public releases. We are also working on a way to import SimCity 4 lot properties along with models, but this will also take a while to develop.

Compatibility:
The tool has been tested and is confirmed working with Windows XP, Vista, 7 and 8. A Mac OS X port is currently in development which we expect to be available within a few weeks.
***IMPORTANT*** To run this application, please make sure your system has the Microsoft .NET Framework 3.5 installed and enabled. Most windows users should have this package installed.

Legal issues:
Respect the rights of the original creators! You may import any SC4 plugin you wish to SimCity 2013 for your sole use at your own PC. You MAY NOT re-upload any form of converted model, however, as these models still remain the sole property of their original creators.
Problems?
Please visit our official support and development thread for technical assistance, to file a bug report, or for information on applying to join the private development beta.

Credits:
MS'13 development team:
Raz0r, Ohpee, MandelSoft, Ganaram Inukshuk, RippleTurbine, NX40, Polygon, z12, Tarkuz
Testing:
CaptCity, Hamish, 111222333444, Cockatoo, SimFixIt, ROFLyoshi, Jasoncw.
Thanks for using our tools! We hope you have a wonderful day.