About This File
SPAM abcvs Growable AddOn Pack
Lotting by craig-abcvs

This pack of growable lots is designed as an addon to the Core SPAM Mod. The lots all have SPAM textures and props and are fully SPAMpatible.

The pack contains 53 individual lots.

List of lots:
Prop only lots;
SPAM abcvs 1x1 (10 Lots)
SPAM abcvs 2x1 (10 Lots)

* The 1x1 lots have a max of 10 workers.
* The 2x1 lots have a max of 20 workers.
* These assorted 1x1 and 2x1 lots have a blank building, so query with a generic yellow screen.
* They will only grow default fields, standard dirt, pasture, lettuce or orange/apple orchards.
* The fields will not query.

SPAM lots:
Dairy 3x3 Assorted I-R2 (6 Lots)
Farm House 2x2 Assorted I-R1 (6 Lots)
Greenhouse 1x1 Assorted I-R1 (9 Lots)
Green House 1x2 Assorted I-R1 (3 lots)
Greenhouse 2x1 Assorted I-R1 (3 lots)
Greenhouse 2x2 Assorted I-R1 (3 lots)
Home Grain 4x4 Assorted IR-2 (3 lots)

* These lots use a SPAM building from the core mod.
* They will query with the SPAM screen, have SPAM modding, will grow all custom SPAM crops.

Dependencies:
SimPeg Agricultural Mod (SPAM)

MTP Super Resource Pack

Installation:
Unzip files to Documents/SimCity/Plugins/PEGPROD/SPAM/SPAM_Addon/SPAM_abcvs/Growable

Un-Installation:
Delete all SPAM_abcvs files from plugin folder.

Acknowledgements:
Pegasus, the original creator of SPAM... the Pegprod Team, and the great team of PCG testers.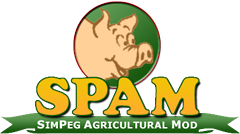 Additional Screenshots: