About This File
One thing we have never had in any version of SimCity are the power Substations that are an intregal part of any power grid. But now we do!
The power we use may be produced at a power plant possibly 100s of miles away.. or it may come from "The Grid" consisting of numerous distributed power plants all supplying power to a single, connected network of power. But between your house and the source, is at least one if not several power sub-stations which control and convert voltage and current... and also serve as switching & relay stations  (transmission & distribution) to local areas.

This package contains 2 Substations. One is a larger Transmission Substation (2x2 tiles) of the type you might find next to power plants, major power line junctions or as a Distribution Substation  servicing a large area. The other is a smaller Distribution Substation (1x1) that would normally service a smaller area or neighborhood. The larger substation provides jobs and requires road access. The small substation does not provide jobs and can be located remotely. It can also be plopped around the larger Substation to make it look like a much bigger facility.
* Both Substations display a small red blinking light when they are powered to help you visually confirm that the station is receiving power.
Our Substations are technically power plants in that they can be found in the game's Utility Power Menu and are part of the Power Budget. But they do not produce any power. Like the power transmission towers, they are a realistic component of a power grid. But otherwise, they do not provide any required functionality to the game.
The lots are cheap to plop and even cheaper to maintain. They are YIMBY/NIMBY neutral... so you can plop them anywhere without affecting wealth or desirability. They produces about the same air pollution and garbage as a typical single-family residence.
* The lots also have a custom query that displays vital information about all the power facilities in your city.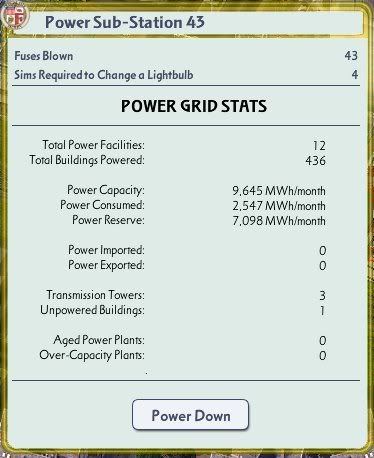 To be honest, I always hated using the game's "high tension" or power transmission towers... thinking that they were ugly and generally wasted space. But since testing these new Substations, I have had great fun setting up realistic power grids in my cities... running transmission towers to Substations and connecting all power plants  to "The Grid". 
* You can check out the Wikipedia Article on Electrical Substations to learn more about how substations work and how they can be used to add more realism to your cities.  
** These lots have no dependencies.
All Pegasus files are now legacy content and are no longer officially supported - however support from the wider community can be requested here.