Expect a lot of text for this update as I want to talk about plans and ideas for the future and what is currently happening for this map. Ignore it if you want.
I'm sorry it's been a while since the last entry. I have done a tonne of stuff in game since the last update, got a bit carried away and didn't post anything. But don't worry, here is the next update!
So, I only have one new building for the theme, despite the long time, but I'm probably going to have two new buildings for the next update as I'm getting used to making them and I'm learning from my past mistakes. I feel like I need to focus more on the theme and less on the city. I've only got 5 buildings for this theme, and I need way more before I can make a proper city out of them.
But here is the building. I had some scaling problems that took a few days to sort out. I should have made an update in the beginning of the month, but I kinda needed to work on the model a bit. Anyway, it's done.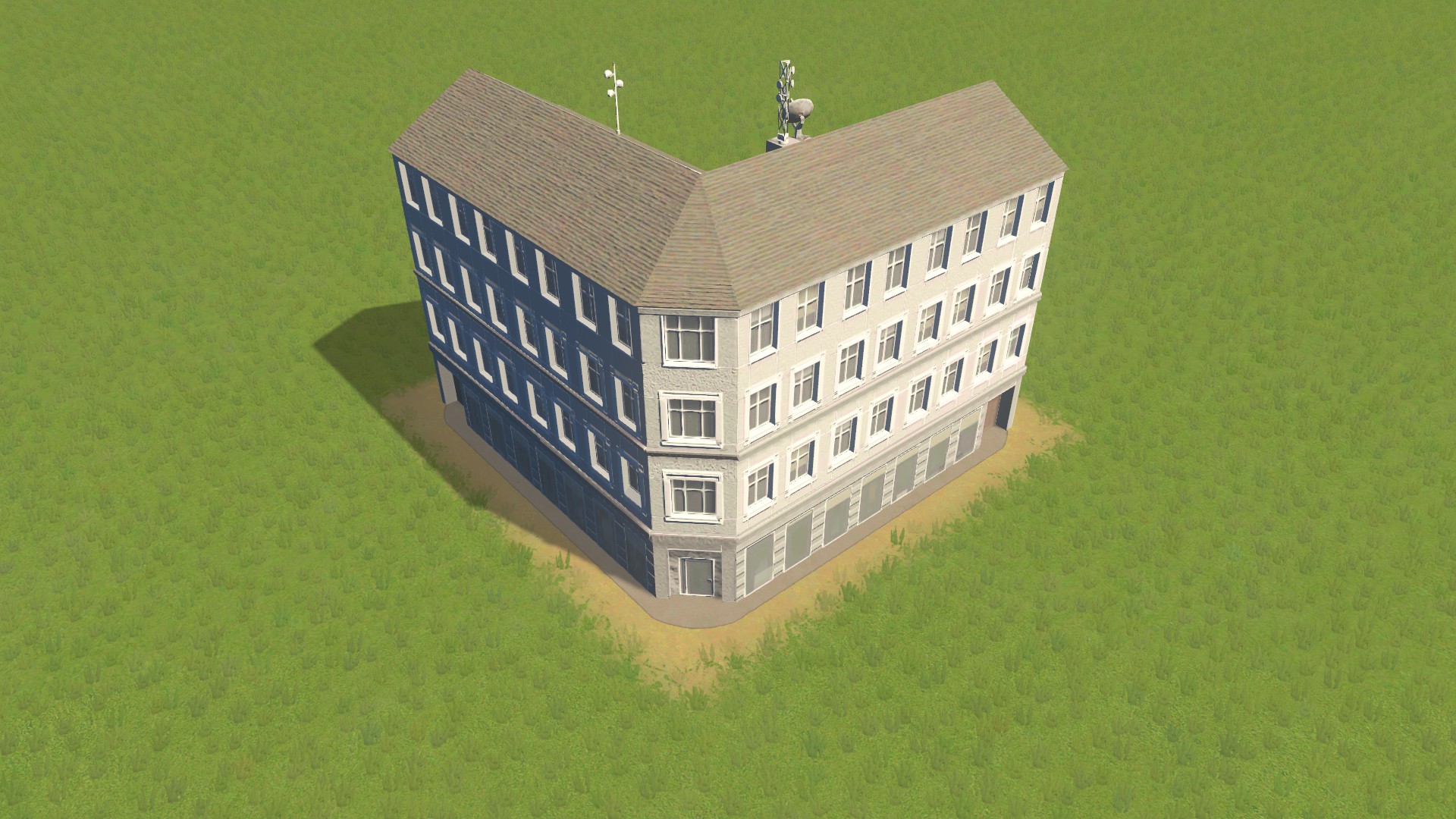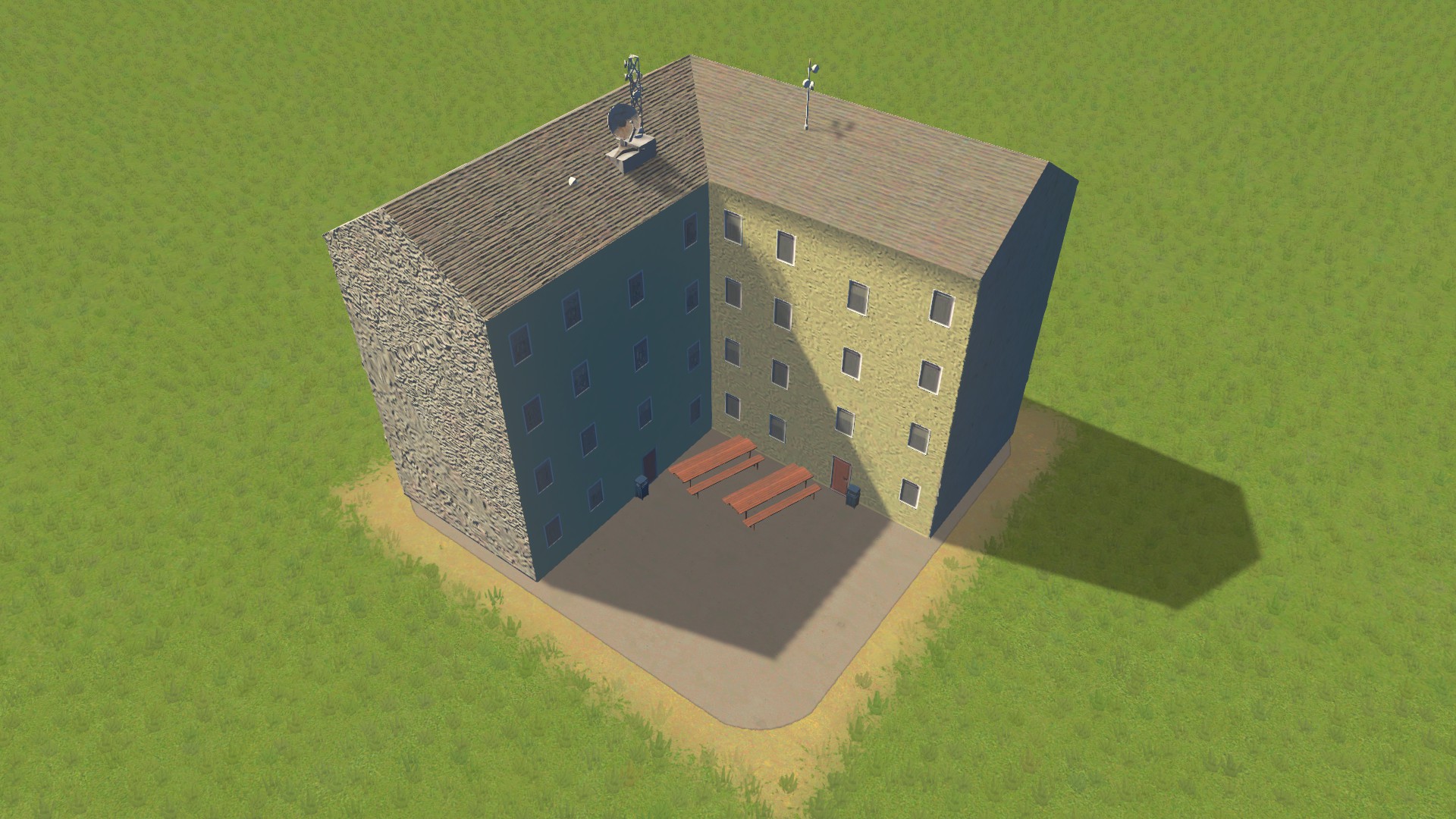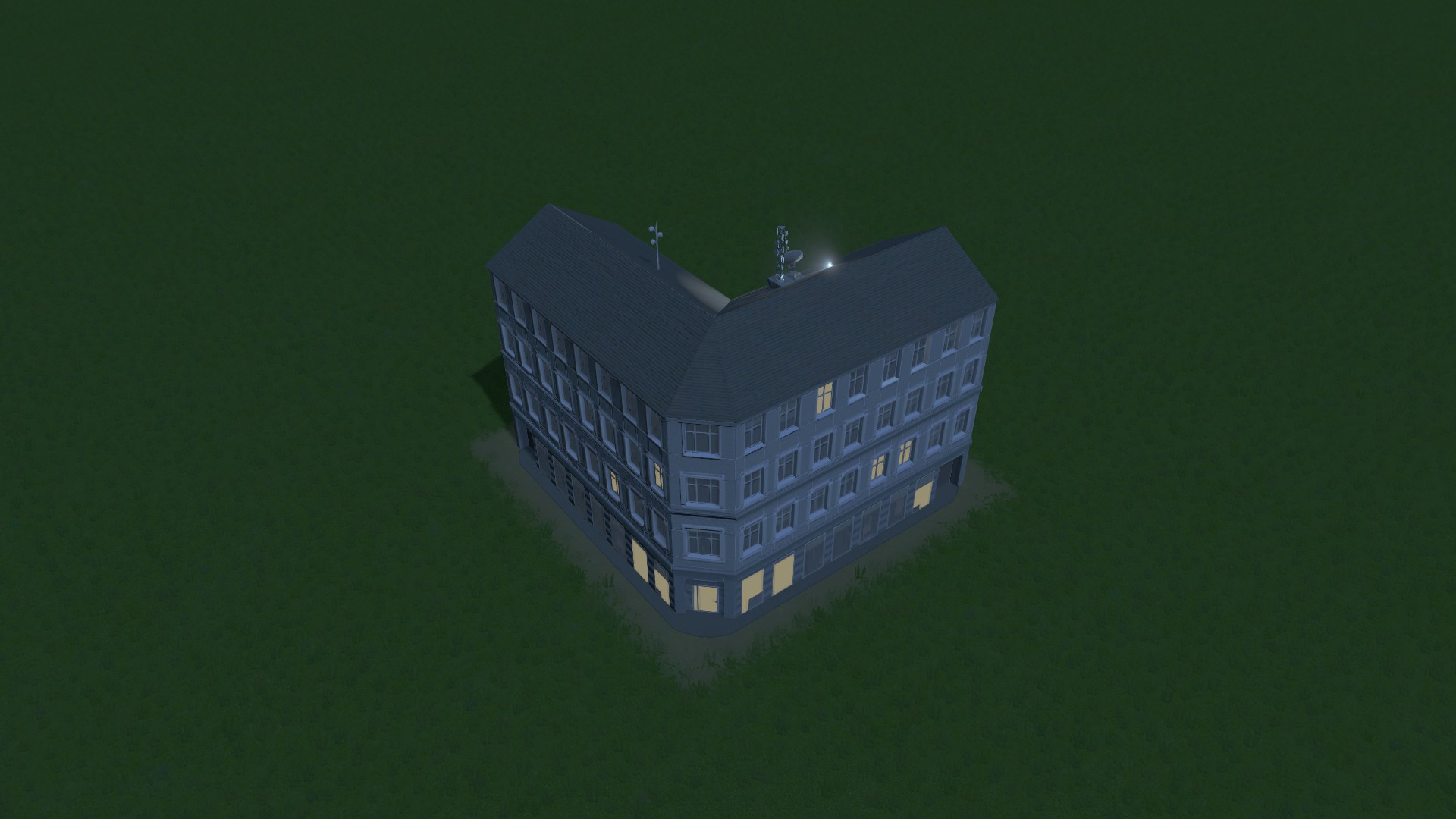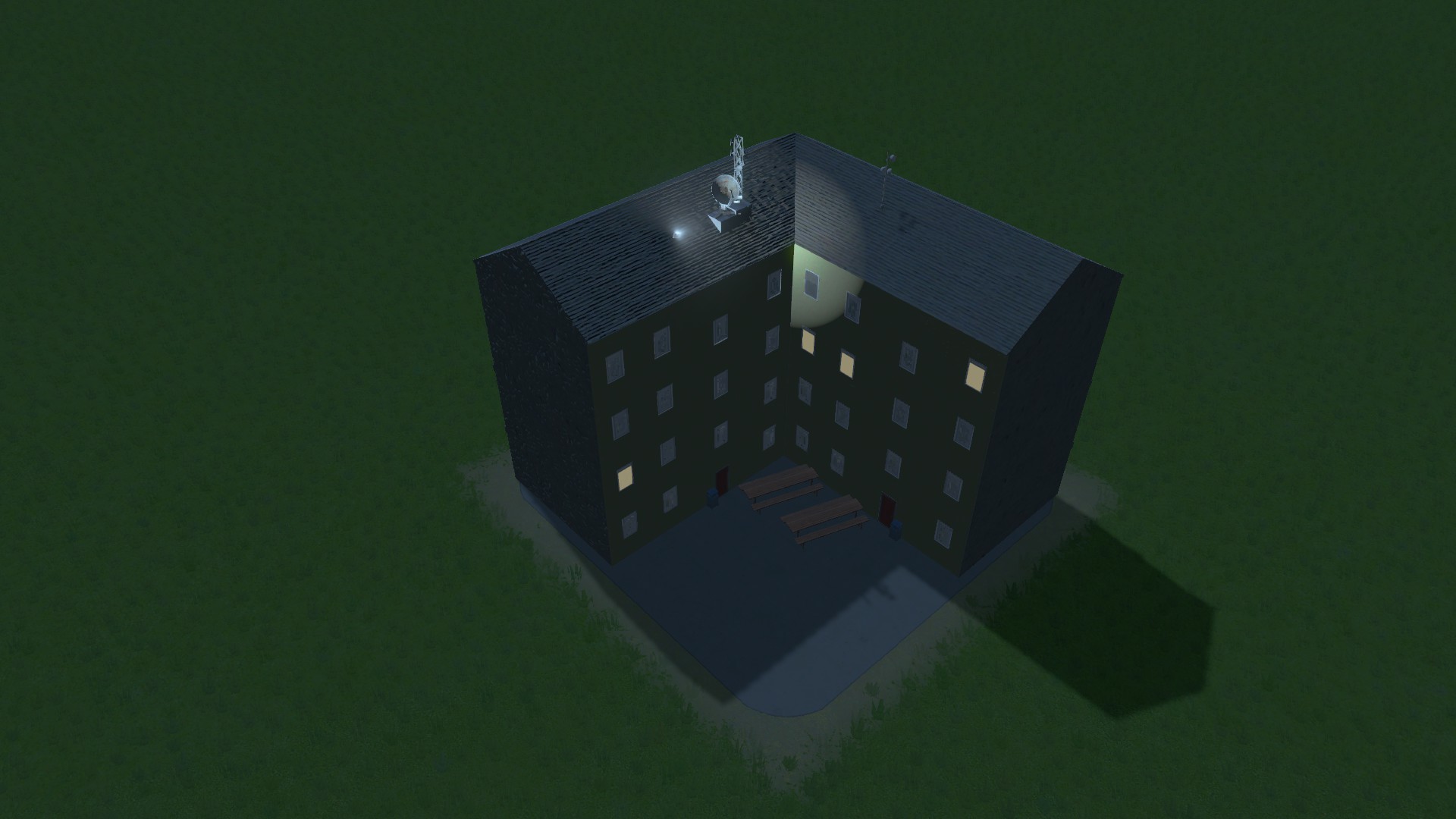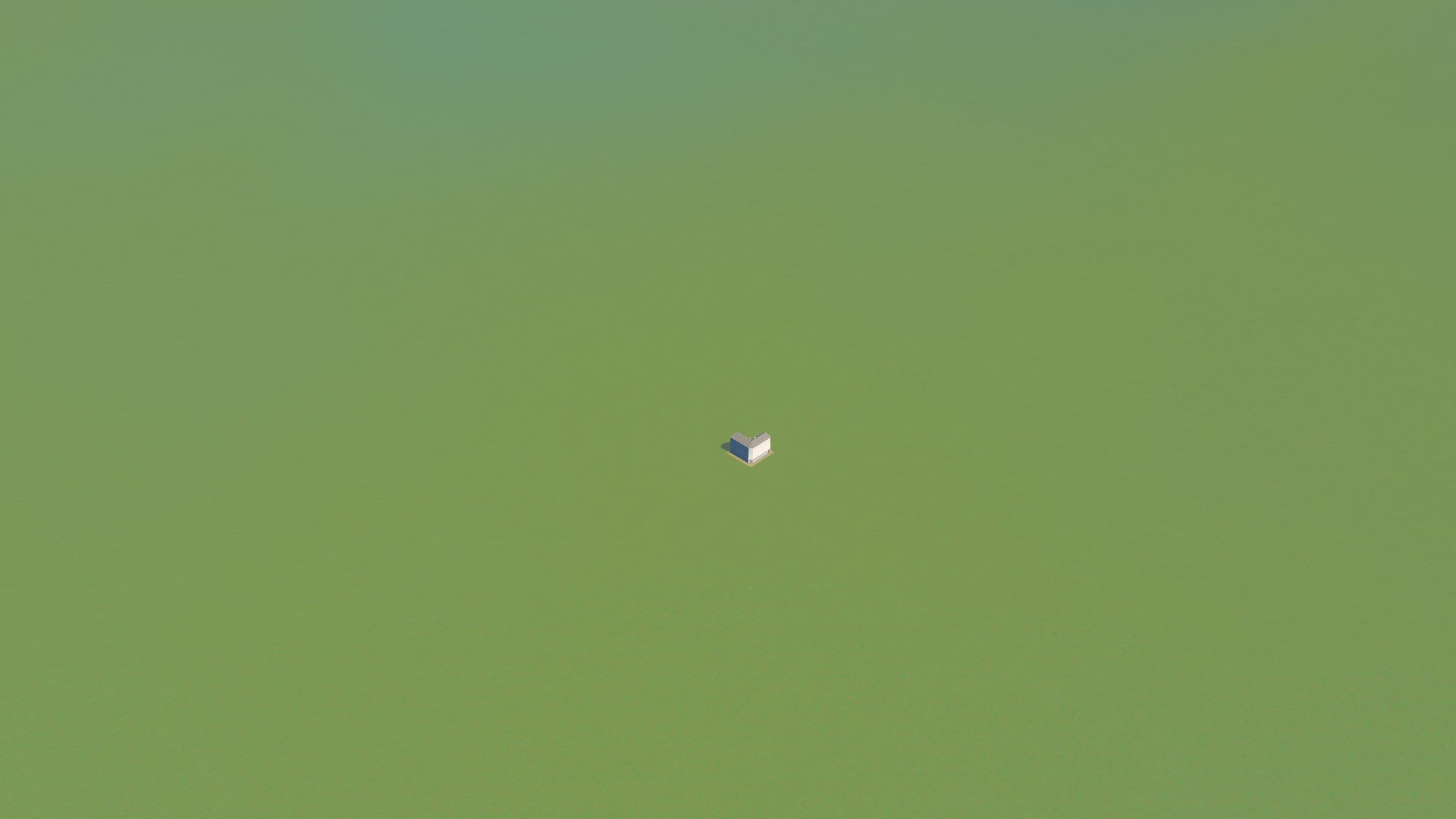 Just showing that the LOD has its own illumination map. And there we go. Sorry about my rambling, but I need some excuses, I mean, explanations for my absence. Anywayyyy.
So, remember that city I showed briefly last update? (I don't really know if it's actually a city or just a big town near the main city) Well, I've really progressed with it, and I've developed a sort of base for how my main city is going to be designed. This journal will be something new as it isn't going into the rural farming areas, but now into the more built up urban areas. Anyway, for comparison, here was Gabrielle before: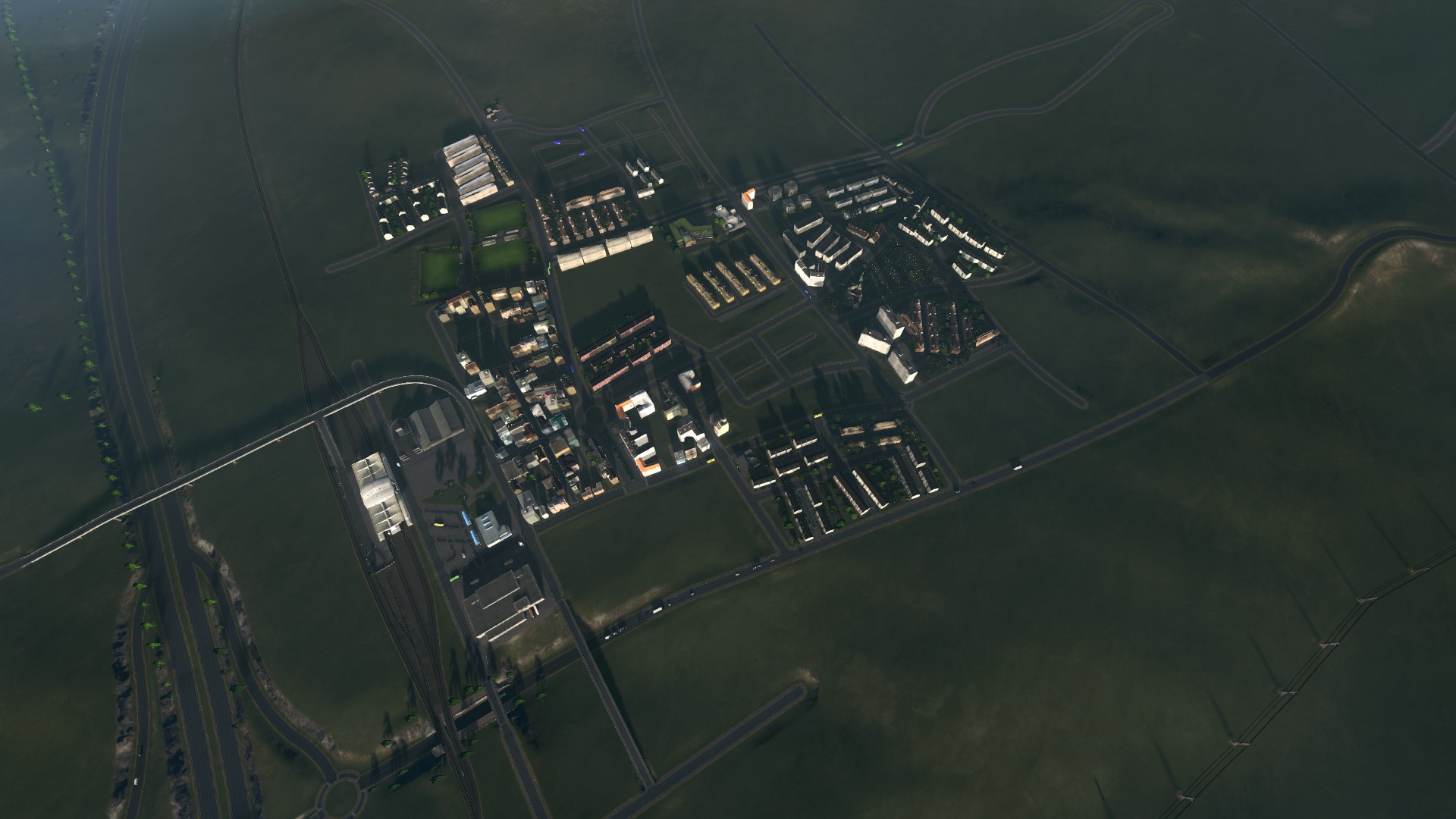 And here it is now:
Yeah. A lot has been added since I last posted it, so let's just get right into it...
We'll start off in the centre. I'm currently using the default European buildings, but I'll replace them with the theme I'm working on when I can.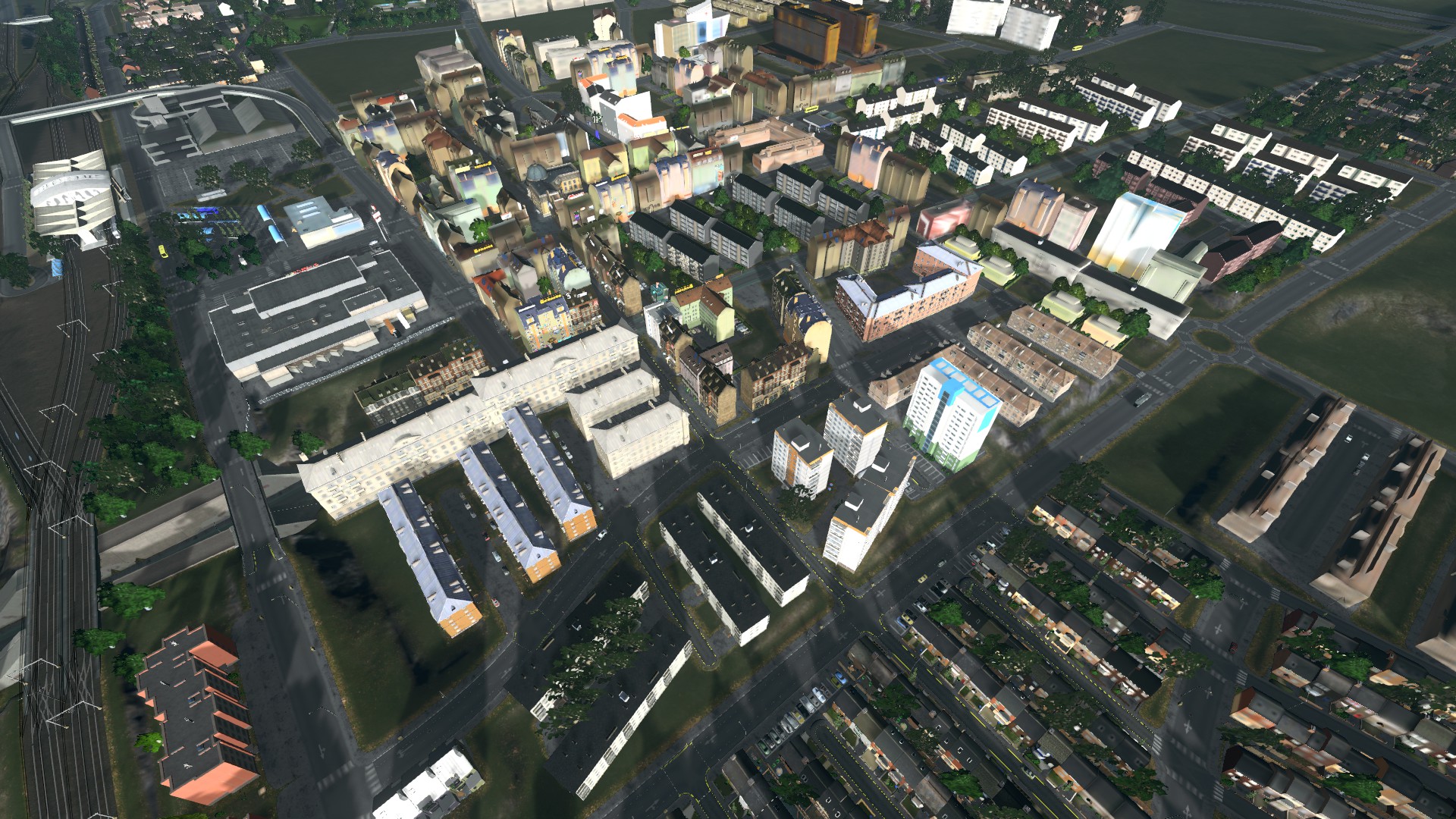 I feel like this terraced housing block is a bit too big. I might need to break it up a bit and shrink it down.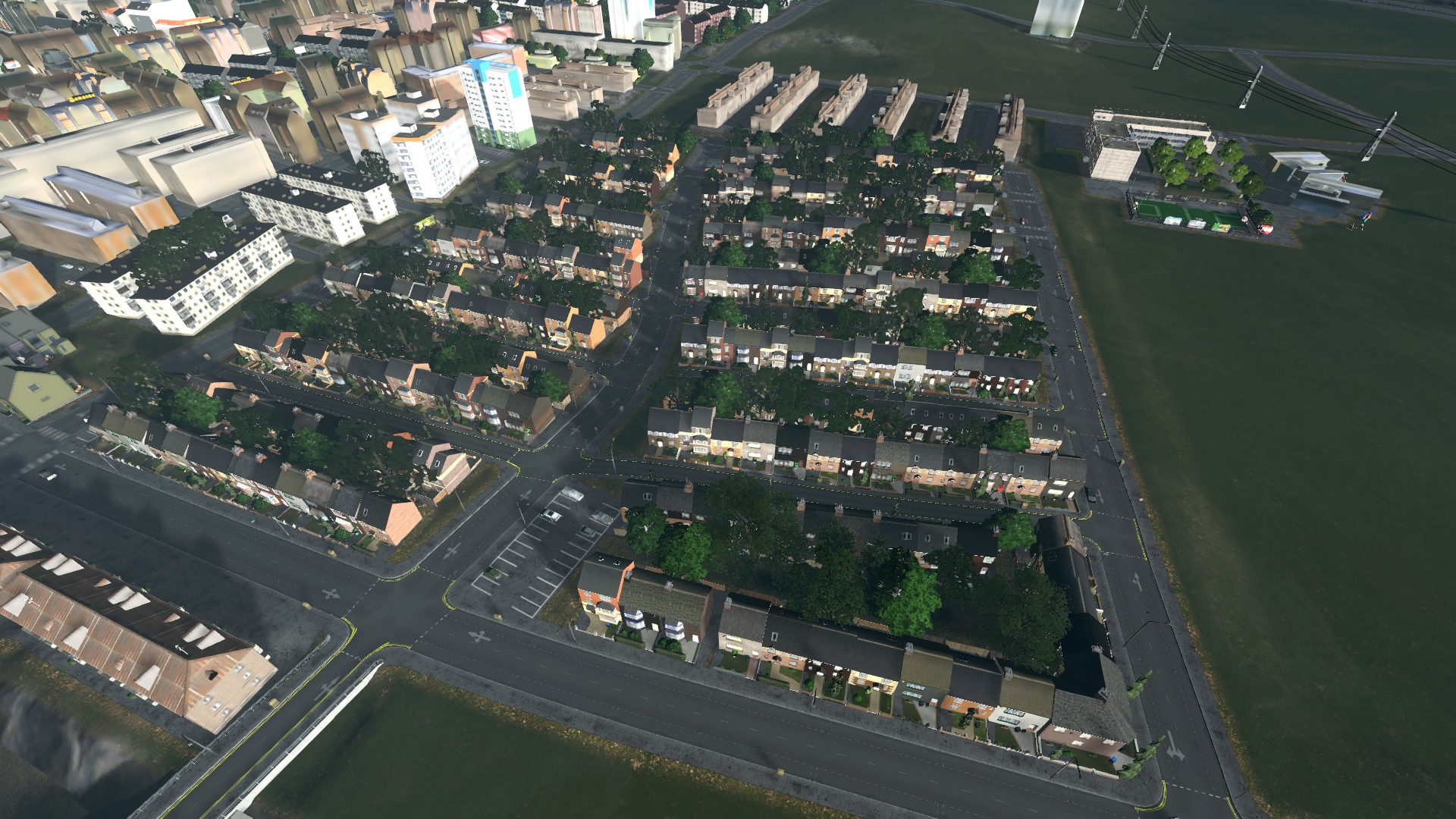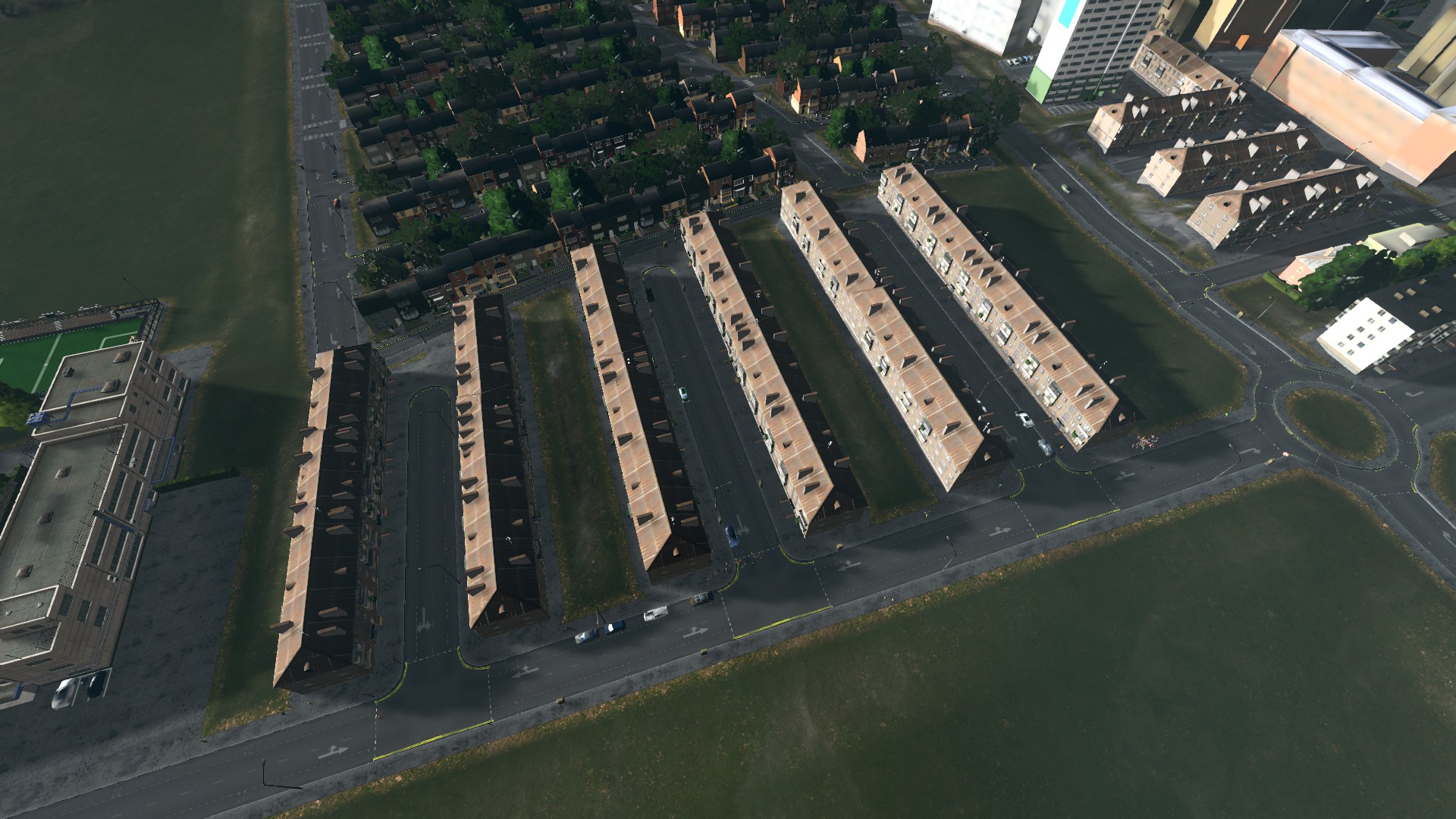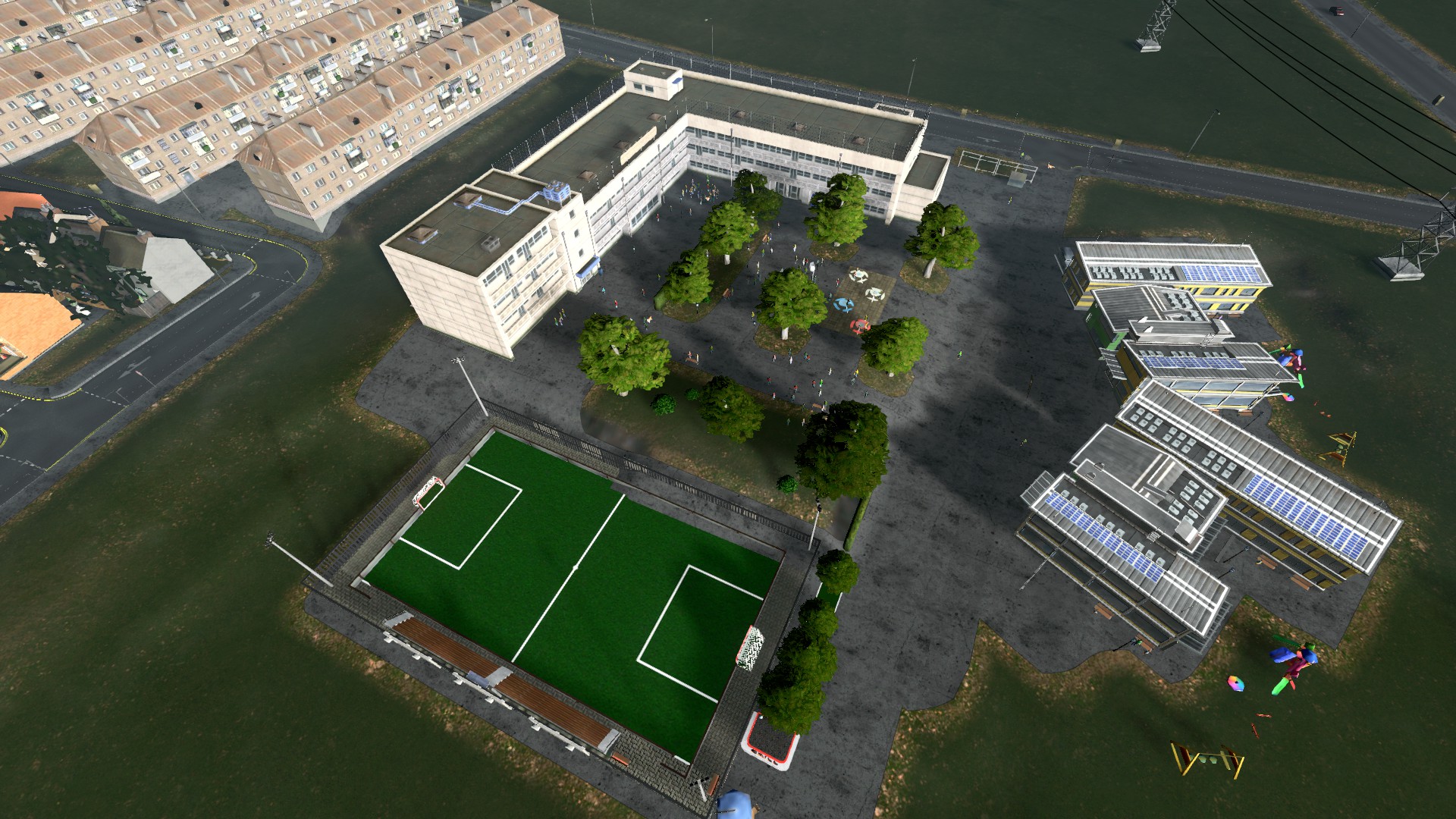 Just remember that nothing here is final. Some things will be different in the next update. Also note that I'm not covering the city in great detail in this update and just tour around the general area, as it isn't really finished yet. I'll be covering it bit by bit in the next updates as I detail and finalise different areas more.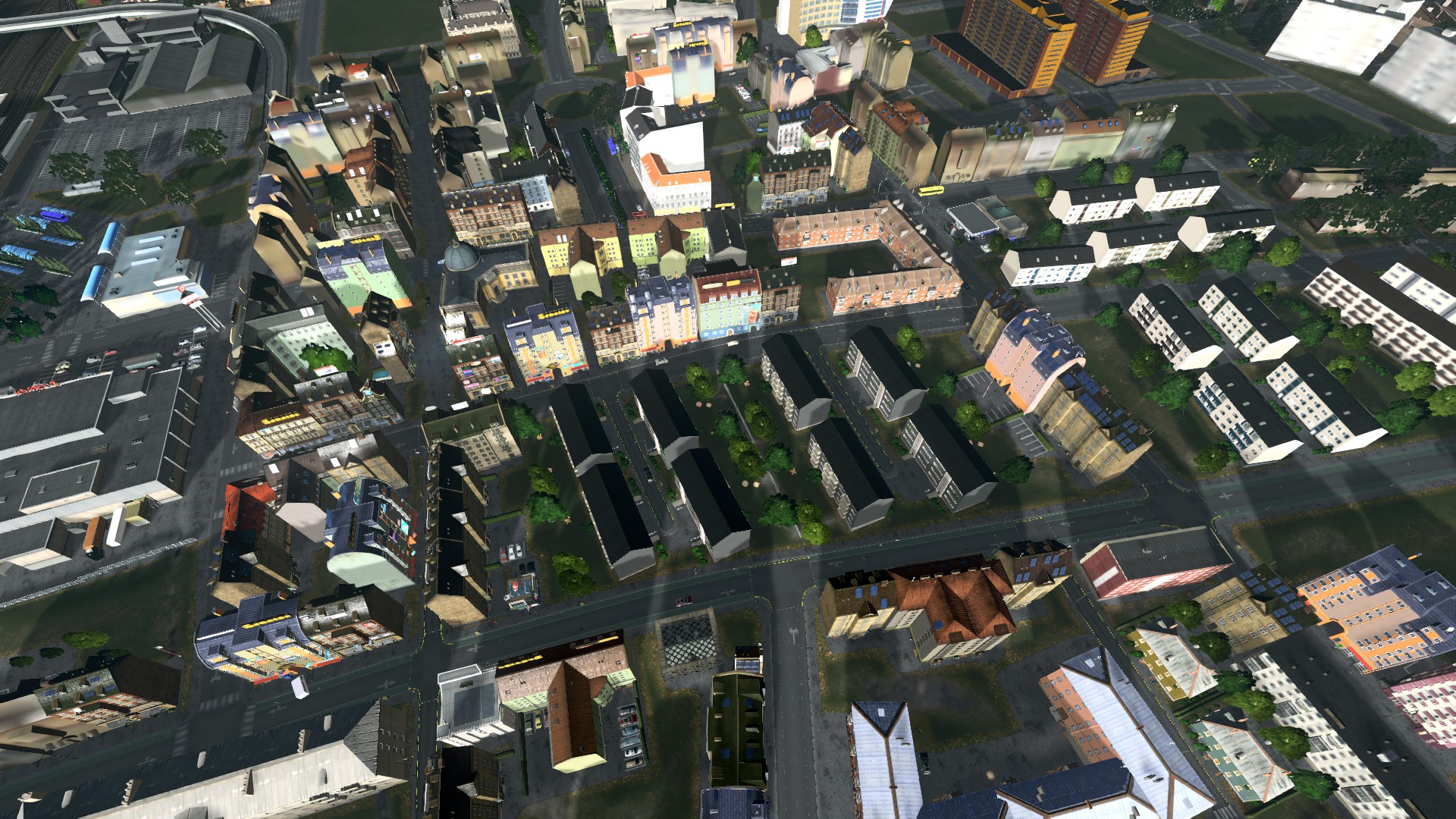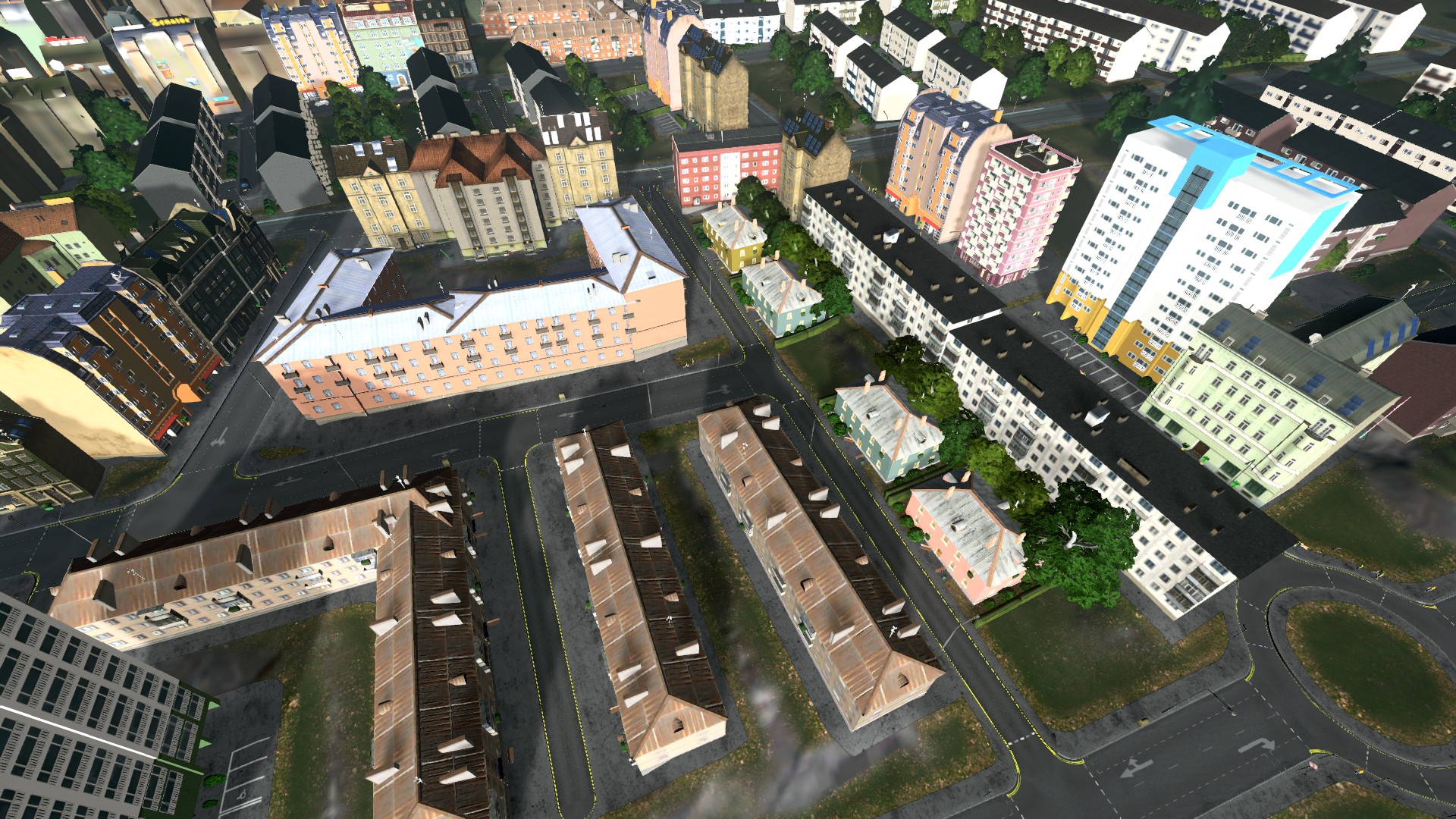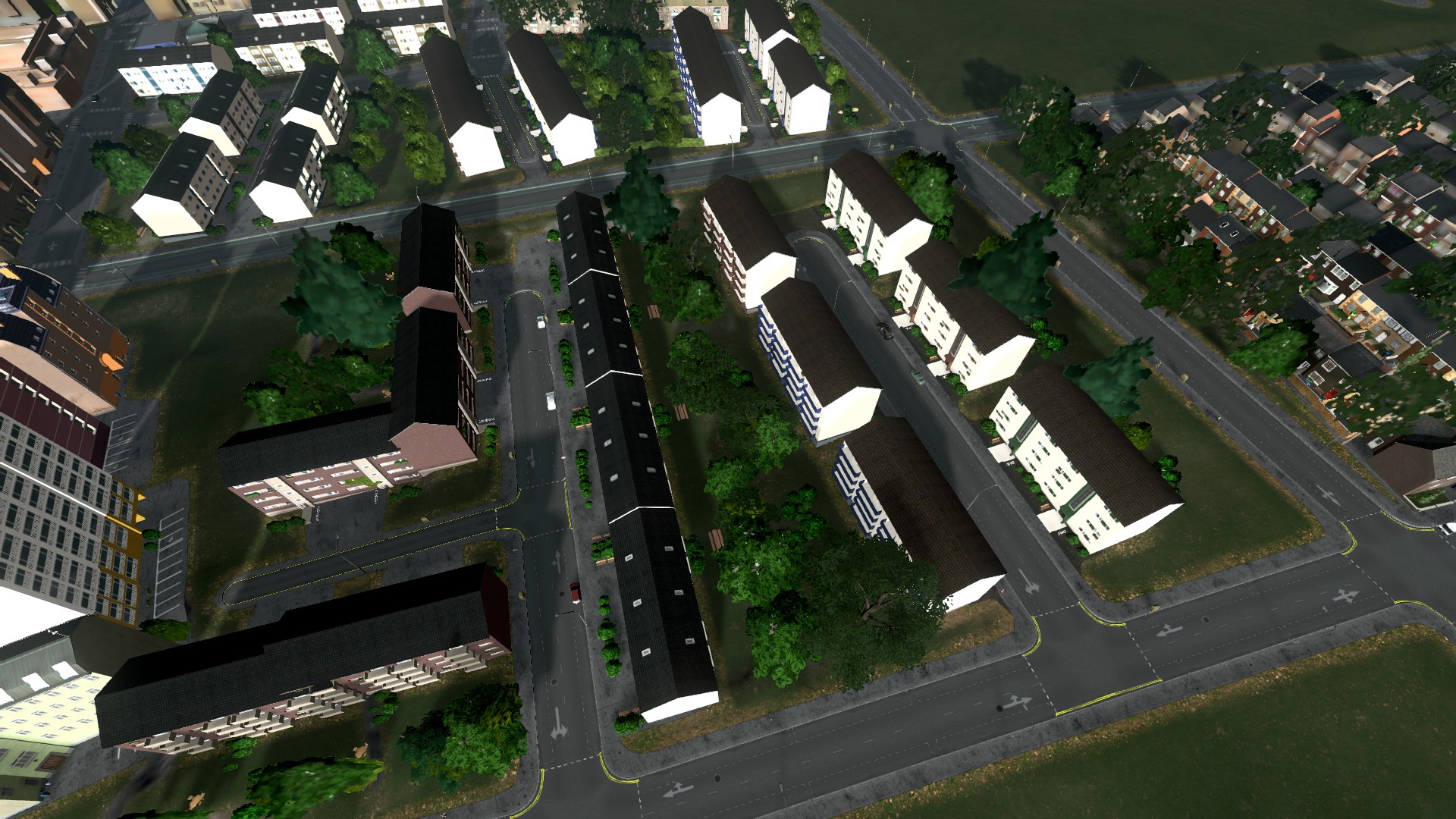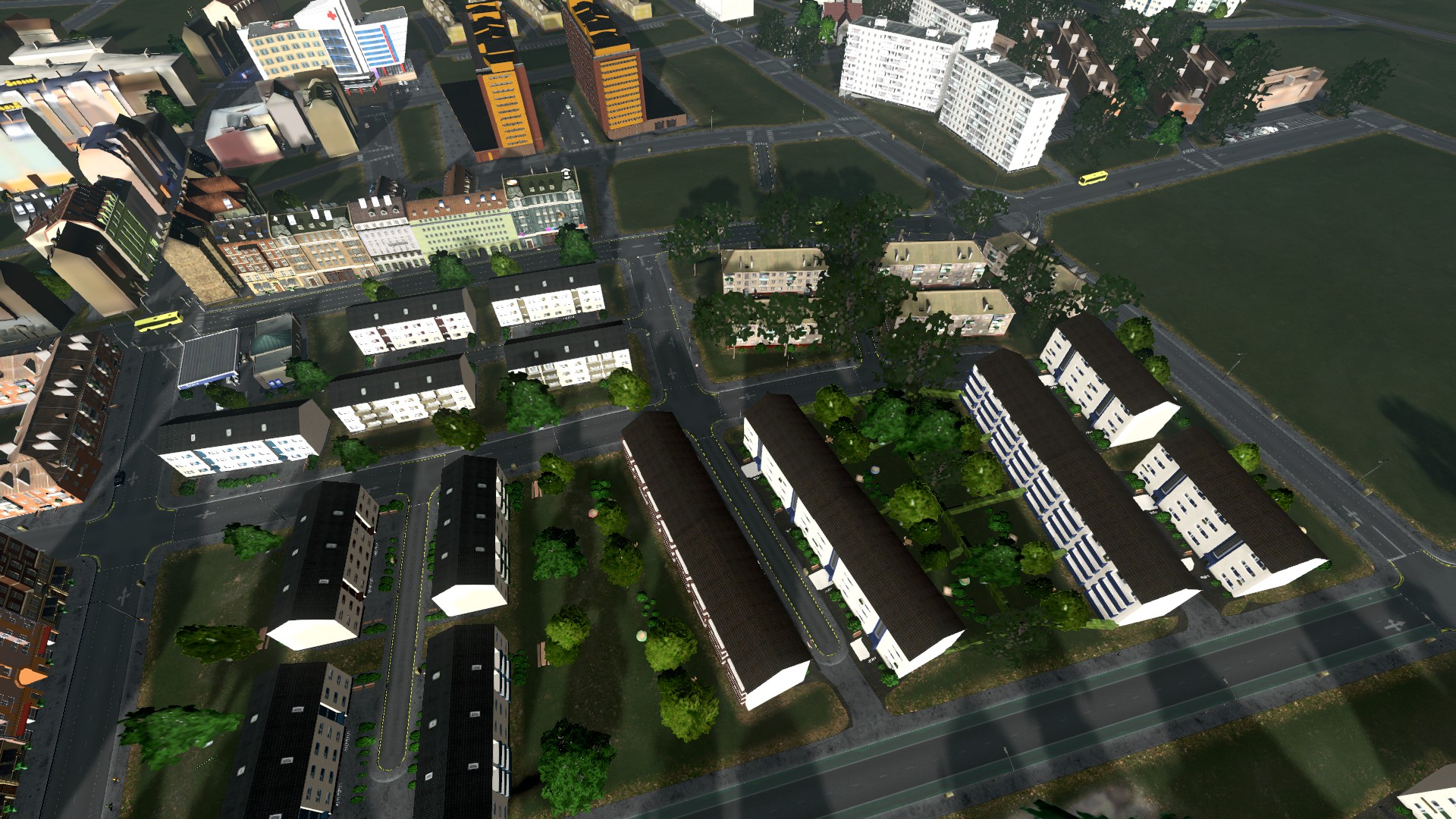 Here is a top down view of the parking by the station: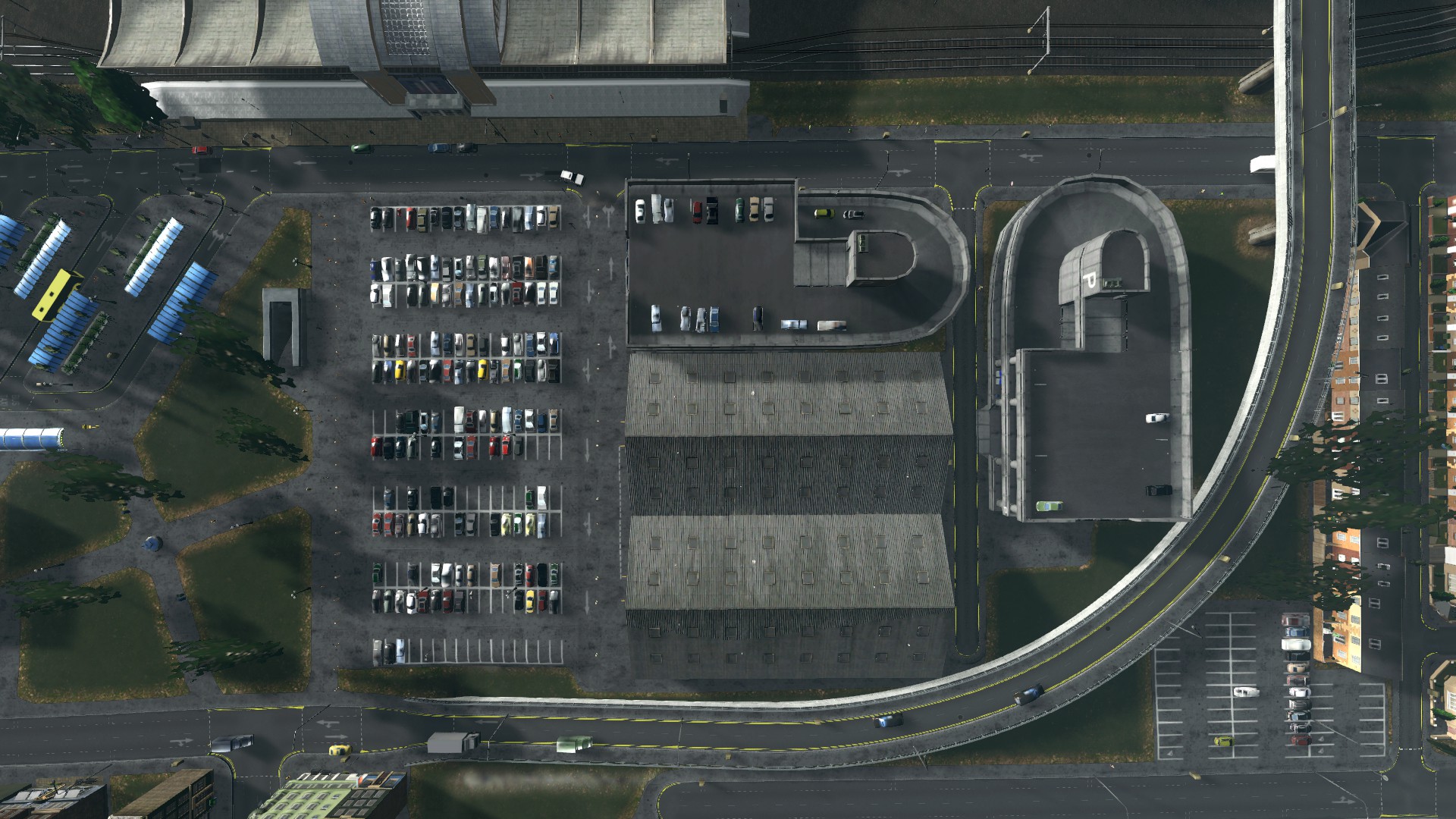 And here is the bus terminal. I'll cover public transport in a future entry, it's not done yet.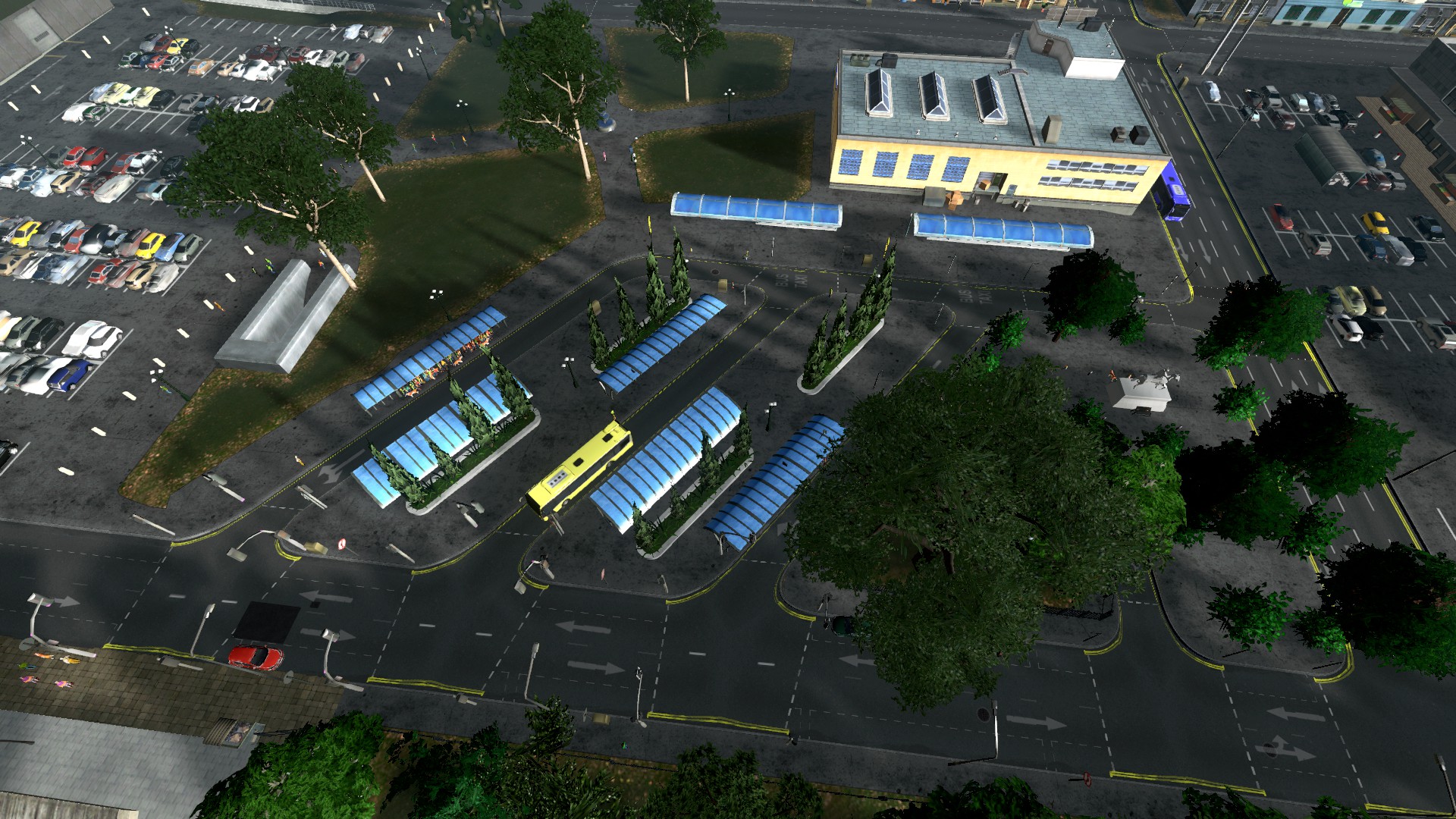 This is gonna be the city/town hall. I don't know if I will keep it here though.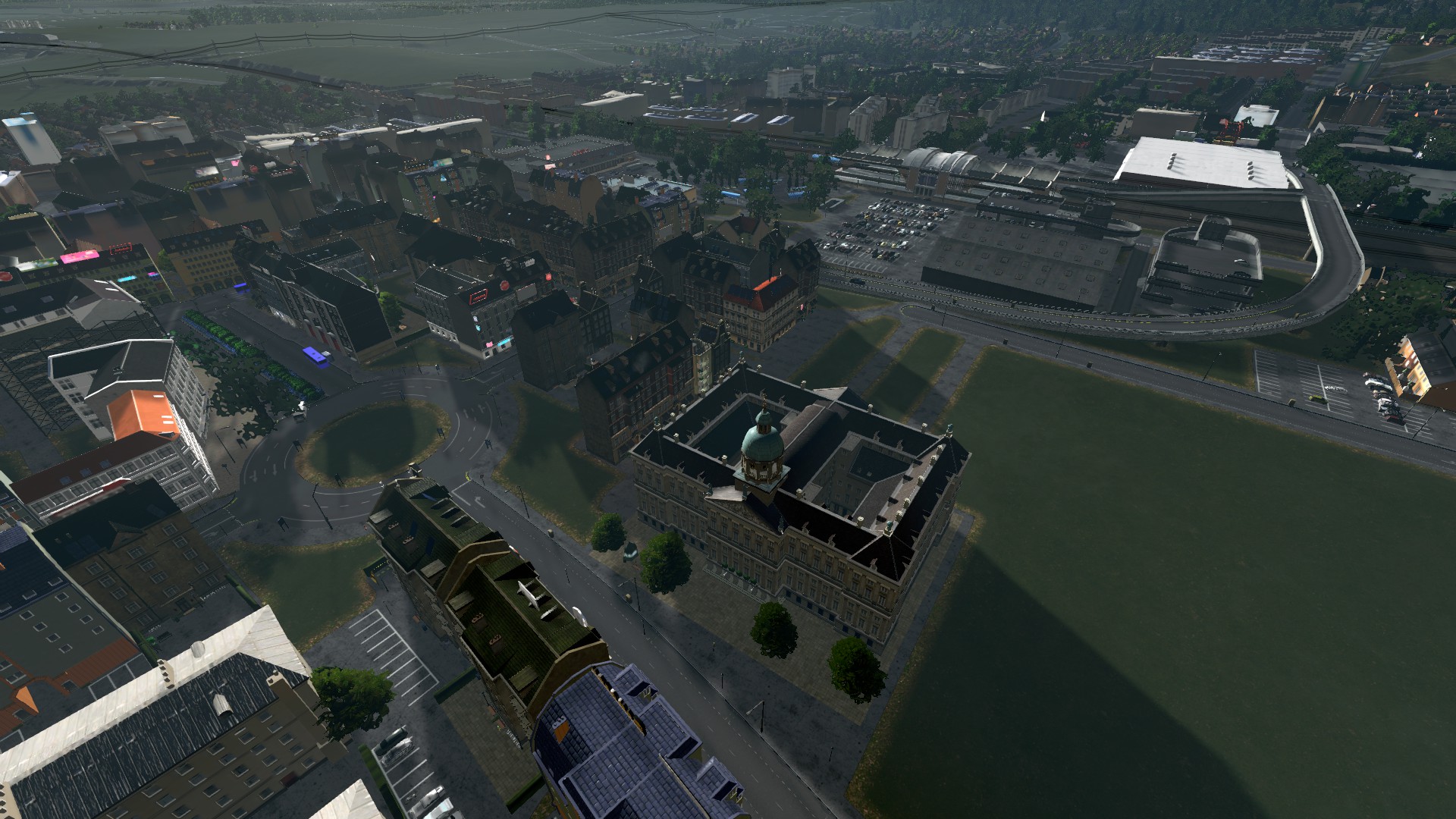 I'm not all too happy with this area as I made it when I was still experimenting with the buildings and how to use them. I will eventually change it up when I get to it.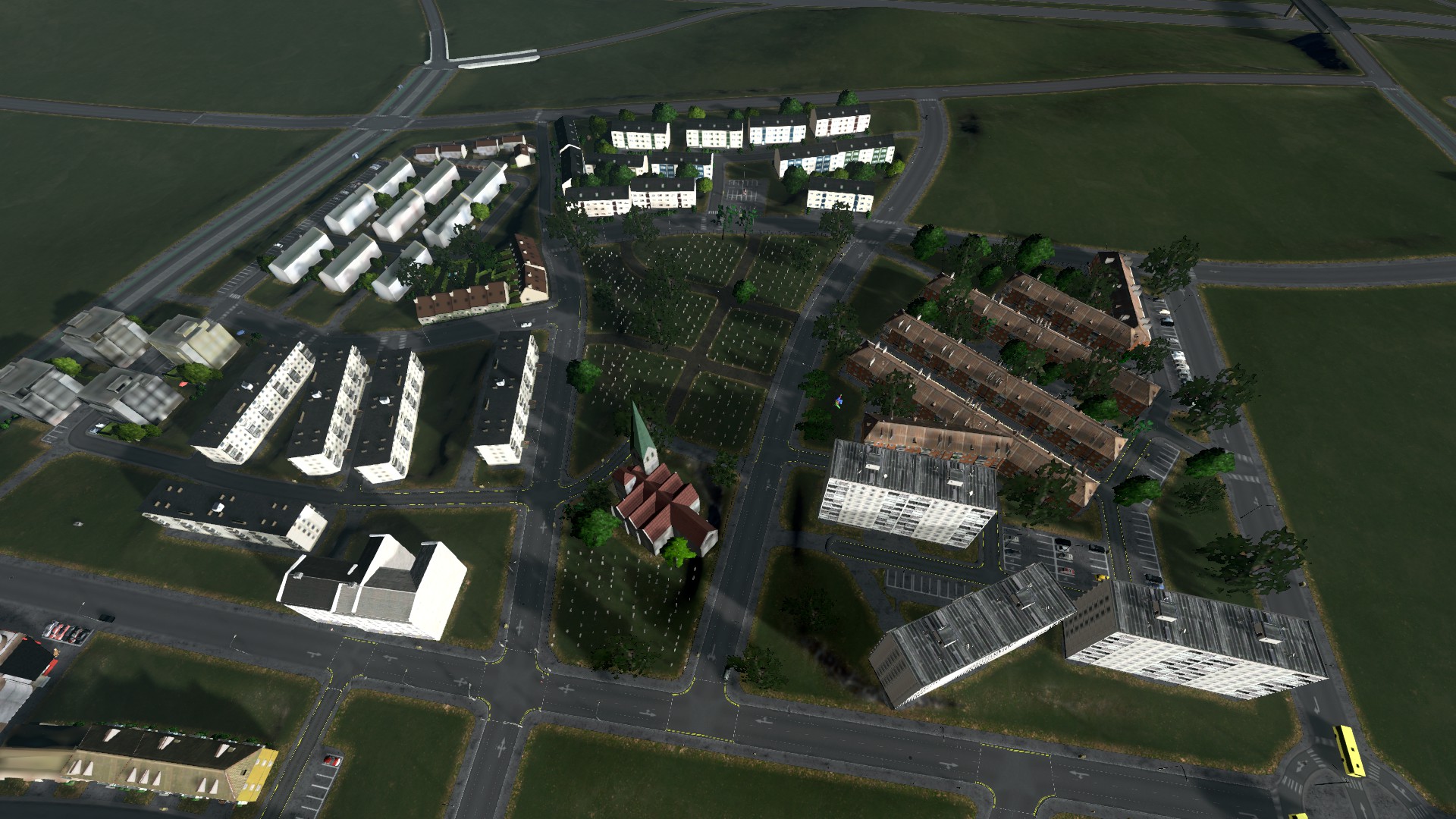 I forgot to get some pictures of the college I put down, but you can see it in the back there. I'll cover it when I get back to this area again in the future though.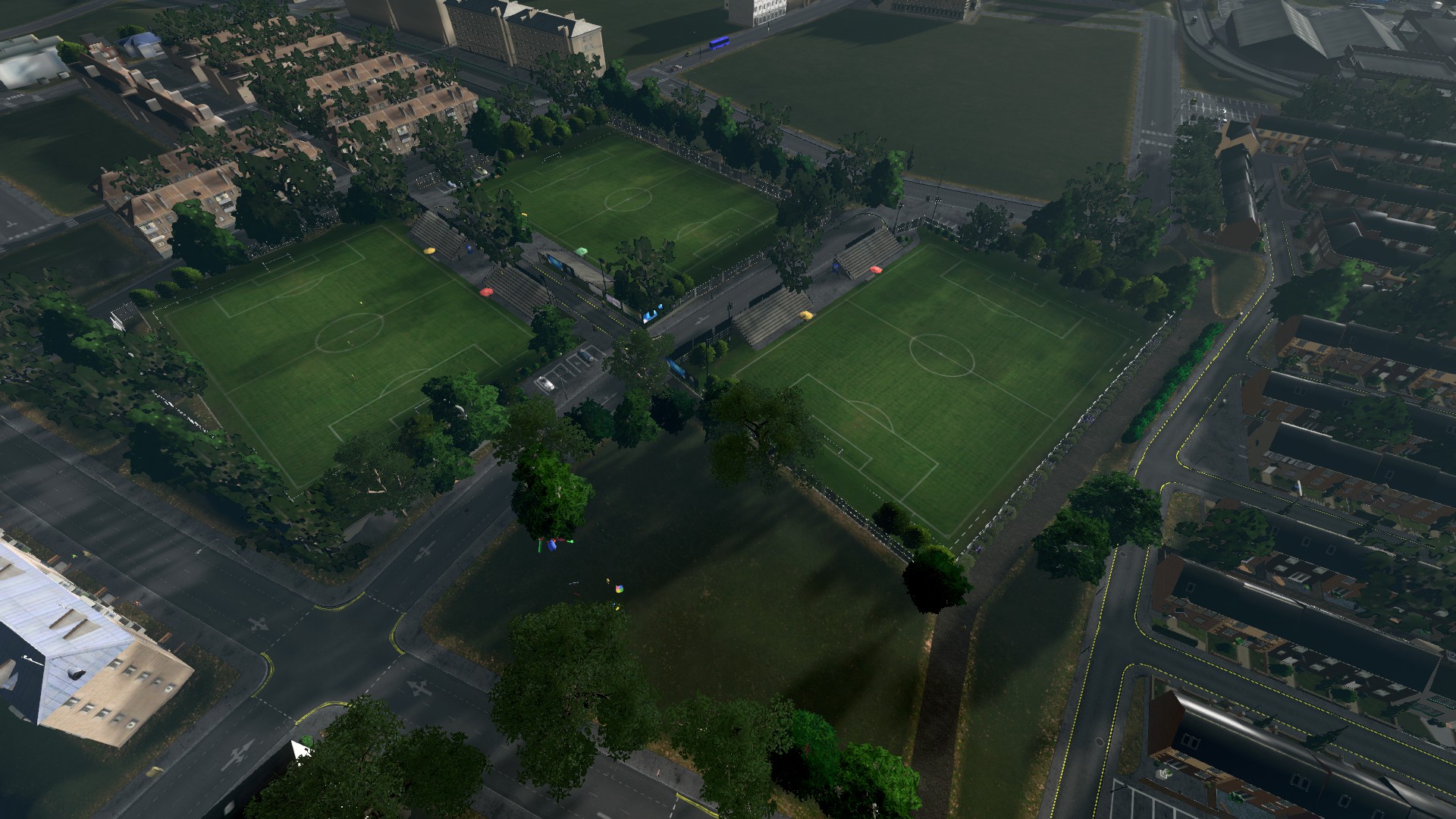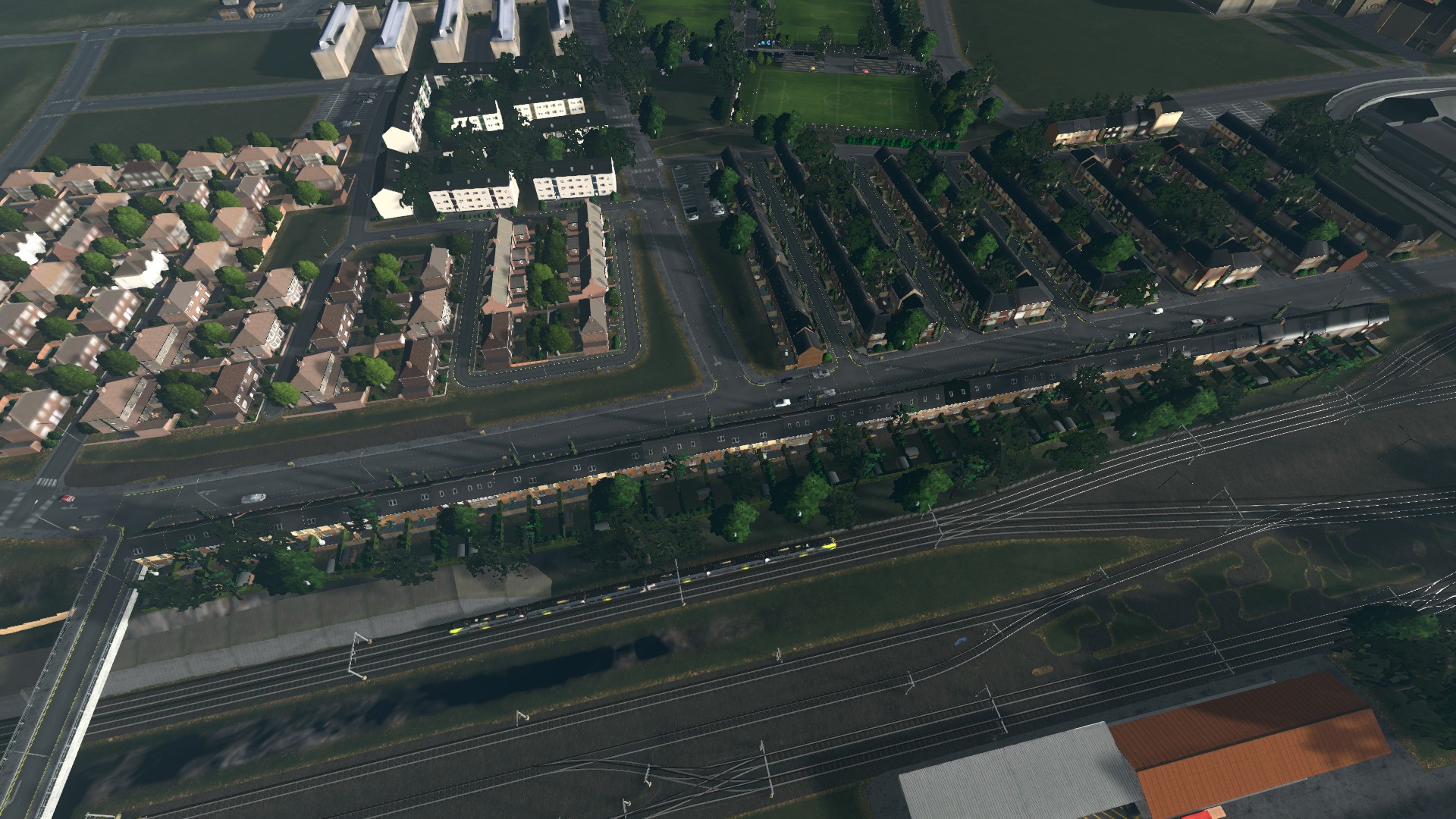 I like to split the city by north and south where the railway is. This is the "south" part, and you might remember that there used to be a highway going through here. I made a cool interchange for it with road markings and stuff and ended up not liking where the highway was. I moved the interchange with the magnificent Move-It mod to another area, which took ages but it worked! The highway now goes around the city, which is more realistic (and prettier). I'll cover the interchange when I get to the place it's at in the future.
There is the the train station on the top left. There's a train line that goes to the main city. There's also an express line that takes people directly to the city without stopping in the middle. These lines get used a lot and are quite full (especially during rush hour with the amazing Rush Hour mod!)
Here's a closer look at the south area: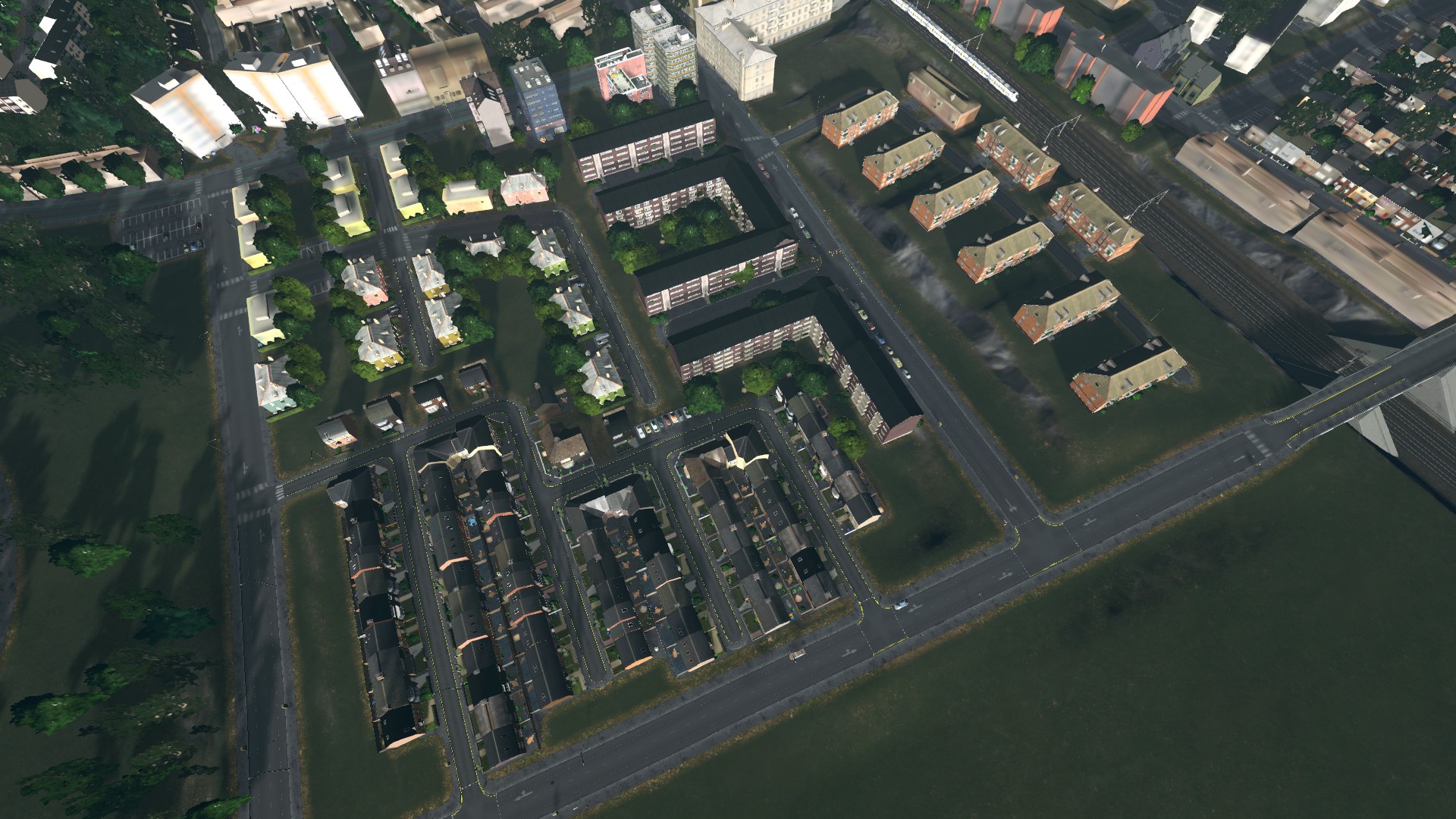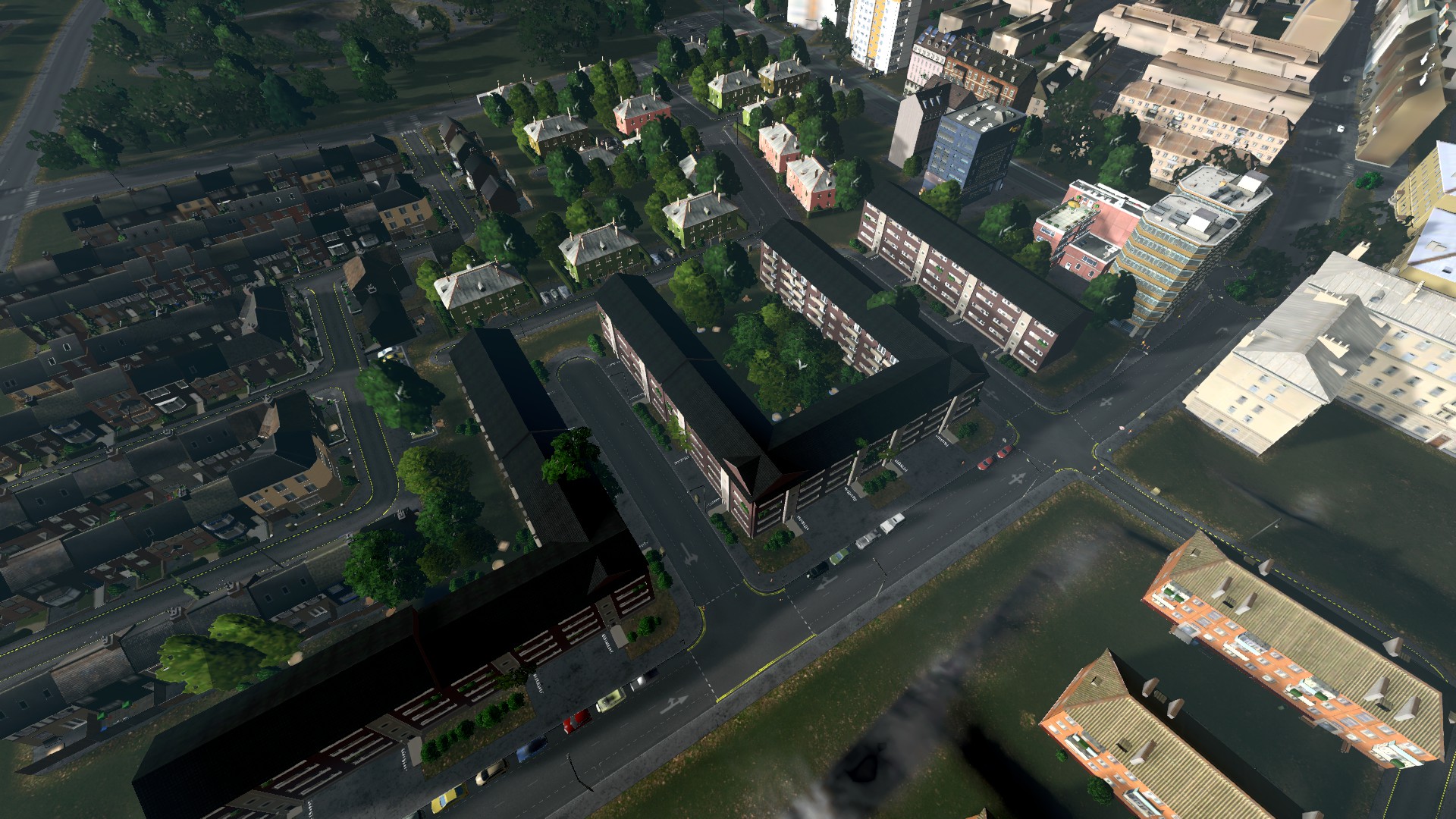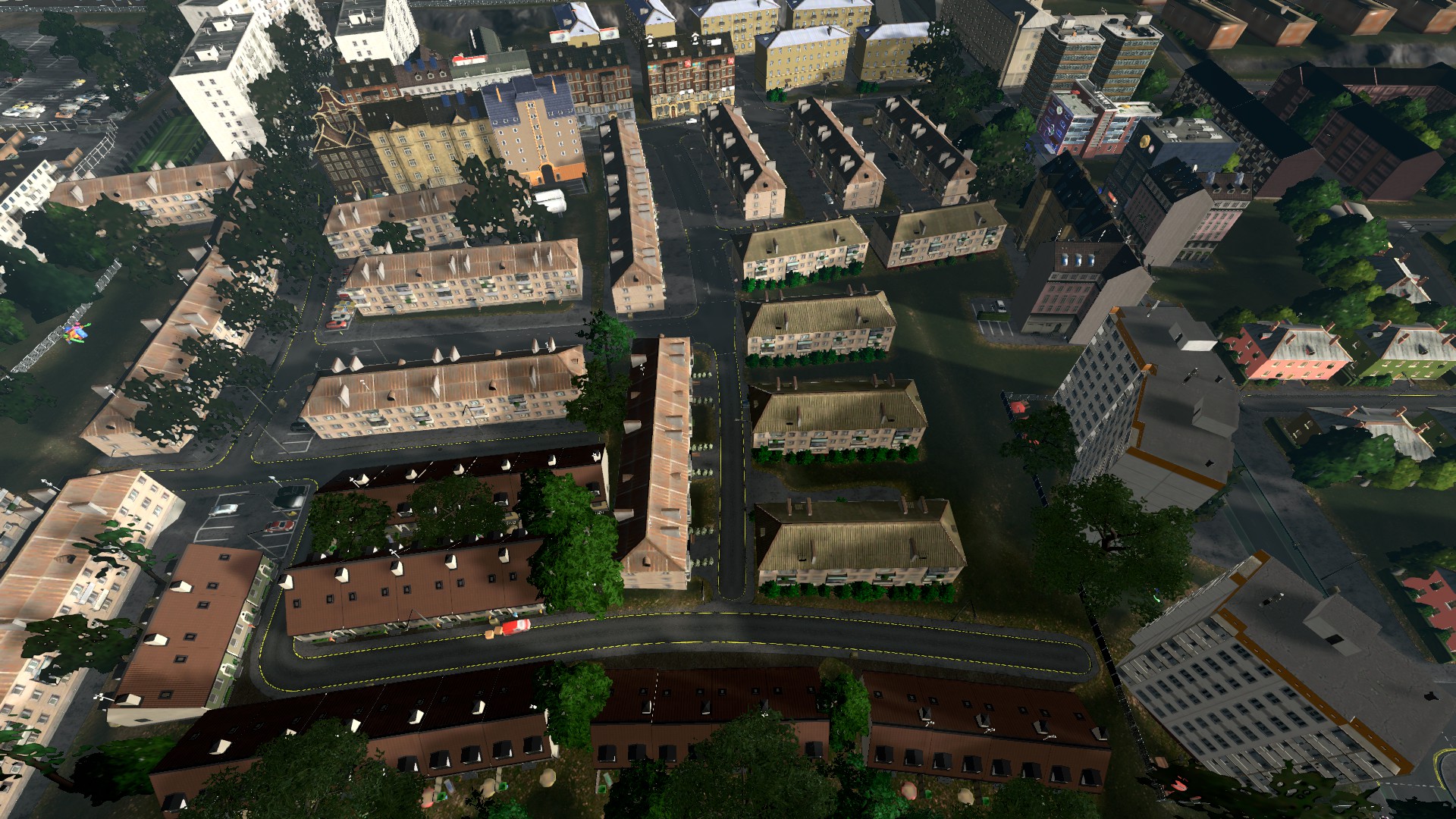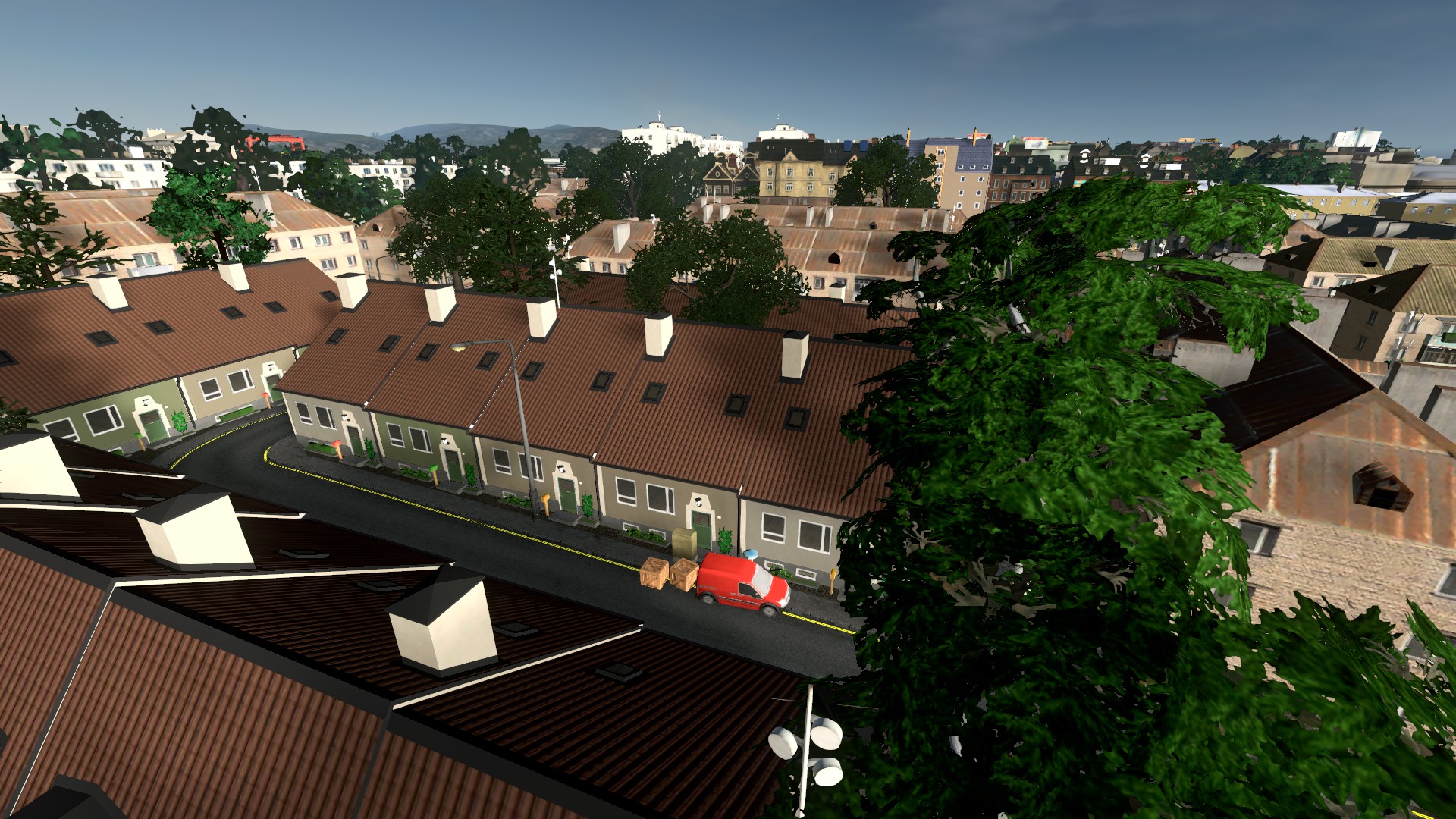 These default European buildings are going to get replaced by my theme when it's ready.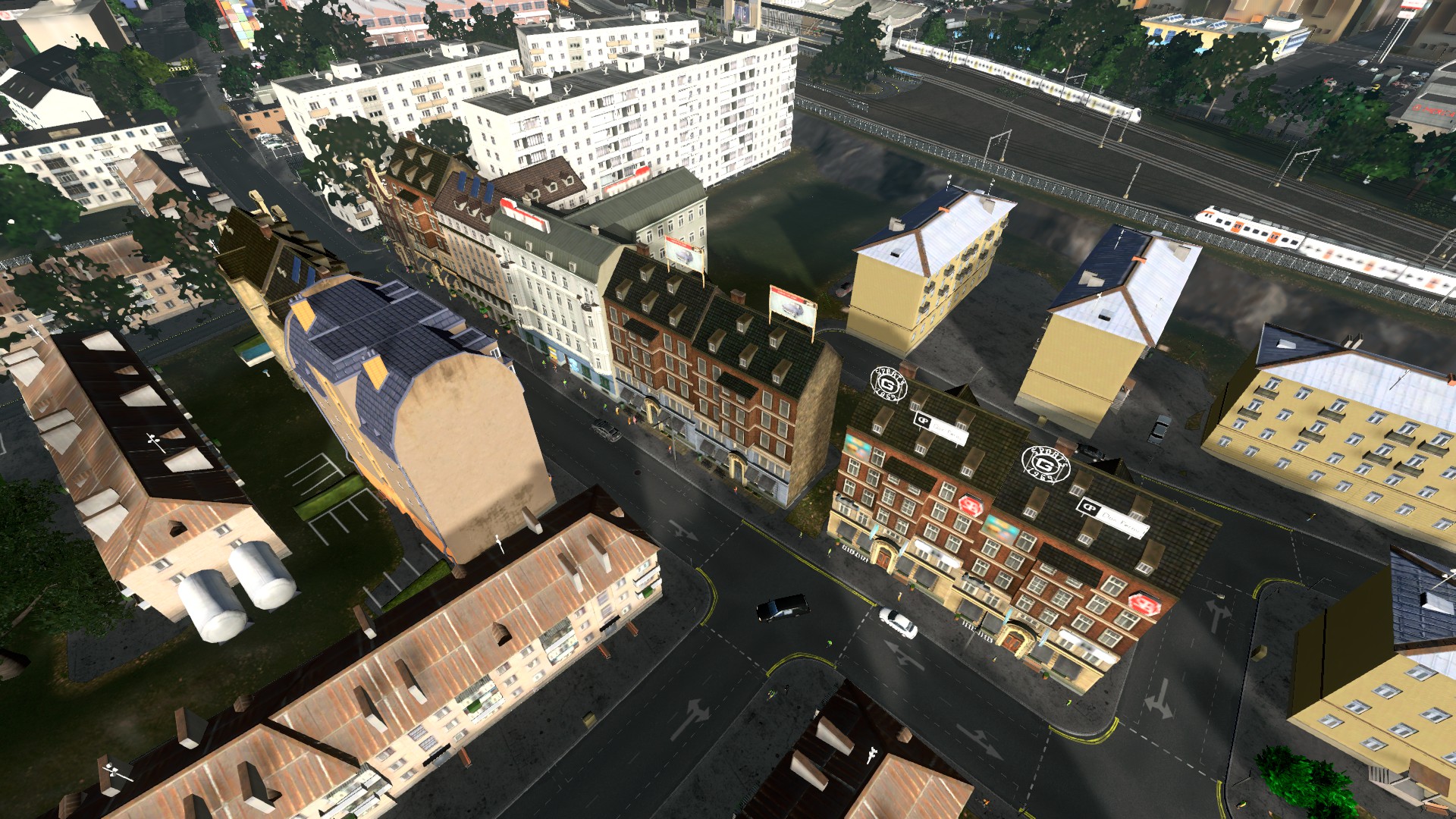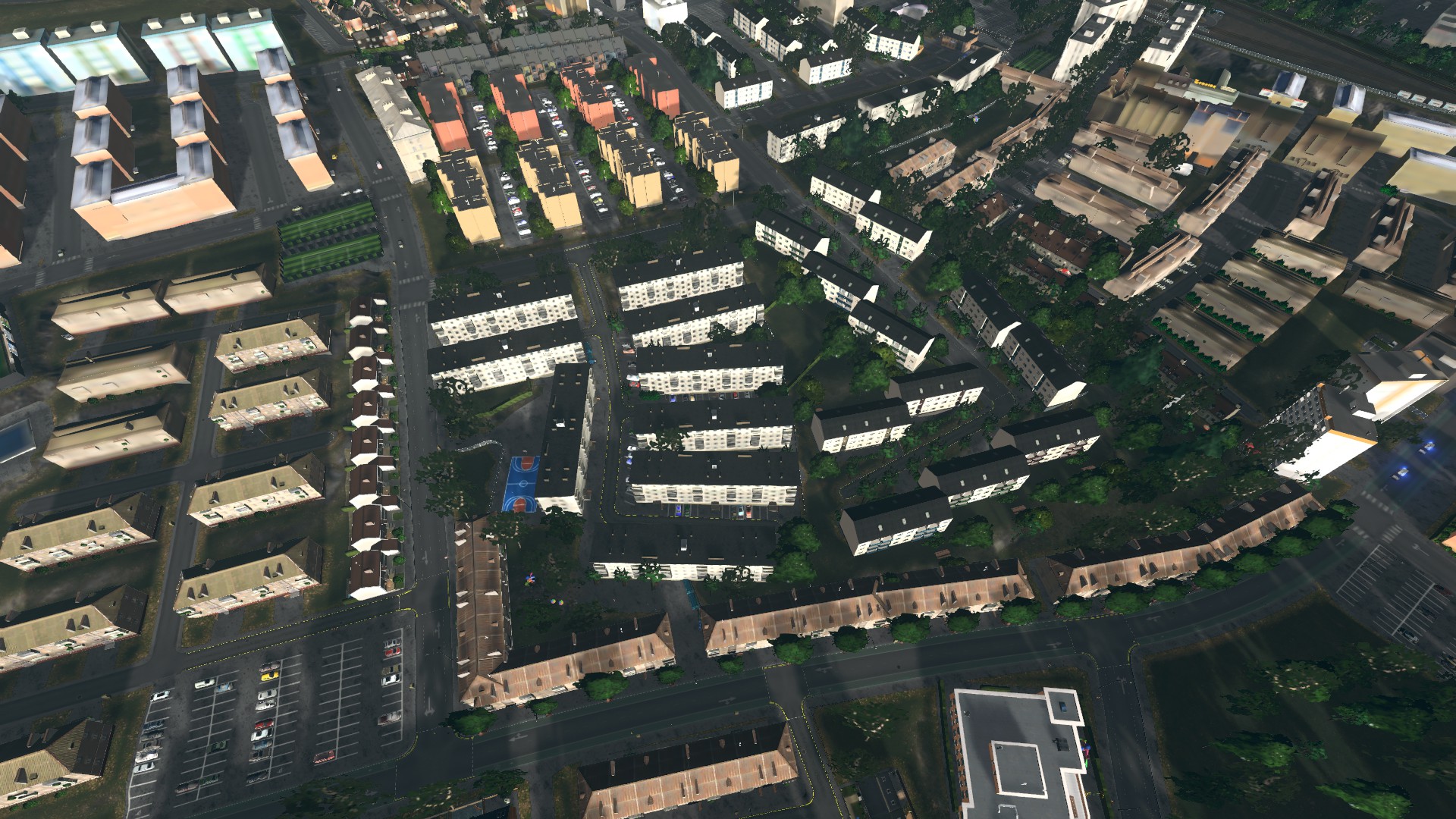 I feel like those parked car props are a bit too bright. I'll change that up.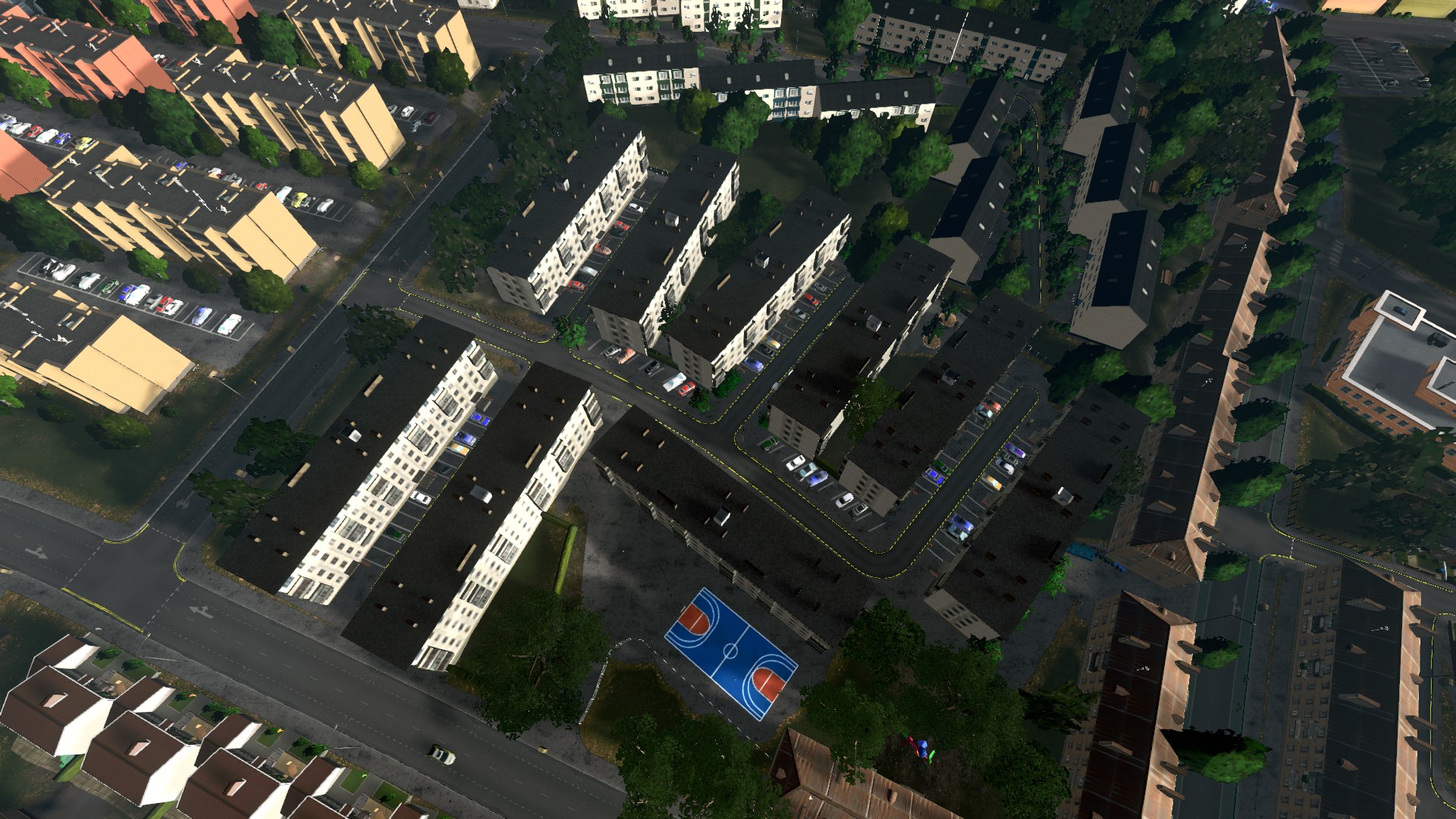 I think these buildings look really cool (done with the Move-It mod, by the way!) but I need to move them around a bit because they're taking up a lot of space.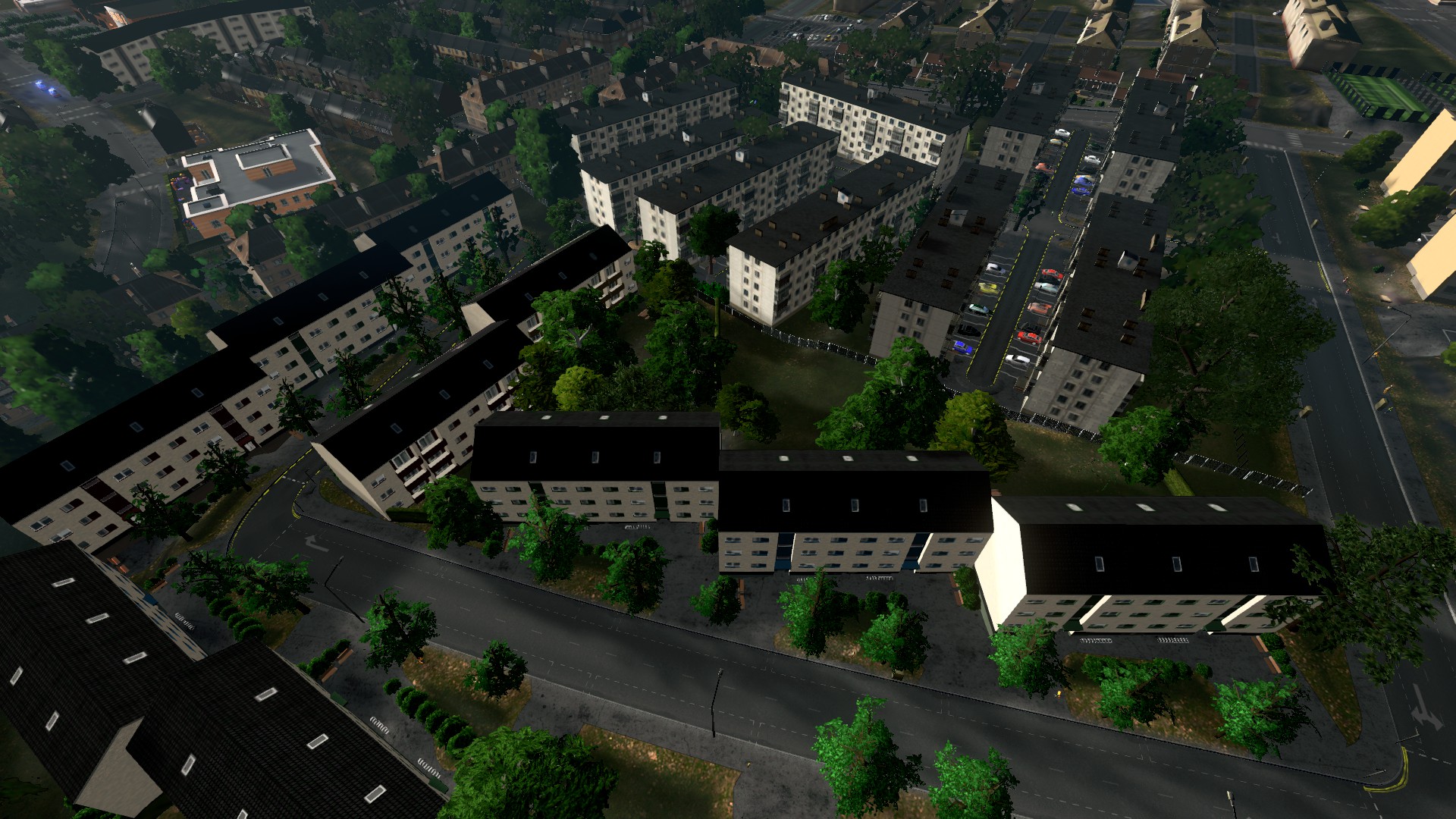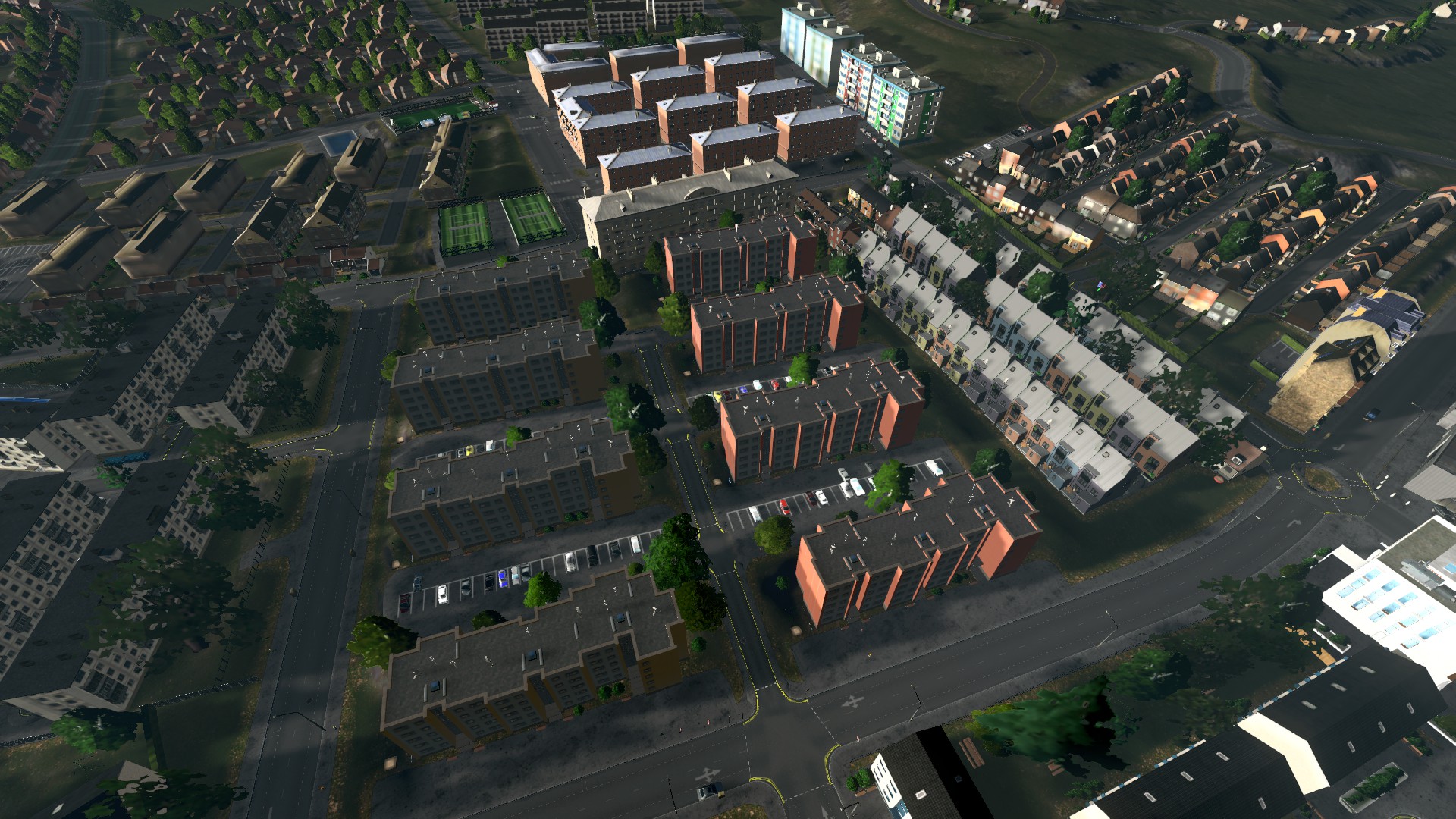 I made an industrial area nearby too. I don't really have any district names yet because the district boundaries are changing around. Hopefully by the next update, I can get all the districts sorted out.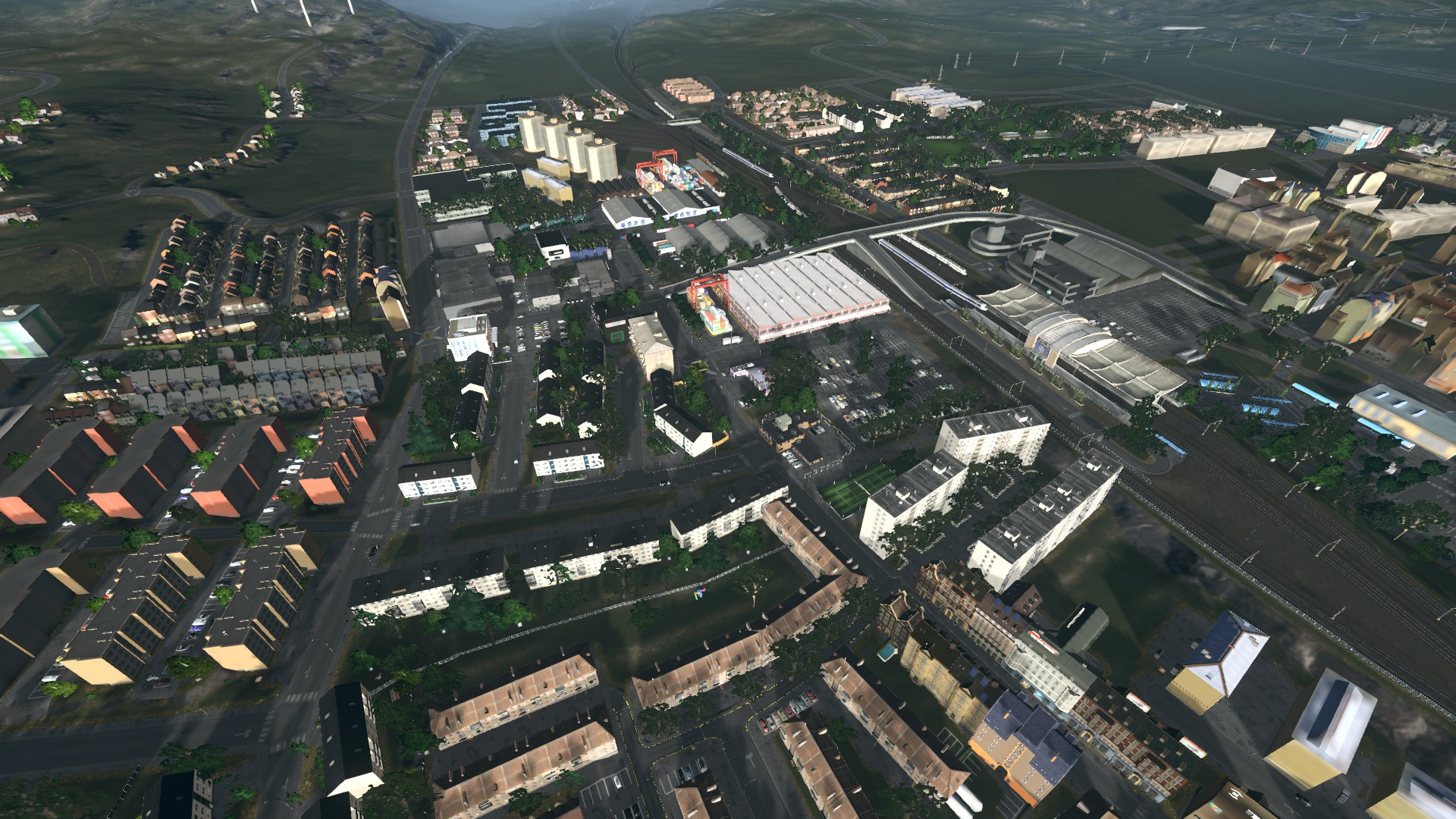 Some apartments near the warehouses.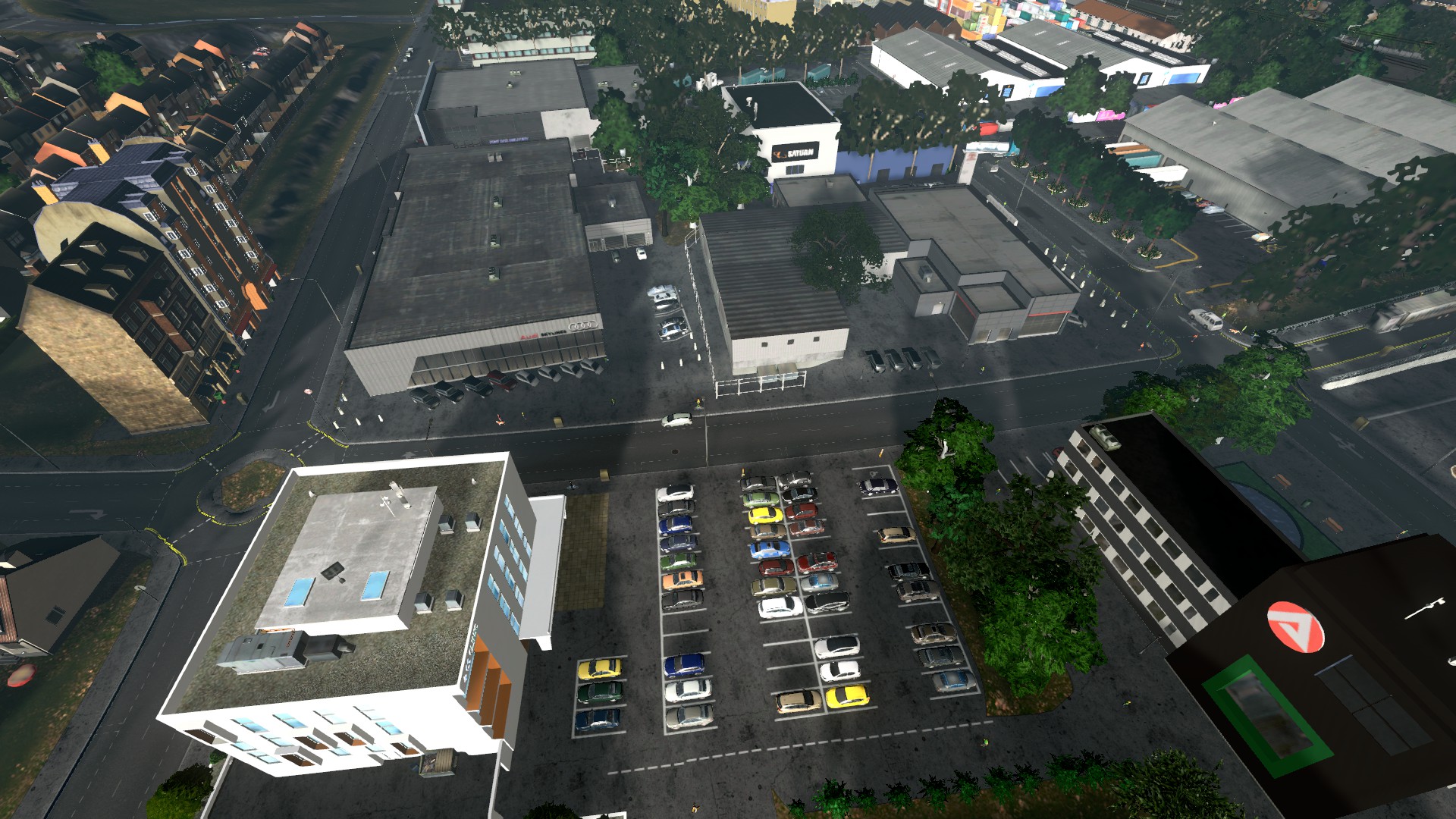 This area is actually pretty detailed, but it's still unfinished so I'll leave an in-depth look for a future update.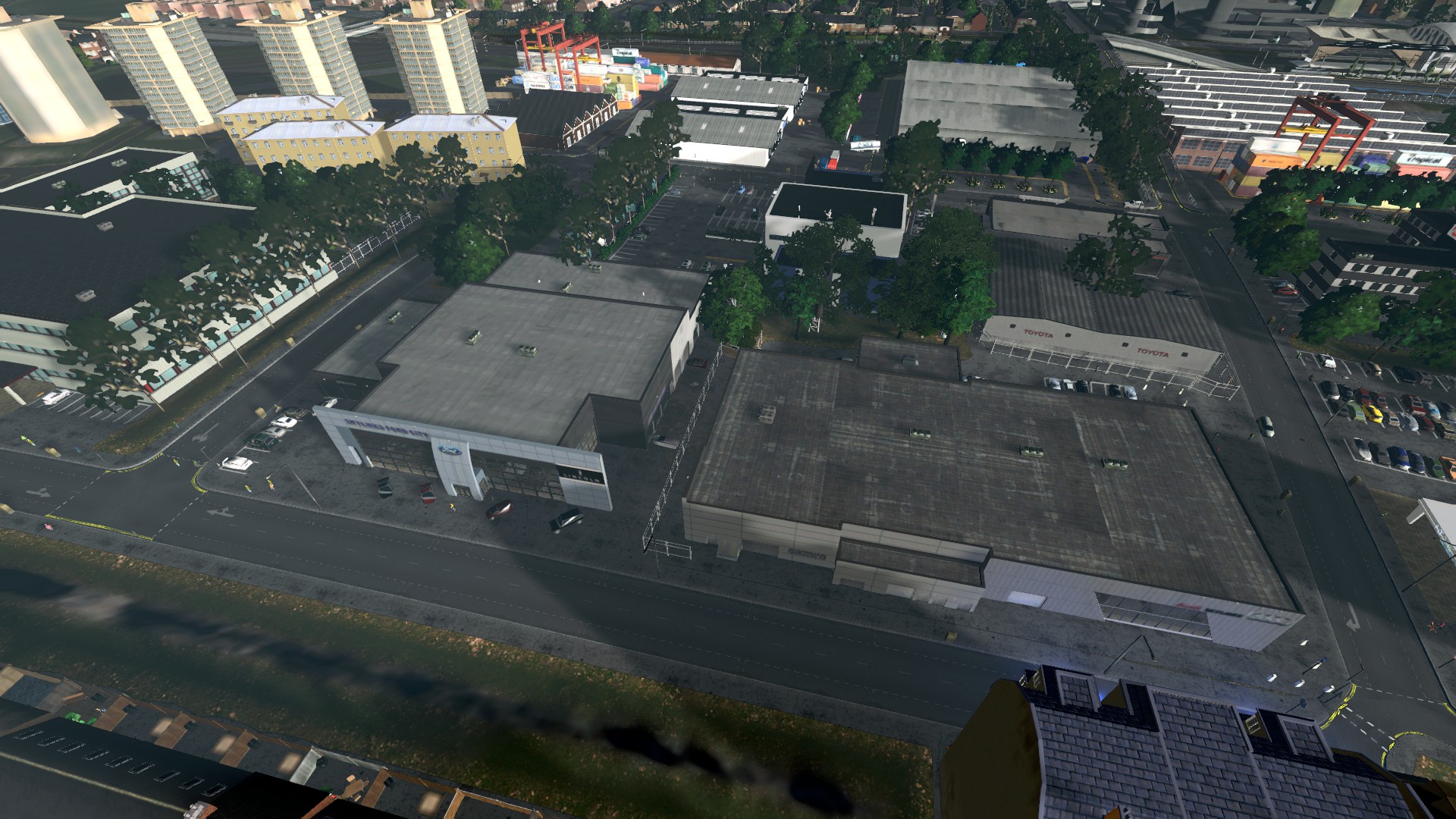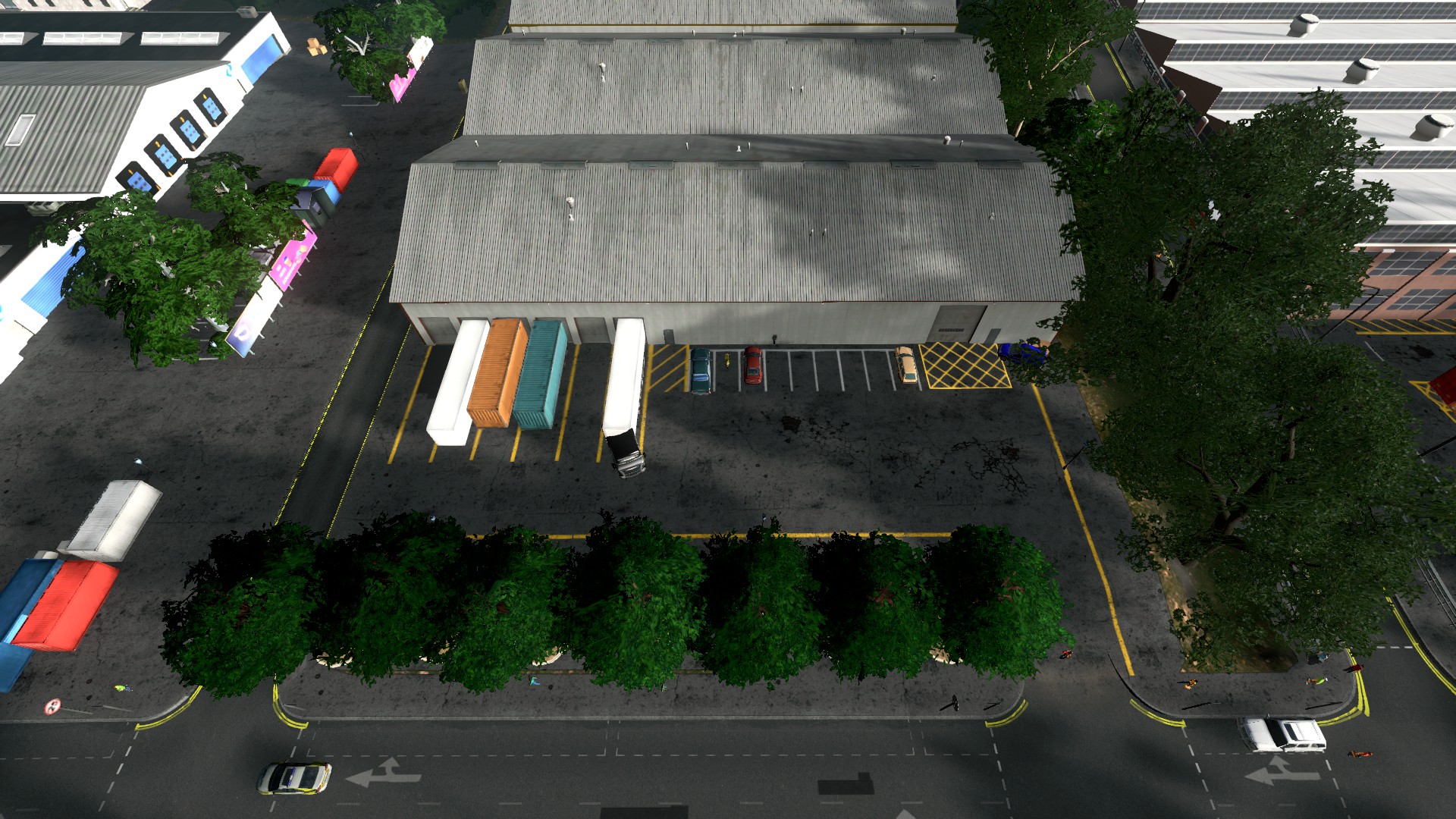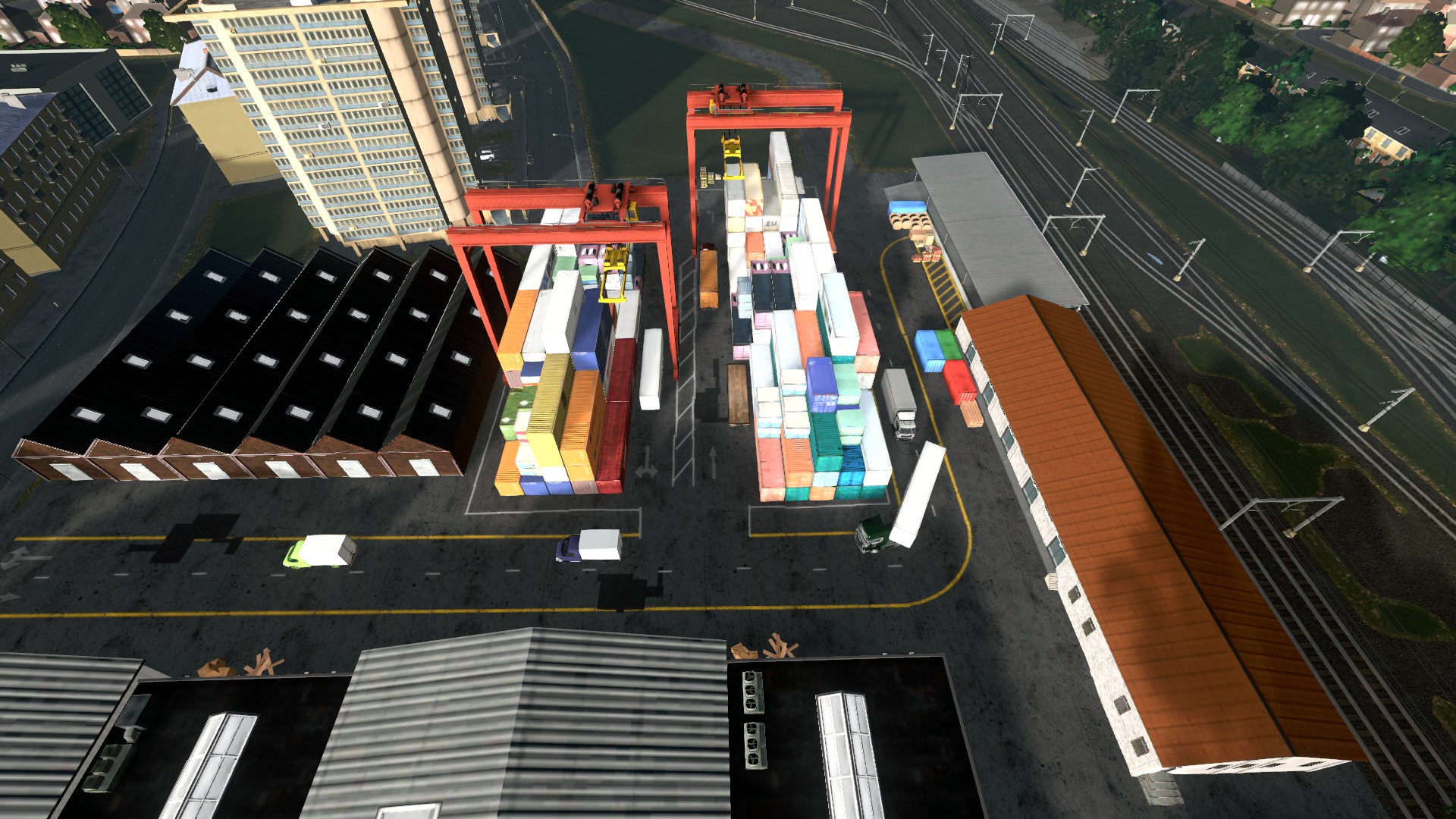 And here are some taller appartements. I also put down a high school there on the bottom left. It fits in with the other nearby buildings.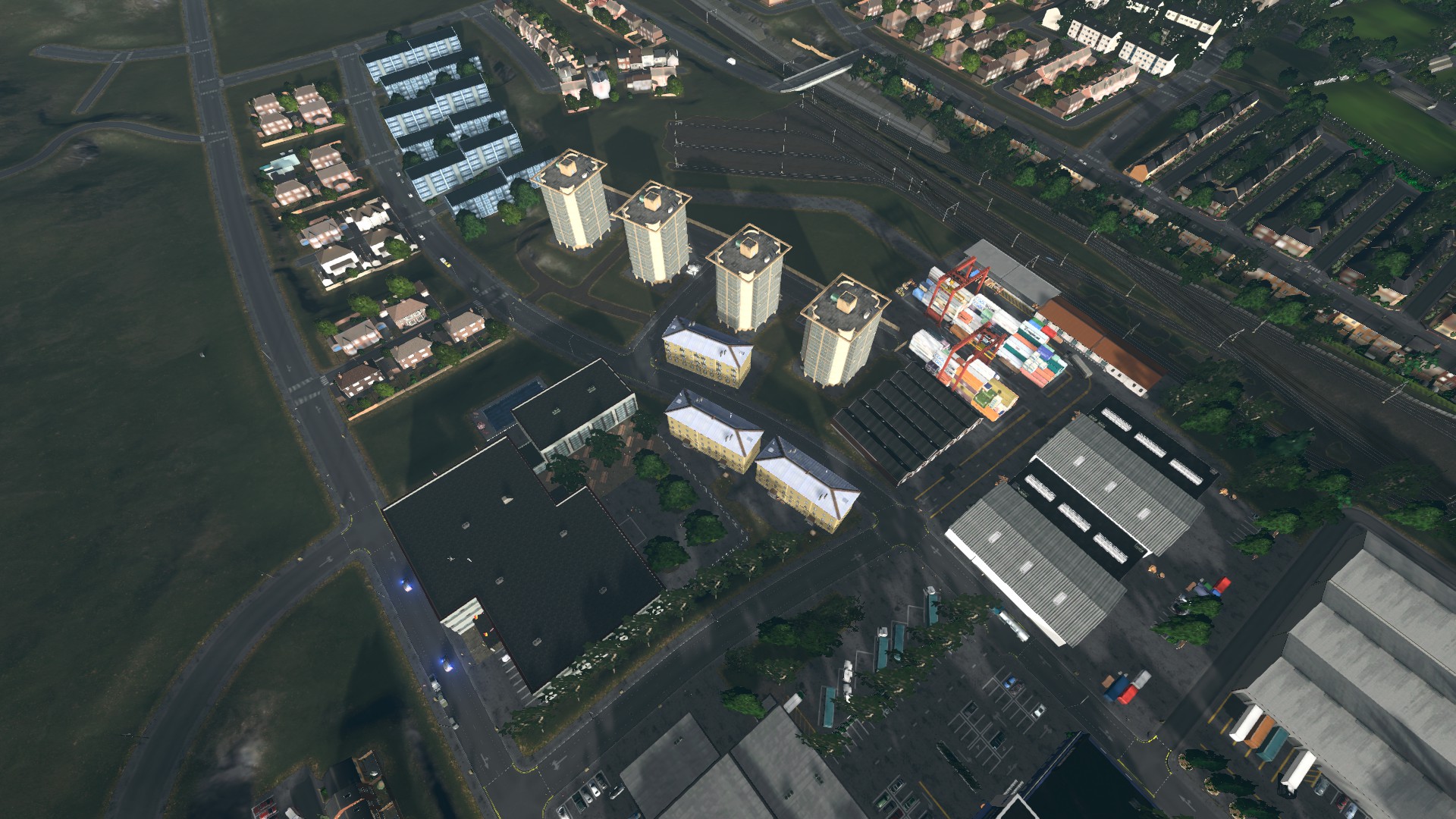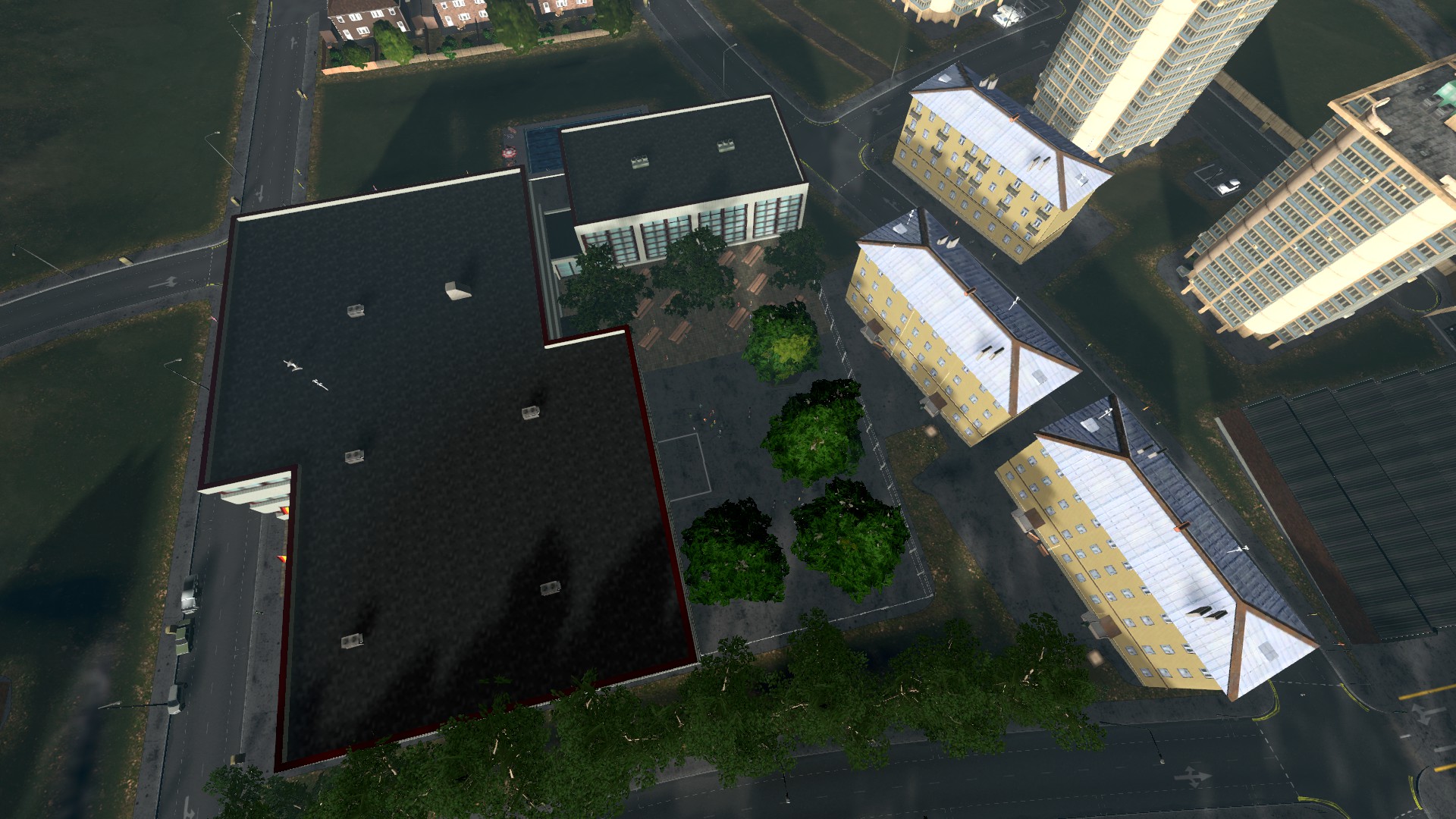 Shoutout to the Park People Generators on the workshop!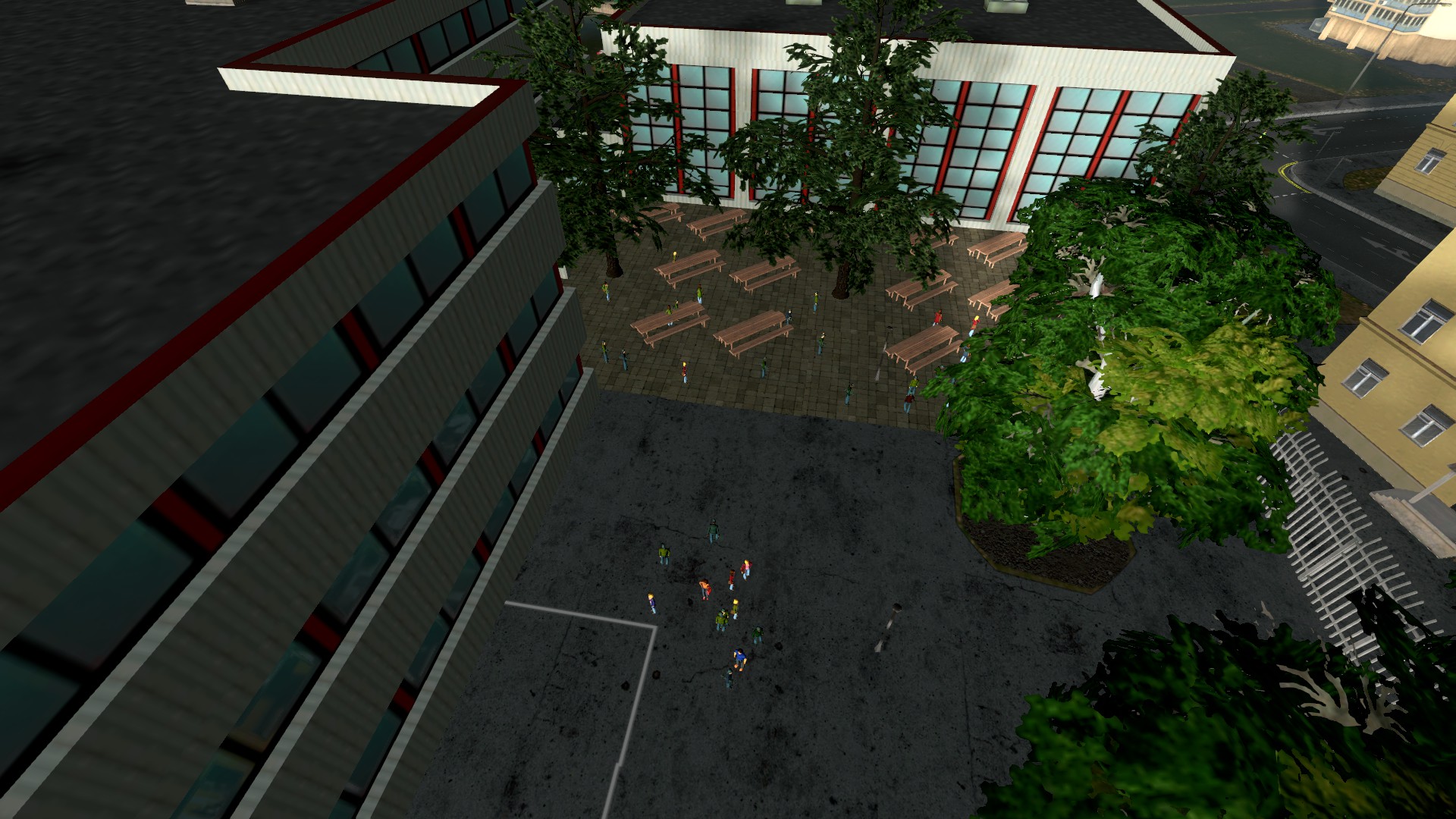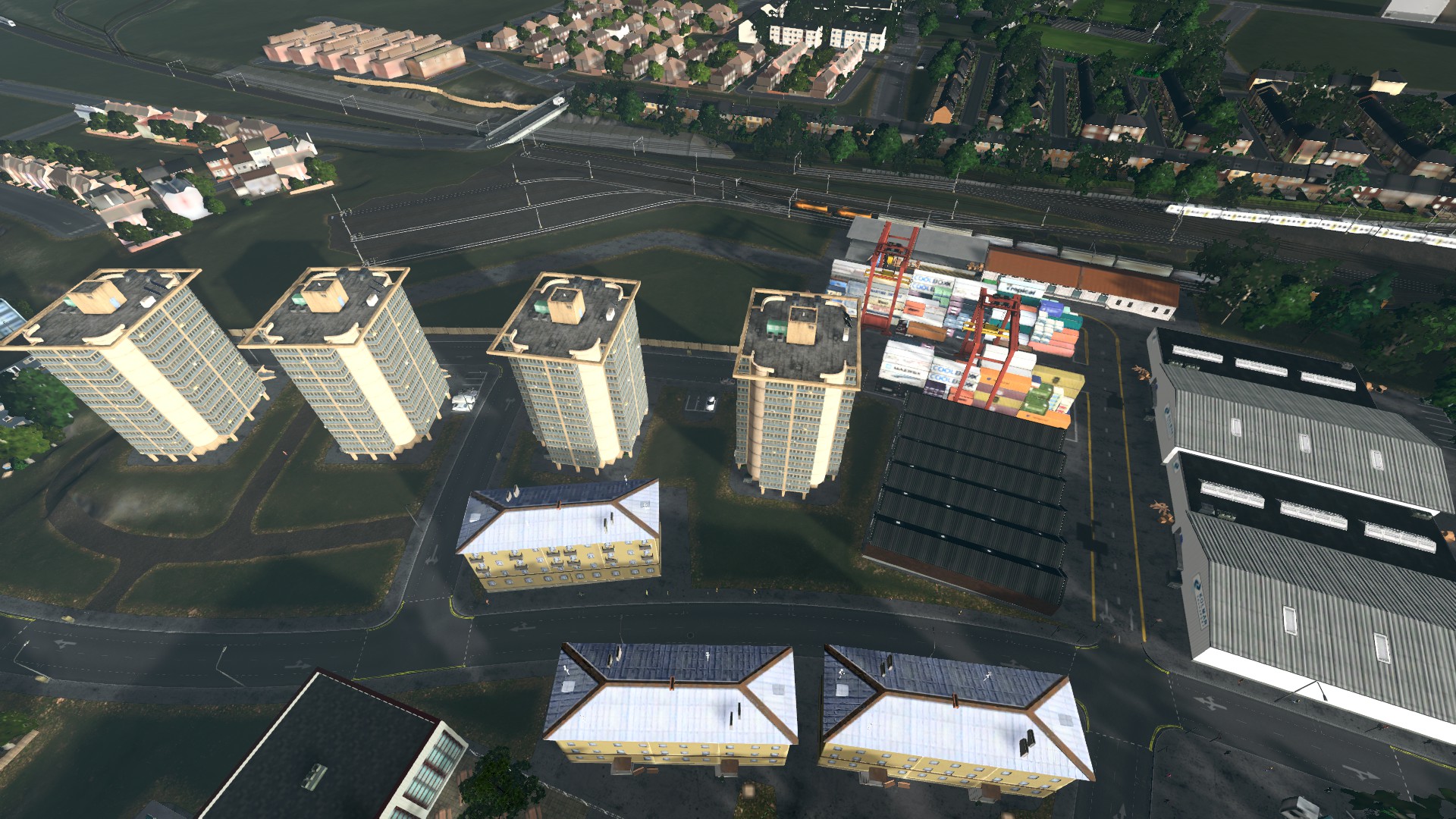 The start of some semi-detached housing: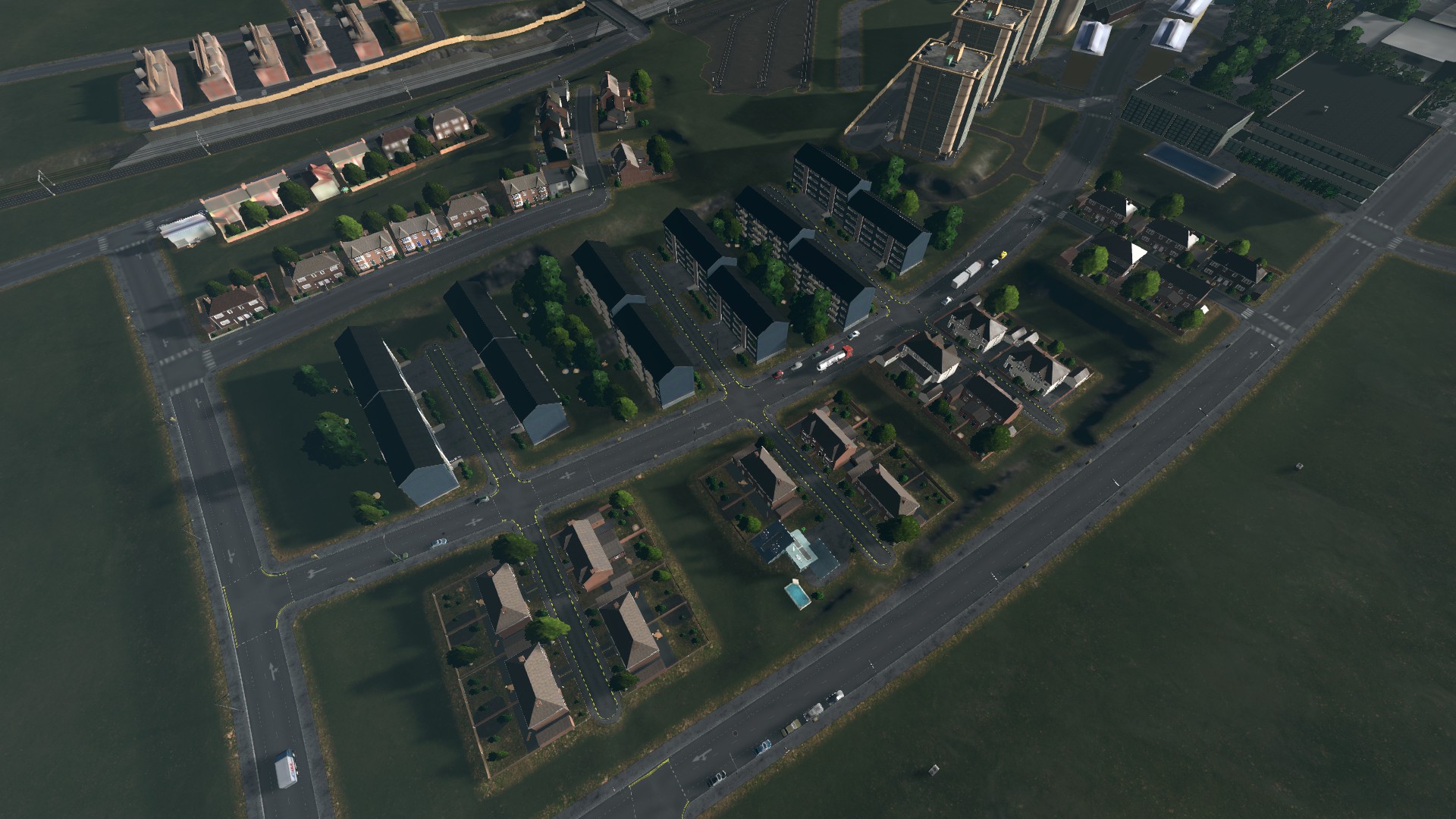 I don't know if I will keep those terraced houses on the left. They just feel misplaced on the bottom of a big hill like that.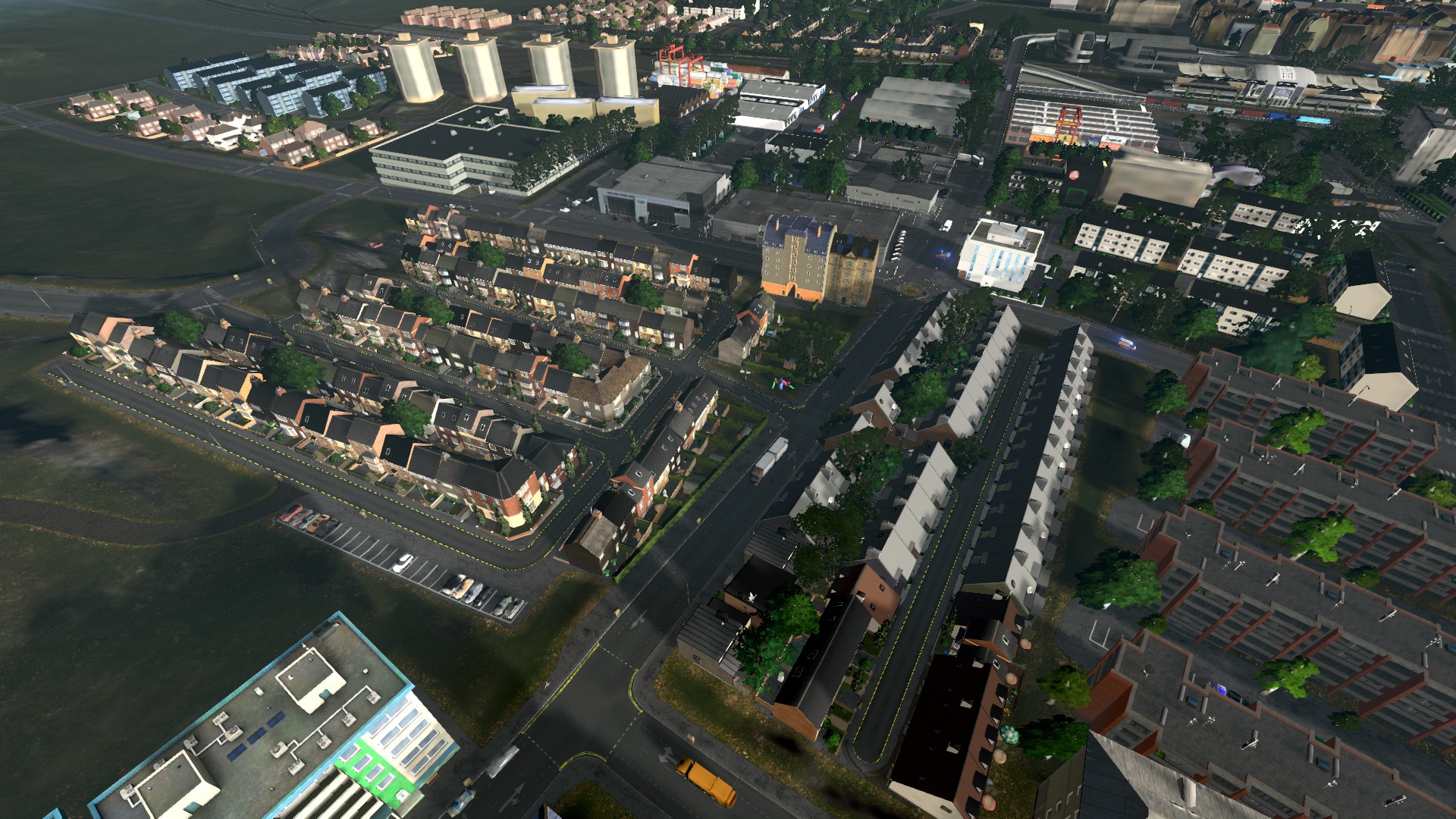 And this area too. There might just be too much repetition here, and I need to loosen it up a bit.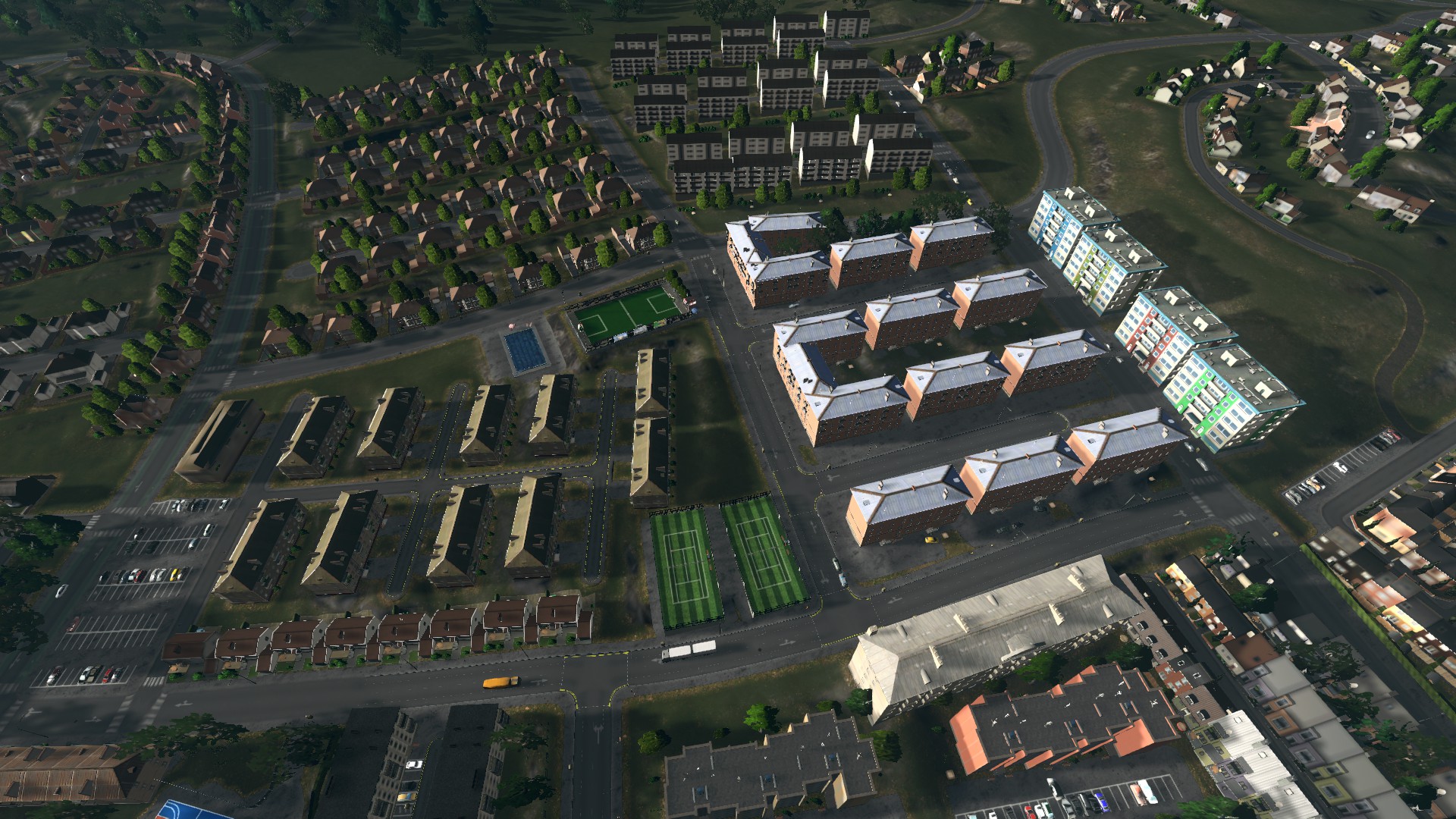 This area is actually quite detailed.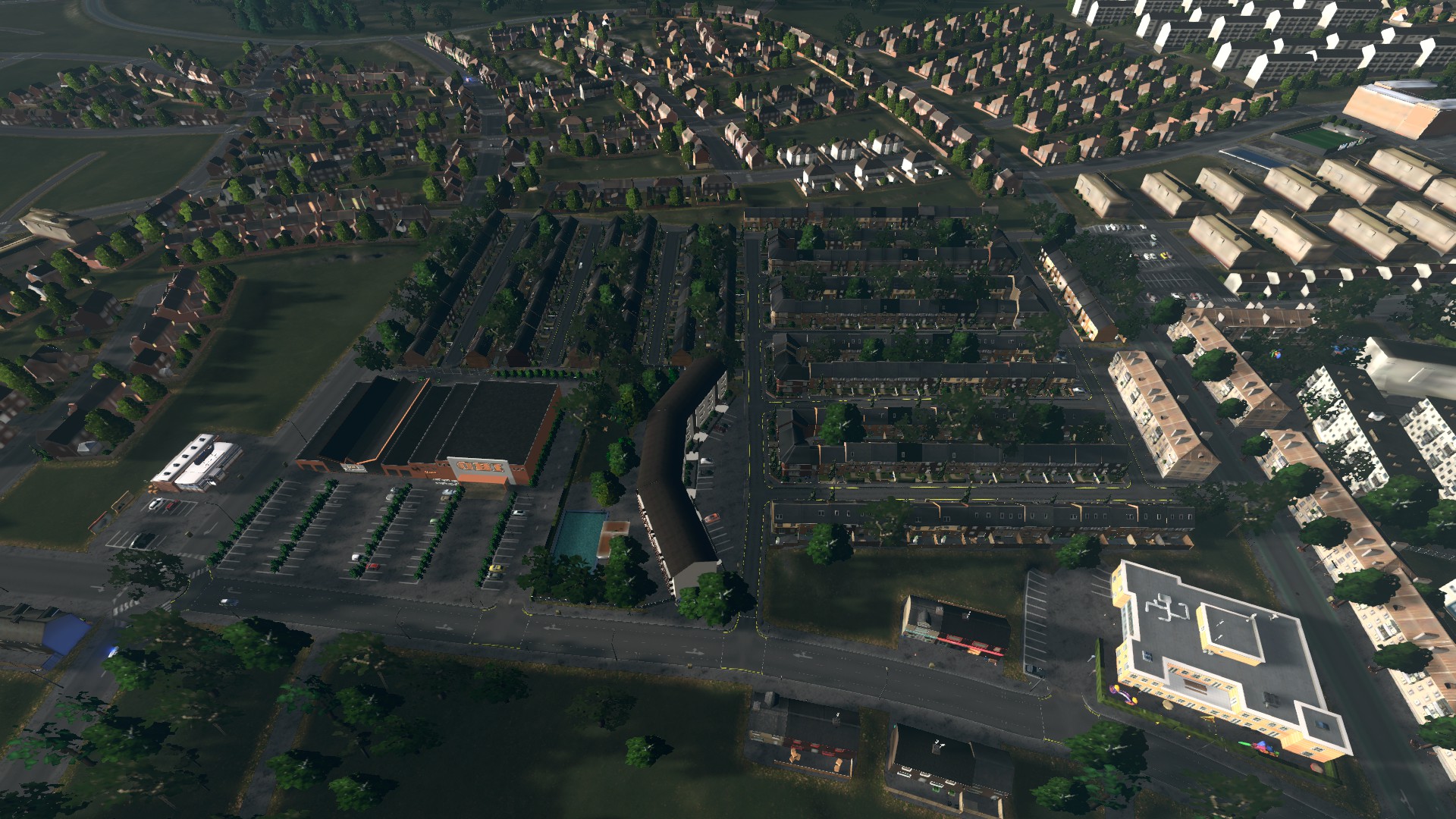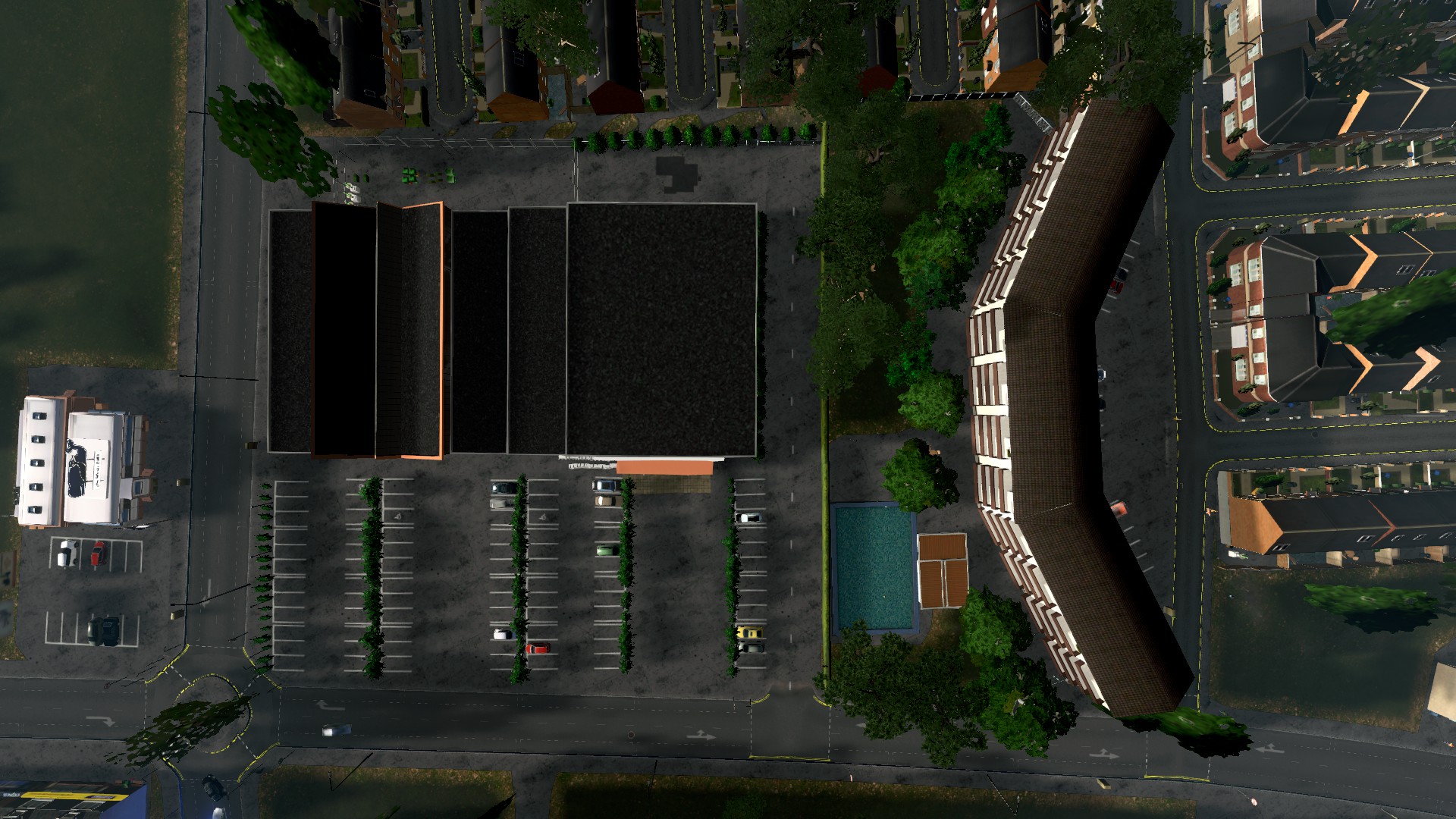 And that's it! I just want to to say a thank you to all the modders and asset creators out there that make this game something completely different. I also want to say a thanks to you if you follow this journal, thanks for taking some time off your day to see what I have done in my own city, not yours.
If you have any suggestions for improvement, now's a good time to post as this city is still in development.
Thanks, and I'll be back next month with hopefully (I can't promise) two new buildings for the theme, and happy Halloween!