Incursion
Incursion
SETTING: QUEENSFERRY
Queensferry has made slow but steady progress in its war with Schulmania. But, the progress is slower than their leaders would prefer. A recent purge by Lord Smirque of Accolade removed some mid level officers who were judged to be too slow to attack. The Queensferry Department of Compassion and Subjugation (actually an attack force of the military) has dispatched thousands of Happiness Ambassadors (military personnel) to spread the "love" of BuggUla. But victory has not yet been attained.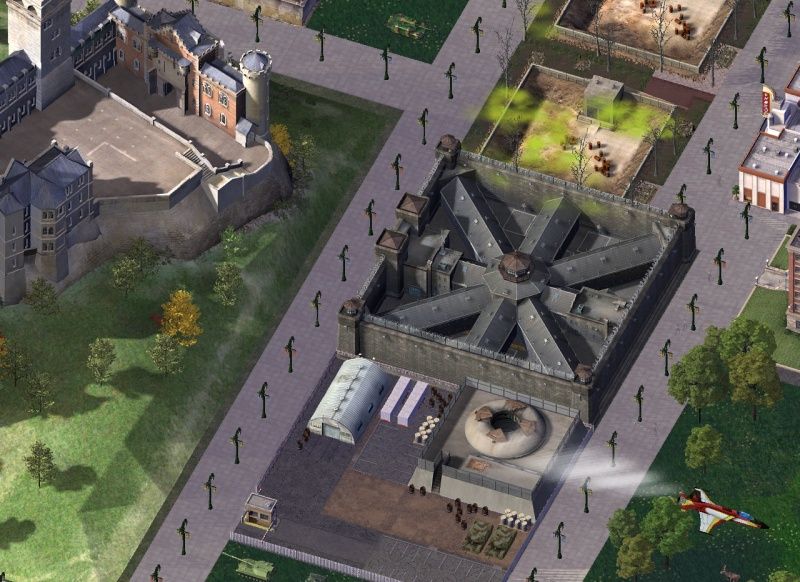 The atmosphere is upbeat as newly appoint Gen. Havoc N. Mayhem announces to the senior staff that missile strikes will immediately be used to soften the enemy defenses for "Operation Funnel Web".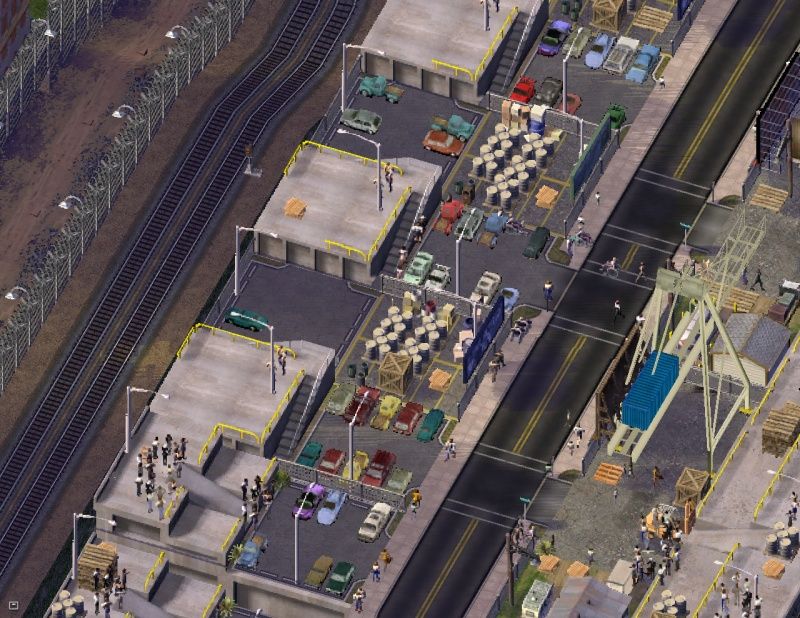 It is time to use some of the surplus of weapons Queensferry has been building up…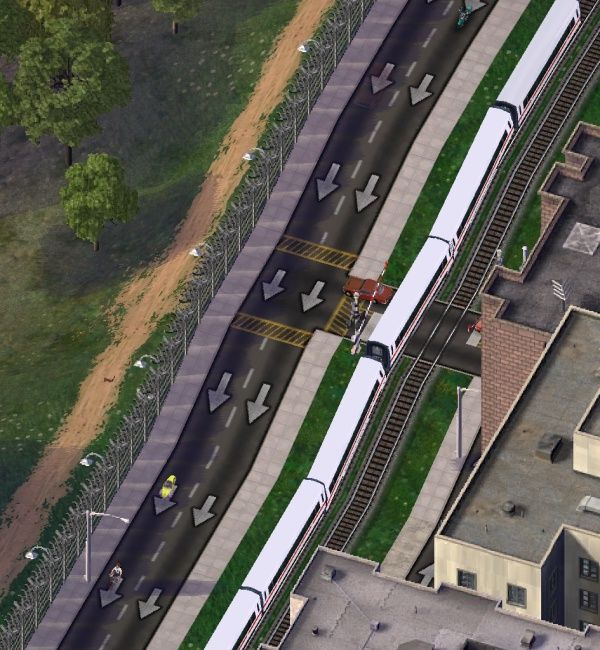 And large numbers of Happiness Ambassadors are being sent to Infestation Centers to be prepared for a major assault on Schulminion territory.
Queensferry is always ready to attack. And now is the time…
SETTING: SCHULMANIA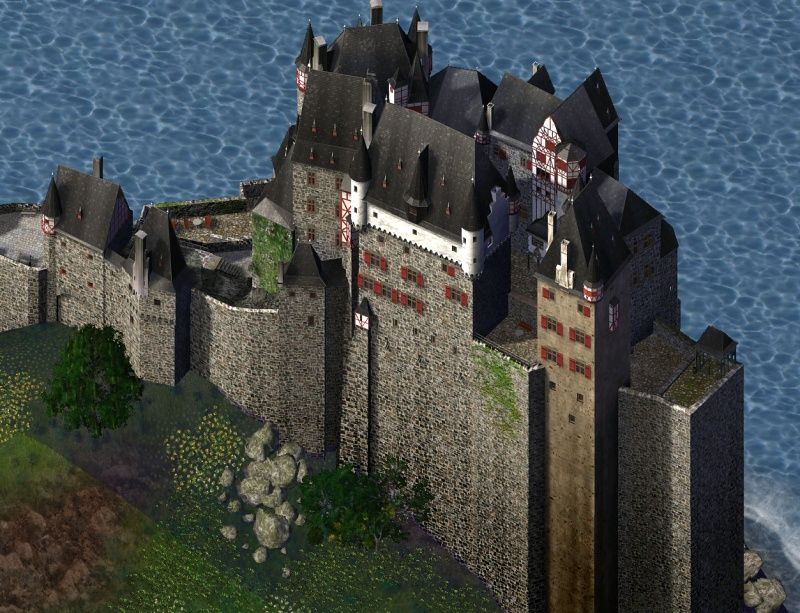 Fort Wirt, the command center of Schulmania's armed forces, on the island of Schulmanicus
COL. CATSHAW: Our forces are well dug in on the eastern front. We have reinforced trenches and plenty of cannon along the lines.
COL. CLAWSON: I understand that plans for a new air support base south of Liver Springs have been approved. This should be a plus for our defenses.
COL. CATSHAW: Agreed.
COL. CLAWSON: With that, we should finally be able to take back what is ours.
…
…
…
And now, our feature presentation…
Queensferry has a missile base in the occupied zone which has just been restocked with medium range weapons. The ULA-8 has a range that threatens all of Schulmania east of the Tenne Sea and northeast of Belva Dear. With hundreds in stock, it's time for Operation Funnel Web to be initiated. Several Schulminion cities have been targeted…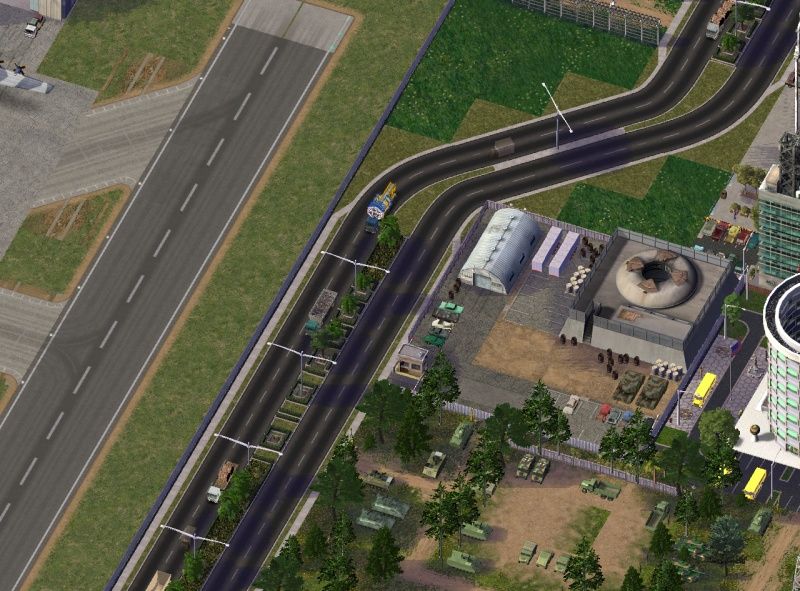 And…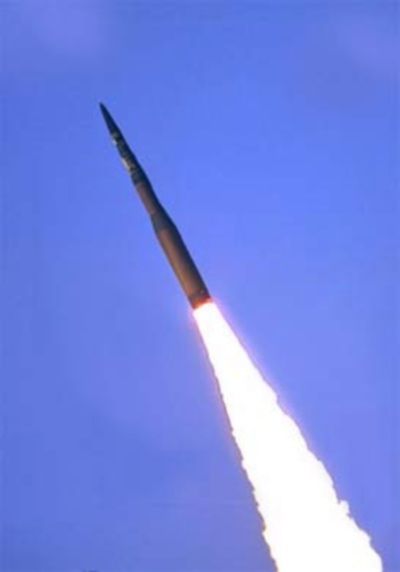 This delightful scene was replayed dozens of times… 85 missiles were launched in all.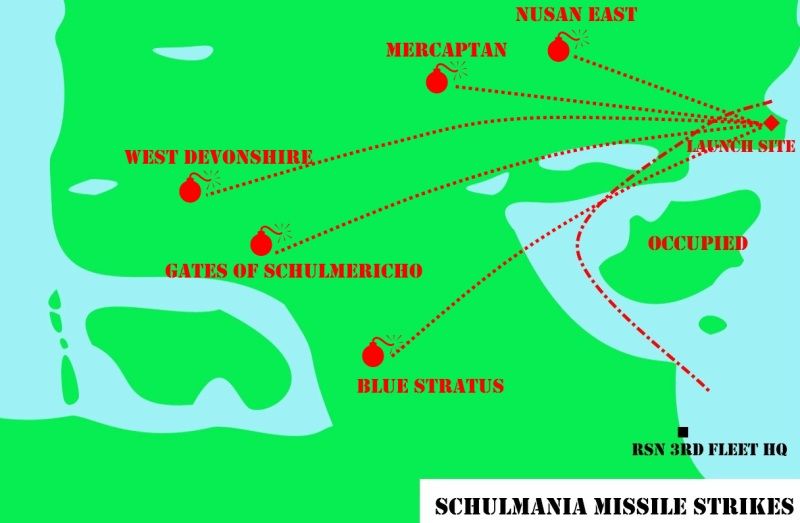 Five areas were targeted: the farming territories of western Devonshire near Schulmericho, the towns of Blue Stratus and Gates of Schulmericho in East Atkinos and the towns of Mercaptan and what was left of Nusan East in East Devonshire.
In this chapter, we will focus on the attack on Blue Stratus, as this was the largest settlement hit. Also, it was the staging area for the planned base the two colonels were discussing earlier. This attack effectively ends Schulmania's efforts to construct the base for months to come… possibly longer.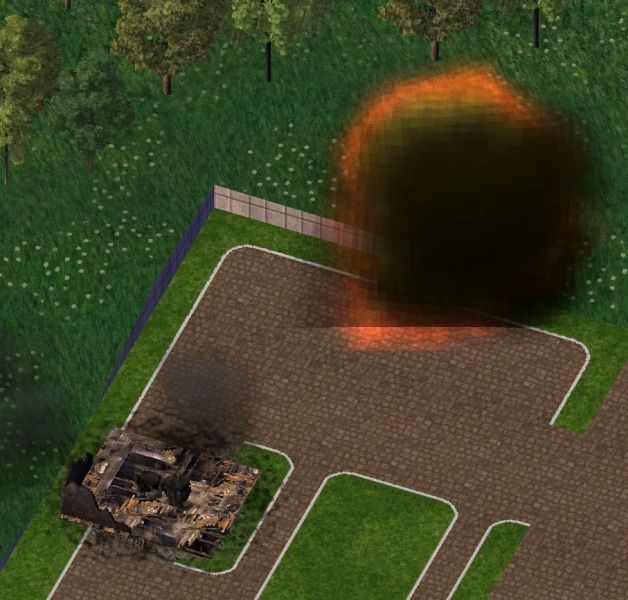 The first missile hit just seconds ago. But, there's no time to relax… many more are on the way.
A variant of the ULA-8 features incendiary bomblets, sowing indiscriminate damage upon the town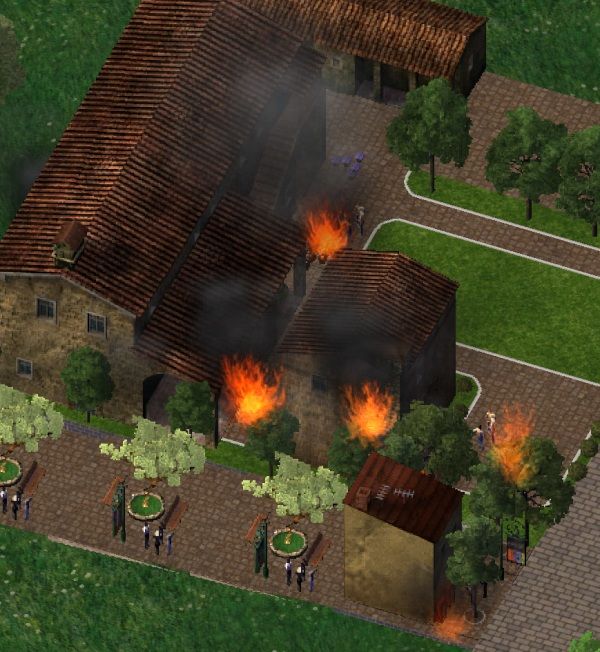 The Blue Stratus Engine Works took a direct hit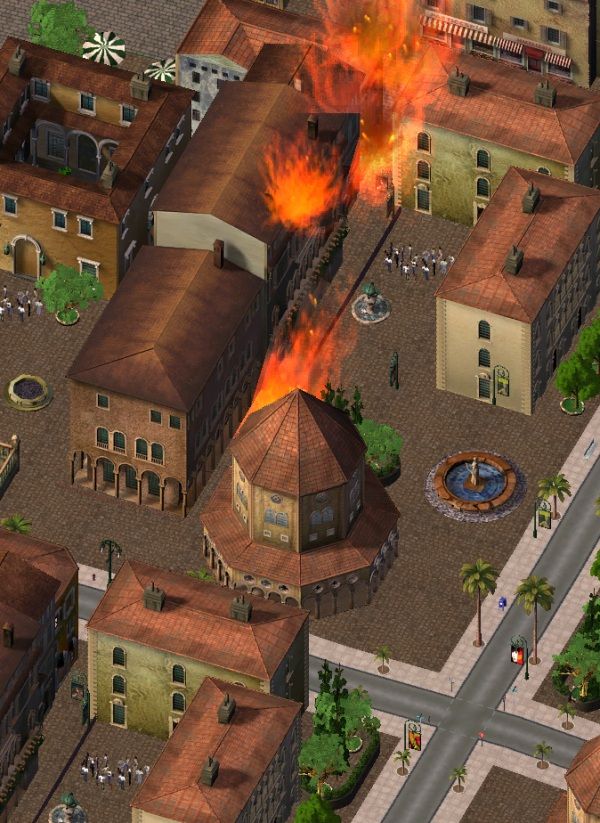 Blue Stratus residents tried to Dodge damaging fires but could only walk to safety through treacherous streets
The Stratus Institute for Locomotion Studies went up in flames
The local treasury burned quickly, reducing thousands of schulmonetas to ashes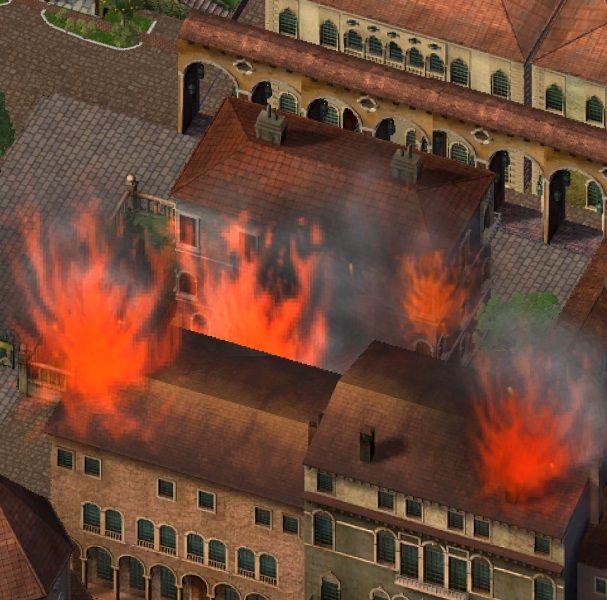 Three more missiles slam the city in quick succession…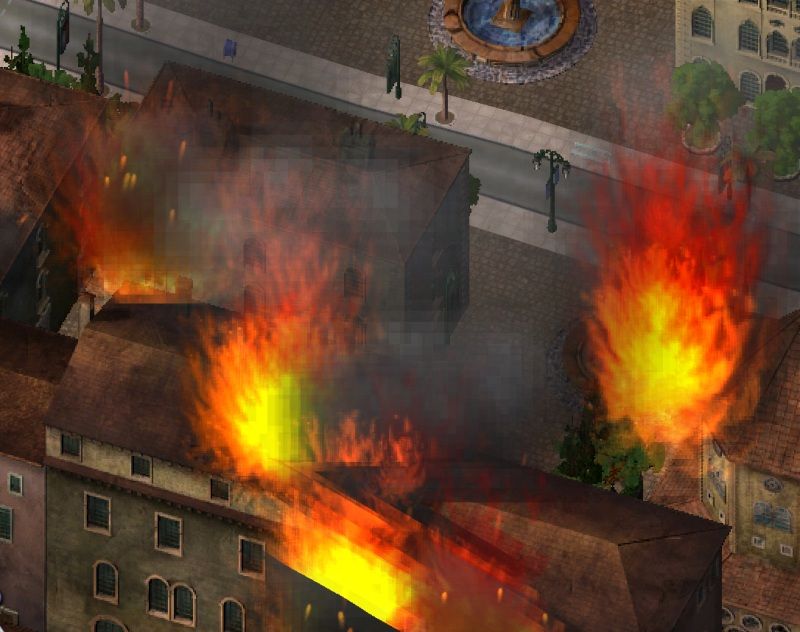 Casualties will no doubt be high from this attack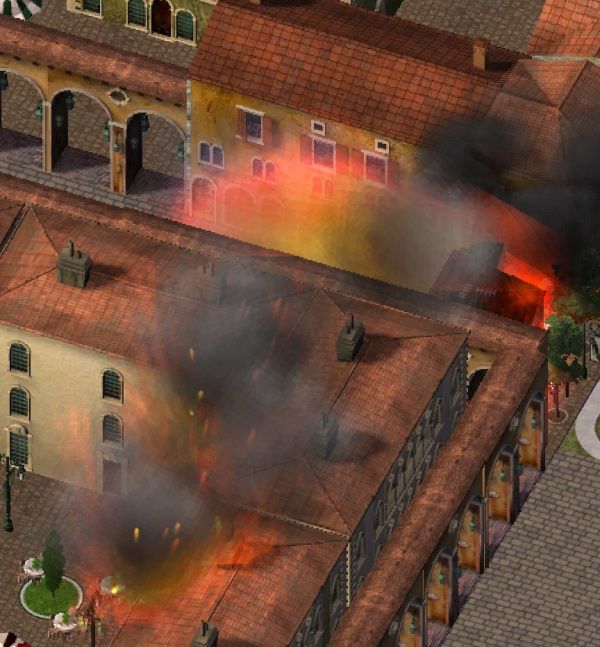 The flames continue to spread…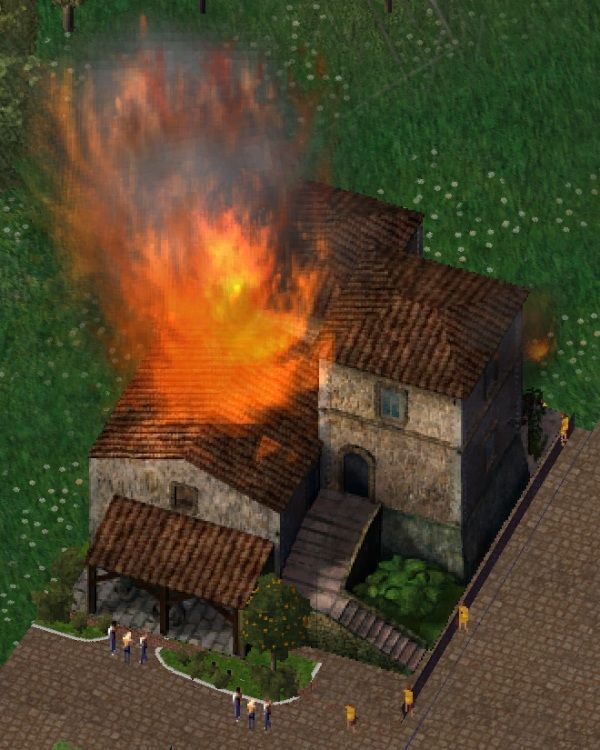 Even the beloved Golden Parabolas restaurant was lost
Residential sectors were also severely hit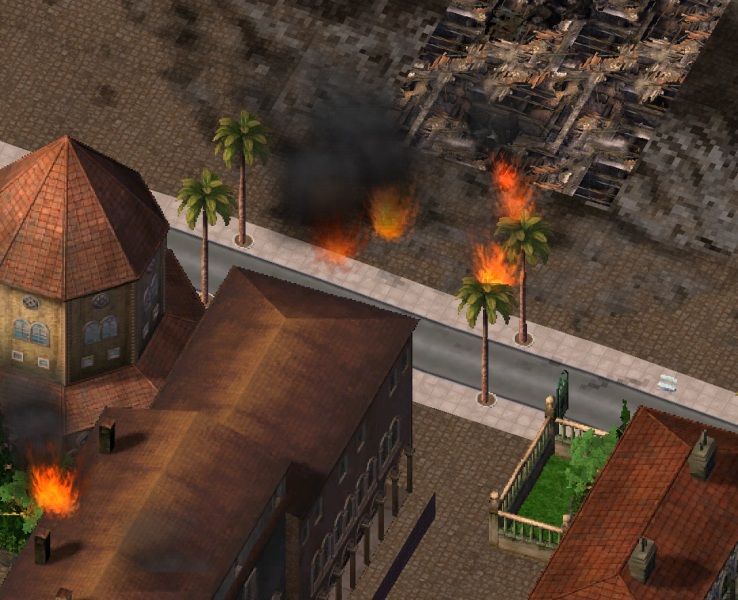 Flames and smoke fill the air while rubble accumulates below
The Military Command Post received a direct hit and was completely destroyed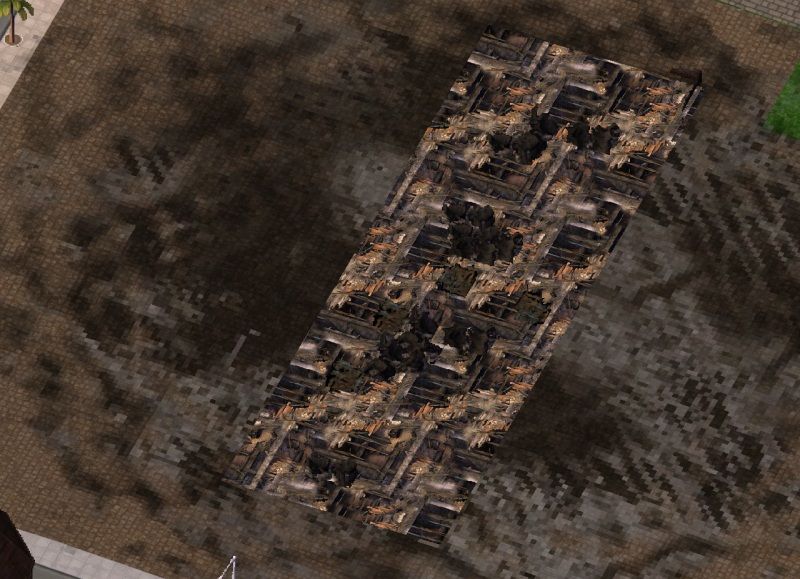 In all, forty missiles hit Blue Stratus, leaving scenes like this as the only signs the area was ever inhabited
And if this disastrous attack was not enough, things are about to get far, far worse. If Schulmania had radar, then this incursion would be detected:
Hundreds of Queensferry's shock troops are being airlifted to central Schulmania, ready to open a new front in their wicked war of aggression

<------Click here to see the revolving globe showing Schulmania's visitors!