July, 48EL: Park
Lyhoko: The results of the poll are as follows: 0 votes for a beach, 6 votes for a park, and 3 votes for farms.
Some additions have been made to the waterfront region, such as shopping areas and a carousel.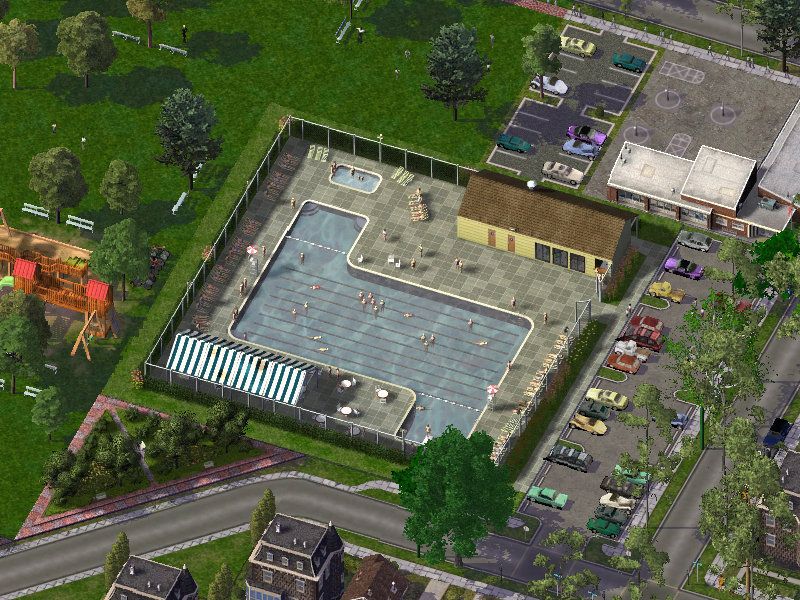 Additionally, the town has it's first swimming pool, for those who don't wish to swim in the actual ocean, and don't have their own pool at their house.
The park itself has a playground, various flowers, a gazebo, and multiple grassy areas to play in... just watch out for trees.
Overview of the park and surrounding area.
Galesfeburg certainly has grown quite a bit from when we first saw it. Quite dark, too. And those trees are still all lit up for some reason.
And, of course, the map.
Lyhoko: No new streets named? Oh, well.
Poll
Lyhoko: What should be added to town next?
Lyhoko: Remember to look closely at which option is which number when voting. Don't say something like "3 - an industrial area." 3 is farms, the industrial area is 2.
Lyhoko: Voting is now closed!
1: 0 votes
Add an actual beach area, instead of a random flat sandy area
2: 3 votes
A small industrial area, to provide more jobs
3: 7 votes
Additional farms, to reduce the town's reliance on outside food supplies
Lyhoko: Please choose one option at a time... but you may vote more than once, as long as you do not double post. Let other people have a chance to vote!