July, 48EL, Part 2: Crops
Lyhoko: The results of the poll are as follows: 0 votes for a beach, 3 votes for industry, and 7 votes for farms.
Some farms have popped up off to the side in the southeast part of town, growing this such as pluftagen (a squarish purple fruit, normally sweet and juicy) and gris. (a wheat-like crop)
The rest of the farms have sprung up along the main road, in this location it's just grains of various sorts, such as wheat, rye, oats, and mara. (the "corn" field that's been there since the town was founded) There seems to be a bit of a crop failure in that one field, though. Maybe it's a low-lying spot that flooded in a heavy rain?
Several more crops have appeared around the road to the power plant as well. Akanen (A crop with various tubers) and lcepän (salad greens, more or less) can be found down here.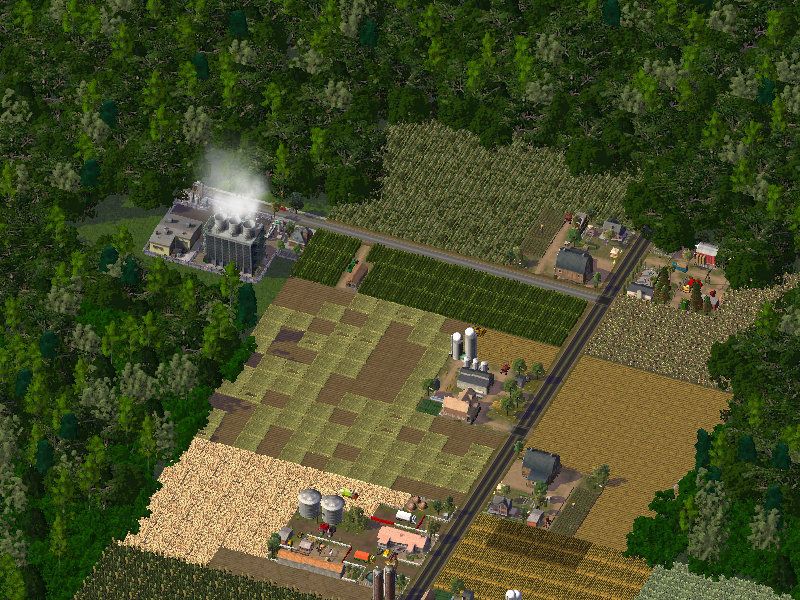 Overview of the farms and the south end of town.
And, of course, the map. No time has passed however, so nothing is new.
Poll
Lyhoko: What should be added to town next?
Lyhoko: Remember to look closely at which option is which number when voting. Don't say something like "3 - an industrial area." 3 is farms, the industrial area is 2.
Lyhoko: Voting is now closed!
1: 1 vote
Add an actual beach area, instead of a random flat sandy area
2: 2 votes
A small industrial area, to provide more jobs
3: 5 votes
Additional farms, to reduce the town's reliance on outside food supplies
Lyhoko: Please choose one option at a time... but you may vote more than once, as long as you do not double post. Let other people have a chance to vote!