December, 47EL: Elbow
Lyhoko: The results of the first poll are as follows: 3 votes for north, 2 votes for south, 4 votes for west and 2 votes for east... or is it 5 votes for west and 1 for east? Either way, west wins, though.
Lyhoko: The results of the second poll are as follows: 0 votes for a beach, 2 votes for a park, 4 votes for farms, and 5 votes for expansion.
For the first time, the waterfront area has expanded, with additional waterfront buildings as well.
There was also the first case where preexisting development had to be removed to extend a street... Or A Striet to be precise. Also, Weþureeg Striet has been upgraded as the town has been expanded off to the side. Also, apparently a bus has appeared in the town...
Some additional development on the inland side of the waterfront has appeared as well, along with the standard housing districts.
Farther inland, the development digs into the thick forest of the delta region, with plenty of more room to expand.
A small spaceport has also appeared nearby, though for now the only ships capable of landing are small transports.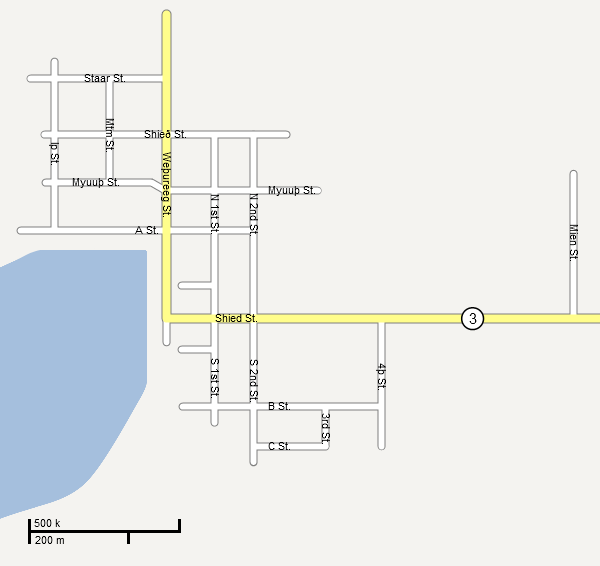 And, of course, the map.
Lyhoko: "Staar" is "star," that one should be easy. The other two are not Myonian, but rather Zukish, for a bit of a change. "Ip" is "west", and "Mtm" is "planet."
Poll
Lyhoko: What should be added to town next?
Lyhoko: Voting is now closed!
1: 0 votes
Add an actual beach area, instead of a random flat sandy area
2: 6 votes
Build a park, to add safer places for children to play
3: 3 votes
Additional farms, to reduce the town's reliance on outside food supplies
Lyhoko: Please choose one option at a time... but you may vote more than once, as long as you do not double post. Let other people have a chance to vote!