Welcome to the National Capital Region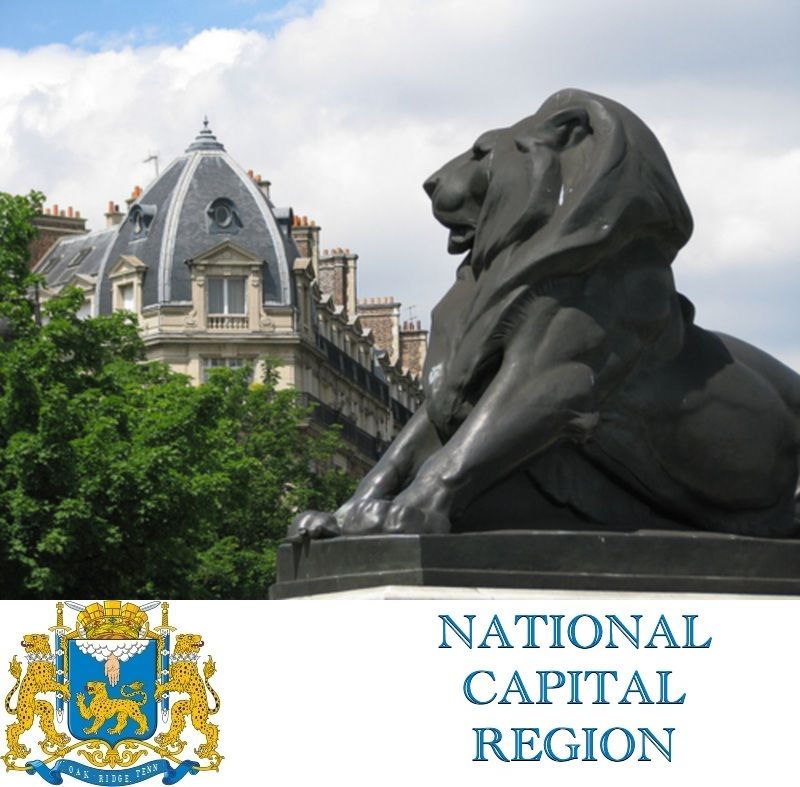 Welcome to the Schulmania National Capital Region!
For those of you not familiar with Schulmania, let me by way of introduction point you to the national website, www.schulmania.infoand suggest you browse the archives (Simtropolis Archive: http://schulmania.in...chiveindex.htm, Exclusive Web Archive: http://schulmania.in...vearchives.htmand War Archive: http://schulmania.in...s/QFarchive.htm) to catch yourself up on the world's first and largest royal felinocracy. I would suggest you use the archive site because all chapters are preserved in PDF form. On Simtropolis, some updates have been corrupted over time and are not as well preserved, especially in Volume 1. Need to follow the story line? Try the Newcomer's Guide, located here: http://schulmania.in...es/newcomer.htm.
Now, to get some geographic context for the National Capital Region. If you want to see the current maps of the whole nation, try this link: http://schulmania.in...x_files/map.htm. The four districts of the Kingdom of Tenne, a constituent region of Schulmania, are shown in the map below.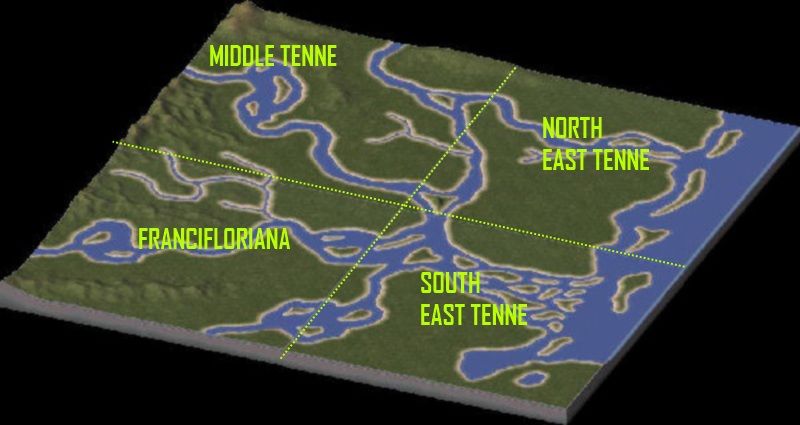 This is the heartland of Schulmania, and is available to you if you wish to build on it, as a map called "Heartland" – available on the STEX by my good buddy Vandy. Here's a link:
The next map shows you where all of the cities shown thus far in Tenne are located. Now, of course, some are larger than the dot that marks their location. But this will help you place names and cities. The capital city is Oak Ridge. And, due to its size (26 arrondissements/quarters/districts) it covers more space than the typical Schulminion city.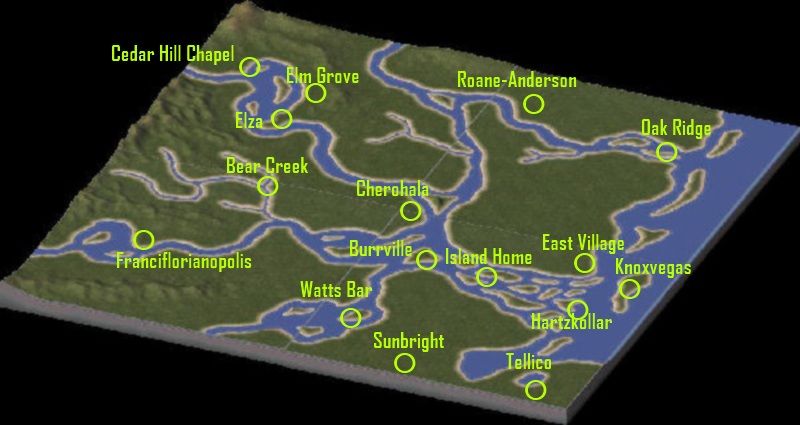 The map below shows you the urban growth boundary for the National Capital Region, comprising of the 26 districts of Oak Ridge. Now, before you ask how 26 districts will fit into a fraction of one large city tile, do know that thanks to the nature of cyberspace, it can. Just trust me on that one (wink, wink, nudge, nudge).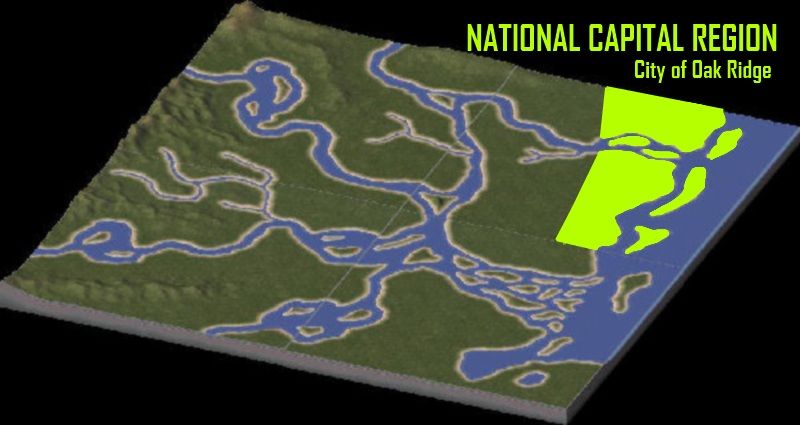 If you are curious about the history of the site, there are two web exclusive links which give you the background of the new capital site. First, the announcement of the new site: http://www.schulmani...les/xcl018.htm. And next, the reaction to the new site as it nears completion: http://www.schulmani...sternation.htm.
What to expect
A list of districts and their names and purposes will be posted below and periodically updated (not by modifying the post but by a new one, since some districts may be changed on a whim). The 26 districts will not be revealed in order, as they are not all finished. Each district is distinctive and has its own character and special buildings and features. Most districts will be revealed over multiple chapters due to the large number of pictures associated with their detailed compositions. For example, the second district, which is completed, is currently divided into 8 chapters worth of content; each of these with 20+ pictures each (the third district may be 15+ chapters!). Some districts will be in only one chapter, as is our first chapter, revealing District XVI. District I's main feature will be revealed in one supermassive update with over 40 pictures. (There will be other features from District I in other updates, so fret not.)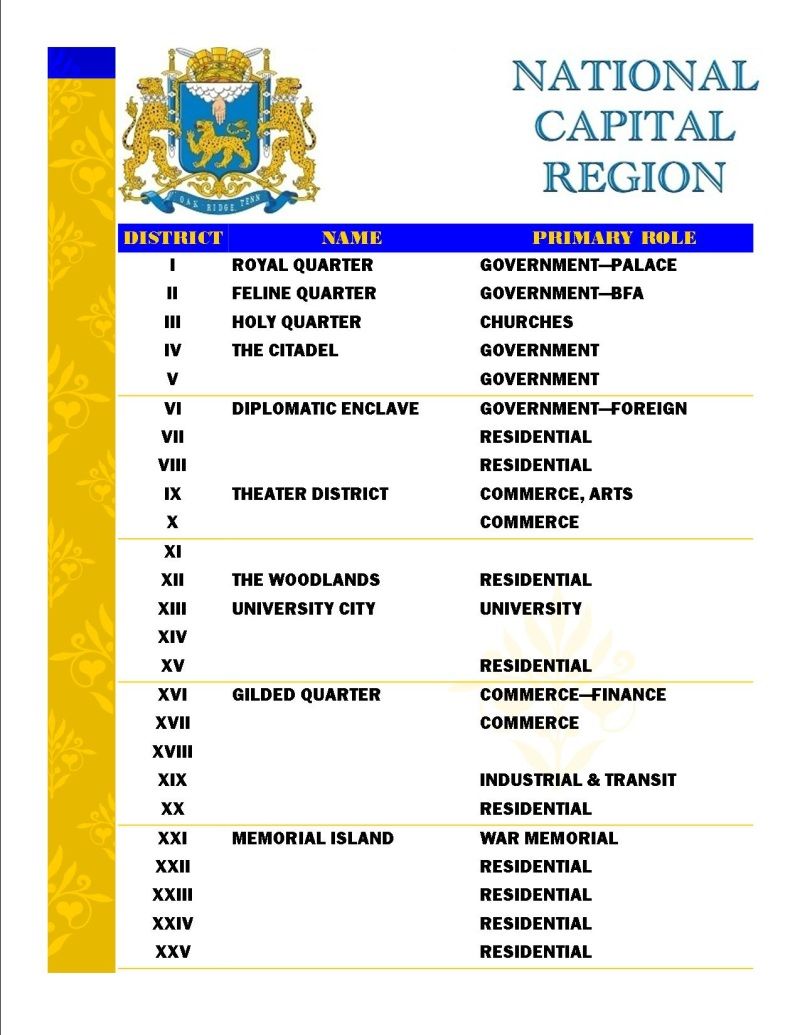 With the impending release of Simcity 2013, one might be wondering in what format to expect chapters to be released. All Schulmania updates will default to SimCity 4 by order of the Supreme Wirdle unless the new version of the game offers the prospect of creating Schulmania-like cities and the advent of suitable custom content.
Again, welcome to Schulmania: National Capital Region.