2 - 22 : East of Court House

Hello ! In today's update we will be looking at Middle Township east of Cape May Court House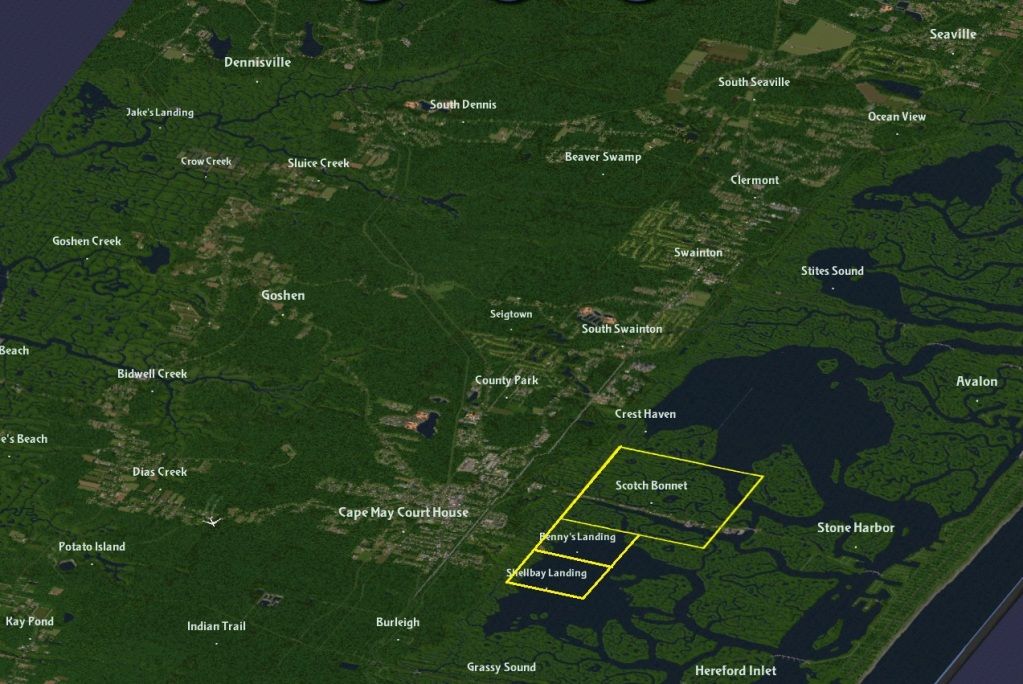 East of Court House are the Scotch Bonnet, Benny's Landing, and Shellbay landing tiles. This is one of the few locations in the county where development has infringed upon the tidemarsh.
The Scotch Bonnet section of Middle Township is a collection of homes lining the side of the Stone Harbor causeway. The roadbed is raised a few feet above the tidal marsh to make it accessible during higher tides. The area takes its name from Scotch Bonnet Creek, south of the causeway. In the late 1800's , a cross county canal was proposed from Stone Harbor to Delaware Bay via Scotch Bonnet Creek and Bidwell's Creek . Dredging was begun from the eastern end, but an economic depression in the 1880s caused a lack of funding and the project was abandoned before the canal could even reach Cape May Court House.
(Looking east) Today, homes and a few businesses lay mostly on the south side of the causeway. Raised wooden pathways lead to docks along the banks of the old Stone Harbor canal, which offers docking for small craft. Over the years mud has caused the canal to shoal, making the canal passable to larger craft only at high tide.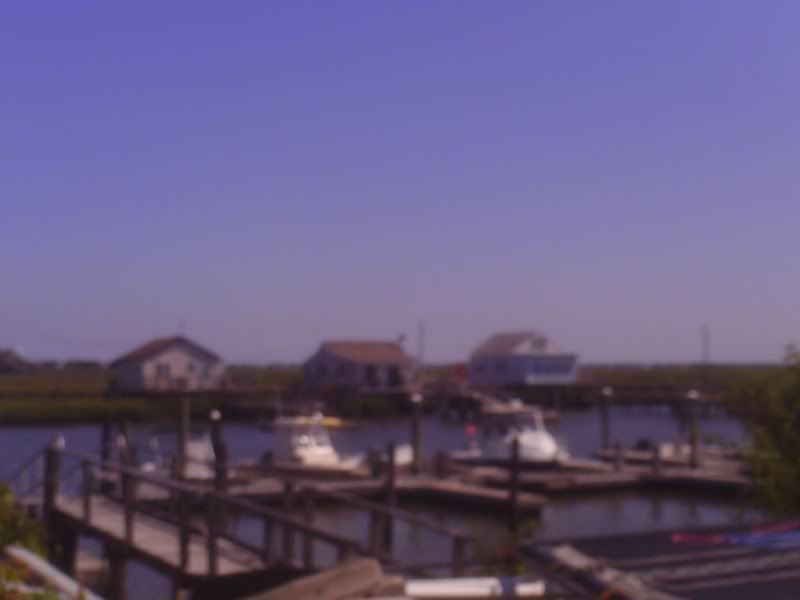 Most of the homes in this area are built on pilings to keep them a few feet above the marshes, which flood during the higher tides of the new and full moon phases.
Looking east on Stone Harbor Boulevard.
Scotch Bonnet Creek and salt marsh north of the causeway.
East of Cape May Court House, about a mile south of the causeway, is Benny's Landing. A small knot of homes huddle in the marsh along the western shore of Jenkins Sound.
As with most structures built in the tidemarsh, the homes are raised on pilings.
A little south of Benny's Landing is Shellbay Landing. The tile is uninhabited, but the Township of Middle provides a pier here for fishing, crabbing, or just relaxing. It's a pleasant little place to take a lunch break.
Here's a mosaic of Stone Harbor Boulevard, headeding east through Scotch Bonnet.
I'll leave you with a YouTube video from the "Roads of Cape May County" collection. This is Stone Harbor Boulevard from the Garden State Parkway to downtown Stone Harbor.
As always, thanks for stopping by and many thanks for your comments !
REPLIES :.
Nice job! The mosaics are my favs.
Thanks ! They're my favs too
.
Really, really like the terraforming in the region view
Thank you ! It's really shaping up now that there's some development on it..
So much detail in that region view, nice.
Thanks ! It's the result of 18 months worth of terraforming, documented in Section 1, the first 19 entries of the journal.
Another excellent update. I had to google the Middle Township Performing Art Center. Sadly, it looks a little different in real life, but I don't know if there are any STEX or LEX buildings that would match up with the real thing. Those weird-angle roads are cool and remind me so much of home. There is absolutely a distinct look that much of America (suburban America, especially) has.
Yeah, my choices were pretty limited. It was either that or the opera house reward, which I felt was too small. Hey, Middle Township can dream. One day they might want a big fancy PAC if it develops. Thanks for the comment!
Those FAR roads look great in those mosaics! And I love the little downtown - very quaint. Any good pubs? You also did a good job with the mining area and the MMPs. Looking forward to the next installment.
Yeah, the FAR roads work great in a mosaic. The straight ones and even the 45 degree ones ran off the screen after a while. Most of the night life is on the barrier islands, but Cape May Court House is home to 2 pubs. The Bellvue Tavern, located on Main Street a little south of Mechanic Street, and Atkinson's Tavern, also on Main, south of Shell Bay Avenue. I'm partial to the Bellvue. but I'm biased. They sign my pay check
.
Okay, this is just perfect :OThe effort you put in this is unrivaled!
Thank you, and thanks for the link. Equally perfect. Y'know, I was even able to find my truck in the municipal parking lot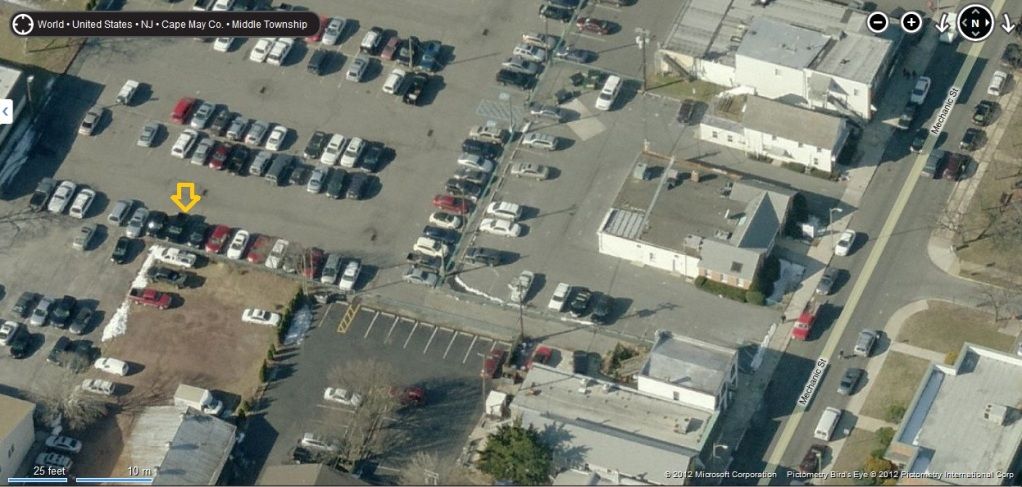 Dis haz bin... an excellent update.

I love the satellite image. Looks just like the real life Cape May Court House.
Thankz very much! I loved it too. Vivapanda went above and beyond the call of duty with that reply , posting the Bing link.
Brilliant. I love the FAR rail line.
Thanks, and thank you for including my journal in this week's Top 10. I'm honored !
Nice sprawl you have going here and you've made good use of the FAR as well. A suggestion if I may though, when taking pictures turn on shadows and traffic, you'll probably get a bit of a peformance hit but the extra depth the shadows add to the scenes is worth it.
Thank you. I'm always receptive to tips from a skilled journalist. I did have traffic on high, but shadows were only set to medium. I took your advice for this update and things look better. I don't worry too much about a performance hit. I lower my settings while building, then set them to high for the screen shots. I really do need to upgrade my video card sometime soon, tho. I get an occasional crash to desktop when running too many high end applications at once. Nothing serious, but annoying.