2-21: County Seat - Cape May Court House

Hello and happy Labor Day ! In today's update we will be visiting the town of Cape May Court House in Middle Township. Grab a snack and settle in, as this is a fairly lengthy update
<CLICK ON PICS FOR LARGER IMAGES>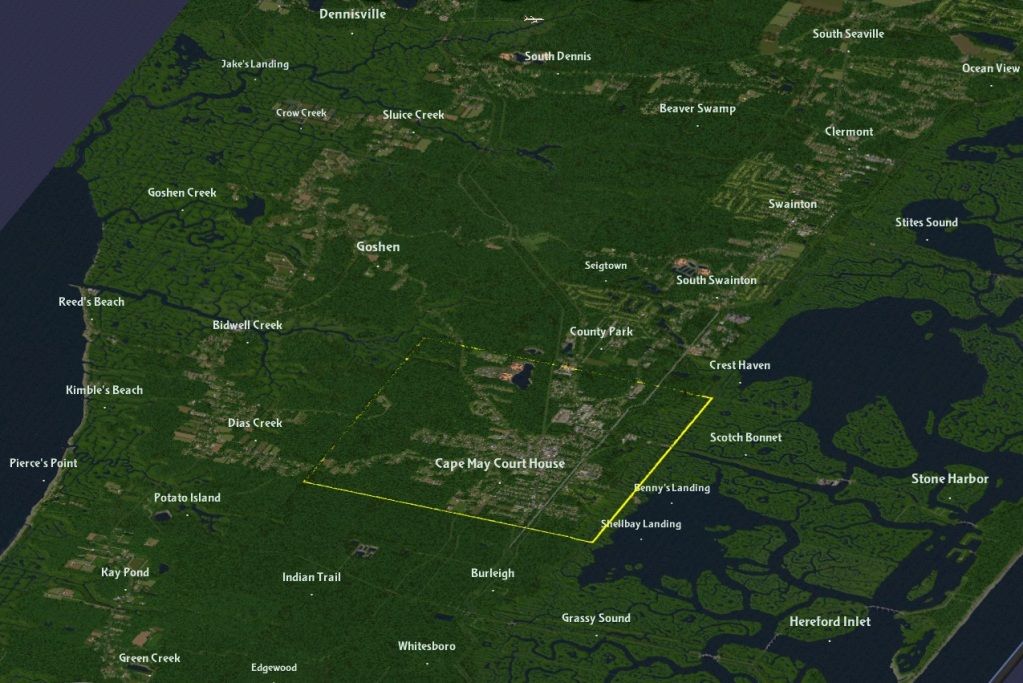 Cape May Court House is the county seat of Cape May County, and the center of government for both the county and the township of Middle. In 1695, prominent whaler Shagmar Hand purchased over 1100 acres of land from the West Jersey Society. After the first survey by Shagmar's nephew Jeremiah, the land was named Romney Marsh, for the "fertile fields of Kent County, England, the ancestral home of the Hands". In the early 1700s, the town's name was changed to the more geographically correct Middletown, being as it was located in the middle of Cape May County. At that time, the county's business was conducted from first Baptist church built in the region ( built in 1715) . In 1774, Daniel Hand, Shagmar's grandson and a master builder, donated an acre of land and built the courthouse and jail upon it.(*1) In the early 1800s, the first post office was established and the town's name was officially changed to Cape May Court House. By 1833, the wooden structure of the first courthouse had fallen into a sad state of disrepair, and the county had decided to build a new brick courthouse. This set off a lengthy and at times bitter debate. The prosperous shipbuilding towns of Dennis Creek ( Dennisville) and Goshen wanted the additional prosperity that having the center of the county's government in thier towns would bring. Dr. John Wiley , a Court House physician, campaigned for retaining the Cape May Court House site. "Now , shall we voluntarily assume additional debt and increase our taxes threefold for the sole purpose of destroying one place and increasing the importance of another? Let us leave the villages of Cape May Court House and Dennis Creek to take care of themselves, while we take care of the county, and look to her interest rather than to individuals; and this can best be done by keeping out of debts and excercising economy". Wiley's appeal struck a nerve with the frugal voters, particularly those of Lower Township. On April 25, 1848, an astounding 1003 out of 1005 registered county voters cast ballots that gave Cape May Court House a narrow 89 vote edge over Dennis Creek. The new courthouse opened for its first meeting of the Cape May County Board of Chosen Freeholders in 1850. *(2)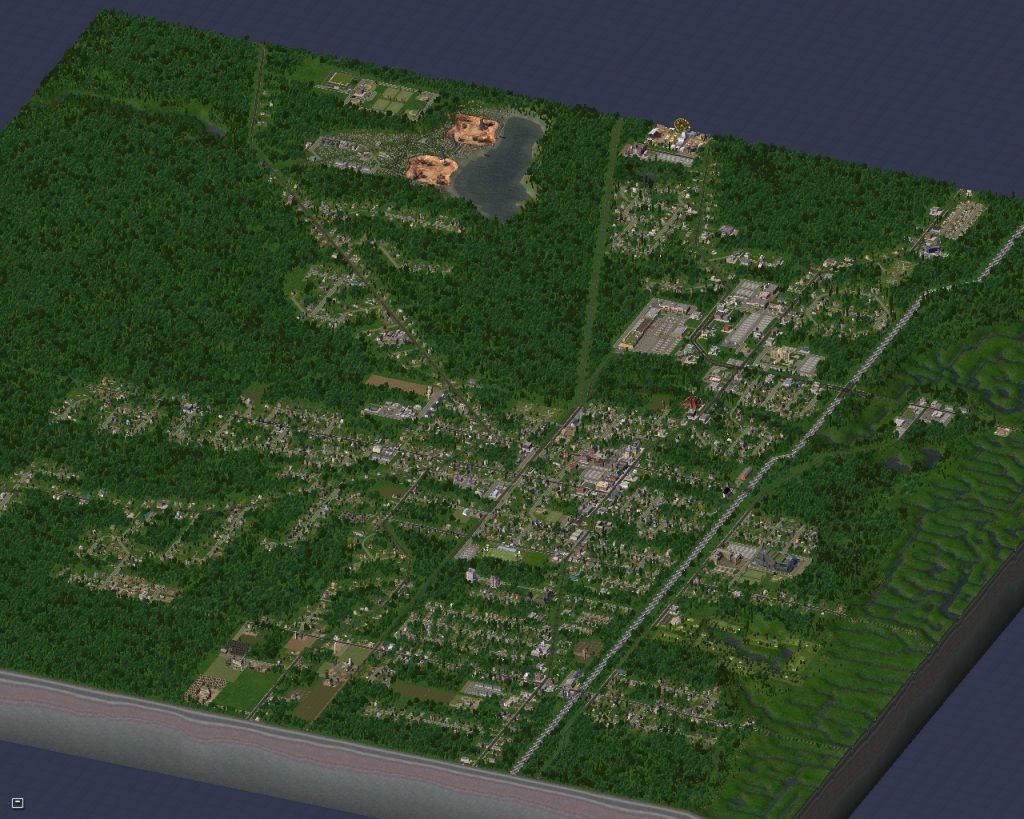 Cape May Court House (simply Court House by the locals) is the county's road hub. US 9 ( called Main Street as it passes through Court House) and the Garden State Parkway are the main north-south arteries. Other roads branch out likes spikes on a wheel and are for the most part conveniently named for thier destination .Clockwise from the top, Goshen Road (CR 615) heads off northwest while Dennisville Road goes north. Where it intersects US 9, Dennisville Road (CR 657) becomes Stone Harbor Boulevard and continues east to that barrier island resort. South of Stone Harbor Boulevard, also heading east are Benny's Landing Road and Shellbay Landing Road. Southbound, the two main roads are flanked by Golf Club Road , just east of the Parkway, and Shunpike Road (CR 620), a little west of Route 9. Connections to the west are provided by Dias Creek Road (CR 612) and Hand Avenue (CR 658) north of it. As you can see, most of the farmland has fallen to the developer's bulldozers, replaced by housing developments.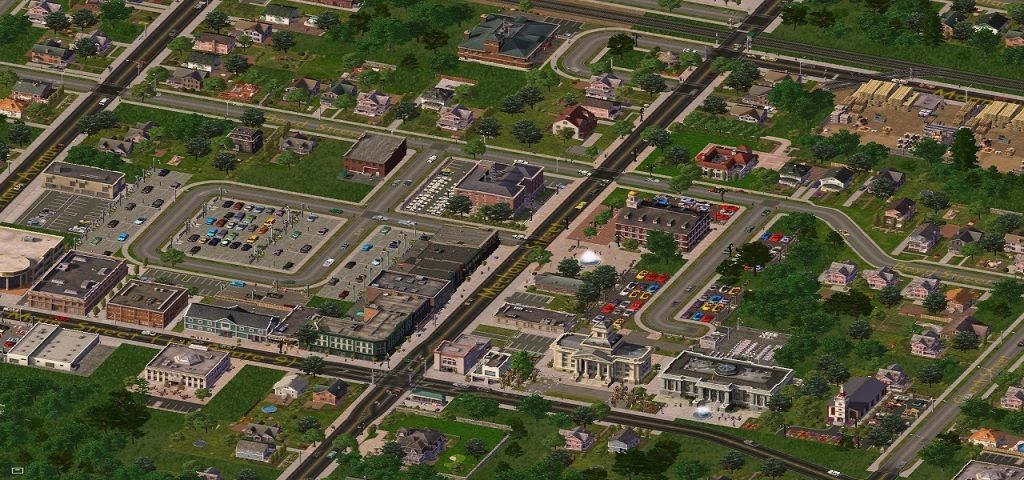 Downtown, looking west across Main Street down Mechanic Street. North of Mechanic Street are the Township Hall and County Courthouse. North of that is the old Baptist Church which was the colonial home of county government. Behind Township Hall is the main branch of the Cape May County Library , across the street from the Middle Township Police Department. A municipal parking lot off of Boyd Street provides ample parking for area businesses on Main and Mechanic Streets, and is the site of the township's annual Harvest Festival each October.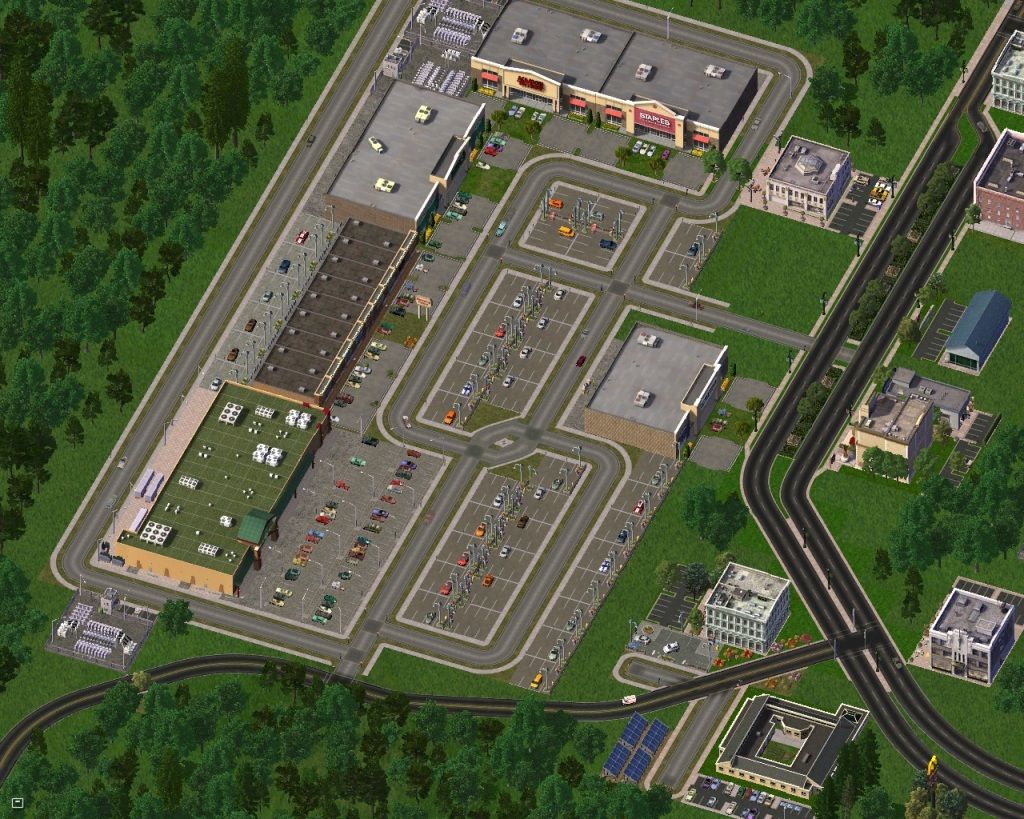 Additional shopping can be found at Court House's two shopping malls, located on Dennisville Road a bit north of US 9. In this one is an Acme Markets, CVS, Radio Shack ,Marshall's , Staples and a bunch of smaller shops . Pier One Imports is located at the mall's eastern entrance.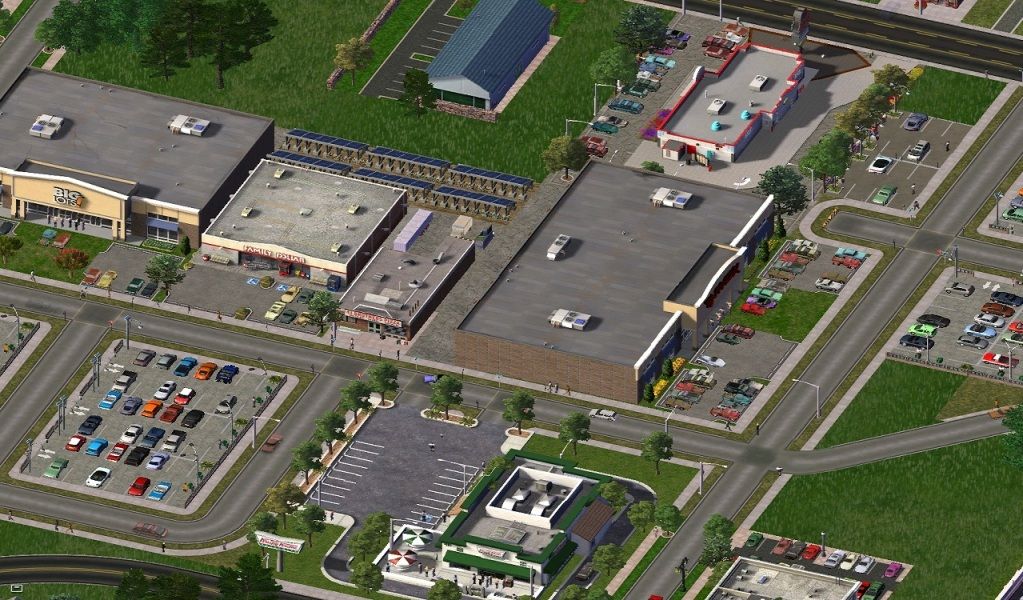 Looking east. Across the road is TJ Maxx, and Family Dollar. The Big Lots is in the process of moving into the abandoned SuperFresh store and is slated to open in 2013. If you get hungry from shopping, there's Nino's Pizza (one of the 43 Brothers of BAT pizza fame), a Donut Connection, and an Arby's .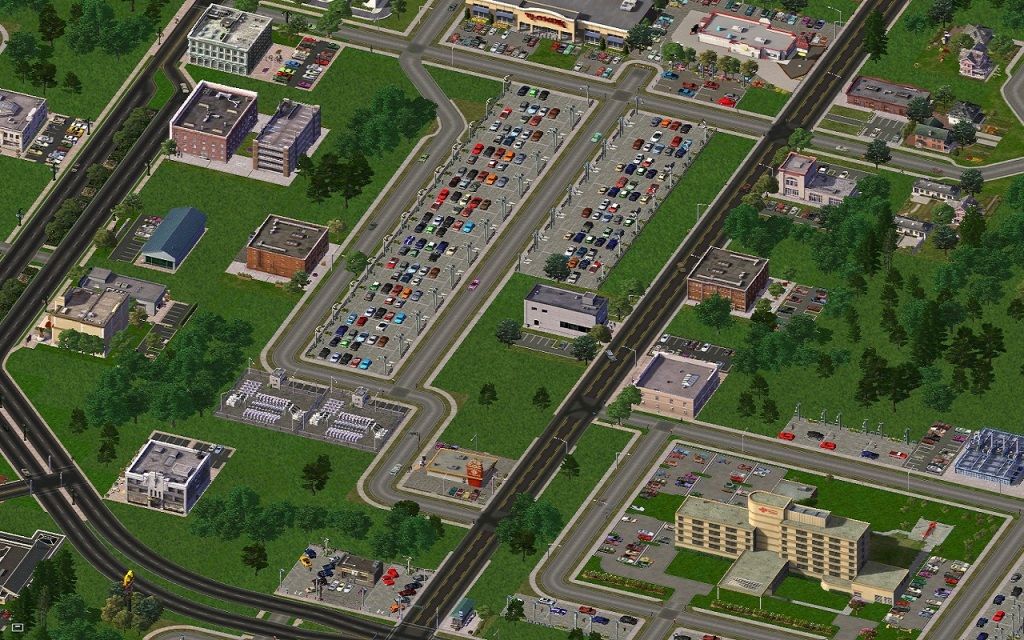 Located on the northeast corner of Main Street and Stone Harbor Boulevard is Cape Regional Medical Center, the region's only hospital.
Also off Dennisville Road is the campus of Atlantic Cape Community College. Originally Atlantic Community college in Mays Landing, ( 25 miles north of Woodbine), the Cape May County campus opened in 1999 . In 2005 , a full service Cape May Court House campus opened. Prior to that, Cape May Countians had to travel out of the region to get a higher education. Adjacent to the college is the 4H Fairgrounds. Each July, they hold the county fair there, featuring equestrian competitions, a livestock auction, entertainment and plenty of farm fresh food.
Behind the college, just off of Goshen Road is Future Mining, Inc., a mining and recycling operation. They specialize in wood waste, wood chips, tree parts, stumps, Recycling By Products, Mulch, I-5 Gravel, Concrete, Brick, and Asphalt. They'll recycle darn near anything. North of there is the Davies Sports Complex. There they hold various sports tournaments and invitationals for the local school district and amateur teams. Middle Township also holds thier 4th of July fireworks display there as well.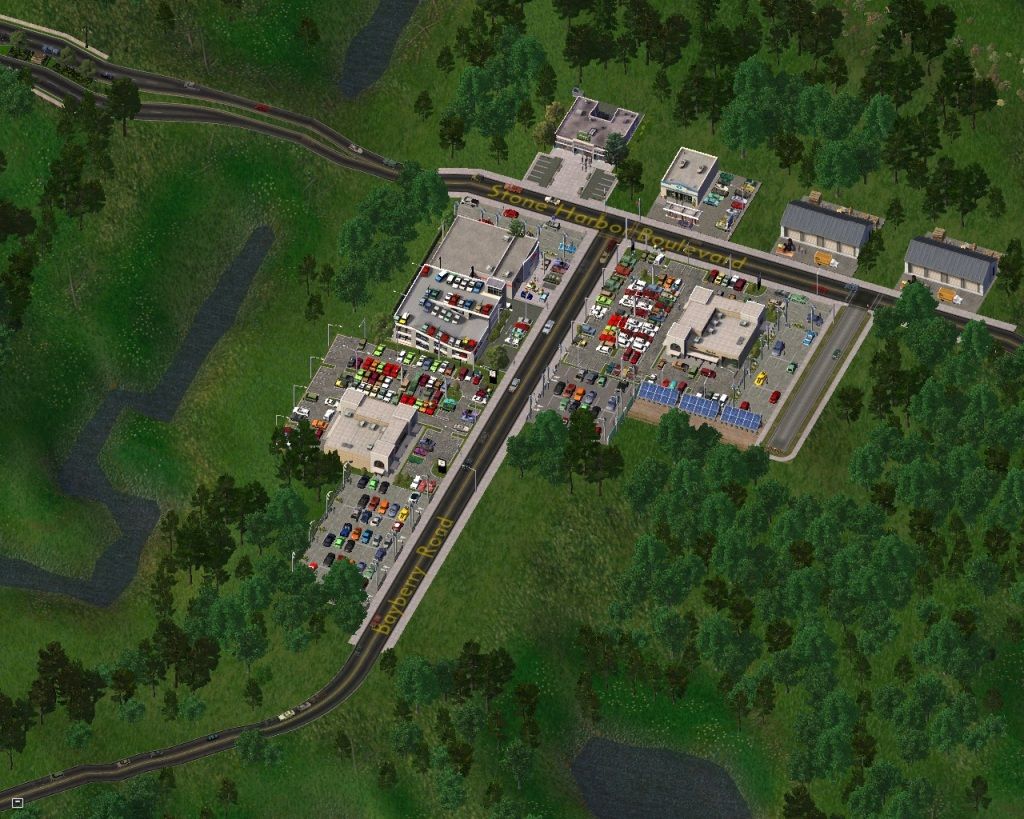 "Your friends at exit 10" is the slogan of the Jersey Cape Auto Mall. Once competitors, the Burke Motor group and Kindle Ford have banded together to offer 850 cars of 15 brands. Here you can find Fords, Chevys, Dodge, GMC, Volkswagens and several others.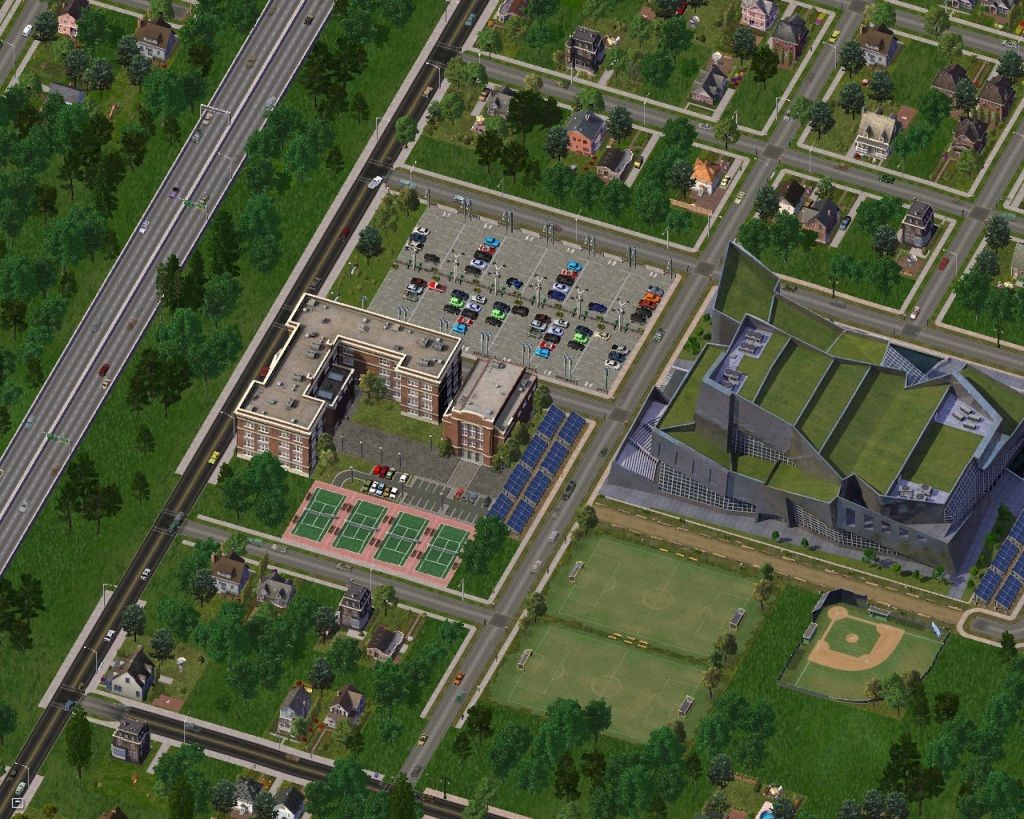 East of the Parkway is the campus of Middle Township High School and the Middle Township Performing Art Center. Here, Cape May County sims can get a bit of culture by taking in a play, concert, or an occasional rock and roll show.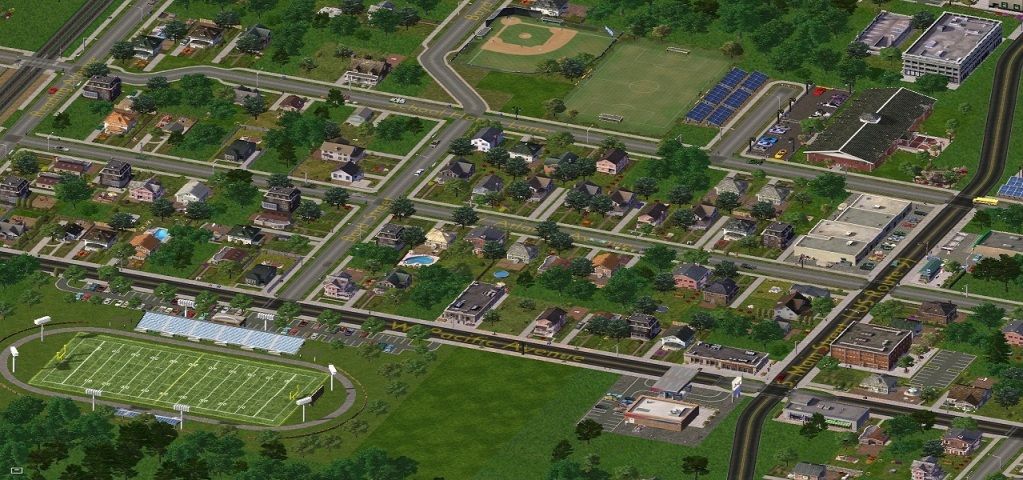 The Middle Township Panthers football team plays at this field on West Pacific Avenue
Here's a north- south mosaic starting at the 4H Fairgrounds, heading south on Dennisville Road and turning south at Main Street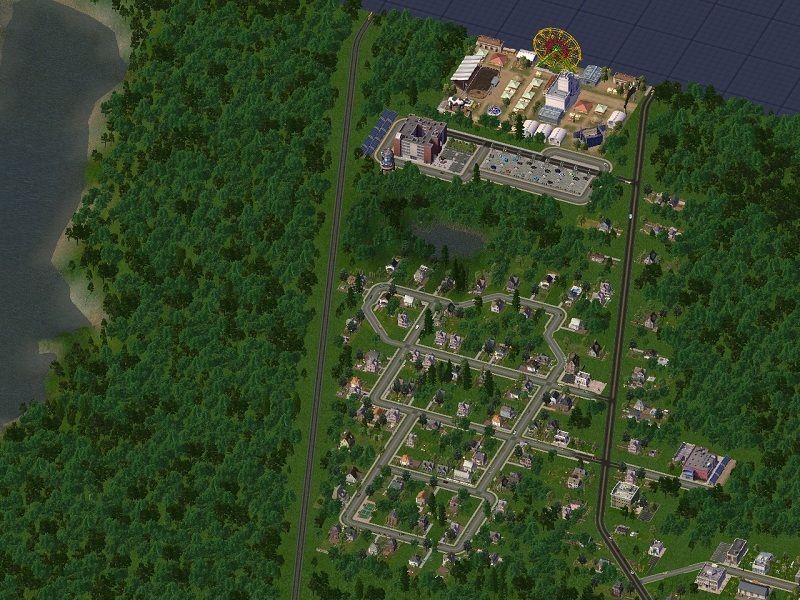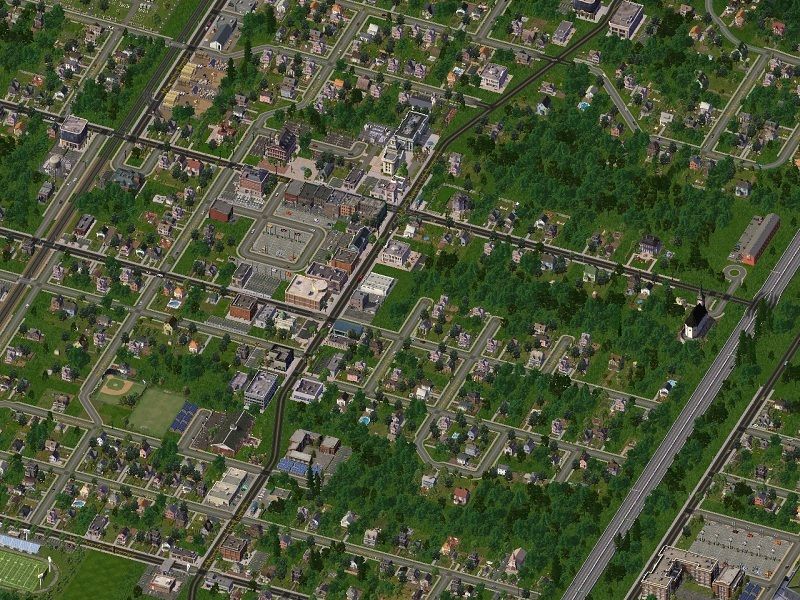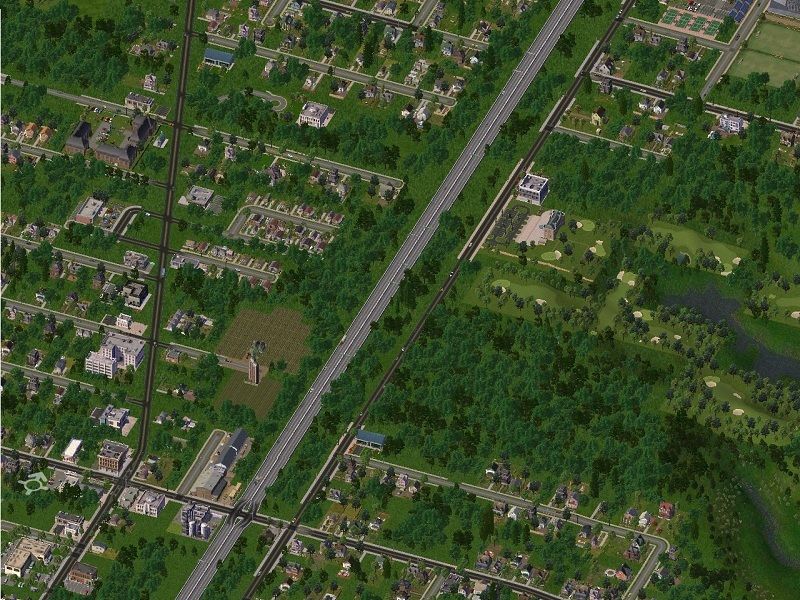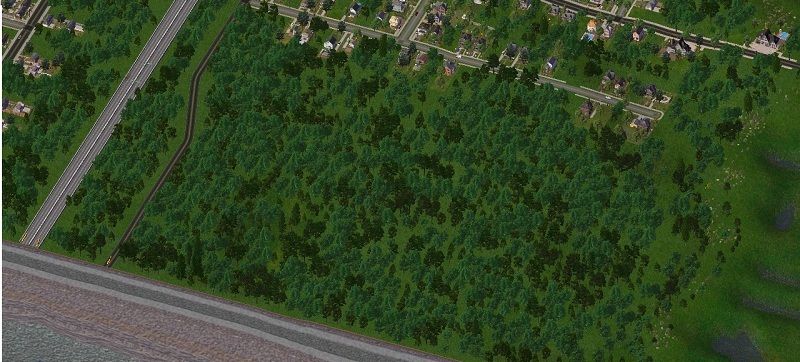 ..and a final mosaic, this one west to east on Dias Creek Road to Stone Harbor Boulevard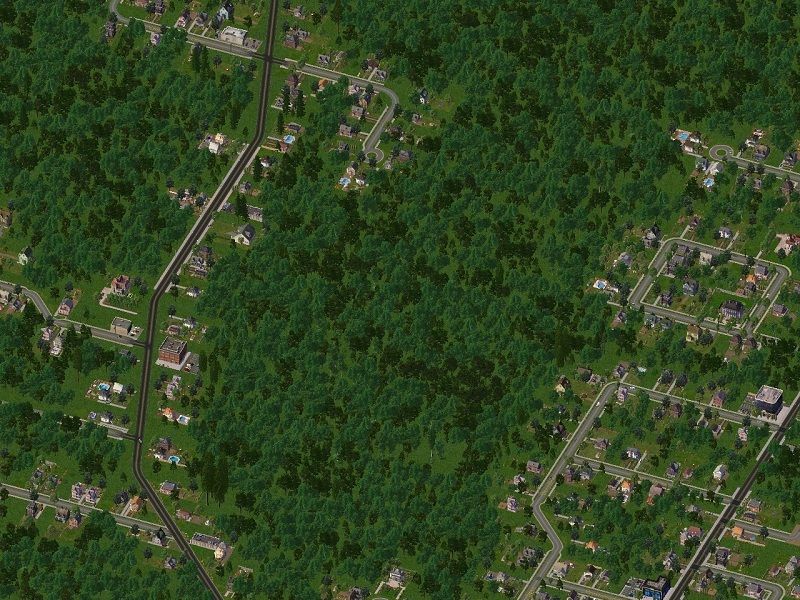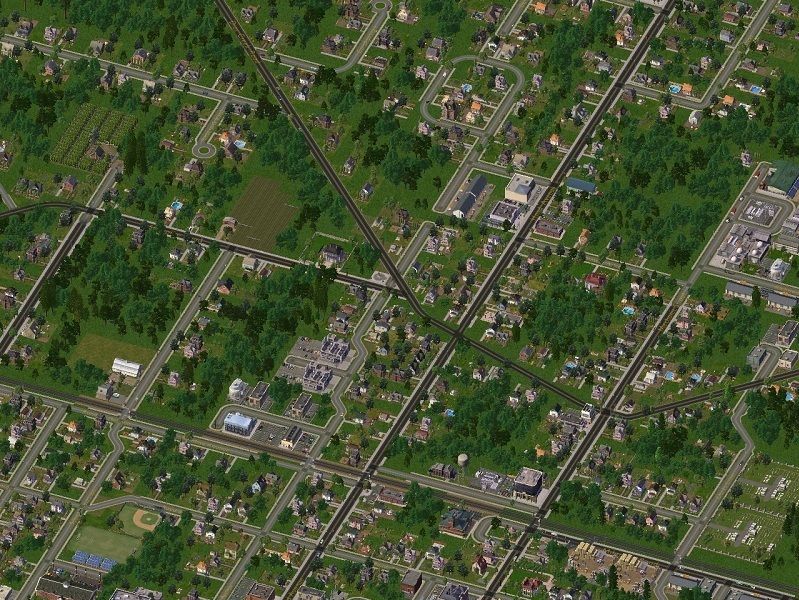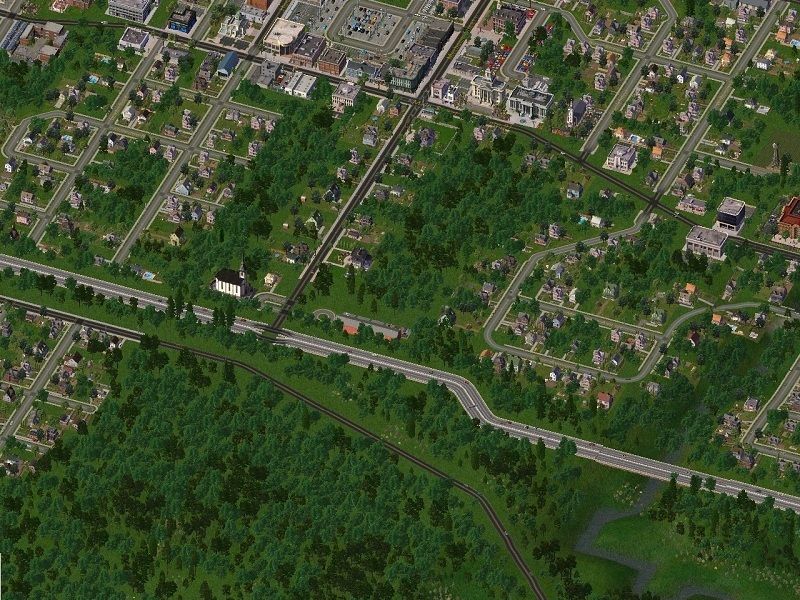 Well, that's all I have for this installment. I hope you've enjoyed it. Thanks for viewing, and thank you for your comments. !
Footnotes and sources
*1 "The Town Named after a Building" by Susan Tischler
*2 "Cape May County, New Jersey: The Making of an American Resort Community" By Jeffery M. Dorwart
REPLIES :
.
I must say, that is one of the most impressive region shots I have ever seen
Well thank you very much and welcome to my journal !.
totally agree, the region is awesome
Thank you Kruness. I'm glad you like it..
AMAZING!
lol. Thanks ggamgus.
Congrats on 100,000! I'm looking forward to the next update - I already like that old downtown feel. Bummer about your LEX trouble. Hope you get access soon.
I still haven't been able to register , keep running into that damn monkey. It would be nice to finally get the missing textures for some of the BATs I'm using. Maybe I'll go back and toch them up someday. It'll give me something to do when the journal has run its course..
I can't wait to see when you get done with Stone Harbor. I spend my summers there every year. Our house is on 90th between 2nd and 1st Av's
I have a few more things to finish up in the Court House area, then I'll be moving on to Seven Mile Beach Island. I need to complete the Scotch Bonnet tile ( the causeway between Court House and Stone Harbor) to connect the island to the region, as the Avalon causeway ( Stites Sound tile) is uninhabited except for a radio station and may cause commute problems. After that I'll start at the Townsend's Inlet tile and work my way south to Stone Harbor and Hereford Inlet. I may need to return to the mainland to create more jobs if the dreaded no-jobs zot s begin to trouble me. 4 more updates to Stone Harbor. Stay tuned !