Replies + Teaser
Entry posted by SimCoug ·
516 Views
Replies to 1860 Census
Kevenbro: beautiful bro
Thanks bro!

Mithrik: Awesome census! It looks like Porthaven is growing a lot. But New Sorgun still at the top. Hope it keeps there.
Thanks – I totally copied the idea from Benedict

Jephonesewarrior: Oh. My. God. This is one of the best CJs I've seen. I wish I could build reigons like that (My SC4 is acting up). Nice town!
Thanks for stopping by!

Fox: Oh wow ... a lot of construction is happening now .. I almost wish I could a some land and develop it and have some land for conservation for the future too.
Well, the nice thing about the west at this time… there was a lot of land.

Kruness: as always, LOVE IT, (but i do feel bad for the indians XD)
Thanks!

Hazani Pratama: Amazing,I Like it.
Thank you.

Grstudios: Beautiful... Made me stick to the screen like a little boy in front of an ice-cream truck...
I just love your CJ, with all the small cabins, wooden paths, little mmp's that add to the feel.
If it was real, i'd go there to relax.
p.s. What is the small dirt path on the 4th pic of Junction? It looks non-SAMish, and I haven't seen this before.
Thanks for the nice comment – hopefully I was able to answer your question in the last update.

NMUSpidey: This is one of the best active city journals right now, and there are a few really, really good ones. I am always looking forward to the next chapter in this cj, and am never disappointed. Excellent, excellent work!
Wow, thank you for the high praise Spidey!

Shanemelbourne: Great update... I just love your New SorGun CJ. Beautiful and creative
Thanks!

MilitantRadical: Friggin awesome SimCoug! I know I'll be showing this to friends of mine as an example of a great CJ entry and what you can do with SC4.
With the huge variety and high quality of BATs, it is really amazing what you can create with this game.


Jetty Jockey: Great stuff once again. I'm so glad to see New SorGun bouncing back from its dark times. I was wondering what became of the Wapato after the war. Good to see they found a home in town. It's a similar story where I live. The Kechemeche had a good relationship with the settlers , and within a few generations those that remained were merged into the population. It's a tribute to your story telling skills that many folks ( me included) have become invested in the characters you've developed in this wonderful journal. Keep up the great work !
Thanks Jetty – that is a fascinating story from where you live. I am trying to paint a fairly accurate representation of history, so hearing about that makes my day.

Androidboi: this is amazingly beautiful~
Thanks, and glad you stopped by.

supercitys354262: Nice City. I really hope it comes in the 20th century. Its now 1860's.
Thank you! That is the ultimate goal (the 21st century actually). Not sure how long it will take, but we'll get there.

LastTrueChamp: Insane progress man! Keep it up
Thanks!

dubaidude303: Great work agian man!
Thank you.

SimGuy23: Now, will this journal take place in the 19th and 20th centuries, or will it slowly grow into a populated area as we talk late 20th century? It doesn't matter, it's brilliant.
My goal is to take this region up to the 21st century while representing each historical era as best I can – I think there are enough BATs out there to fairly accurately represent each era, but right now I'm just taking it one step at a time.

Jamonbread: An awesome update! I cant wait for more. I hope things continue to grow!
Thanks for stopping by Jamonbread.

Topgun232: A very awesome update with amazing scenery. Props to you.
Thanks!

Elavery: This is great stuff. I would not have the patience to build rural areas like this. It is all so creative.
It's funny, after I lost interest in megalopolis style cities, it was rural areas that kept me coming back to this game.

Mastof: OMG AMAZING D:
Thanks Mastof!

And now - a sneak peak at what is ahead...
December 26, 1860
Federal troops and supplies are relocated to Fort Sumter, which lies at the entrance to Charleston Harbor. America, as it stands in 1860, is about to be ripped apart.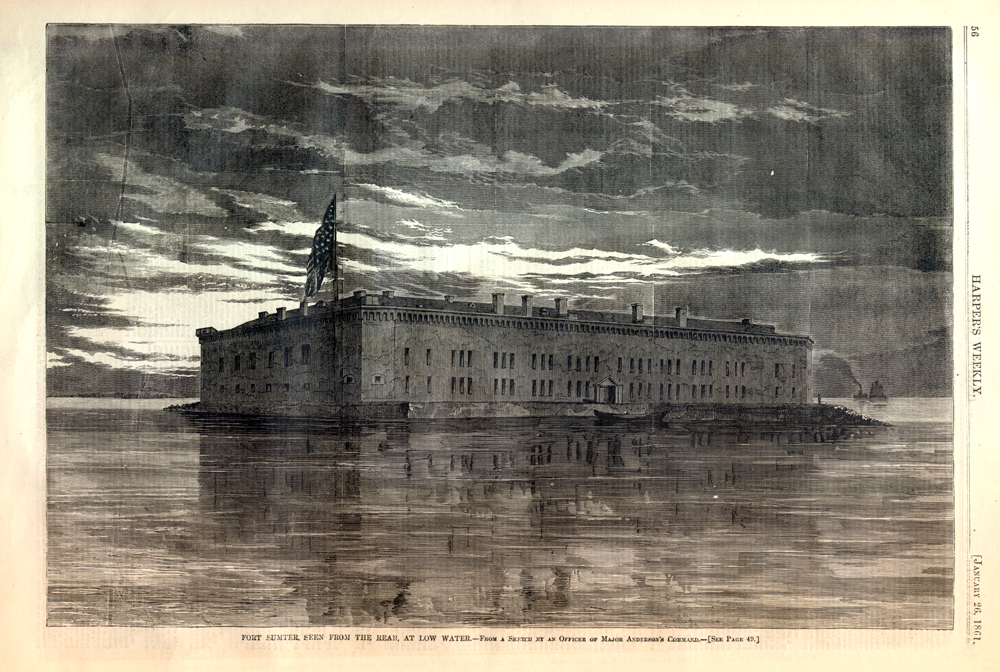 Up next, SC4 depictions of the American Civil War with inspiration from real photo/images. Stay tuned.