Test Site 2 (It's Windy Here...)
Replies:
Tried to get this in sooner, but got caught up in college stuff (yay)... and have to build the region up more, before I could take pictures. Keep in mind, no money cheats, all levels on hards, and each town/city does support itself/each other.
Also wanted to again thank you for the 5 stars, and the comments! It puts a smile on my face everytime to see my little giving back to the website is being enjoyed.
MineDerpArby787
"Great job and I loved the story and photoshopping on the last and this one! You have the same kind of "small town charm" as many others except it's in the desert. Very unique!"
-Thank you, hope this one is enjoyable as well! Thanks, if you like small towns you may like what's comming, what lies in Ash Burn?
hahei
"Very nice! (And also nicely creepy)!"
-It will get more creepy, as we get close to the base.
MamaLuigi945
"Nice photo-editing.
"
-Thank you
Jetty Jockey
"Great story line so far. Any old atomic bomb test sites along the route ? ( Cue the spooky 50's monster movie music )"
-Well Neveda was known for it's testing of the Atomic Bomb, so it may be possible...
Fox
"Interesting picture .. and interesting storyline.. can't wait to read more."
-Thank you, here is more for you, enjoy!
Simul8ter8
"Very cool!"
-Thanks!
westy177
"ohh spooky indeed
"
-Just wait =p
NR-123 holds even more windmills once it reaches behind the hills of Vale Vista, these windmills are the main source of power for the Desert Cities, and with 70% of their power going to Los Angeles and Las Vegas. Though known for it's man made beauty this part of the highway is not only under traveled, but not very well maintained.
Los Angeles is a big city in it's own right, and I haven't been to Las Vegas but it seems strange to need the sheer amount of power this area does. Something is demanding a lot of power, so much that windmills, and The Hoover Dam just don't seem to be enough. Also, I noticed a trail of powerlines leading off to no where. I've checked my map and all major power lines lead to major cities... Jean, Las Vegas, Los Angeles, Henderson, and Boulder City. This change in sudden direction isn't on the map. I think it's worth a drive out to investigate.
Behind those windmills, and behind those hills could be what I'm looking for...
Ash Burn is where NR-123 ends, but being this far out from Jean it seems no one has traveled this road in years... and it's strange I don't see any light shine from behind the hills. Is the town that small? Or is anyone even there?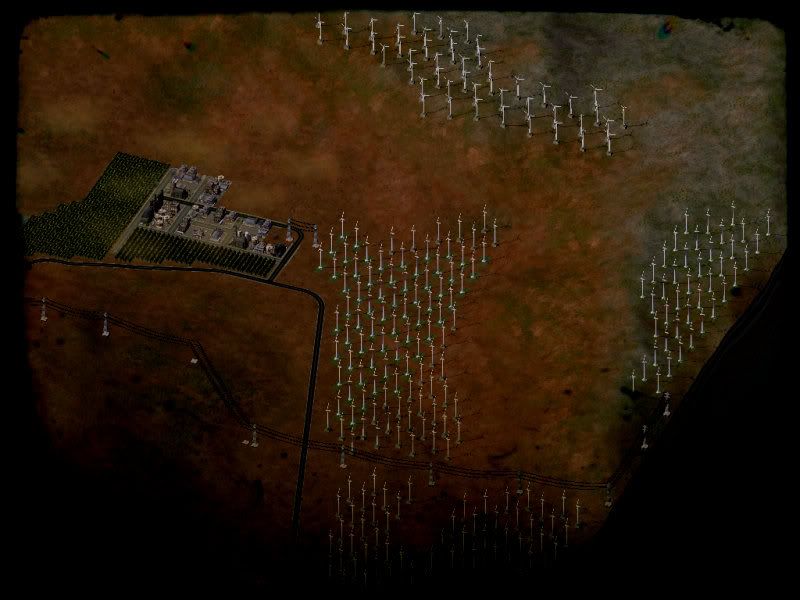 "This is sky patrol, with have an unauthorized motorist driving heading for Test Site 2, stand by, will inform when motorist reaches Ash Burn."