Galesfe City 8: Trent Fogt Memorial Park and Area
Nikki: A random highway?
Nick: It's the M-11 loop. Also, this is the access point for the main road though town. It's visible at the top of the next picture, one would turn west on the last road before M-11L, stay on the road though the roundabout, then turn left. That takes you to the road that cross M-11L, the actual onramps and offramps are on side roads on either side of the overpass.
Nikki: Sounds a bit confusing.
Nick: Anyway, this is in Berkidua, and just to the west is that Faevza interchange and other stuff that you saw last city update.
Lyhoko: Getting onto M-11L from M-11 is easy, as is going from M-11 directly to the main road into town. But there wasn't enough room to make it a full intersection.
Nikki: You again?
Lyhoko: It was surprisingly easy to fit an interchange into the available space, I only had to destroy 3 buildings! And take a bit out of the park...
Nikki: What?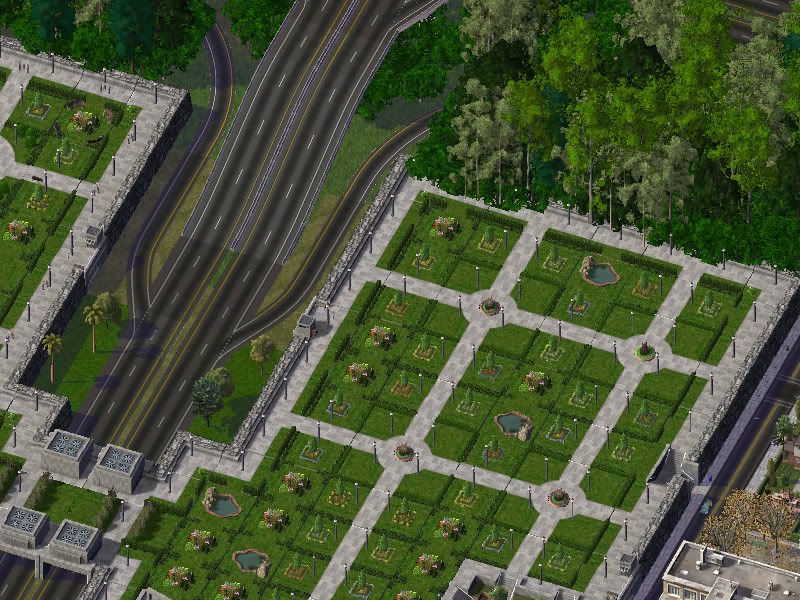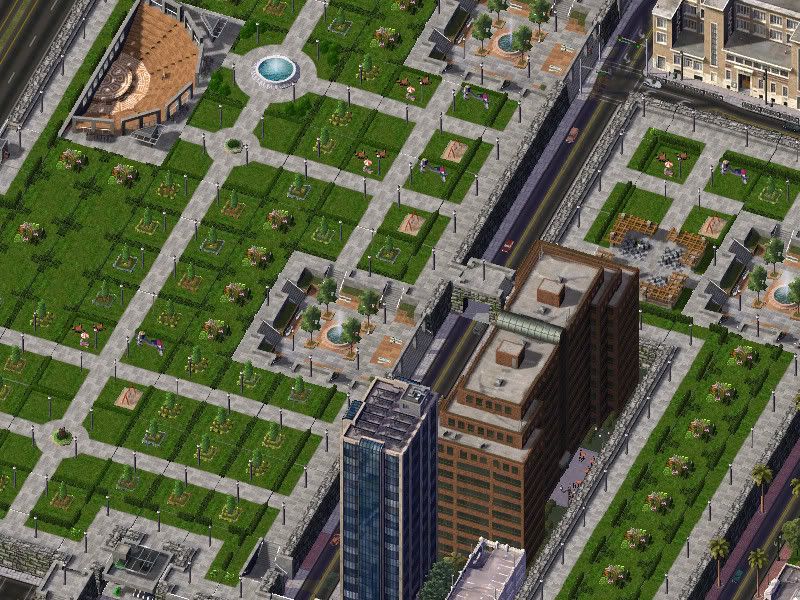 Nick: And here is most of the east side of the Trent Fogt Memorial Park, as well as the new M-11 M-11L interchange.
Lyhoko: And I found this information on the park in some CJ called "Dierapyámuk-Myon, originally Galesfe City"
The Trent Fogt Memorial Park was built in 0115AL to commemorate Trent Fogt, who served as mayor of Galesfe City from 0105AL to 0113AL, when he died in a car wreck on M-GCL, the main highway loop around the city, which also involved a truck, and 3 other cars. The accident was later found to be caused by wet roads. It is also named after the Trent Fogt who used to go to my school and was my friend during middle school, who also died in a car crash, nearly 5 years ago.
Nikki: M-GCL?
Nick: I think they mena M-11L...
Nikki: They also don't know how to spell "Dierapyamuk" either.
Nick: There is an accent on that syllable, though...
Nikki: Uwa?
Lyhoko: Oops, that's the old overview of the park.
Lyhoko: Here's the new overview of the park, with the new highway... and a new bunch of other stuff, too.
Nick: Yep, definitely a difference.
Nikki: Why does she have to keep butting in?
...
Nick: And a little ways to the east, a forested area with an elevated road passing though it. No idea why this image is in here.