INVASION! Storming the Mainland
Storming the Mainland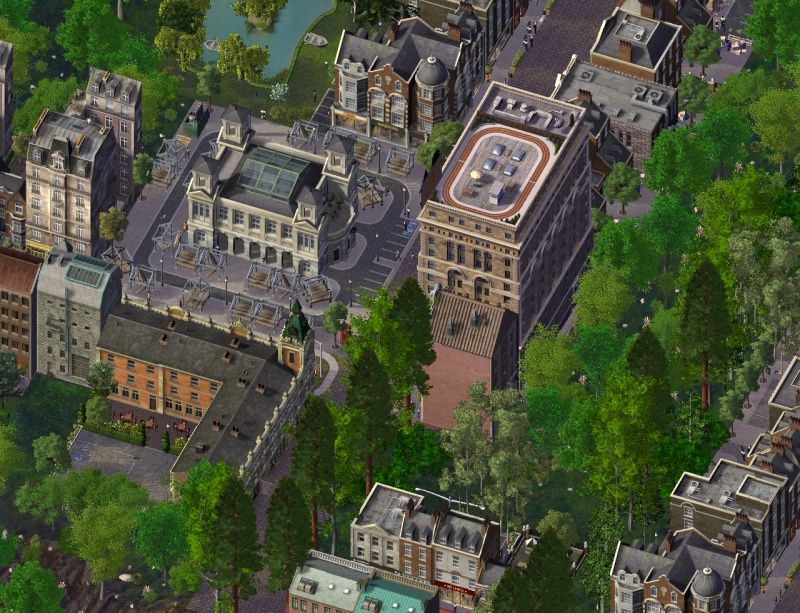 Cape Eastway, district capital of East Devonshire and largest city in the district, has been prospering thanks to the war buildup. The three divisions of the IV Corps are based here and the Cape Eastway Naval Base is the home of the four squadrons of the Third Fleet.
Although civilians were evacuated from coastal areas and combat zones at the onset of hostilities, essential and military personnel remain in the city. Governor Bird has been bouncing between supporting the military buildup and looking for ways to turn a quick wartime profit.
Governor Bird is trying to shed her image as the least effective and most corrupt leader in the nation. Having a road use tax for military convoys is probably not the way to do that. Especially when the tax goes straight to her pocket.
Defensive fortifications are hastily being built in the Devonian piedmont while Cape Eastway serves mainly as a naval center of operations. There has been some turbulence in the waters lately due to the inept management of Vice Admiral Rosco P. Coltrane. Chief Admiral Hestorb has been quite displeased with the performance of his ships in confrontations to date and his inability to penetrate the Queensferry blockade. She has been traveling overland from the western Devonshire coast to inspect the facilities and replace him with Commodore Soixante Quatre. And if she thinks she is displeased with Vice Admiral Coltrane, just wait till she sees this:
A task force of enemy vessels has left occupied territory offshore and is heading toward Cape Eastway.
If Schulmania had the capability to intercept electronic messages, they would have seen this dispatch, sent by Queensferry General Kay Oss to the occupation force on "Love Island":
All hail victory! Death to all! All hail BuggUla! Death to all! You are hereby ordered to steam out of Love Island and attack the coast of our hapless enemy at once. You are authorized to send 20 ships and use 40 aircraft. Take their city and reduce it to rubble. Take no prisoners. Have a nice day.
As several thousand members of the enemy task force approach, Admiral Hestorb is left with a naval force in disarray and an inept governor who has failed to adequately prepare the district capital for an invasion. Luckily she is coming with two divisions of troops equipped with the latest weaponry, including gunpowder. And she presided over the opening of the Schulmania National Air Force's newest facility, the Mercaptan Air Base, an airstrip for balloon assisted aircraft brought in from Maxis City. She is about as ready as she is going to get.
Upon arrival in Cape Eastway, Hestorb finds a disorganized city and a governor preoccupied with selecting new tile for the kitchen floor. Once Hestorb has installed her new naval leader, she immediately commands the army units to develop defensive positions outside the city. Meanwhile, Governor Bird has selected a buff ceramic tile for the floor. And now the arduous task of finding new curtains to coordinate...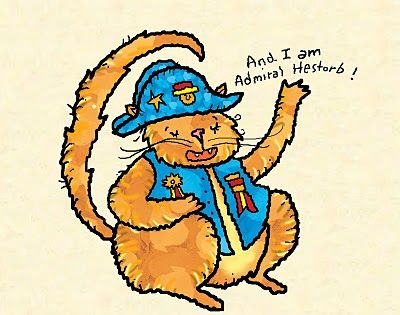 Hestorb, on the other hand, is coordinating defensive plans. She has ordered the installation of 20 of the newly invented cannons along the coast to defend Cape Eastway and its strategic naval base.
Personal gunpowder-driven weapons have also been issued to Schulmania's troops. This should help even the technological imbalance which aided Queensferry's early wins.
From a position offshore, the Queensferry navy takes aim at Cape Eastway. The ships have a much greater firing range than Schulmania's forces, so they can pepper the coast with virtual impunity. The enemy ships have been sighted and the alarm sounded. Much to Queensferry's surprise, volleys of cannon fire greeted the incoming vessels, compliments of the IV Corps 8th Division 122nd Regiment Archers.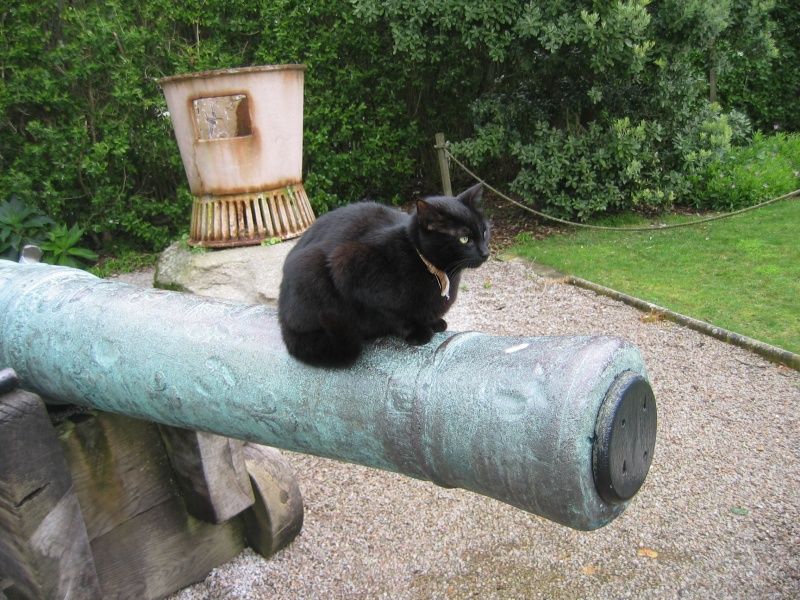 Sgt. Midnight Black mans his long range cannon on the southwestern edge of town. His orders: blast anything with more than four legs.
Enemy ships had come in clase because of the lack of resistance shown thus far. When the cannons opened up, they were able to score a few hits. Of course, the enemy ships immediately returned fire.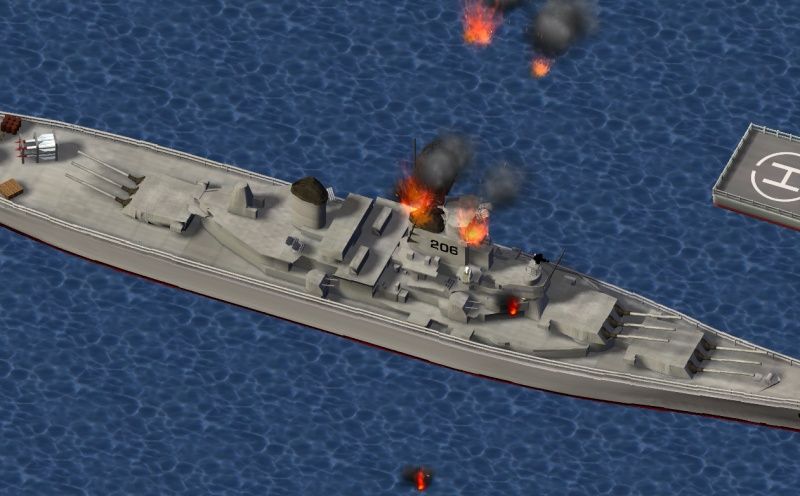 We scored a few hits! Satisfying, isn't it?
The naval bombardment begins as the big guns on the enemy vessels open up on coastal defenses and the town itself, softening Schulmania's military for the eventual ground landing.
Shells started falling indiscriminately across town. Had the town not been largely evacuated, the losses would have been huge.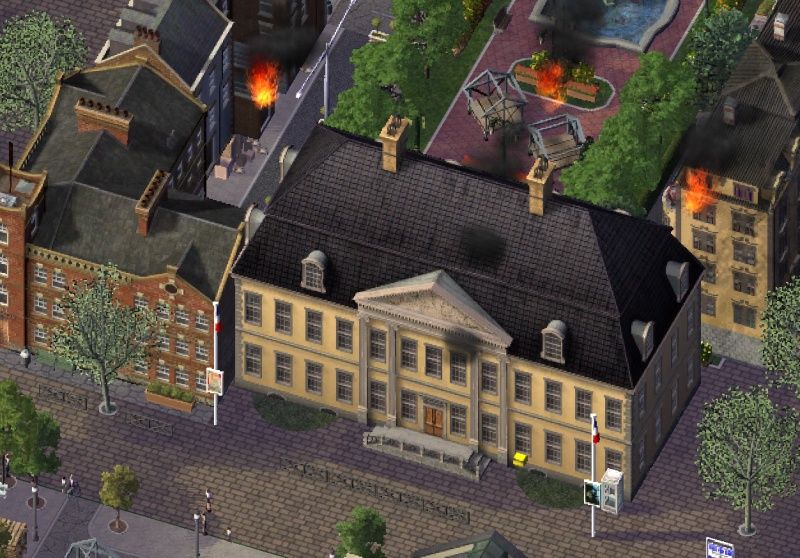 Government facilities are also hit.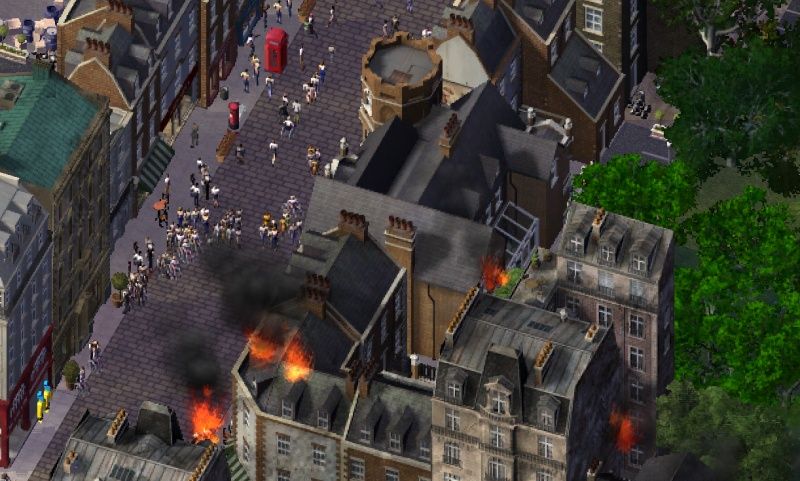 Smoke plumes and flames rose all over town. No fire brigades were dispatched; everyone was focused on preventing the enemy from landing. All efforts were concentrated on attacking incoming enemy ships.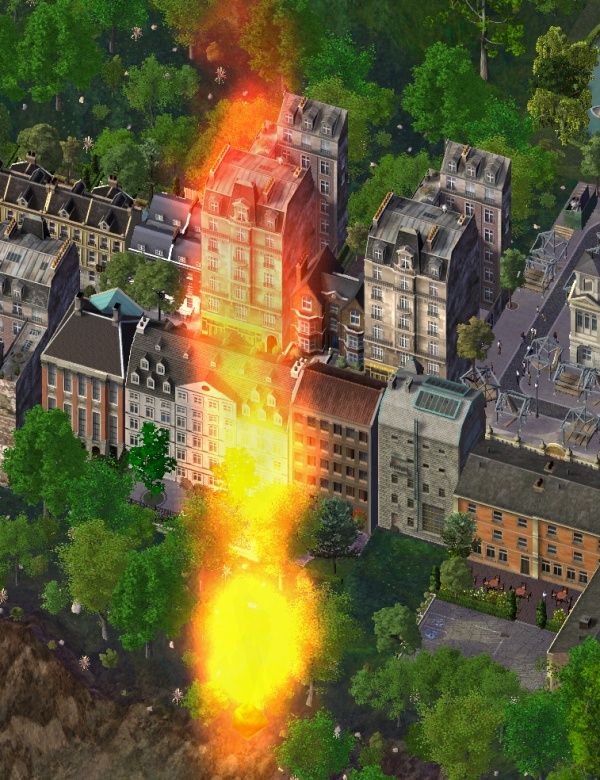 Concentrated fire near the naval base resulted in a huge explosion. Massive incendiary shells pummeled the spot repeatedly.
Undaunted, defenders keep up the attack. And Admiral Hestorb's Third Fleet joins the fight. Sailing out from the base on the north side of town, she attacks the right flank of the enemy line, catching them off guard as they focused on the town. Her ships, now equipped with cannon as well, inflict considerable damage upon the enemy. Air support was provided by Balloon Squad 7, stationed at Mercaptan. Those all of the hot air balloons were shot down, many delivered their payloads on target and aided in the destruction of several enemy vessels. Mig Thundercatuel and Kenny Jay, two of Simtropolis' pioneering airmen, will return to fight again against this most evil enemy.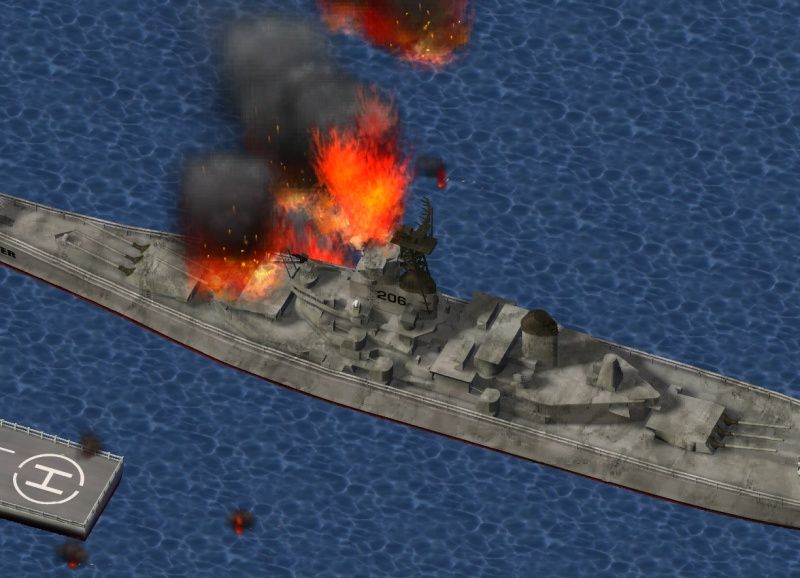 One battleship was destroyed and several smaller vessels were forced to flee. The losses for Schulmania's navy were extensive - seven vessels sunk and five damaged and included the ships bearing Simtropolis scions Brick Tamlane and Sir Tricky.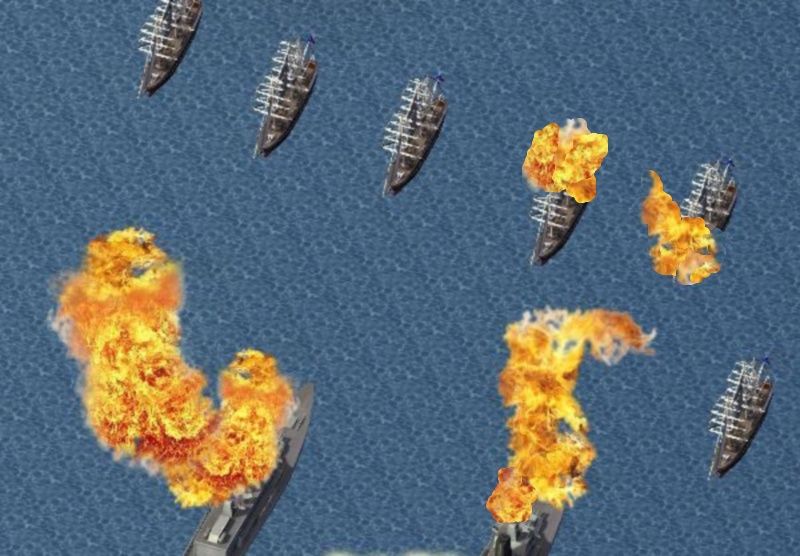 Admiral Hestorb was forced to withdraw the Third Fleet and deployed III Squadron of the Second Fleet to cover their repositioning. An unceasing exchange of cannon fire accompanied this maneuver. III Squadron attacked the left flank and inflicted moderate losses.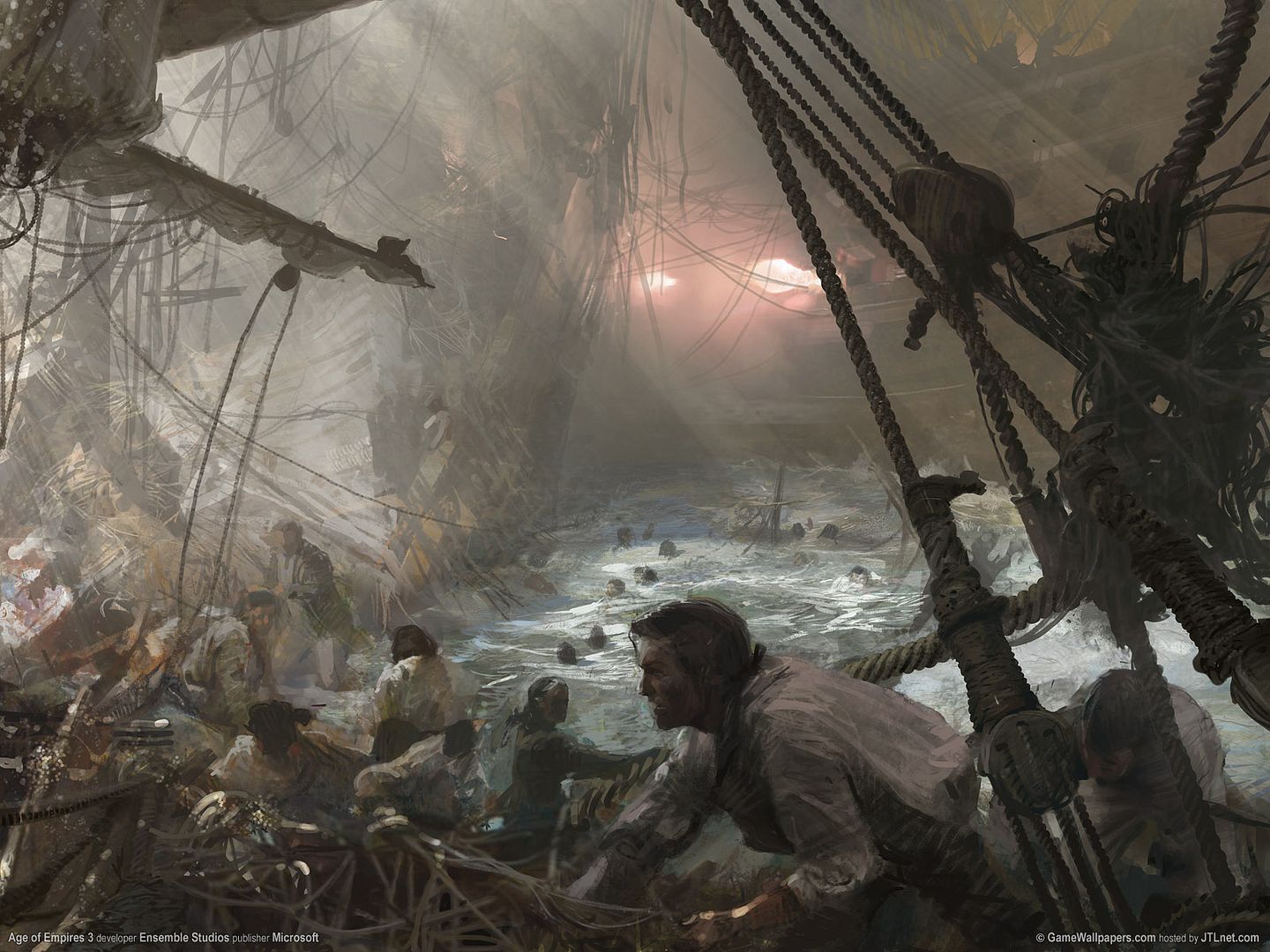 Facing mounting losses and the potential of losing nearly all of the eastern fleet, Hestorb decides to withdraw and regroup at Woods of Wayne. It would now fall to the army to repel the invasion. At least the invasion force has been reduced by over 20% due to the attacks by naval forces.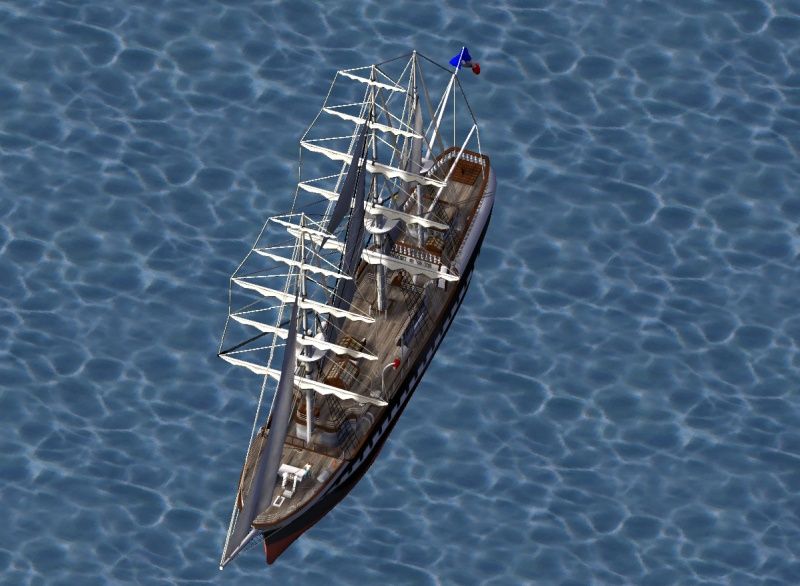 Admiral Hestorb sails off to Woods of Wayne Naval Base. From there, she will rebuild the eastern fleet and prepare to take on the enemy once more.
Meanwhile, the center of Queensferry's forces is continuing to shell the town, now also accompanied by attack helicopters and bombers.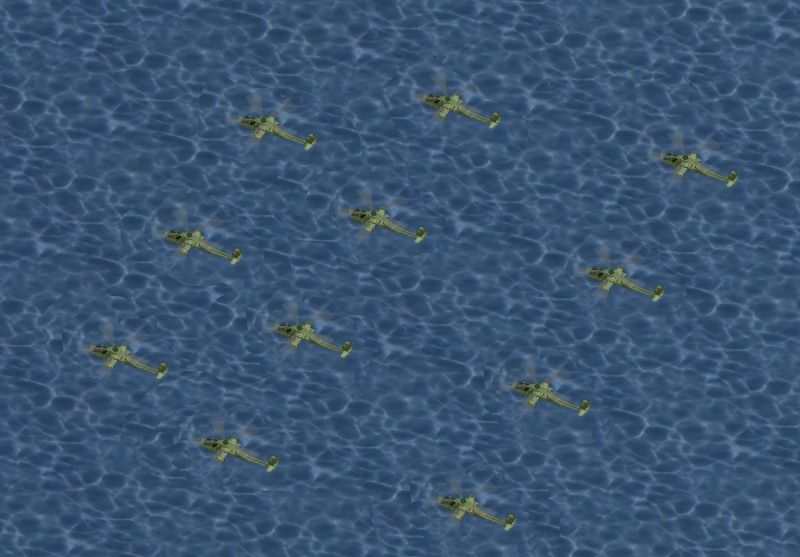 Helicopter gunships are on the way.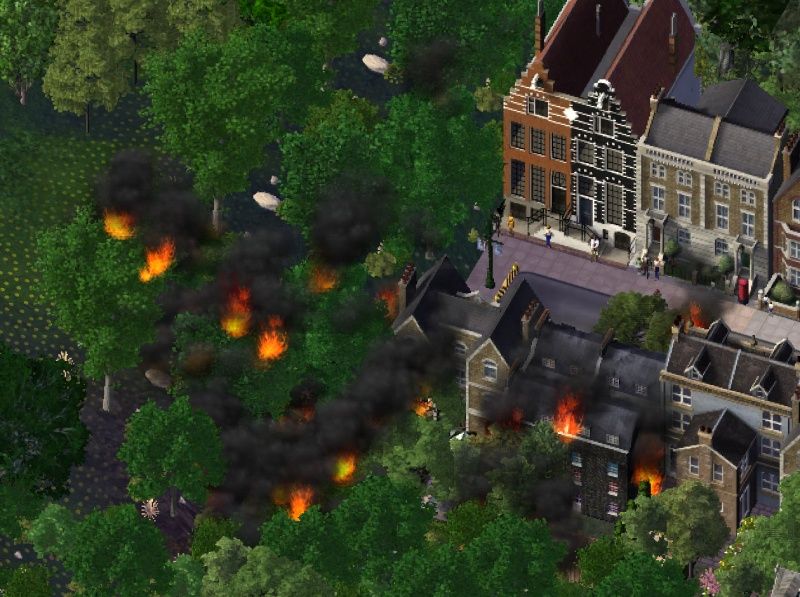 Fires are staring all over town from the shelling and from strafing by the helicopters.
This massive fire was spawned when a Schulminion cannonball struck an attacking Queensferry helicopter, sending it spiraling into the building.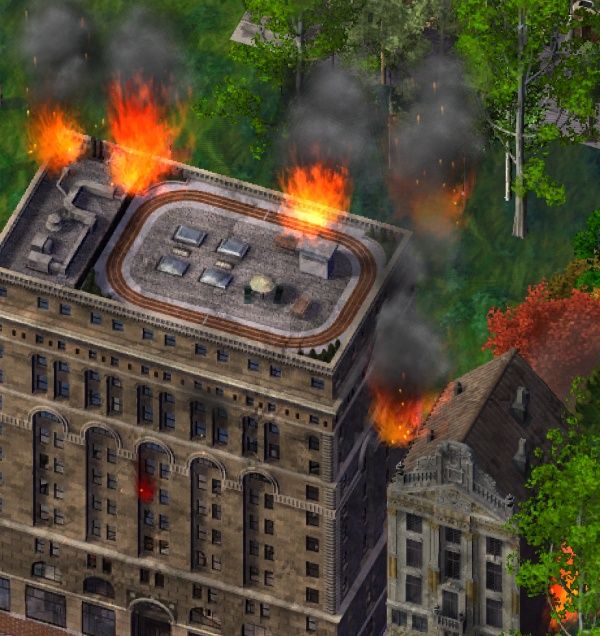 Unfortunately, a lack of anti aircraft weapons allows Queensferry's helicopters and bombers largely unchallenged airspace over Cape Eastway.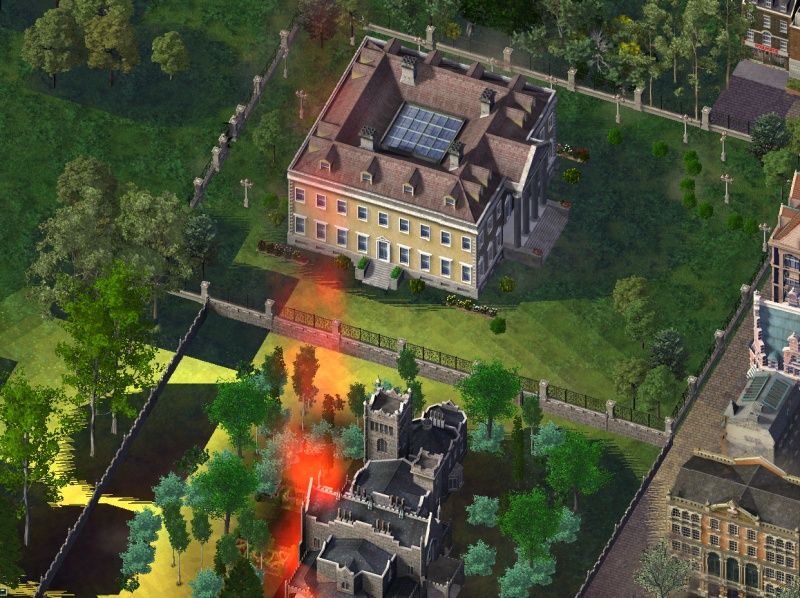 A bomb from a Queensferry QF-29 Smirkmaster lands in the governor's backyard.
Governor Bird's cage was clearly rattled by this assault. She'd clearly had enough. After stuffing her bags with as many schulmonetas as she could cram in, she took off out the window and flew toward safety. Having abandoned her post, she then faced the task of navigating through substantial enemy fire to get out of town. Dodging bullets disoriented her and caused her to drop her ill-gotten fortune. Confused and flitting about desperately trying to avoid being shot, she headed toward what seemed to be a sector of relative calm. Exhausted and with feathers singed, she finally lighted on a ship off the coast, hoping for respite and perhaps to command the captain to go back and retrieve her cash. Only one problem: she landed on an enemy vessel.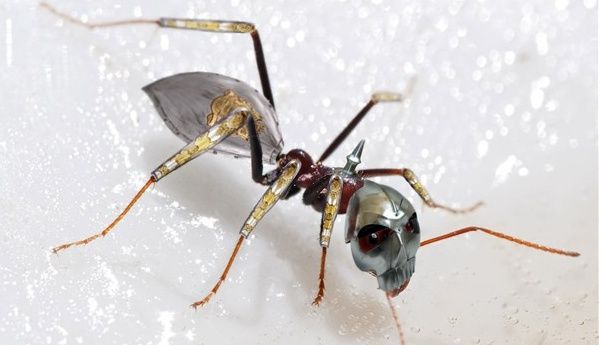 "Welcome aboard. Welcome to Queensferry. We love you. Won't you join us for dessert? We're having Uncle John's famous seven layer "apple" cake. We insist."
As if things weren't bad enough already, Queensferry bombers continued to soften up Schulminion positions with carpet bombing.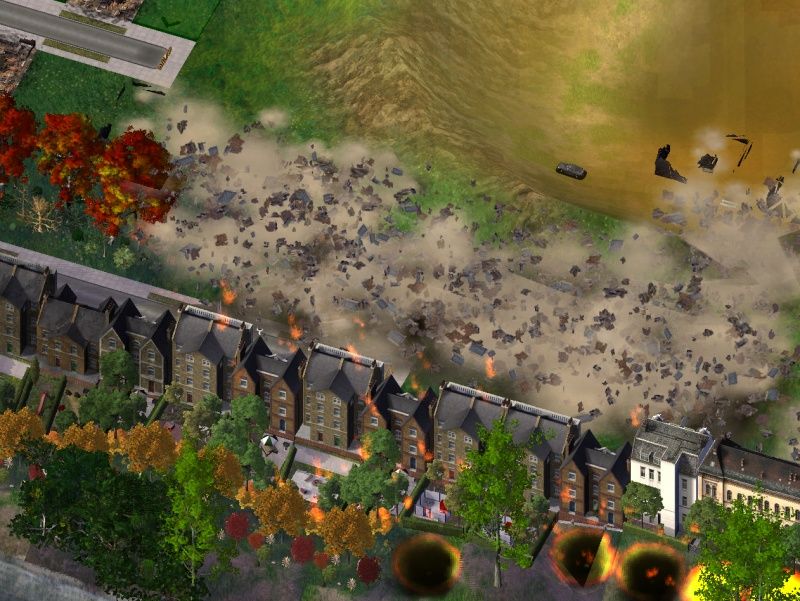 By this point, there's not much of Cape Eastway left to fight over...
Queensferry's invasion force anticipates another easy victory. Troop transports laden with would-be conquerors start streaming toward the shore. A force of nearly 3,000 infantry is headed to establish an enemy beachhead on our territory. They anticipate little resistance. They do not realize that Field Marshal Mooky has over 3,000 defenders assembled just outside of town. This is the strongest force yet fielded by Schulmania. And these soldiers are equipped with new technology.
They are coming to conquer... and we will stand our ground and defeat them. Coming up next: the ground battle begins in earnest. Stay tuned for the conclusion of the Battle of Cape Eastway!