Introduction & Welcome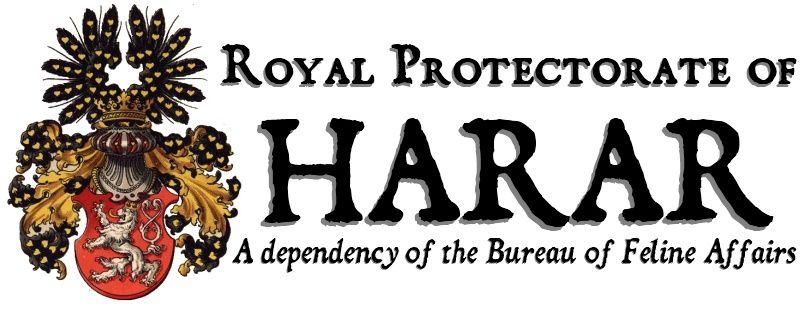 Introduction and Welcome to Harar
Welcome from Queen Vera
Welcome to Harar, a self-governing protectorate of the Schulmania Bureau of Feline Affairs. I am pleased to share our nation with you. Harar is a loosely organized region southeast of Schulmania whose resident population is non-domiciled feral felines. The vast free range feline territory was placed under Bureau of Feline Affairs protection to deter potential military threats. As Schulmania's senior liaison to the non-domiciled population, I volunteered to coordinate the effort to organize a government for the territory. To preserve our feral lifestyle, government and domestic intrusions will be kept to a minimum. Our government is entirely self governing for internal affairs and aligns itself with the Bureau of Feline Affairs for foreign policy.
We, the non-domiciled felines, often called "feral" are the proud standard bearers of feline culture and tradition. We alone maintain the ancient, time-honored traditions felines have followed for generations. Our simple and natural lifestyle is in harmony with our lands. Abundant prey and ample resources make Harar a perfect place for felines. Please join us as we explore Harar's lands and learn more about the dignified life of the non-domiciled feline.
With warmest regards,
Queen Vera
Basic Country Information
GOVERNMENT INFORMATION
Country Name: Royal Protectorate of Harar (short form, "Harar")
Government Type: Royal Felinocracy
Capital: Lake Felis (court is itinerant)
Administrative Divisions: 11provinces (Bureau of Feline Affairs dependency)
Independence: None (Bureau of Feline Affairs dependency)
National Holiday: St. Francis & St. Flora Day, 1 July
Constitution: None
Executive Branch: Chief of State: Queen Vera
Legislative Branch: Bureau of Feline Affairs Council
Judicial Branch: Royal Harar Court
International Organization Participation: Bureau of Feline Affairs
Political Parties: None
GEOGRAPHY INFORMATION
Area: 453,120 square meows
Size Comparison: Approximately the size of the Regency of Wirdleonia (Schulmania).
Terrain: Central mountains and rolling hills, rocky and forested.
Climate: Temperate with cool winters and hot, humid summers (cooler in central mountains)
POPULATION INFORMATION
Population: Unknown (population is feral and there has been no census)
Growth Rate: Unknown (population is feral and there has been no census)
Fertility Rate: 3.89 kittens per litter
Nationality: Feline (adjective), Feline (noun)
Ethnic Groups: Feline 100%
Languages: Feline, Meow, Purr
Literacy: 100%
ECONOMY INFORMATION
Economy: The population generally engages solely in sustenance hunting for small game. Some trading of meat occurs with Schulmania.
Currency: Schulmoneta
Currency Exchange Rate: Set at a 1:1 ratio with Schulmania and Bureau of Feline Affairs
MILITARY INFORMATION
Military: Defense is the responsibility of the Bureau of Feline Affairs
FLAG & COAT OF ARMS
Flag: The national flag is flown alongside the banner of the Bureau of Feline Affairs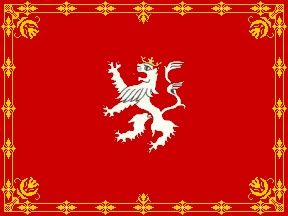 Coat of Arms: Granted by Bureau of Feline Affairs Governor-General H. J. Franciflora