Building Update - South Inverhattan
Replies
Ecoba - Yes it is a very varied city. It's one of the few cities that has been influenced by almost every culture known to man in some form or fashion! ;-) , Thanks for dropping by!
Schulmanator - I will to the best of my ability! It's hard being 17 and in 12th grade though...
ilikehotdogsalot - Thanks! Doing that particular area required alot of trial and error, believe or not! But tis worth it!
CTMandR - Well as my saying goes with SC4, Everything tends to look better with parks! Thanks for coming by!
kolnikov inc - Wow, thanks! I tried my best to make it look as good an as realistic as possible. I'm glad you like it!
Tankmank - Thanks Josh! , Also can't go wrong with a couple of those Maxs landmarks
Paulobergonci - Well, okay... I used Photoshop to get them to look that way. There are ways to make them like overlay props or create them in the lot editor, but for some people who are not entirely technical on that process, Photoshop is a very keen tool to use.
-----------------------------------------------------------------------------------------------
Note from the Author
Well I have finally done it! I have reached my final year and high school and you know what that means, a complete shift in time for me! Even though the workload is going to remain slightly difficult, I may have more time to post updates if I play my cards right and submit everything as early and as quickly as possible. I just want you guys to know that I appreciate being on Simtropolis for 3 years and heading into my 4th and you guys are the ones that keep me coming back to check up on things! Now onwards to that update!
-----------------------------------------------------------------------------------------------

SOUTH INVERHATTAN, LANDIS PROVINCE
The first thing someone enters South Inverhattan is the
Steepingshore Walk
which was constructed throughout the 1880's. When it was completed the area was full of lush gardens and at it's center, a richly decadent town hall. Before the area was absorbed into the city it was known as
Steepingshore. Steepingshore
was the area where the rich made their home. The area changed very little until the late 1920's when it was absorbed into the city of Inverhattan. The area became known quickly as South or Southern Inverhattan. Today , the area is known for it's assortment of trees, many of which have descended from the lush gardens that adorned the area. As a result, some spots in this area have been deemed aboretums, under the Species Protection act of 1983.
The mishmash of architectural styles have been caused by area being built and destroyed in sections. This area has been known as the Promenade-upon-Channel, which offers a view of the Central Sierrastarin Channel between Landis and Avance provinces. The promenade was constructed in 1909 when several retail stores and apartments were built there. The entire promenade was made with stone and brick and took over 3 years to complete. Originally, it was meant to have an accompanying pier, but plans were scrapped in 1911. Pier construction was deemed too costly due to the steep drop off into the channel right infront of the promenade.  The promenade was rebuilt in 1968 when the Western Landis Highway ( SI-18 ) was constructed. and has become a partial retaining wall for the eastern lanes.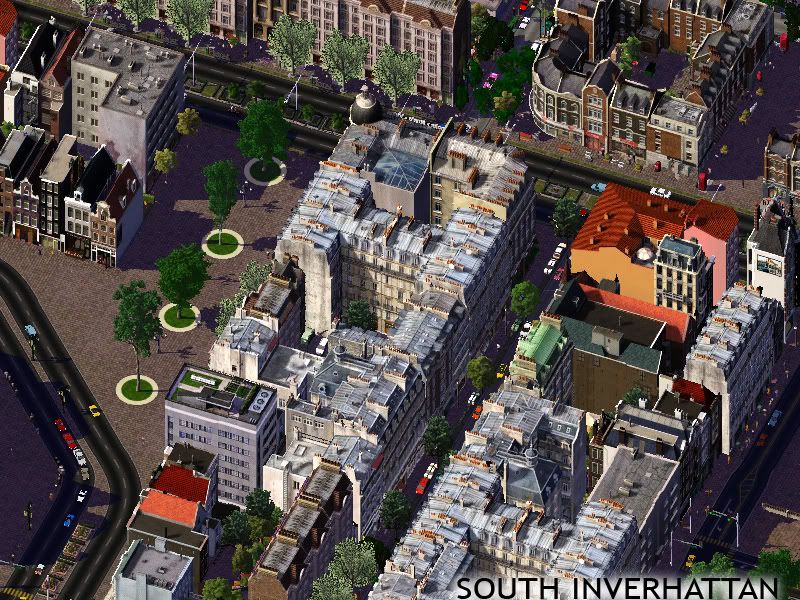 This area is known as Exton Corner, also known for it's high density of retail stores and apartments, the area has been influenced by almost every architectural group. This area was part of the original construction of Steepingshore. During the early 1900's this area was known for it's numerous small banks which grew into the larger provincial bank of Gwyndllan Finance. The area still has many businesses, however there are alot more apartments now in comparison to then. Typically rent can run a person 1000SDL (Around 1,870USD) a month.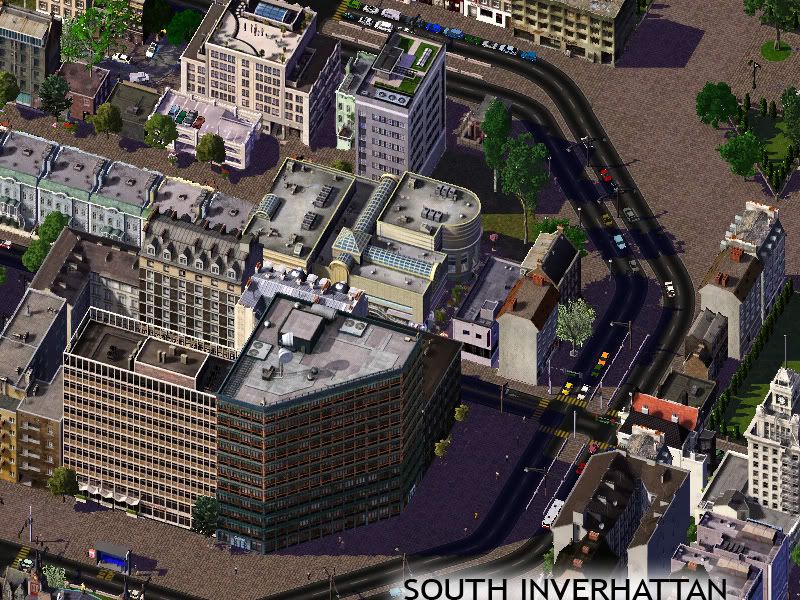 Central of South is Inverhattan's second CBD. The area has it's own skyline and it's own uniqueness. Looking from a map from google, one would be able to see that the Center of South is located within an area shaped like and octagon framed by an avenue. This arrangement was found to be very common in Sierrastare in terms of urban planning during the earlier part of the 20th century. As a result, the main concentration of businesses in the area is located within this very small area. It is framed in two corners with plazas in addition to smaller neighbourhood businesses and local landmarks.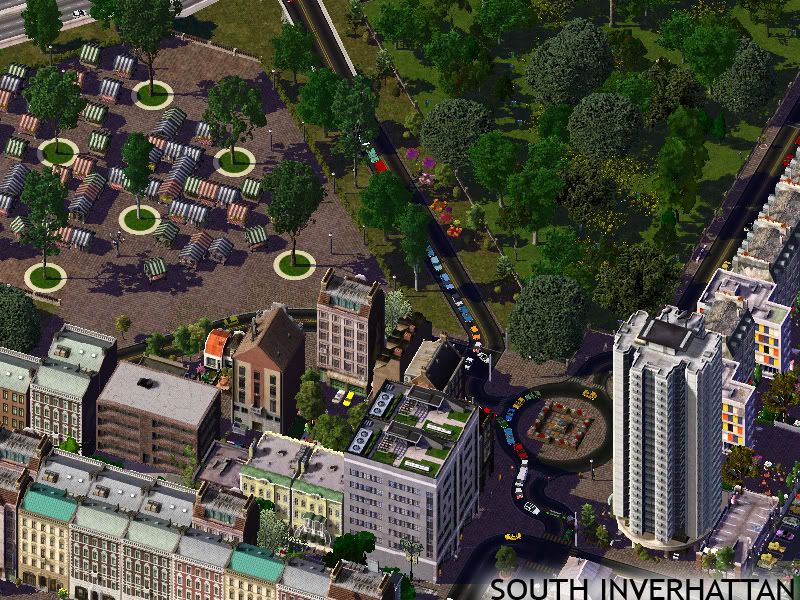 South Inverhattan, aside from being sophisticated still has an partial identity as small town. It's market, Brighton Marketplace  is one of the oldest in Sierrastare. First built in 1799 , it has catered to the people of the area for over 210 years. In addition to it's long history, it has underwent 5 overhauls and a major setback.  After experiencing a fire in 1884, the market was drastically cut back to 40% of it's original size. In additon to that, the bricks have been changed from sandstone, to clay, and then back to sandstone with a coating. Presently, the marketplace has been in the same state for 40 years, which is the longest time between alterations.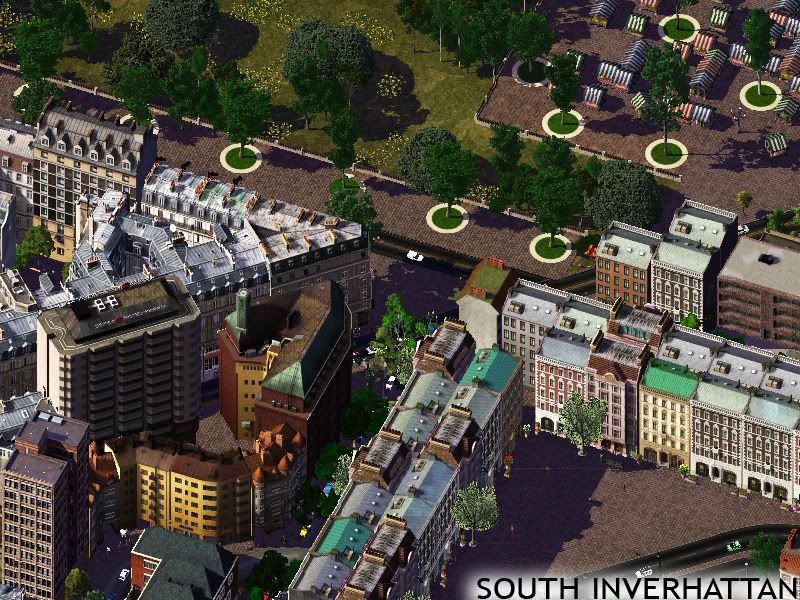 This picture displays the Ixbridge Corner. The main feature in this picture would be the heavy transition between contemporary and classic building styles. It has been suggested by city council to tear down this corner and replace it with more contemporary accomadations. Representatives from this part of town have stated they would like to keep the area as is due to the high level of history value.
----------------------
EMH
©2010