Myon Space 2: Pyan Zauth Pyadoowonci, part 2 (Earth Moon Landing)
August 28th 2010
The Zcelem continued it's path though the wormhole, now reaching the final stretch of its journey.
There was, however, just one piece of information that could have been a problem had it not been accounted for. The Zcelem was traveling at the same speed relative to the wormhole, as well as the Earth-Moon system as it was when it entered the wormhole. While effective at reaching outer planets relatively quickly, it was not effective for landing on the moon. Due to this, the engines were activated in reverse thrust mode and they began decelerating on their course to the moon.
The moon grew ever larger as the approached.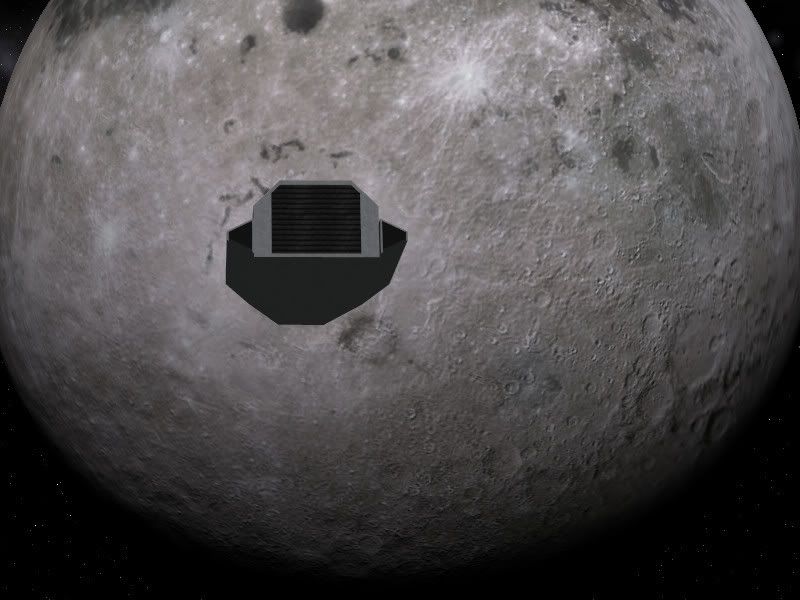 And even larger as the Zcelem entered a temporary elliptical orbit on its final trajectory to the landing site at Mare Ingenii.
While the destination area was dark, this wasn't a problem due to sensors which easily determined the proper landing site on the Moon. Soon the Zcelem reactivated its engines to slow down still further, and activated several landing thrusters to keep it from falling too fast. At 17:14 UTC, August 28th, Earth Time, the Zcelem settled down onto the surface of the Moon, marking the first time that two spacecraft have been on the moon at the same time (alongside Franklin County's HULCOM 1 mission) And Follomer was sending yet another ship, the FUS New Journey, to the Moon as well, though it would likely remain in orbit.
Jexa: PZP-1 has landed.
After this announcement over subspace comm to Myon, and a scan of the region, both Lana and Gomynt suited up and stepped though the airlock separating the front habitable part of the runabout, and the rear cargo compartment. The shift from the artificial gravity to the natural, weaker gravity of the Moon wasn't much of a problem as it shifted at the same time the air was removed from the airlock, though it still took some getting used to as they passed by the currently inactive research station in the cargo compartment and opened the rear door.
Gomynt hopped down from the open door to the lunar surface.
Gomynt: One small step for a zuke...
Lana soon followed onto the surface.
Lana: And for womankind, as well.
They then explored the vicinity of the spacecraft with helmet-mounted lights, and once a suitable site was located, began prepping the research station for deployment on the lunar surface.