Meet the Mayor
"Bliss" in Blight is thanks in no short order to the mayor himself and his scheming ways. With taxes at their current rate he has been able to stockpile more than 1 million simoleans while using less than 10% to fund city services--he has even scraped money off the transportation funding so that the roads all now have potholes.
Strangely enough, the Mayoral Compound is looking awfully cushy with its flowing fountain, crystalline pool, and private tennis court. Oh, and while the city has no police station to keep the resentful sims in line, he has two new police kiosks stationed at the entrance of his walled palace to keep out the ruffians.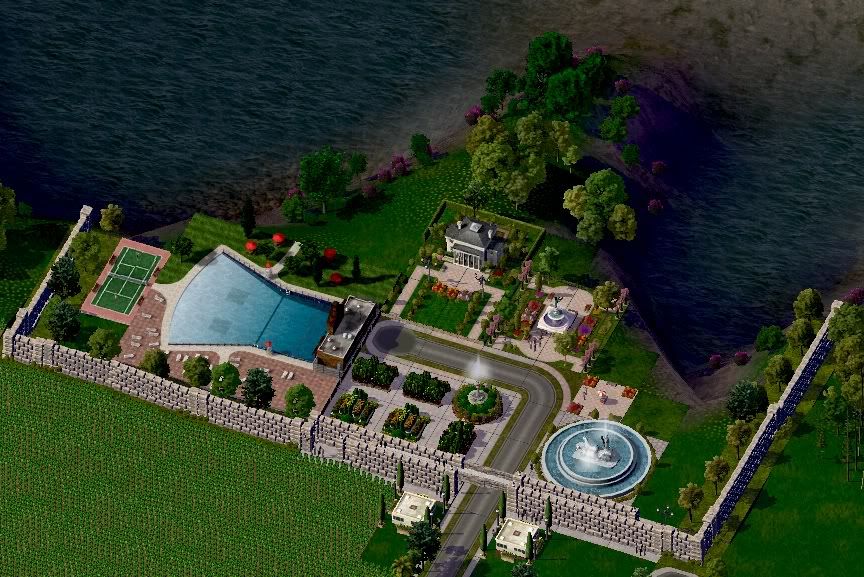 At least some of the surrounding area has witnessed a vague improvement thanks to the beefed up security and the smell of gardenias wafting through the air rather than burnt rubber.
Given the state of things in Blight, it's not surprising that the citizens recently wrote this nasty letter to his highness, the Mayor, in search of a little due compensation in the way of social services:
Deer Mr. fatpants Mayor,
The citizins of Blight are angry! and want change! and won't stand for anymore of your bull.
Its hi time that we get givin skools, hospitals, and sum garbage dispozal already!
The rat infestion makes it hard to walk the streets.
Drug dealers too, always hanging out by the nice folks stoops.
Lets not forgit the wheelchairz too takin up all the sidewalks or the gunshots that keep us up at nite.
We seen that nice pad of yours and we no that our moneys goin strate to your vakashun fund! Well, we've had it!
We pay taxes and want them put to good use. stop holding out on us mayor!
Fill the potholes, clean up the streets, git us some jobs! Give us what we desreve or else! Sincerlee, The Citizins of Blite p.s. If you don't do something soon "the Shark" il be makin a vizit to your manshun and he won't be there for tee.
 And from the city opinion polls, a quick snapshot of the city's situation:

 That mayor rating equates to -90.