2 - 18 : Dias Creek and Kimble's Beach

In today's posting, we continue our trek south along the Delaware Bayshore.
Today's focus is on western Middle Township, in particular, the town of Dias Creek and Cook's and Kimble's Beach .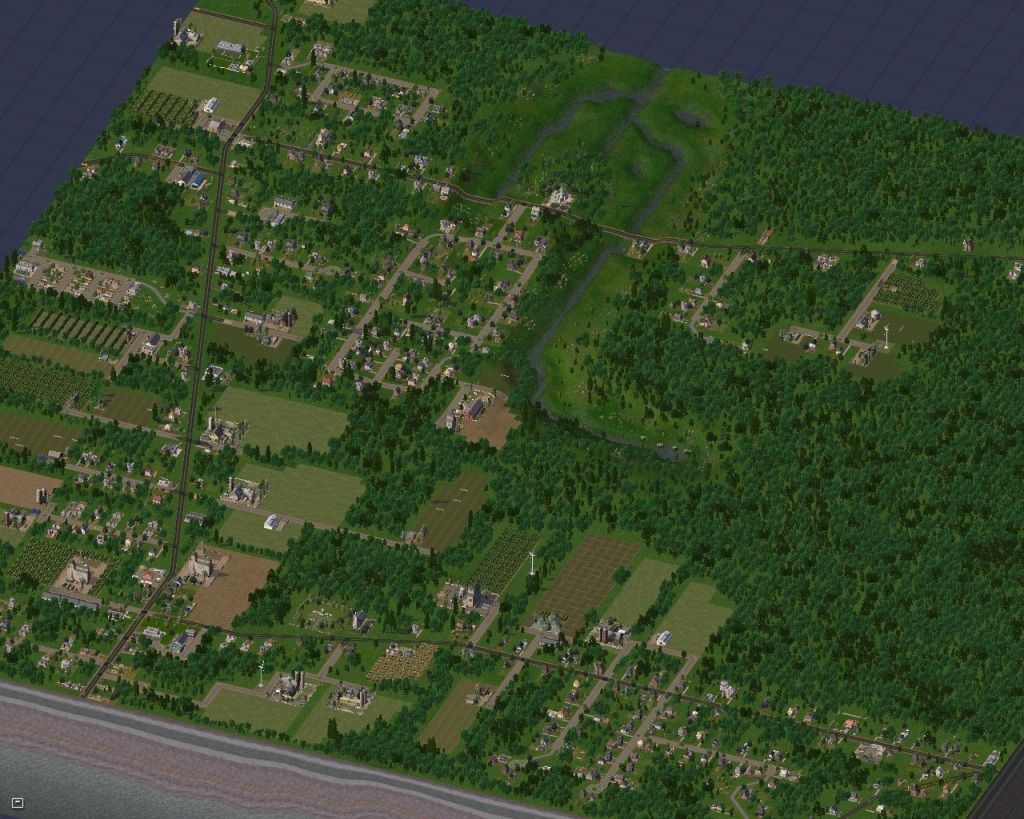 NJ 47 runs north to south through Dias Creek, following the track of the colonial stagecoach route. In the late 1700s and early 1800s , development of Dennis Creek and Cape Island (Cape May) brought prosperity to the tiny bayshore towns in between them. One of these was Dyer's Creek ( renamed Dias Creek at a later time). In 1814, residents of Dyer's Creek met at the home of Daniel Cresse to form the Dyer's Creek Meadow Banking Company. The Company was set up to bank and drain thier wetlands and marshes using a system of dams, sluices, and floodgates. Several acres of wetlands were reclaimed , adding to the growth of this community. After the coming of the railroads, the county's focus was drawn eastward, and Dias Creek like many of the other bayshore communities, dwindled in importance.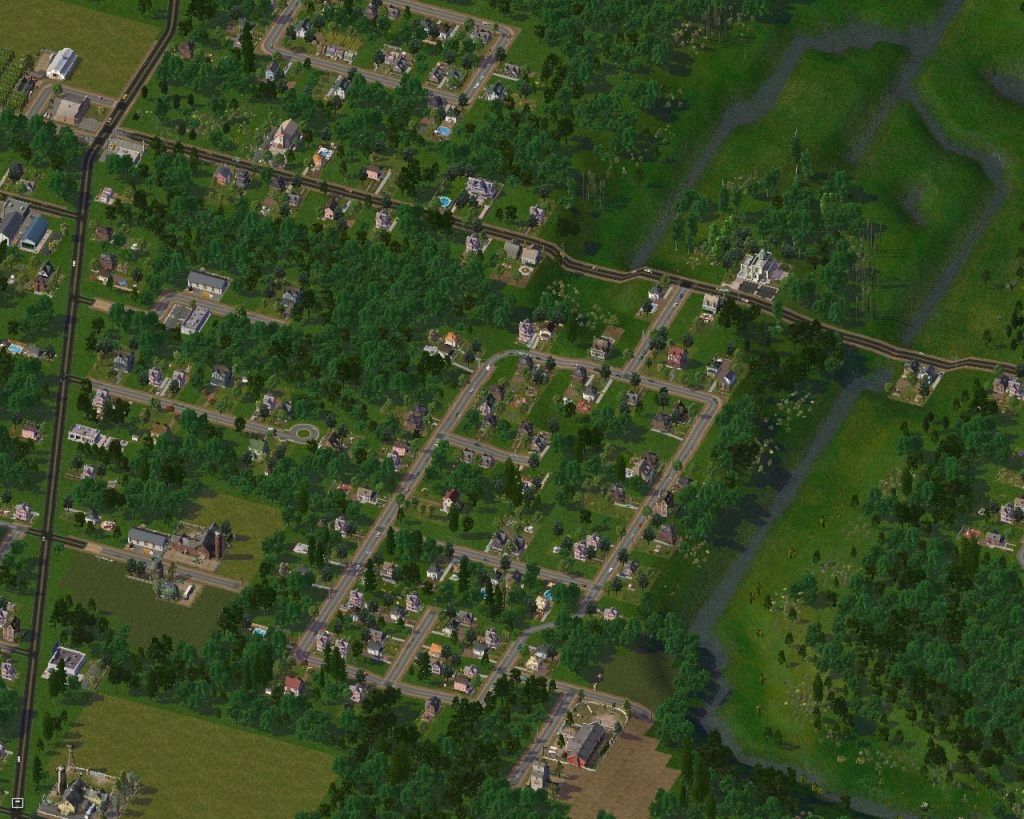 North end of Dias Creek. Hand Avenue (CR 658) crosses the headwaters of Skeeter Island Creek as it heads off eastward to Cape May Court House.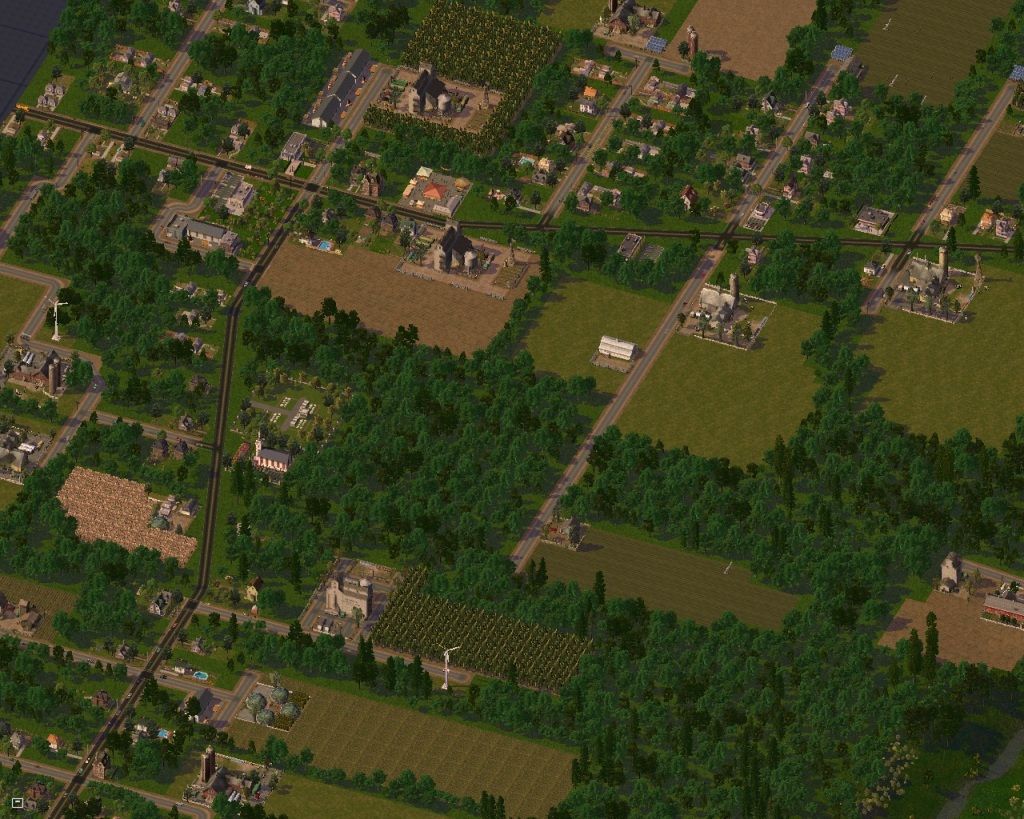 Southern end of Dias Creek, looking west. Dias Creek Road (CR 612) also connects to Cape May Court House.
Built in 1888, the Dias Creek UME church on Dias Creek Road is typical of the southern New Jersey churches of the period.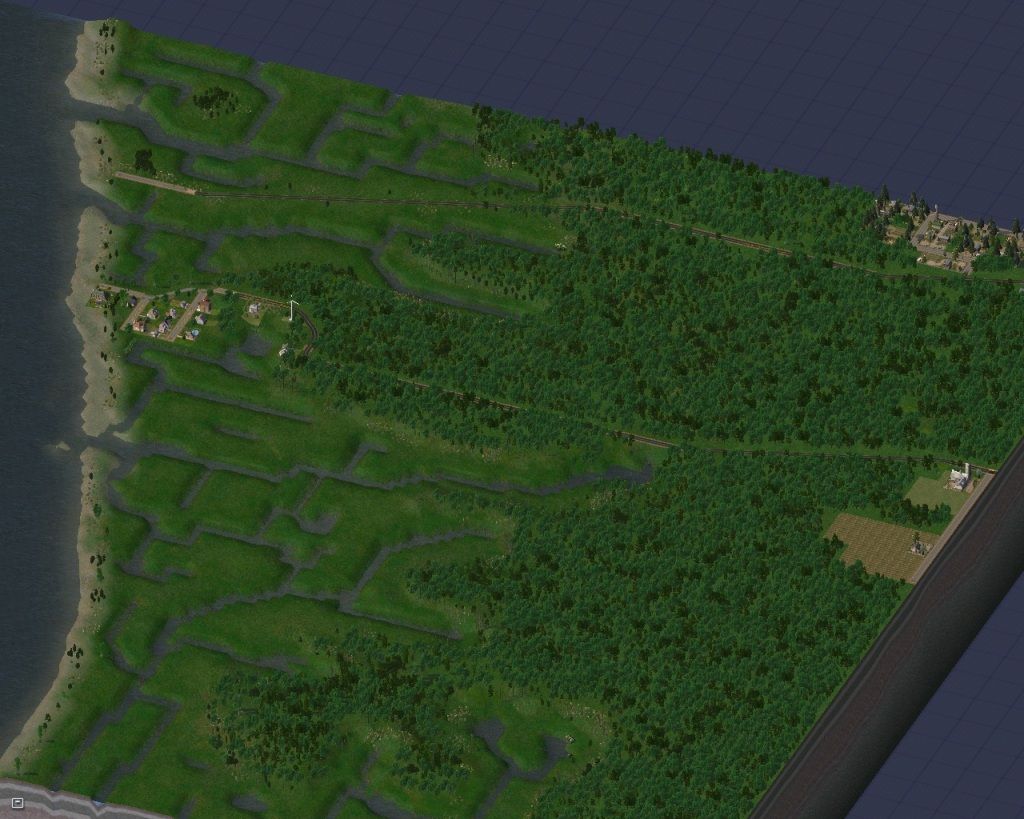 West off of Route 47 is the Kimble's Beach tile. For the most part uninhabited marshland, it has been set up as a wildlife preserve. Kimble's Beach Road (southern road) heads to Kimble's Beach, and is paralelled to the north by Cook's Beach Road. While I haven't been able to find any documentation to confirm it, I believe Cook's Beach may have had a small development once. A ruined structure and remnants of a few foundations viewable at low tide lead me to believe theat a small village once existed here before it was claimed by erosion
At the intersection of Cook's Beach Road and NJ 47 is the Cape May County Department of Mosquito Control. It was formerly known as the Mosquito Commission, and a local joke was that they were in charge of making sure there were enough mosquitos to go around. In the past few years the name was changed to give a clearer definition of thier mission . They've placed ditches in the marshlands, not to drain them but to give predatory fish access to mosquito breeding grounds. They also do spraying and educate the public on methods of keeping these pests under control. The site was a former WW II prisoner of war camp.
At the end of Kimble's Road is the small knot of houses that make up Kimble's Beach.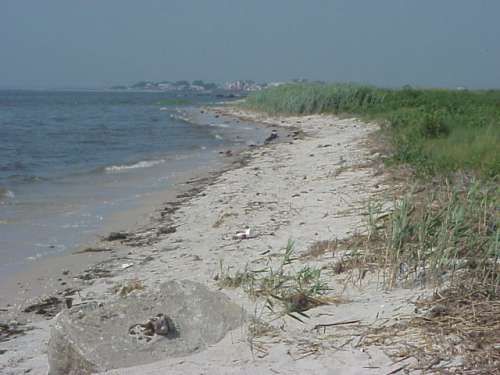 The view northward from Kimble's Beach. Reed's Beach ( see previous entry) is in the distance.
In the spring, the bay beaches are closed due to the spawning season for horseshoe crabs. During the full and new moon phases in April and May, thousands of these creatures swarm on the Delaware Bay beaches to lay thier eggs. Migrating birds come to feast on the eggs, giving them enough nourishment to continue on to thier summer grounds in the Arctic. Called "a living fossil", these scary looking but harmless crabs have been around since before dinosaurs walked the earth, and are a vital link in the food chain. Overharvesting in recent years has led to their decline, and they are now classified as a protected species.
Well, that's all I have for this installment. Hope you've enjoyed it. As always, comments, questions, and suggestions are more than welcome: They're encouraged !
REPLIES :
Nice use of the FAR Add a nice variety of flora to the swamp and it'll look very authentic (I presume there is marsh flora, never had to use it myself)
Swamplands definately need loads of flora, this is the environment that trees and plants usually love, so they exploit it as they can.

But apart from that, dude, it's impressive. Nice use of the FAR and of diagonal streets, the way you work with the "canals" is incredible too. Really, really enjoyable to see.
Thanks guys. I've posted this in the last entry, but in case you may have missed it, I'm reposting again. I would agree that a fresh water marshand would hold a diversity of plant life, but this is not the case for the tidal marshes. They are at or inches above the high tide line, and are flooded twice daily with salt water from the ocean , which kills off most plant life. The flora in the tide marsh is predominantly cord grass and salt hay, two species that have a high salt tolerance.
With increased development of the region , more fresh water is being pumped from the county's aquafiers. A resut of this is that the "salt line" ( the point where a stream or creek has a high enough salinity level to be considered brackish) has been advancing steadily upstream in recent years. A result of this has been the killing off of species that are salt intolerant, like this stand of salt petrified trees along the banks of Green Creek.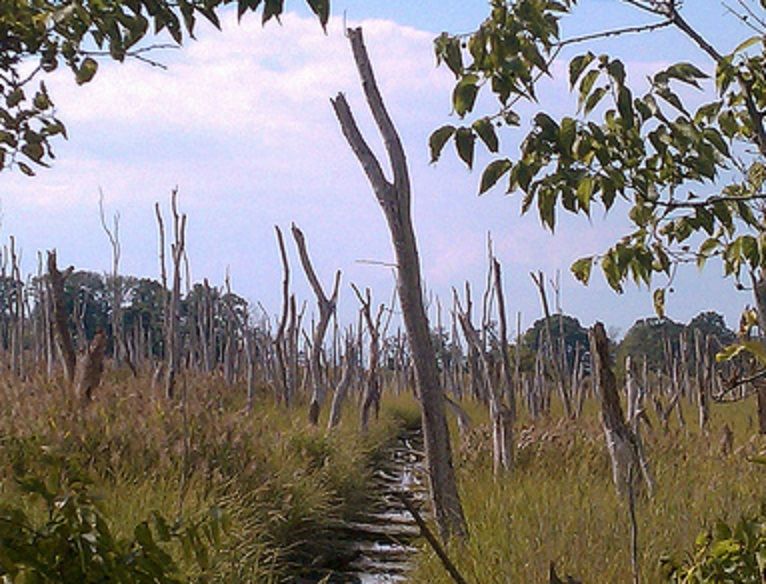 Thanks for the input. As per your advice. I've gone and gotten a few MMP's that I've used in this posting, notably PEGs scrub bushes and other flora that I've used to highlight the edges of the salt marsh and areas where the salinity levels allow other types of flora to gain hold.
Great job once again! I love the use of PEG's buoys and the RL picture. As far as trying to get the right residential lots to grow, one trick I use is to sort the different custom content I download into the four different tilesets (Chicago, NY, Houston and Euro) using the ilives reader. Then, if you want a certain res building to grow, just select the correct building tileset in game, and you have greatly increased the chance that your building will grow. It may be a lot of work initially, but I think it is worth it in the end - especially after intense bulldozing sessions.
I use the tilesets to restrict the types of buildings available, but sometimes land values get too high before I can make the low wealth stuff historic, and if I don't pay attention, I get a trailer park full of Sheeza Brick Houses . I've been known to temporarily zone dirty industry in the heart of residential areas to depress land values so the low wealth stuff can develop. It's not going to get me many votes as Mayor of the Year, but if they don't like it, there's always the bulldoze option ( Muhahaha!)
Love the way you're threading the FARoads through the land.
Yeah, FAR makes it all happen here. Previous versions of the region had the roads zig-zagging thier way through the marshes, and that was something that really bugged me. I'm extremely pleased with the results that the FAR has allowed me to accomplish.