2-13 : North Beach

Hello again! In this installment I'm going to fill out the rest of Ludlam's Beach Island before returning to the mainland. Due to the length of the Sea Isle City update, I didn't include them there.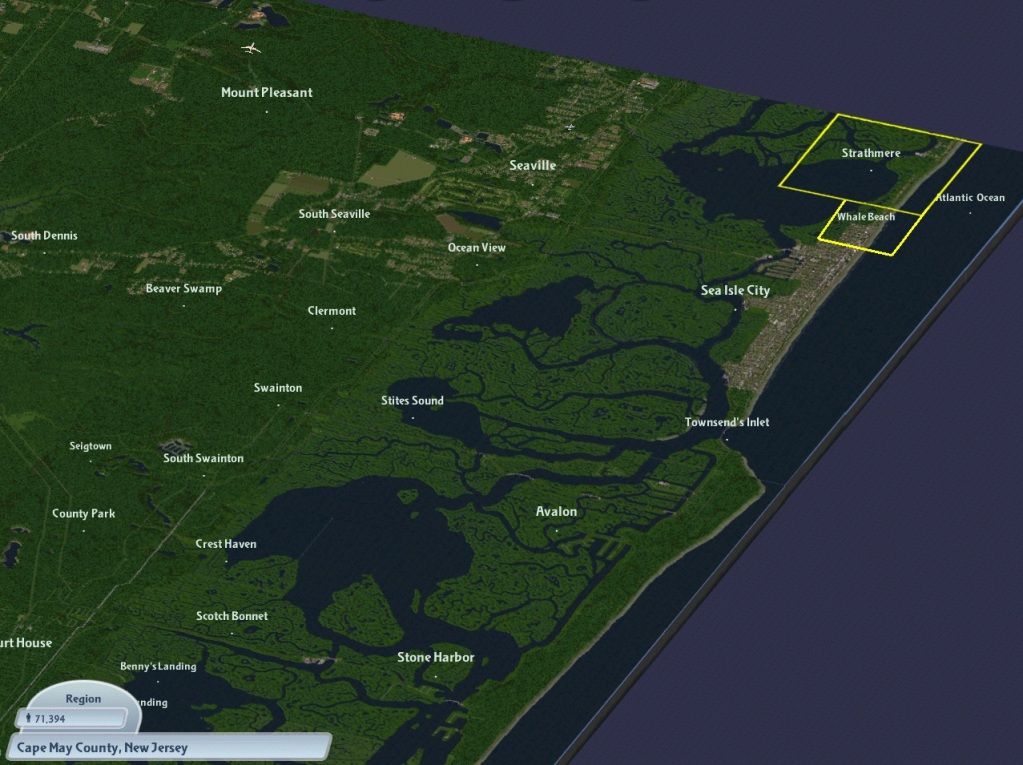 North of downtown Sea Isle City are the Whale Beach section of the city and the southern end of the town of Strathmere, in Upper Township.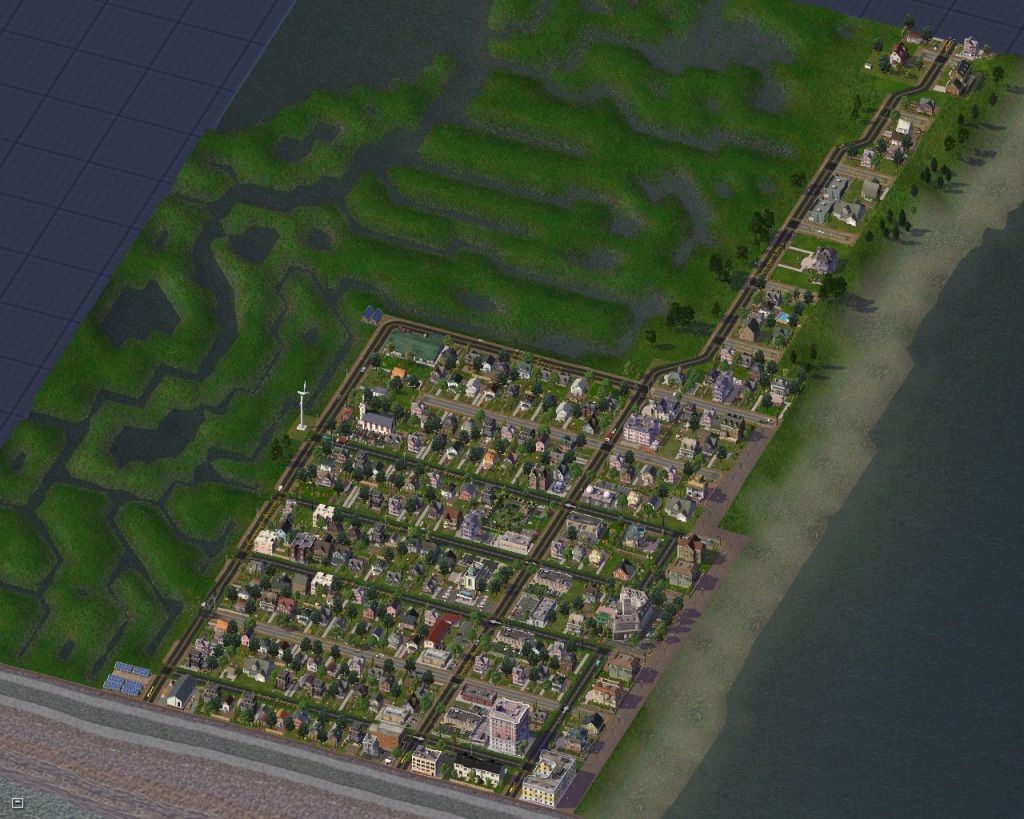 Whale Beach is so named because Joeseph Ludlam and colleagues operated a whaling operation here in the 18th century. They built thier fortunes at the expense of the great beasts, but overfishing caused the collapse of the whaling industry in Cape May County by 1800. Due to modern conservation practices, the whales are making a bit of a comeback, but are now faced with the new threats of pollution and ship traffic. Whale Beach is part of the incorporated city of Sea Isle. The Boardwalk extends north from Sea Isle City to 29th Street. North of 29th Street, residences tucked into the dunes line Ocean Drive heading north.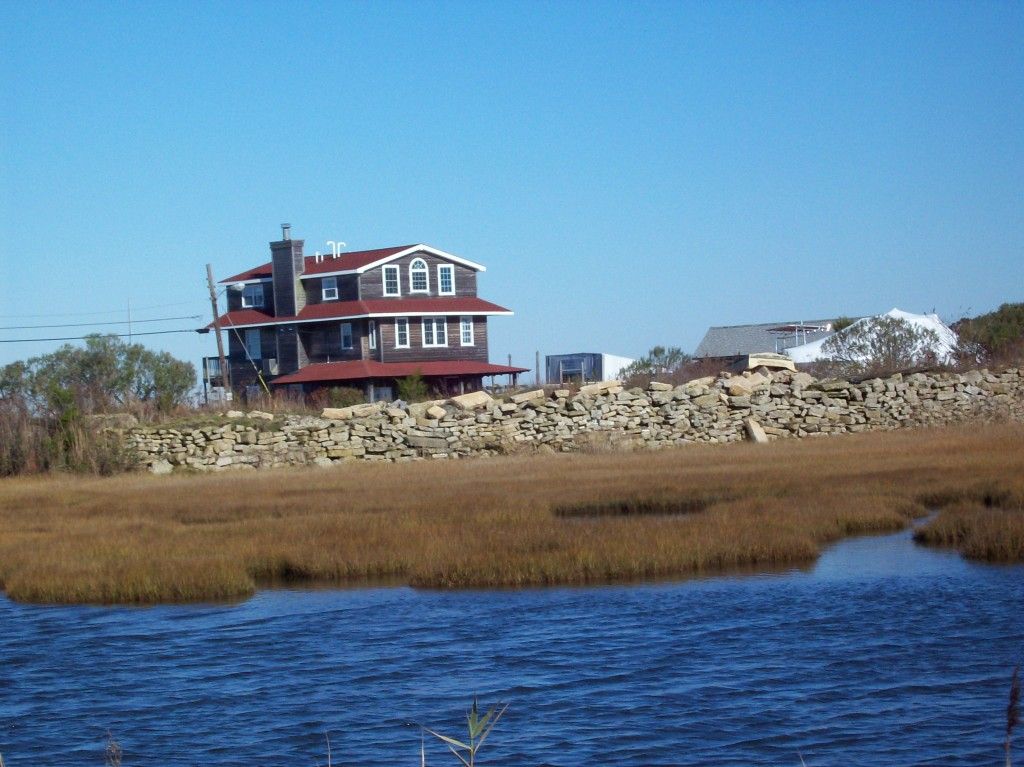 Along Ludlam Bay, residents attempt to reduce the effects of erosion by building walls of stone and fill along the bayshore.
Whale Beach (looking south) shares many similarities with the northern sections of Sea Isle. Posh houses and hotels overlook the boardwalk and beach. Shops and bars line Landis Avenue , one block west. Heading west toward Ludlam Bay are the residential areas.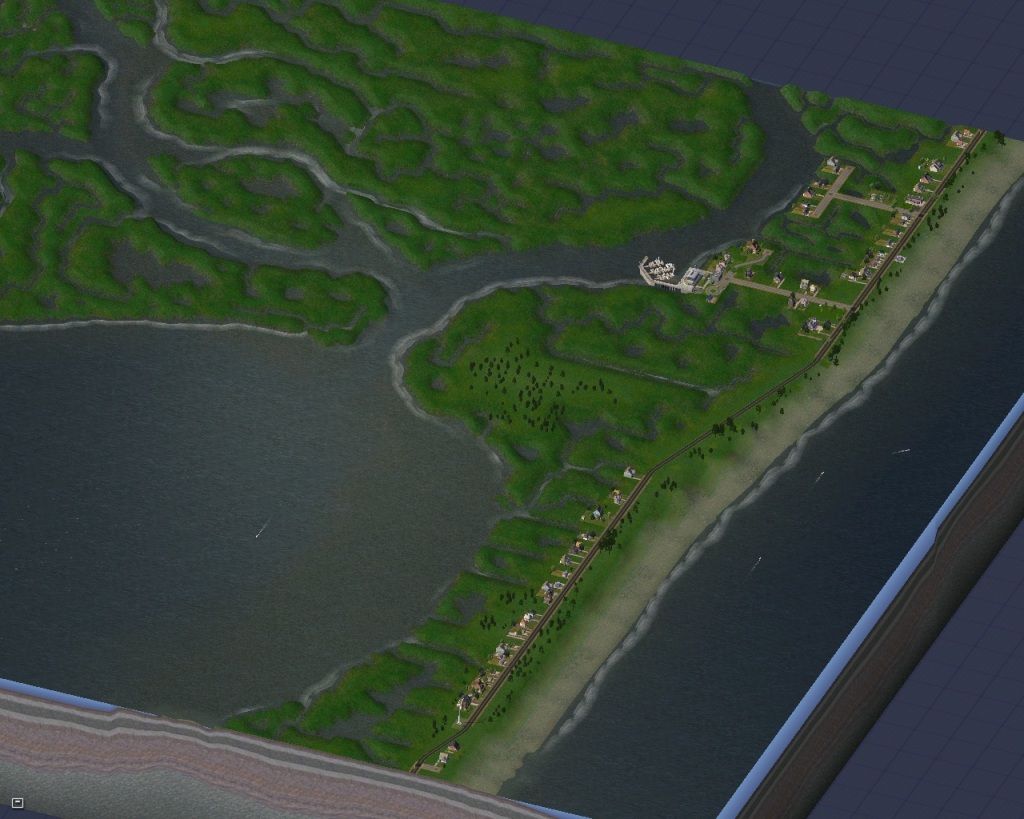 Headed north on Ocean Drive we come to the Strathmere tile. On a narrow strip of land a few houses overlook both the ocean and Ludlam's Bay. Strathmere usually suffers the worst from the coastal storms that batter the Cape May County coast. Flooding usually overwashes the island here, sending ocean waves over the dunes and into Ludlam Bay. Most of the houses that have stood here have been heavily damaged or destroyed at one time by crashing waves during these storms. Notice that there are few homes remaining east of Ocean Drive. One of the most destructive storms to strike the area was the Ash Wednesday nor'easter of 1962. 70+ mph winds and 20 to 30 foot waves battered the tiny beachfront community for three days. When it all was over, very little was left standing. Click the link below for pics of the devastation .
http://www.strathmer...whalebeach.html
Recent nor'easters, like this one in 2009 have done considerably less damage, but still look pretty impressive. In the video below, a Ford F 250 follows a NJ National Guard truck north on Landis Avenue through a flooded Whale Beach section of the city
.

A view of Ludlam's Bay in calmer weather
.
Whale Creek leads from Ludlam Bay north to Corson's Inlet ( off map, 1 mile north). tucked away in the marshes off of Ocean Drive is the Whale Creek Marina.
This full service marina also offers boat and kayak rentals, bait, tackle and other supplies for a fun day on the water.
Well, that's it for this installment. I hope you've enjoyed it. Thanks for viewing, and thanks for the many comments I recieved on the Sea Isle City update.
Replies :
SimCoug : The beach condos are Simgoober's Surfside Inn. It's a dead ringer for many of the oceanfront condos/hotels in the region and will most likely be seen several more times in this journal.
Kevenbro : Thanks ! Glad you enjoyed it.
StephenPullen: Yeah, the shore is definitely a Guido's paradise. An upside of this is an abundance of great little family owned pizza and sub shops
coryreinhardt : The causeway traffic shot came about by accident. When I got the notification in my news that "Road reaches limit" I went to it and thought, "Wow, that really looks familiar" The shot was an immediate keeper . Sea Isle's winter population is about 3000, and that goes up to 40000 during the summer months. The local road network is totally inadequate to handle the traffic.
westy177 : I love it when a plan comes together. My mayoral style most likely isn't appreciated by my Sim population. If it's what I want, it gets a historic designation. If not, bring in the bulldozers and keep trying until I get what I want.
The folks at Jersey Shore aren't shedding any tears over Sea Isle's rejection. Seaside Heights ( about 100 miles north up the coast) is a much bigger city, providing more opportunities for whatever story lines they want to create.
Blurque : Thank you !
NMUSpidey : Welcome back. The Sea Isle update was a major test on whether the region would work or not. I had doubts that my seaside sims would make the long commute over the causeway to jobs on the mainland, and was picturing a beachfront slum with countless no-job zots . I guess I have to thank the makers of the NAM for my barrier island's success.
vivapanda : Thanks , and welcome back.
MilitantRadical : Thanks ! Being a tourist destination, there's plenty of YouTube videos of the area to choose from. Someone actually made a series of them, called the roads of Cape May County. I may be featuring them in later updates.
dabadon5 : Thanks for stopping by , and thanks for the comment !
I_am_One : I don't get to northern New Jersey all that often, having an aversion to the crowding of major urban areas. I prefer woods and farmlands to refineries and factories.
ImanRafidin : Thank you very much !