01: Erat - Update 4
Entry posted by Alafel ·
114 Views
IT'S ALIIIIVE!
Um. I've been... nonexistant. Sorry about that. Complications arose, ensued, were overcome.
Specifically, these complications:
I've been insanely busy. I just finished my student teaching (in math and computer science) this semester, so this was my last year at college (I'm gradumacated now!). As you might imagine, it was a little hectic.

Erat, as a large city tile, was becoming too full for my computer to handle easily so playing just wasn't all that much fun any more. I kind of stopped playing it until I upgraded my computer - which made absolutely no difference whatsoever. (I really wish SC4 was multi-threaded...) Ah well.

You can tell it's been a while because I had to actually look up the date of the last post... July 2011. Right. During July / August of last year I was going through some personal issues and didn't really do much SC4-ing. Well, that's in the past now! Onward!

Enough of that; let's get to the update!
Now let me think. Back in the dark ages of ancient history when I last posted, what were we up to? Oh, yes! We pumped up the jobs count with some heavy industry. Today's job involves trains. And houses. Specifically, here:
Let's get to work!
As usual, terraforming to get a nice flat space to build on.
We've got a bit of (eventually) medium-density residential on the south side, right by the station.
...wait, what station?
...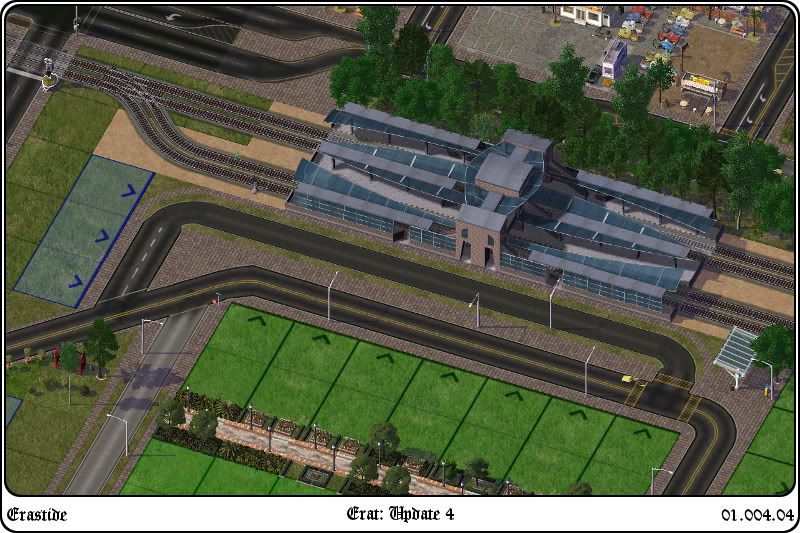 Why, this one, of course!
An overview of the zoning and pathways before we let it pop:
---
Ready?
---
BAM!
...okay, that was a little overexcited. It's really not that special. Just a typical neighborhood. Boring.
We need something (at least marginally) interesting in this update. And I think I know just the ticket...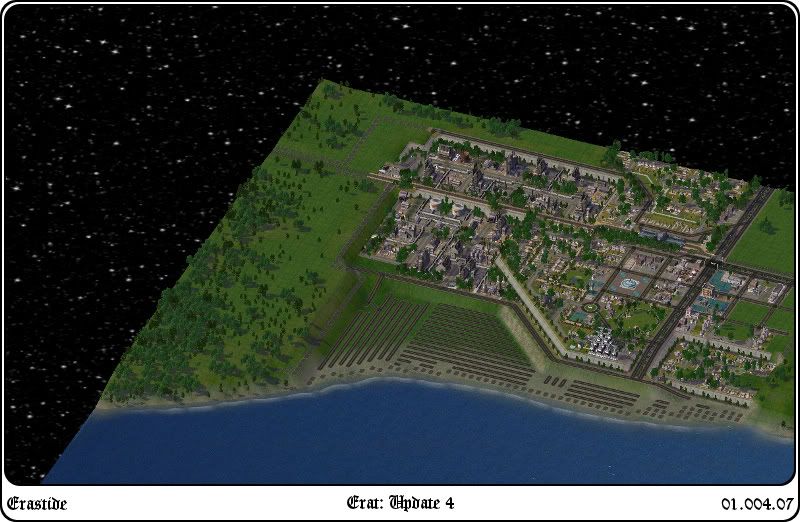 ...
And what goes here, you ask?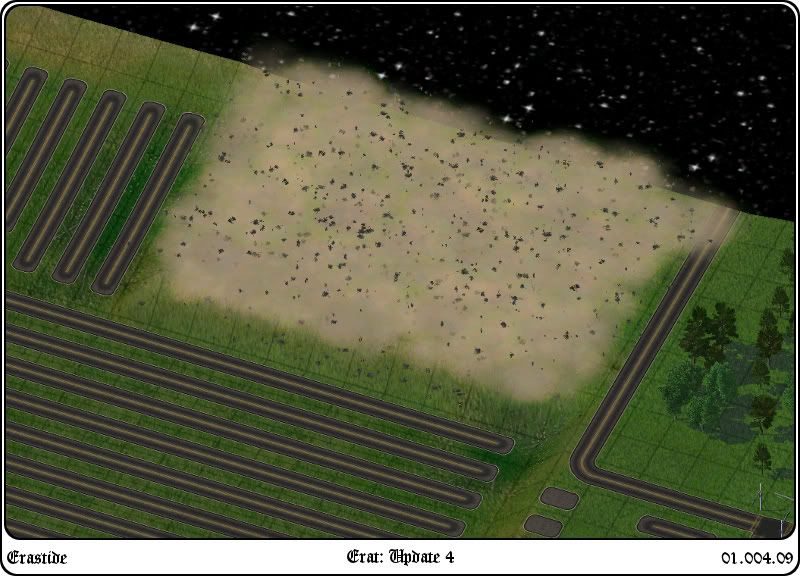 EXPLOSIONS!
...er, wait...
If you guessed "farms", you get a gold star!
Let's let 'em pop, shall we?
Well, here's the first attempt. Some of them are okay, but others... BOOM!
No, too repetitive...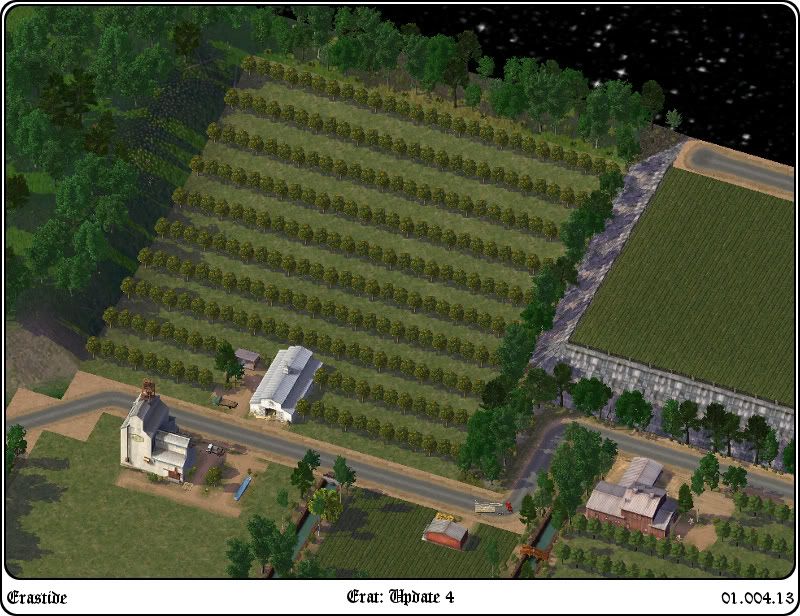 That's better.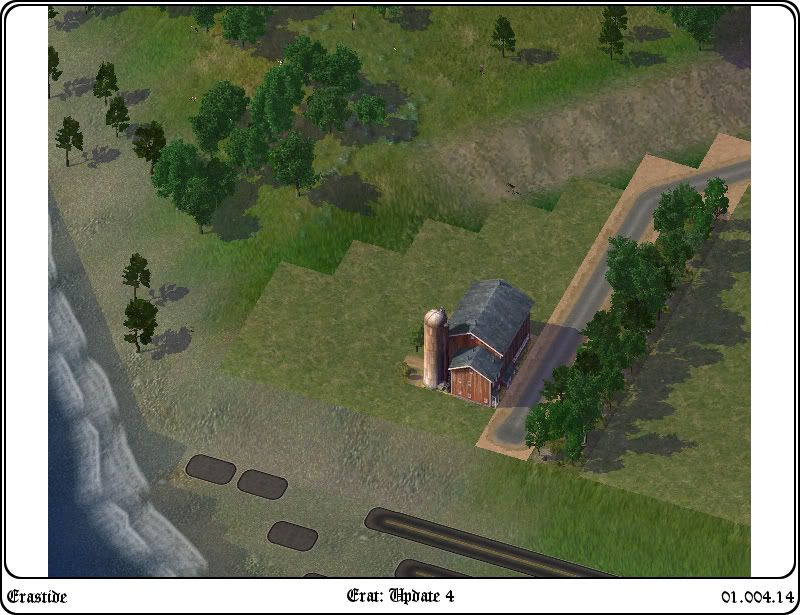 This one needs fixing, too.
There we go. But that jagged edge is simply awful!
Better? Ish? Kind of? At least it's not as obvious. (Disclaimer from the future: I would like to point out that at this time I did not have either the RRP or SPAM installed. I do now, so this type of problem is much less severe these days!)
Well, that's pretty much a wrap for this update. Just an overview left: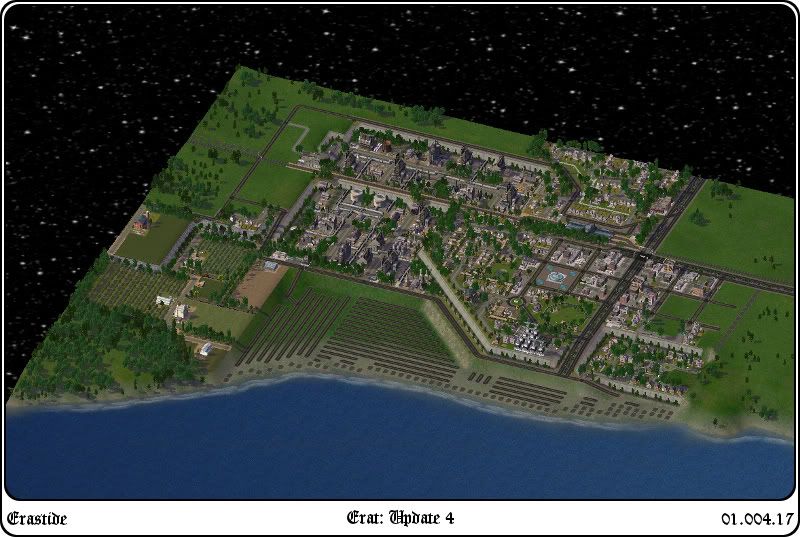 Oh, why not. Here's a teaser from something a little more... recent. Ish.
Until next time, then, folks. Which ought to be less of a wait this time. Take care!