Welcome to Erastide
Entry posted by Alafel ·
204 Views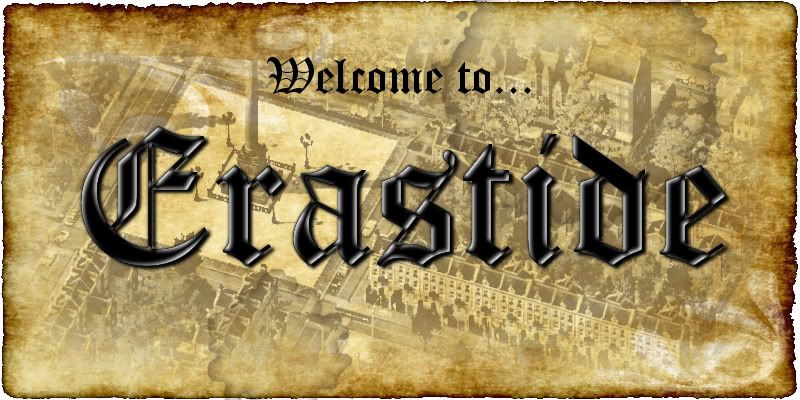 Welcome, friends, and a Joyous Erastide to you all!
Question: What the heck is Erastide?
Answer: Ever heard of David Eddings? He's an author. He wrote a series of books, The Belgariad, and its sequel series, The Mallorean, which happen to be favorites of mine. In his world, Erastide is a holiday celebrated in midwinter. It celebrates the creation of the world by the seven Gods. Where we might say "Merry Christmas", or "Happy Hanukkah", or whatever tickles your fancy, they say "Joyous Erastide".
The cities in this region will be named after places in the Belgariad and the Mallorean. Since Eddings doesn't seem to have a specific name for his fantasy world, the name of the holiday commemorating its creation seemed appropriate for a region name. (No, this isn't a medieval-themed region, I just needed a source for names, because I fail at them.)
Let's jump right in, shall we?
We'll be building on the Kettlewood region by NHP. Here's a map:
As you can see, it has lots of rivers, flat spaces for building, low hills, mountains, valleys, coastline, and two excellent harbors. All my favorite features rolled into one! I'm planning a nice mix of big cities, small towns, suburbs, farms, forests, and wilderness. And trains. Lots of trains.
Here's an in-game shot of the bare region in all its Terraformer-color glory, since I haven't gone through the map to load and save every city yet.
And here's what I plan to do with it. Note that this is a very tentative map - things can and probably will change from here.
RED: Railroad
PURPLE: High-Speed Rail (Monorail)
ORANGE: Highways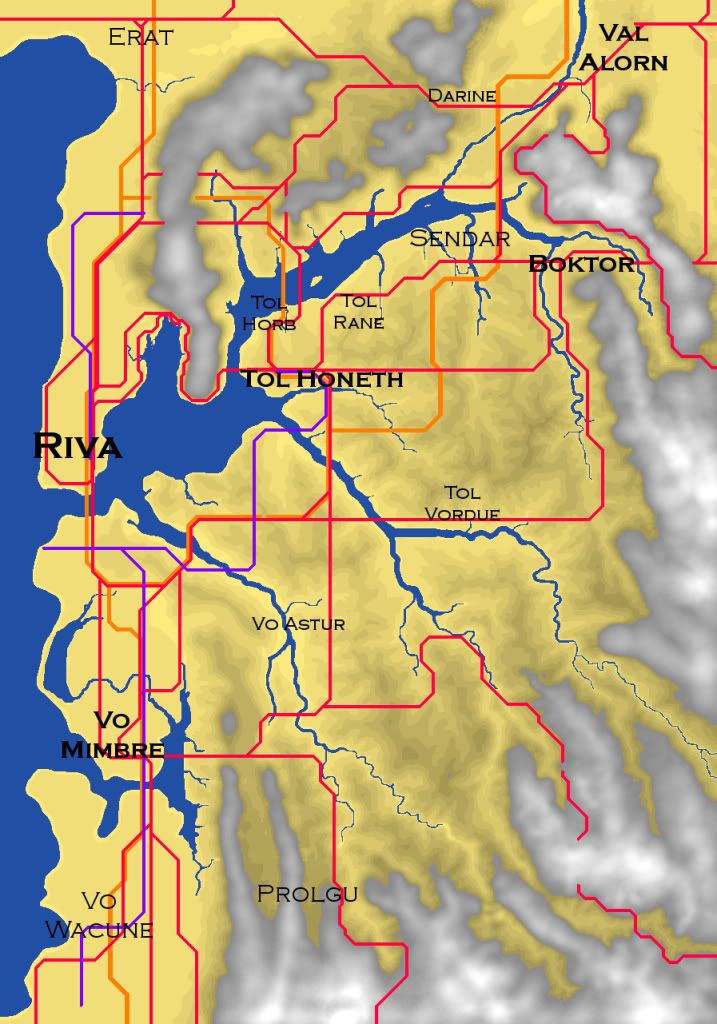 FYI about me:
I play SimCity 4... intermittently. So if I disappear for months at a time, don't despair! Erastide will return! My computer game interests go through cycles. So if you don't hear from me for ages, I've probably temporarily lost interest in SC4 and I'm playing The Sims 2, or Age of Empires II, or Oblivion, or something else. I'll be back.
As a head's up, I play SC4 on Linux (Ubuntu, specifically), because:
a) I hate Windows
b) It runs better
As a side-effect, though, I have a few graphical glitches every now and then. So please pardon the occasional oddities, specifically in automata. There's really nothing I can do about it, other than go back to playing in Windoze, and I am NOT doing that!
Also, sometimes on the internet I go by the name "The Trippmeister", so that applies to me as well. The only reason that isn't my username here is because I started playing SC4 only a couple months before I started using that name and discarded "Alafel". Sigh...
NOTE: You can also read this CJ/MD in the SC4D MD section, if so your heart desires:
http://sc4devotion.com/forums/index.php?topic=13146.0
Well, that's enough chit-chat, wouldn't you say? Join us for the ride... the ride through Erastide. (Tee-hee! I made a rhyme!)
I'll leave you with a teaser, which you won't see again for at least a dozen updates: