01: Erat - Introduction
Entry posted by Alafel ·
264 Views
Ha! And you thought I'd be starting down in Riva, didn't you? Y'know, the biggest city (or what will be) on the map? Nope. See, I don't trust either my city building skills or my plugins folder enough yet to tackle Riva, since I want it to be spectacular. That, and my plan was to work around it first to build up demand. Although that's kind of a moot point now, since I ended up using the Super Demand Mod. (Erastide is an artistic region, so I'm not much concerned about money or other mundane things like that. I'm more concerned with making it look nice.)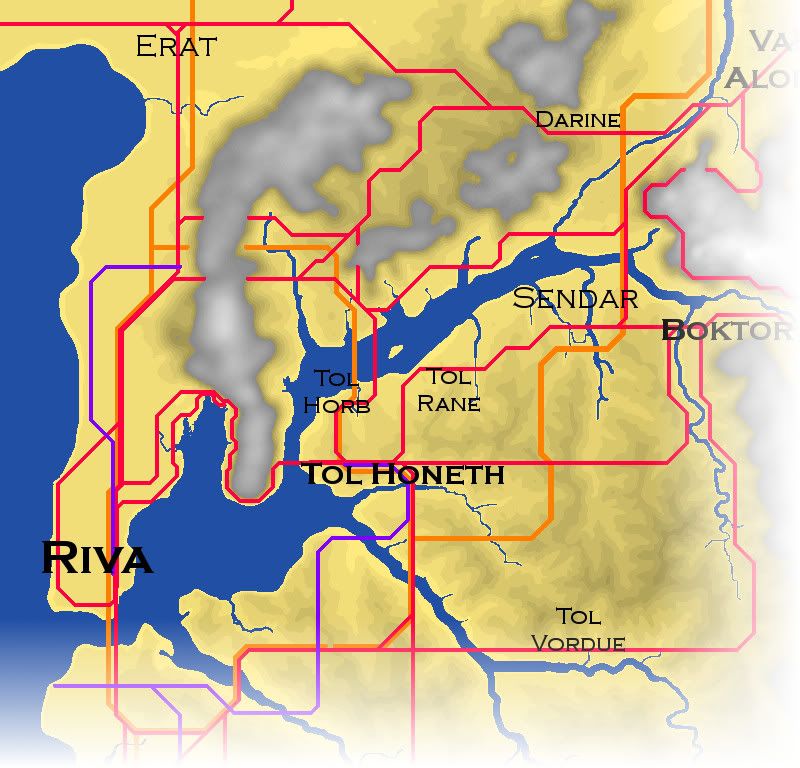 In The Belgariad, Erat is a small town in the nation of Sendaria, midway between Medalia and Darine. It was once a part of Arendia, but split off to create part of the new kingdom of Sendaria in the Arendish Civil War. Garion's Aunt Pol sometimes uses the title Duchess of Erat when she needs a disguise.
Map stolen borrowed from the David Eddings Wiki:
http://davideddings.wikia.com/wiki/Sendaria
http://images.wikia.com/davideddings/images/1/17/Sendaria.JPG
Shall we take a look at the bare land?
Wait, that land isn't bare! It has stuff on it! Yep, those are the beginnings of the main transportation networks. And don't worry about the Maxis highway - it will be replaced with RHW as we start developing that area. It's just there to lay out the network for now.
In our region of Erastide, Erat will be a small, mostly rural town. The commercial and residential areas will be concentrated along the northern edge, mostly low density but with some medium. South of the creek will be farmland, but the very southern edge will be just the beginnings of the suburbs for Riva.
That's all for this post, but I'll have the first update for Erat out very soon (just as soon as I finish assembling it) with actual development! So in the meantime, here's another teaser for you:
Catch you later!