Railroads connect the nation
*Note I will no longer be using picture frames on my photos. Having to reduce the picture size to get the frame to fit on the page tends to make the pictures too small. *
Back at Grandpa Jackson's house, the story continued. "After President Cartwright was elected, he made his first order of business to improve the region's infrastructure. Up until then, most of the region's citizens walked everywhere, as paved roads really did not exist on the small island. President Cartwright decided it was necessary to first expand the railroad connections in the region. He believed that this would bring in more commerce and industry to the area, without having to pay too much money for such improvements."
"Only one rail line existed in Evergreen Mills at the time. This line ran around the creek and through the farms. It was a short line though, and was primarily used to transport wood from the town's mountainside to the fields for barn construction. President Cartwright wanted to expand this sector in order to provide reasonable transportation to other parts of the island. Another line was added to the existing infrastructure, which ran under the towering mountainside towards the coast."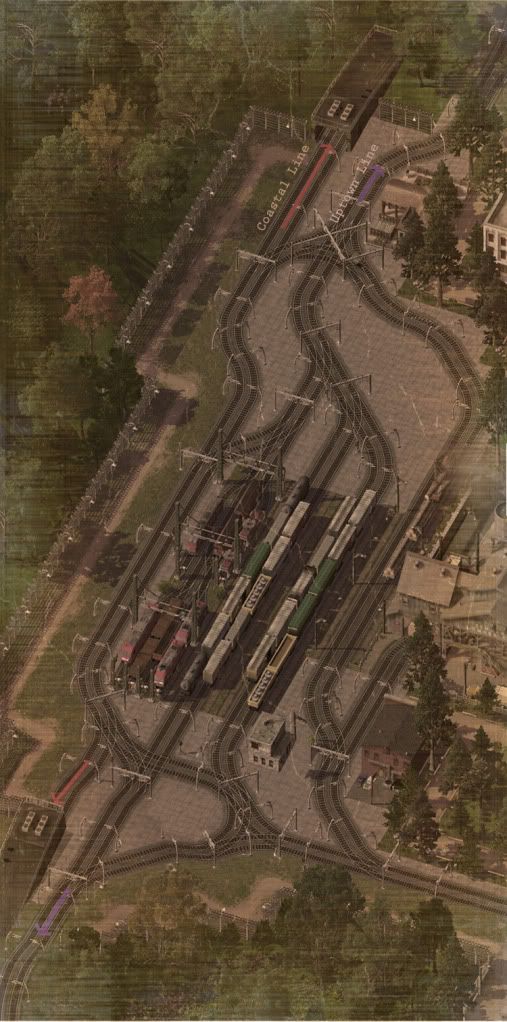 "The existing uptown line was unaltered, but more tracks were added for train storage, and more line connections were added in-between to allow for easier rail transfers." Grandpa stopped the story to take a drink of water. "Did you help any grandpa?" Miles asked. "Well of course I did! This was my first job. I was hired to help construct the coastal line. It was backbreaking work. There was so much terrain leveling to be done. Not to mention de-logging!"

(**This picture is not in old-style form because this is my first time working with the coastal terrain effects shown above. Please let me know what you think! It's a little blurry, I can never seem to retain picture quality when making large mosaics like this. Here is a link for the larger picture s933.photobucket.com/albums/ad178/wallacet1234/ If you have any suggestions as to how I can improve this please let me know!)
"It took two years for us to build these railroads, but it was well worth it. Soon, the rails were busier than I had ever seen. Things were definately improving!"