The Board decides regional statistics
As Miles and Grandpa Jackson are fishing, Miles begins to ask more questions. "So Grandpa tell me more about the area! What were the other towns like?" "Well, son, I had never been to the other towns at this point, I was still just a kid.It wasn't until many years later that I was finally able to go out on my own. I did, however, spend a lot of time at the local library. I discovered that around 1925, Evergreen Mills was voted County Seat of the whole area, and that was a huge deal for the town. A large town hall was erected, and town meetings were held to vote on important matters. The first order of business was to elect a president for the country, as the only other two towns, Paradise Falls and Grayditch, were independently run up to this point. Henry Cartwright was elected as the first president of McConnelly Isles. Here Miles, I stole this placard from the library a very long time ago. Take a look." Grandpa Jackson pulled a placard out of his pocket and handed it to Miles. "Here is what else the board decided. It was important to have statistics on things recorded, and so the board decided to start an almanac for the country."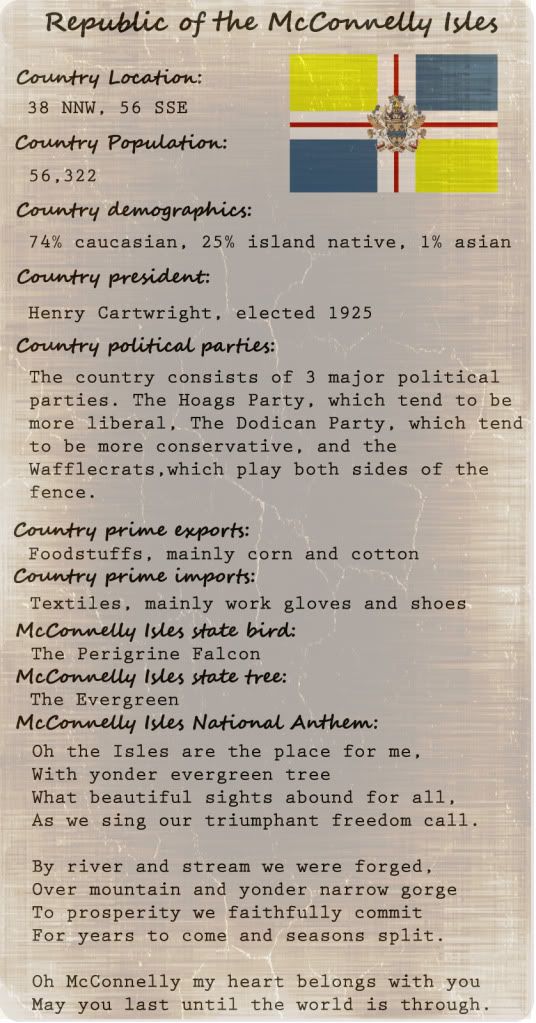 "You can keep that, Miles" Grandpa said, as he pulled a big bass out of the lake...