Seina | Growing into a Rising Sun

Welcome back to Seina, in the heart of Cattala. Sunny conditions continue to shine over the province, and now the voting results are in! Now it's time to see where we're building today…
Is B! As you can see, construction has commenced and in the southern part of the new expansion, construction is finished.
Work has been slow on the new land to the north, with only a handful of diggers and workmen on site most days. Work has ground to a halt for unknown reasons recently.
In the centre of the village, some small homes were bought up by developers and replaced with in-demand luxury apartments. Here you can see work is on going near the high street.
Now a look at the new district, which features the town's first water storage tower. Water used to be pumped in from Calora, and now water can be collected in the village itself.
Here we see the eastern part of the development, which boasts new local shops alongside the busy High Street that goes through the centre of the village.
With all the construction projects occurring, a small industrial site was built near the Miatona land, and much of the local logs and building materials now come from this site.
Now we see an overview of the unconstructed part of the new district – what do you suggest we build here?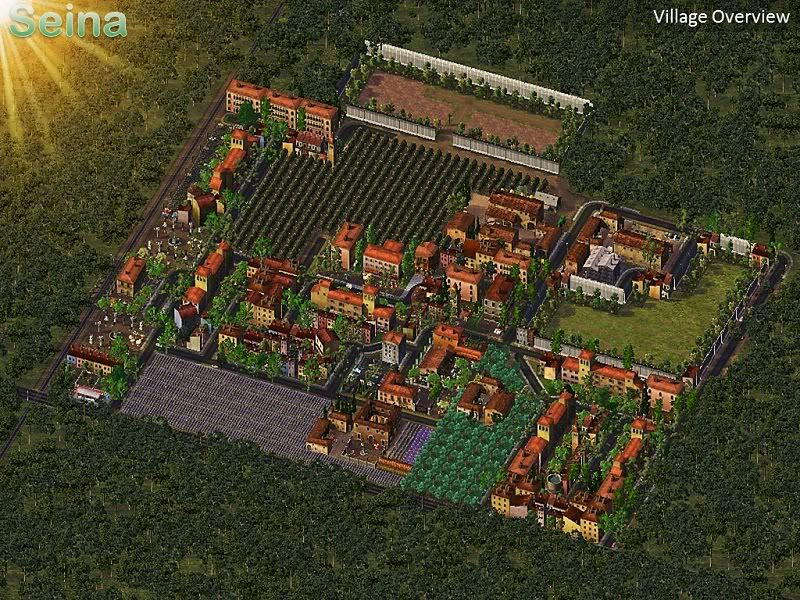 To end with, an overview of the rapidly-expanding Seina village.