A farming community at Evergreen Mills
@Schulmanator: Thanks a bunch. This is the first time I've tried doing effects like this, so glad to hear that you like them.
@spursrule14: Thanks! Much appreciated
@kench: Glad to hear you like them!
@JGellock: Thanks. I'm trying to make each picture slightly less "old and wrinkly" looking as the previous one to show the time progression of the story, but I l keep forgetting my photoshop settings, so they might all look the same haha
And now for the update....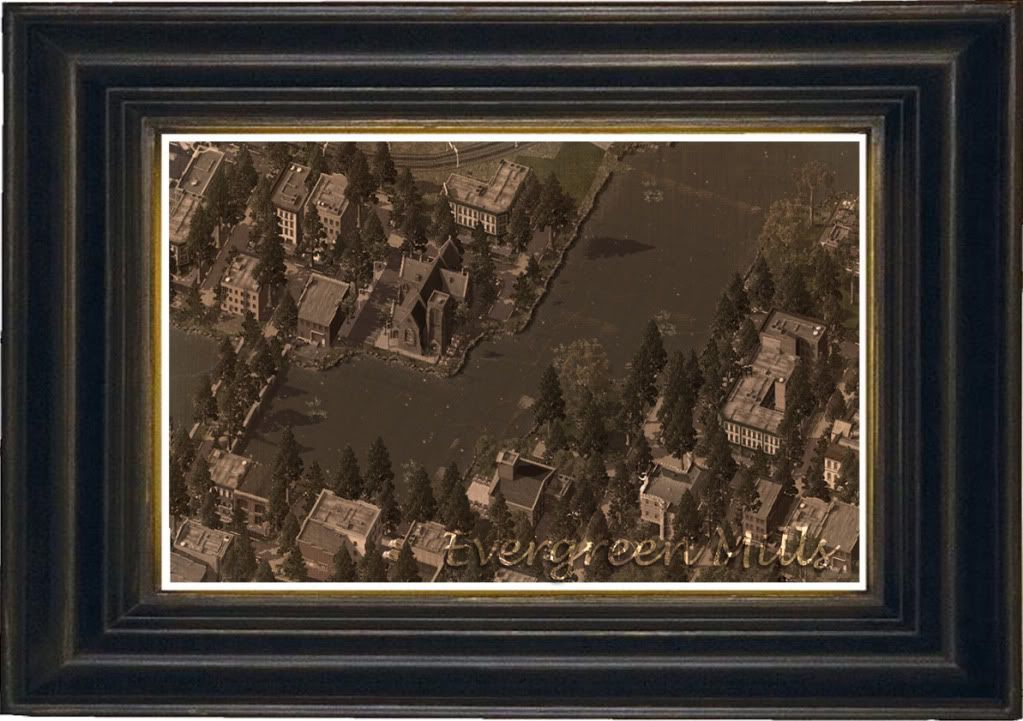 Miles woke up the next day curious as to what else his grandfather had to tell him. He had been bored by most of his grandfather's stories, but he was actually entertained by this one. He thought his grandfather had led an interesting life. He gathered his things and headed down the road towards his grandfather's house. It took a little while to get there, but he didn't mind. His grandfather had another box of pictures waiting in the living room by the time Miles got there. "Have a seat Miles. Would you like anything to drink? Any lunch?" "No thank you Papa, I'm fine. Tell me more about these pictures!"
             "Well Miles, if you recall from last time I was telling this story, we left off right as the town was beginning to expand so rapidly that I couldn't keep up. Well, the case continued to be true for some time. The river that ran through town was fully conquered, with buildings on both sides and multiple bridged spanning the stream. It was marvelous."
"Around 1920 or so, a great rainstorm hit the area. Most of the town was on higher ground, and was unnaffected by the flood that occured as a result of the rain. However, the lower side of the river was home to Evergreen Mill's logging sector. A lot of that land was washed away during the flood, hurting the logging industry for a long time to come. Many of the townsfolk were unable to support themselves after this. Some moved out of the town's commercial limits and set up homesteads for themselves in the vast expanses of Evergreen Mills' outlying land. Many of them took to agriculture as a way to support themselves. This brought a new source of wealth to Evergreen Mills, as the town did not need to import it's foodstuffs from neighboring towns." Grandpa Jackson paused to pull another photo out of the worn-out box at his feet.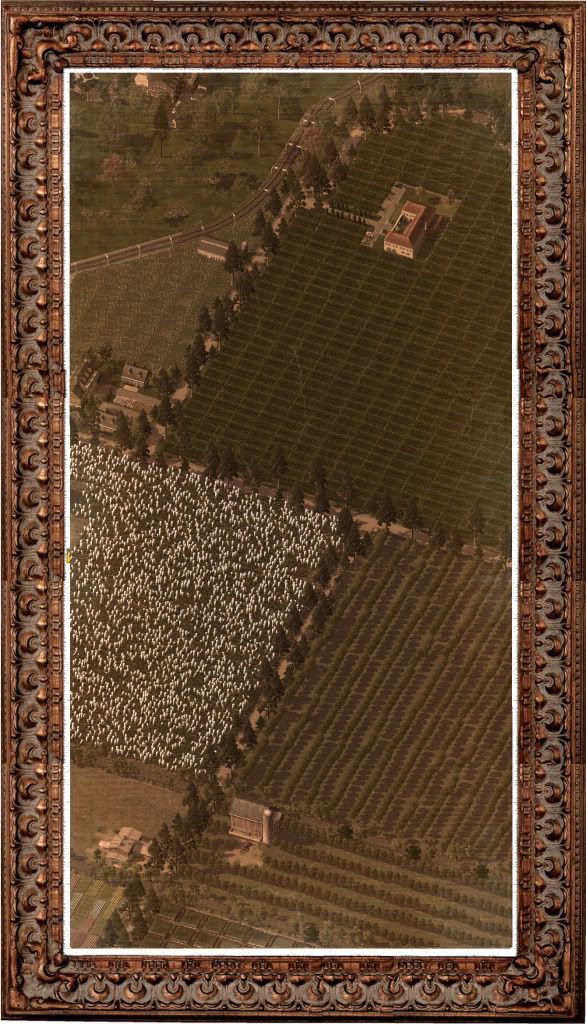 "More farms began to pop up around the area. I guess it was because people began to want to make an honest living. My father, however, continued to work at the pub down the road, as he did not want to get sucked into the farming lifestyle. He did not mind that the farms were there, however, as more people came into his pub after a hard day's work, and he made more money. He was contracted once by some farmers to help did irrigation ditches for the farms, as there were a little farther away from the stream. He and a few other townsfolk dug for 4 months straight to get the ditches the length of the farms in the area. Soon, greater quantites of food were being produced, and Evergreen Milld flourished because of it.I think my father liked the physical labor, and I know he enjoyed the fresh air. I think that is why two years after the irrigation ditches were completed he changed jobs again. He became foreman for Johnson Builders, and helped to expand Evergreen Mills even further." Grandpa Jackson finished speaking and stood up. "Lets go fishing Miles, I'll tell you more about the story then." "Alright! I'm gonna catch a bigger fish than you!" Miles yelled. They got into the car and drove away