SchulmAnniversary 4.2: Friendsville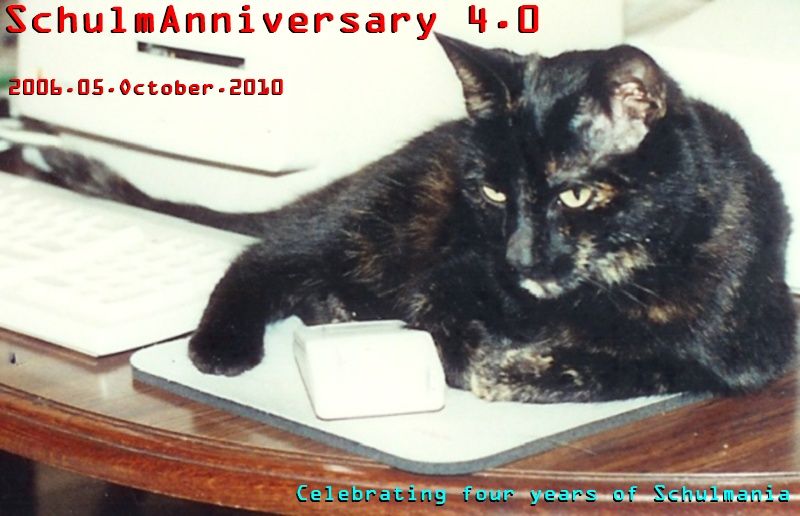 Part Two: Friendsville
Were you fooled too? Many observers did not give a second thought to a large number of 'technical advisers' arriving in Robinia to assist with the Feline Simlympiad either. But, if one things about it, why would so many technical support personnel be needed when the sports infrastructure was already in place?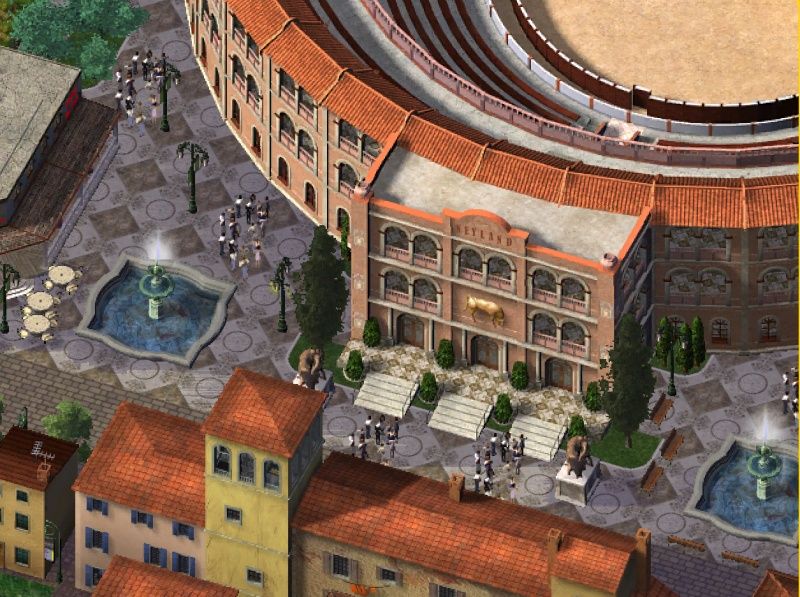 Neyland Stadium, located along the scenic north shore of the Wirdleonia River, is by far the largest sports facility in the nation. There is certainly no need for technical aid with this architectural gem.
Instead, the consultants and advisers were hustled off to a site in eastern Tenne to work on a secret project. Development plans for the new national capital have been stalled due to the war, but a site south of the future capital has been abuzz with activity. And, not just any activity. Something very new and different is coming to Schulmania. In order for Schulmania to capitalize on its foreign relationships and to develop more international connections, the nation needs some sort of locale for international businesses and diplomacy to develop. And so, in the lands south of the Tenne River delta, a new international city is springing up. Friendsville will be the new center of international commerce and diplomacy, home to Schulmania's diplomatic offices and the embassies or consulates of friendly states.
A new city is not a novel idea. But in Schulmania, this international city will be novel in many ways. In order to get international guests to this locale deep in the nation's interior, new transportation options need to be available. With the assistance of technical advisers from friendly feline states, world class transit will be standard in Friendsville. But, lest this technological bonanza upset the natural order of Schulminion life, strict controls will be placed on Friendsville to ensure that high tech items don't spread unnecessarily across the nation. The primary concern is the use of vehicles, which, though much faster than traditional transit options, are deplored by the Supreme Wirdle. Much of the feline population fears the new transportation vehicles and for that reason, their use is restricted to foreign nationals and Friendsville residents.
And now, the newest and most modern city in Schulmania, Friendsville.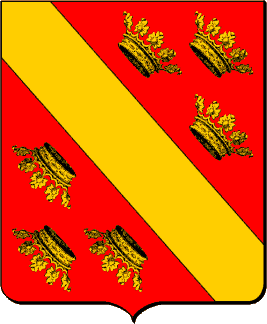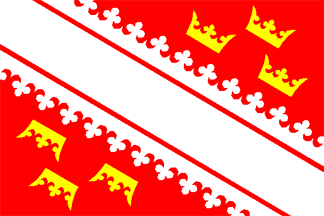 The arms and flag of Friendsville show a field of crowns, representing Schulmania's many friends, with a diagonal band, representing the seas once separating Schulmania from its friends.
SPECIAL NOTE*: If you are a Schulmania regular, you will need to make sure you are seated when viewing this, as the shock may be overwhelming.
*Disclaimer: Schulmania cannot assume responsibility if you faint, so be sure to be seated.
Now that you have braced yourselves, let's see the international city of Friendsville.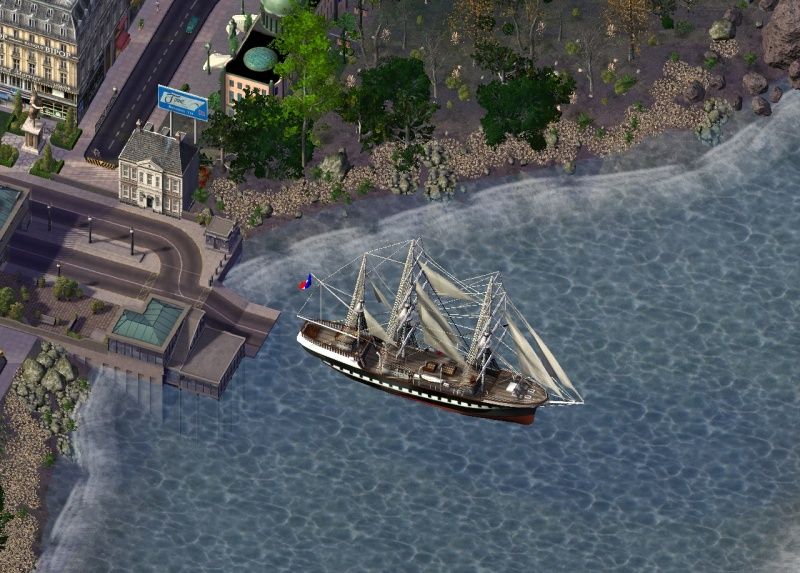 Arriving by sea, Friendsville does not seem very different than your typical Schulminion town. But, the differences will quickly become apparent.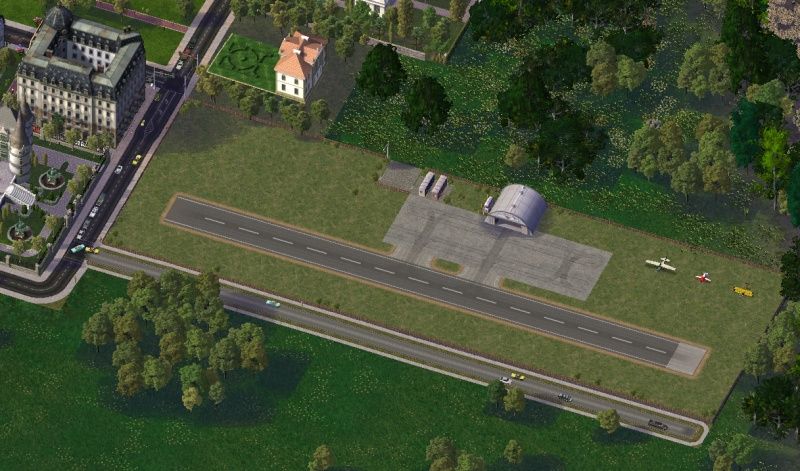 But, one can also arrive at Friendsville/East Tenne International Airport.
Now, how's THAT for a surprise? The Blitkarni technical advisers suggested that an airport would be essential in establishing communication and commerce with our international friends. And with a location so far in the interior, our allies would be hard-pressed to spend the several weeks necessary for transit from the east coast to the new city. Three foreign owned planes currently visit the airport. There is one daily flight to Schulmauckland, one to Terra Canis and one to Maxis AFB in East Wirdleonia. Surely with time the number of flights and perhaps the airport itself will be expanded to meet demand.
Should one arrive by sea, the ferry terminal is one end of Supreme Wirdle Boulevard, which terminates at Diplomacy Square, home of the Diplomatic Office and Bureau of Feline Affairs Diplomatic Office.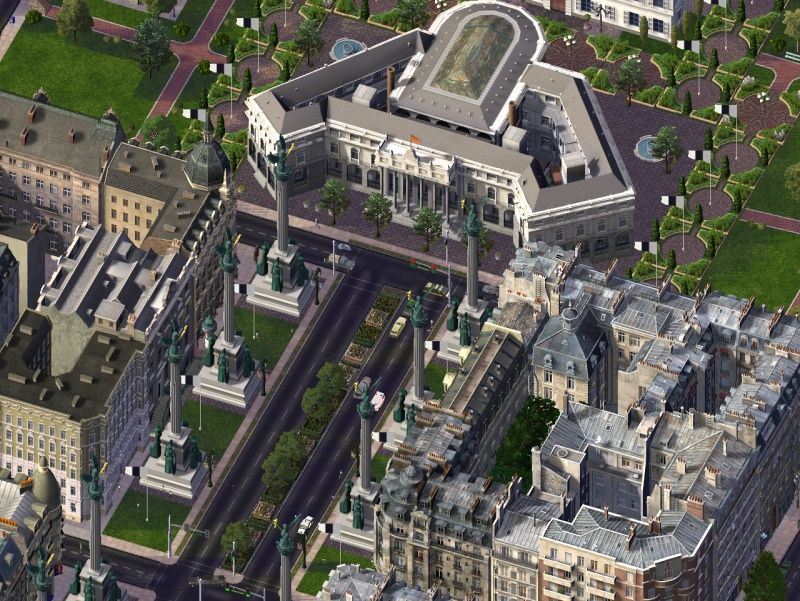 Supreme Wirdle Boulevard is the first vehicular road in Schulmania. To accommodate foreigners used to motor vehicles, a shipment of vehicles was sent from our allies. They are restricted to use within the boundaries of Friendsville, since no roads exist to other cities from there and vehicles are unknown elsewhere in the nation. Their appearance would certainly upset the general public. The grand avenue is lined with columns and flags from the port to the square. The grand edifice housing the Diplomatic Office looks out over this singular public space.
The centerpiece of the international city is Diplomacy Square. This grassy park-like space houses the Diplomatic Office Building and the Bureau of Feline Affairs Diplomatic Office right behind it. In addition, the Chapel of New Borath is available for all to use.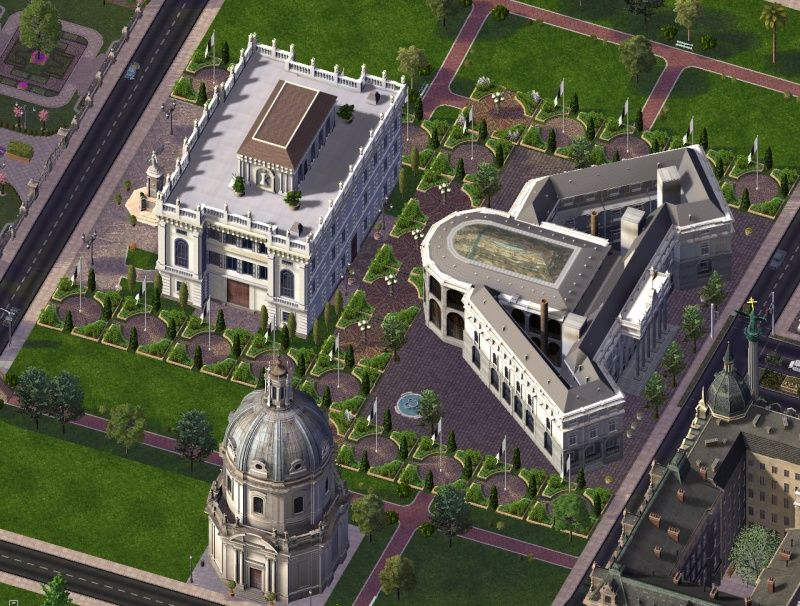 The Bureau of Feline Affairs building is at the left, the Diplomatic Office at right. The chapel is at the bottom of the image. The view is from the east.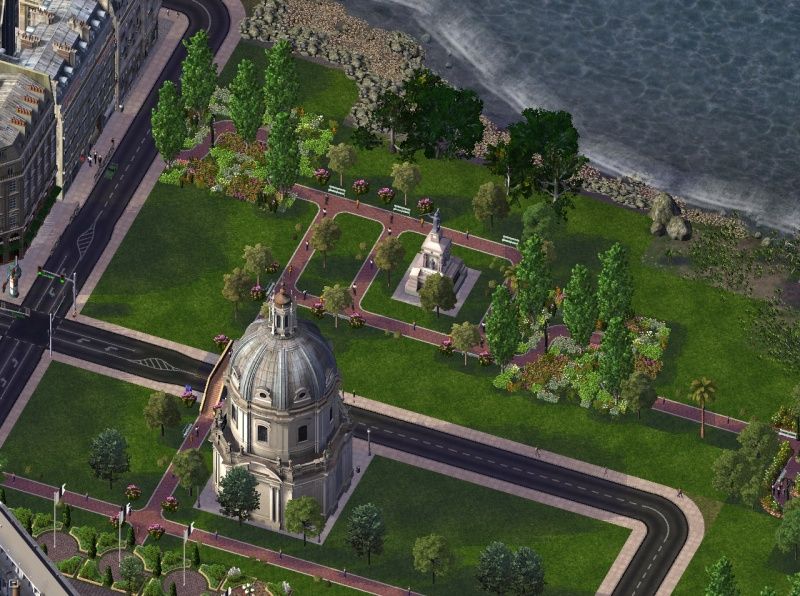 The chapel fronts Archduke Bower Park, featuring a lovely statue of the Archduke of Schulmanicus and a lovely view of the sea.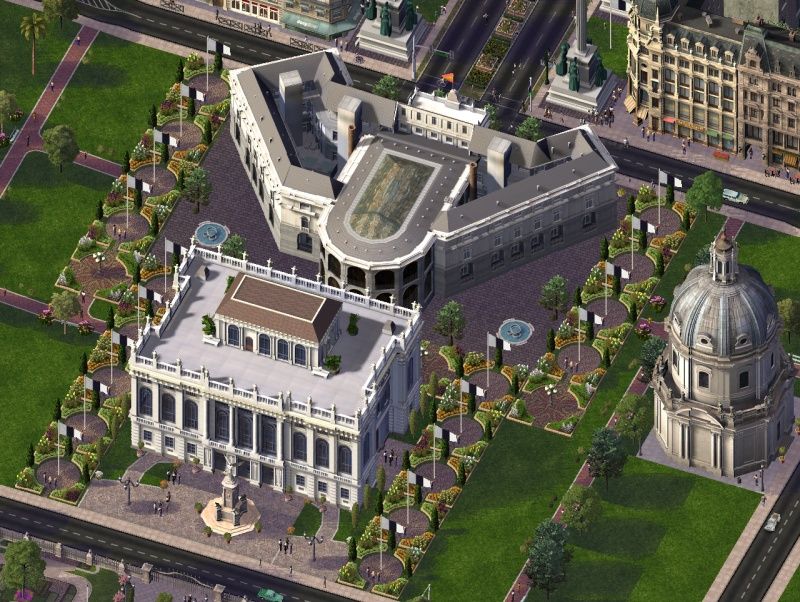 Another view of Diplomacy Square, this one looking north. The Bureau of Feline Affairs faces us and the southern end of Supreme Wirdle Boulevard can be seen at the top center of the picture.
On the south side of the square, several important buildings complete the governmental presence in Friendsville. The far southwest of town houses the airport, Friendsville/East Tenne International (FEI). Nearby are the Guest House, where visiting dignitaries stay, and the Reception Hall, where foreign dignitaries are received by the Supreme Wirdle or her designees. It would seem to be odd to have so many important buildings close to an airport, but the prestige factor of being close to the first such facility more than makes up for some occasional noise.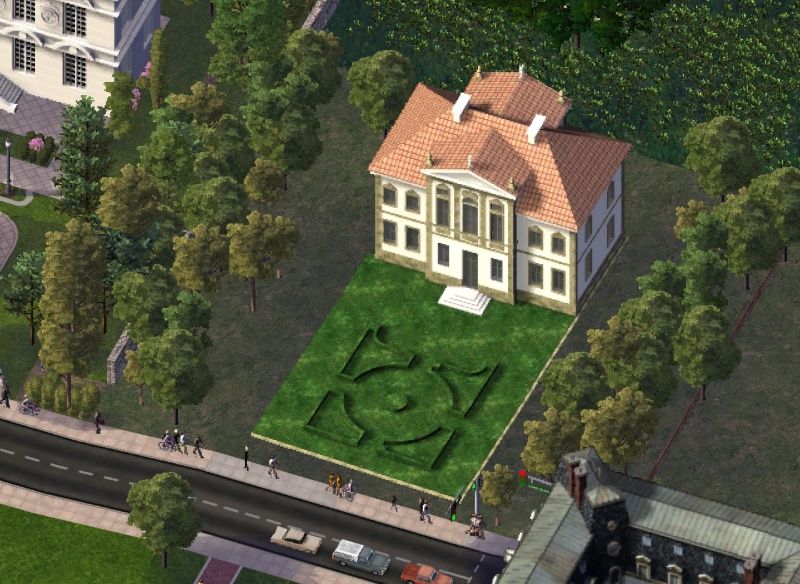 Perhaps you will stay here sometime? This is the Government of Schulmania's official guest house. The first guests are coming soon, Governor Cawale of Atkinos and Fleet Captain Splunt, Grand Duke of East Atkinos. They are due to arrive for the weekend and will inaugurate the new facility.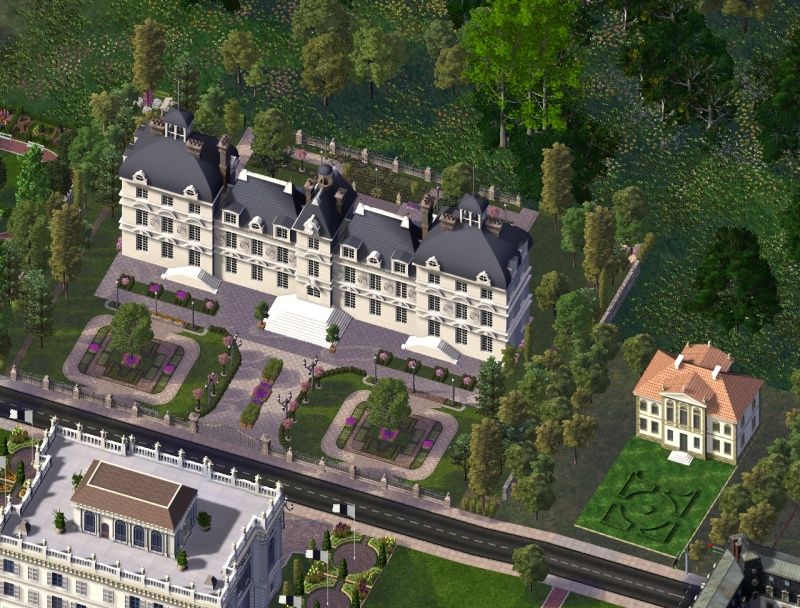 The Schulmania Reception Hall is an imposing structure filled with grand spaces for receiving foreign diplomats and their entourages. A ballroom, dining hall, and several gilded parlors await those who come to come to seek an audience with the Supreme Wirdle or her regal designee.
Let's explore the business and residential quarter, which includes some residences for Schulminions and foreigners as well as a few consulates and embassies. Please recall that only those nations fulfilling the terms spelled out by the Diplomatic Office on its homepage are eligible to full diplomatic relations and an embassy presence. Nations without full relations (a status only grantable by the Supreme Wirdle or Governor-General Franciflora) may maintain a consular presence or have a national interest office at an established embassy.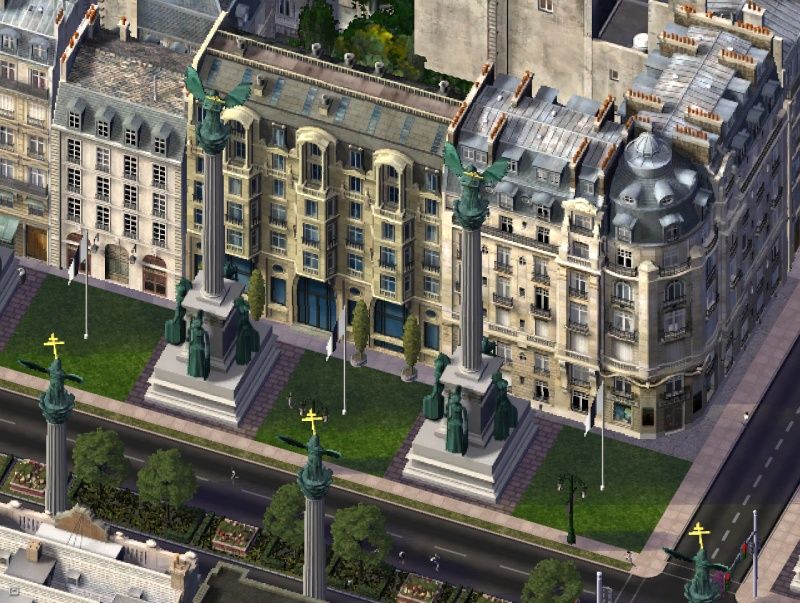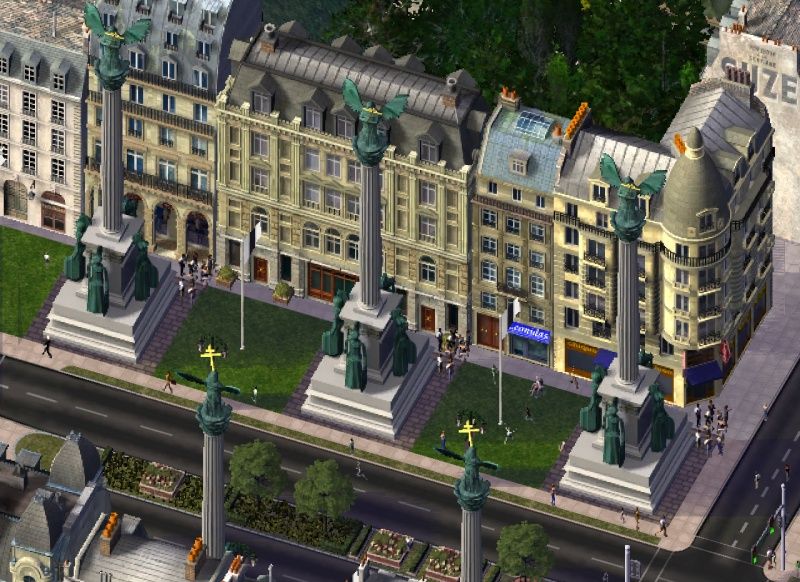 Supreme Wirdle Boulevard is lined with flags and columns, but the action takes place in a largely homogenous medium density building style seen in several places in small amounts. But, the massing of such structures to create an effect has given this style a name suitable for its location, the Capital Style. Capital style businesses house high-end boutiques, tony shops and offices for status-seeking companies.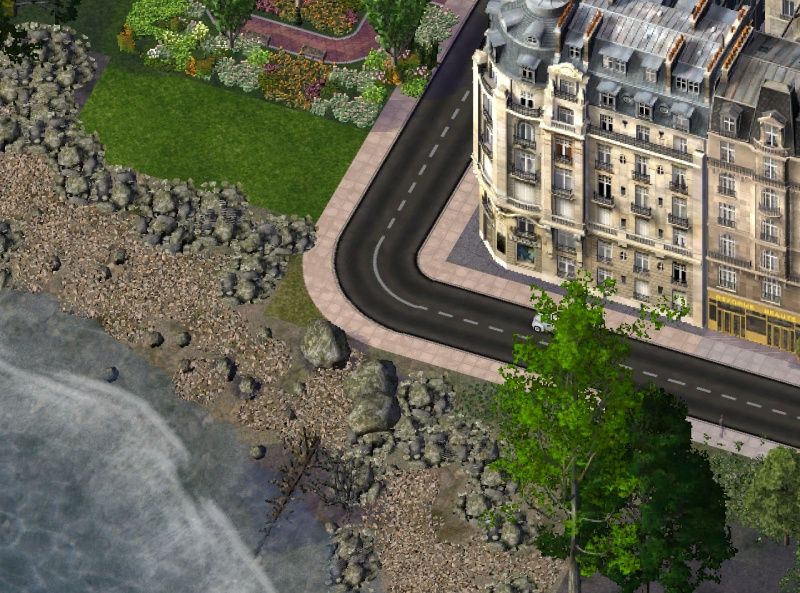 On the Tenne Sea coast, residents of Whisker Terrace enjoy a stunning view of the sea and the waterfront Archduke Bower Park. Are you interested in an apartment here? Only 5 schulmonetas a month. Just complete the application and you can live in splendor!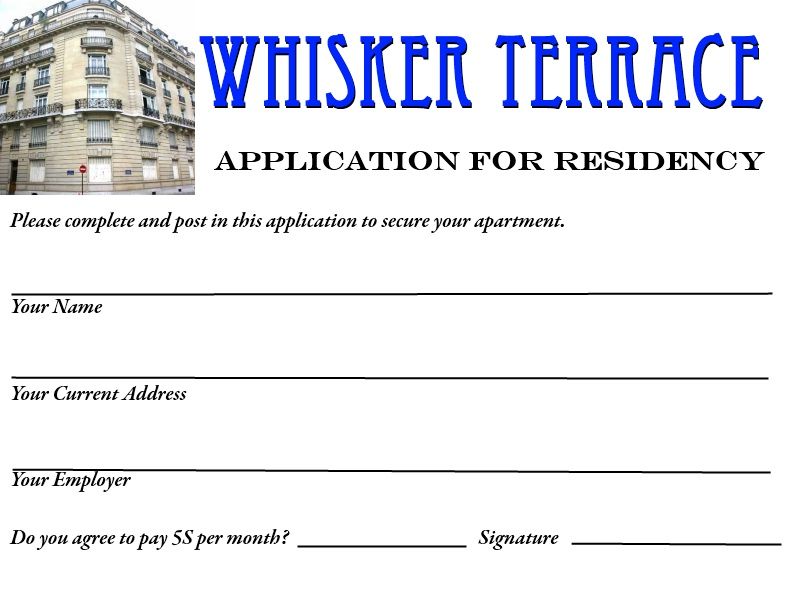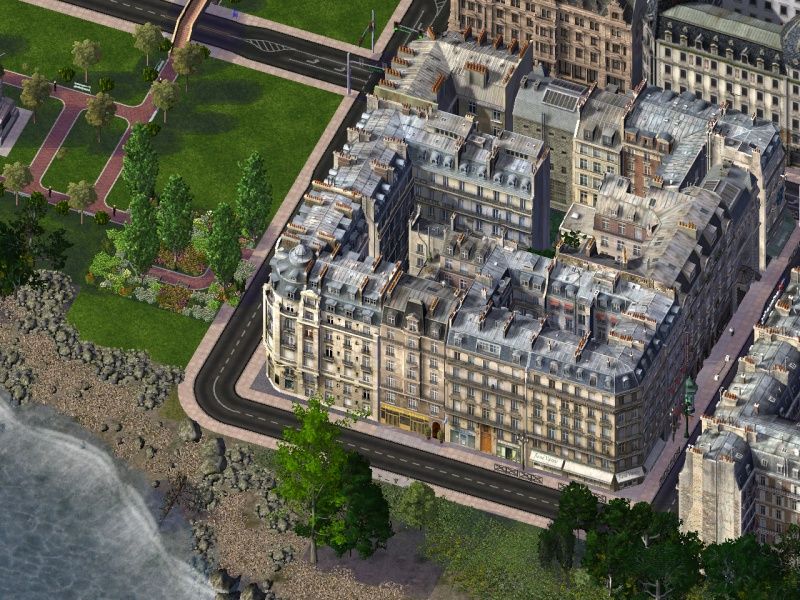 Just look at that location! Whisker Terrace is perfectly site for the international diplomat or the international businesscat.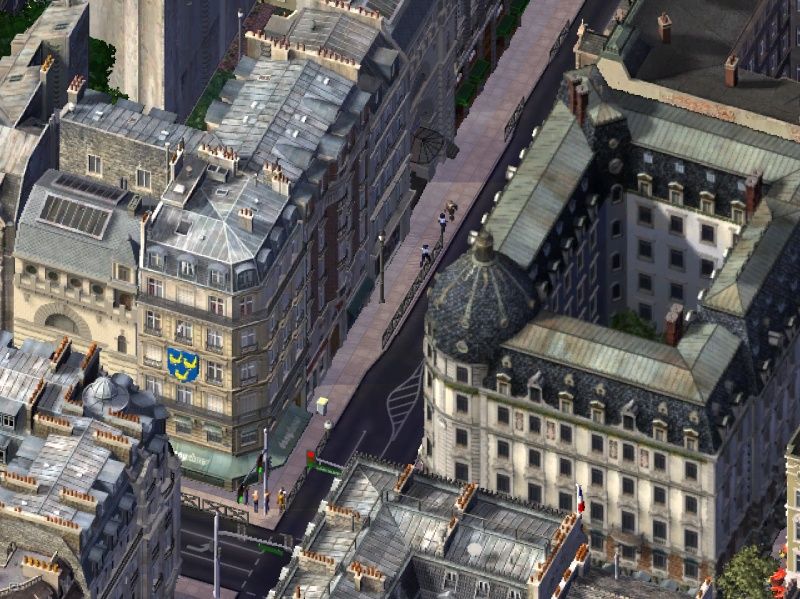 Fine eateries abound. Here we see a Tweety's Cat Café on one side of the corner. There's a Neko Sushi Bar on the other corner. Across the street is Mama Adela's Chicken & More. Hungry yet?
A vibrant new world class shopping and entertainment district is taking shape. Shop at Señora Fashionista's or Sisal Furniture Gallery. Maybe a night out on the town? How about the Wascawwy Wabbit Comedy Club or the Clawtastic Dance Club? There's more options here for our foreign visitors than in any other city we have ever built!
Bridges across the Tenne River are being built to link the new city to the future capital site on the north shore. But, for the time being, ferries shuttle on the hour between Friendsville and Knoxvegas. Frequent service upriver and on the Tenne Sea are available at the port.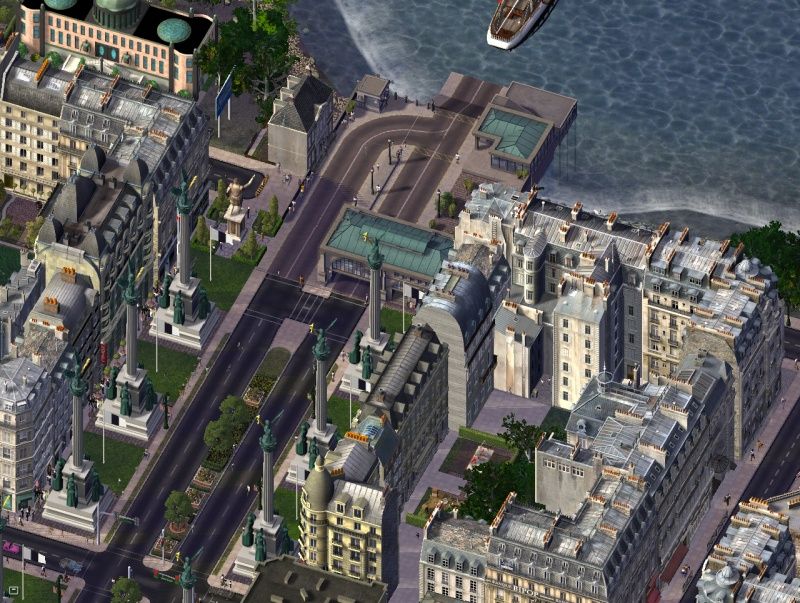 At the northern end of Supreme Wirdle Boulevard, ferries connect this pocket of international life with Schulmania proper.
As impressive as this cityscape is, Friendsville's main purpose is to serve as Schulmania's international gateway. And, to do that, a greater international presence is required.
To satisfy the town's mandate to be our international portal, more than Schulmania's diplomatic offices need to be present. Embassies will be provided to nations establishing full diplomatic relations and consulate to those with limited relations and/or trade agreements. Signatories of the Coronation Accord in good standing and members of the Wirdle's Canine Council have been given the first opportunity to select sites for embassies. The nations whose presence will be seen first in Friendsville are: Schulmauckland (WCC), Terra Canis (WCC), Blitkarni Rebellion (FIFA), New Carpathia (FIFA, successor state to Nekominkoku), Milton Bay (FIFA). Several other embassy sites have been built and are awaiting designation.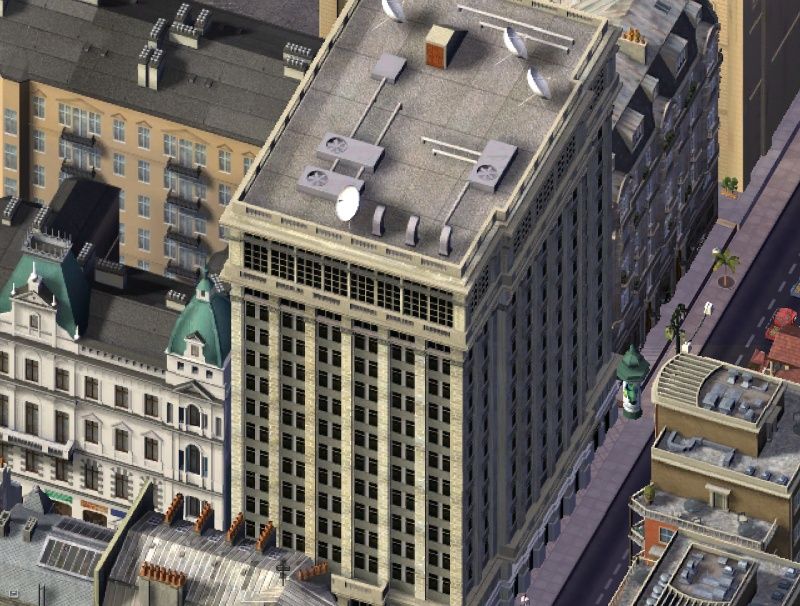 The Blitkarni embassy is a tall and rectilinear building. It blends in well with the city, despite its more modern appearance.
The New Carpathian embassy is next door to the Blitkarni and features distinctive green copper corner towers.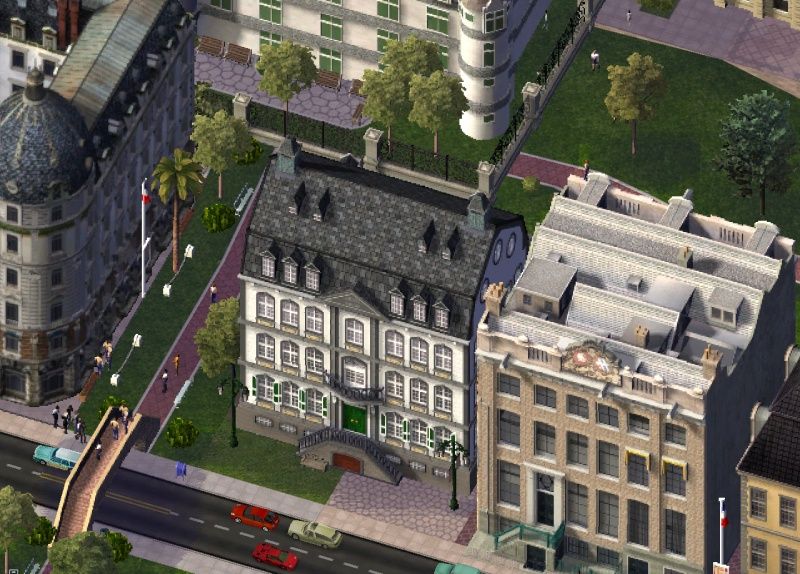 The Milton Bay embassy occupies a prominent spot opposite of Diplomacy Square.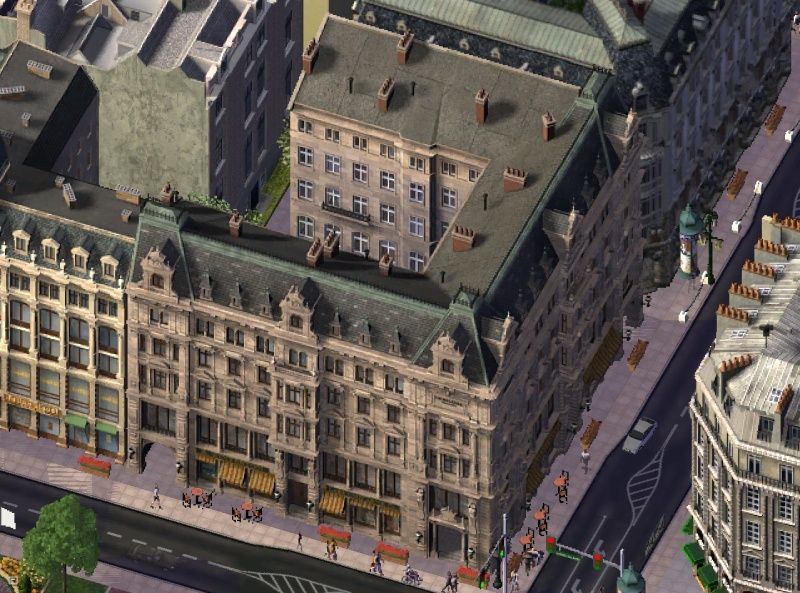 The Schulmauckland Embassy occupies a prominent corner not far from Diplomacy Square.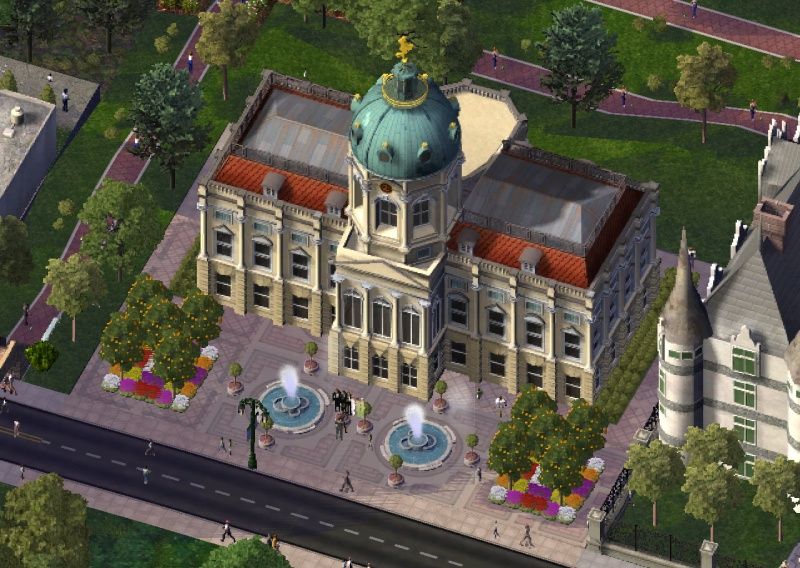 The Terra Canis embassy's large dome and twin fountains are standouts in the diplomatic quarter.
For those nations without embassies but do have some sort of intergovernmental relationship, the Consular Castle houses offices for consulates and attachés.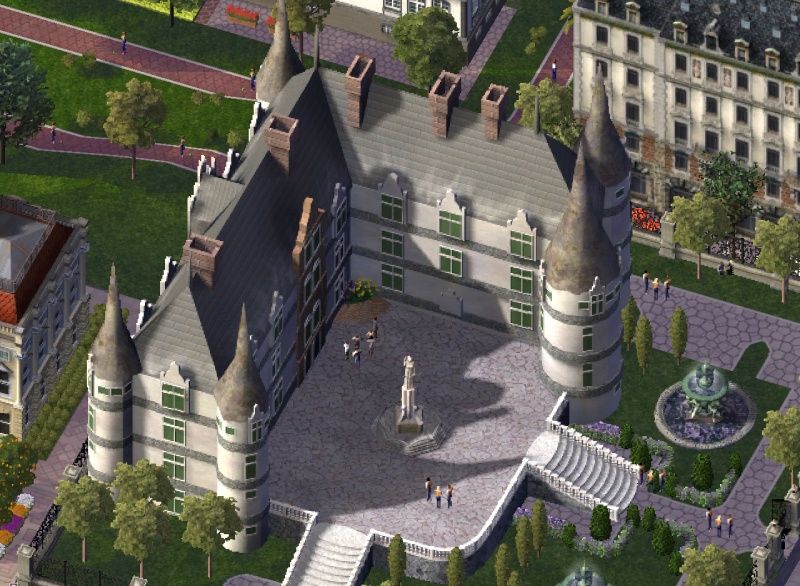 The Consular Castle can house up to 30 nations in its luxurious office suites. The first consulate established is that of the Kingdom of San Marino [not the republic in Europe - it's an old Simtropolis CJ promised to be among the first to have relations was back in 2007].
By now, you may have gotten used to seeing a few vehicles out on the roads of Friendsville. This unusual aspect of city life (unusual for Schulmania, anyway) is just one of the innovations for this international enclave. Blitkarni technical advisers and consultants from Schulmauckland have helped Schulminion architects and engineers develop massive new buildings to house offices and residences for a diverse group of foreign nationals coming to call Friendsville home.
Perhaps you will see some of these new license plates on the cars around Friendsville... And, in case you were wondering, that's a real Tennessee license plate design. I did not make it up... honest! All I did was take off a few letters in the state name and the word "arts" from the purple saxophone flow [music?] and there you have it. Can't say I have seen these on the road, but they are legitimate. Say, want one? I will make you a personalized Tenne license plate and post it if you tell me what you'd like on it. About 7 characters max and of course something suitable.
Now to see some of the massive new structures built with the technical assistance of our trusted allies. Most residences are very large apartments but still in a familiar Schulminion stone style. But, some offices feature a modern glass look. This startling difference was proposed for the international enclave to give it a world class appearance. It is unknown if Schulmania proper will have any interest in tall glassy buildings.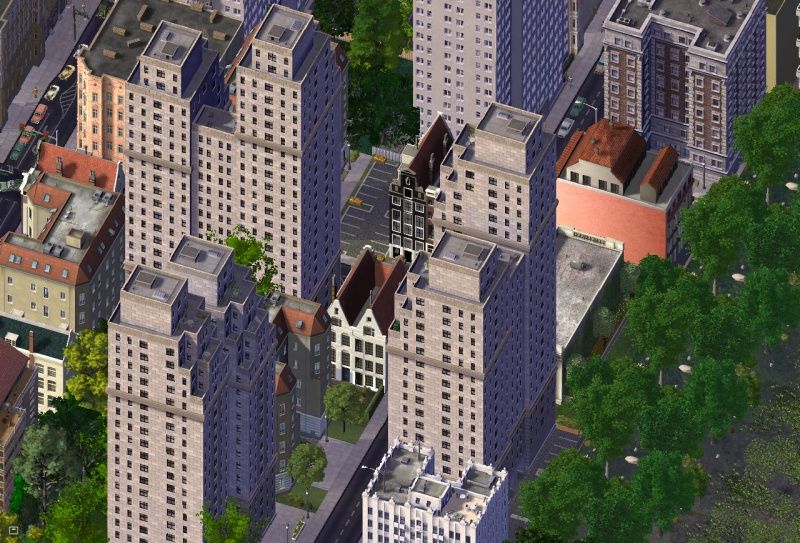 Smaller Schulmania-scale buildings for natives are nestled in amongst massive stone towers constructed to house the foreign workers and their families. Accommodations for potentially thousands of foreigners has been built.
Even though motorized vehicles have been imported from allied states to provide transit for foreigners, their use has not been great. The city is, as are most Schulminion cities, quite compact and easily walkable. With no roads leading to other towns (at the moment, anyway), air pollution from vehicle use is unlikely to be a big concern.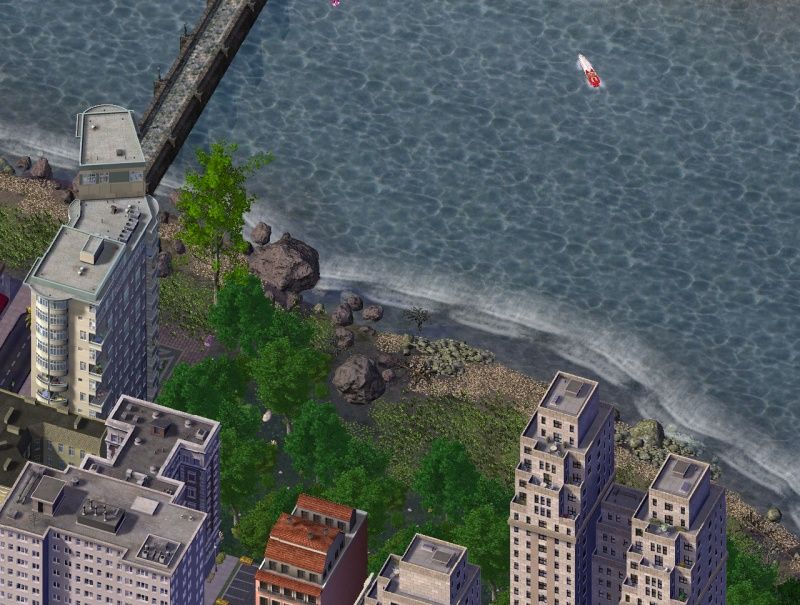 The Delta Bridge is the original 'bridge to nowhere' as it spans the Tenne River delta toward the new capital site. But, for the moment, the site is mostly grading and infrastructure. Senior diplomats will be housed at Robinia Tower, a luxury apartment building along the riverfront with stunning views of the water and the national park.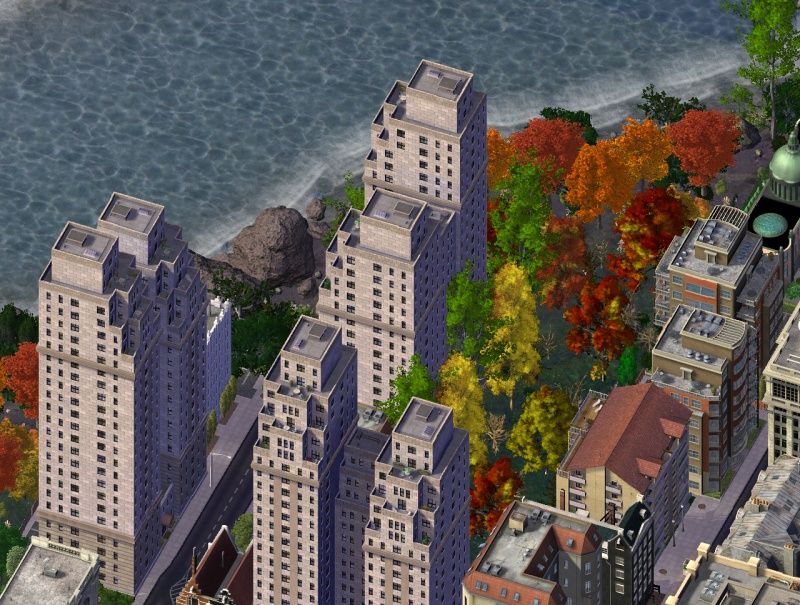 Almost all of the apartments have views of the river or the ocean. It should be a great place for our guests.
Perhaps the biggest shock of all in this update is the glittering, towering Feline Corporate Center. Designed by our international friends and built by Schulminion contractors, this novel landmark stands alone as the first truly internationally designed structure in the nation. It houses offices for many Schulminion companies doing business internationally as well as international firms seeking to do business with Schulmania.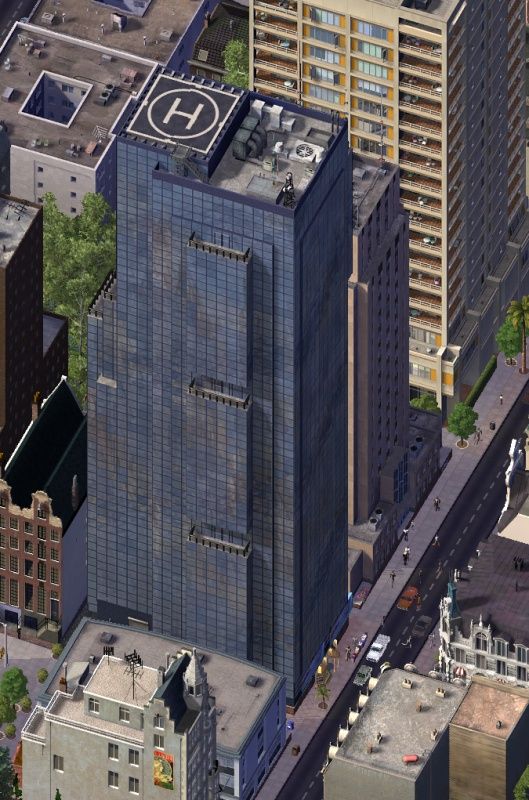 Nothing like this exists in Schulmania. Its appearance will be a shock to Schulminions visiting for the first time. No doubt it comes as a surprise to you as well.