Intermission : Reality Check 2

There have been eight updates since the last reality check. Time again to compare my Sim version of Cape May County against the real thing . Dennis Township is now complete, as are the towns of Woodbine and Sea Isle City. This finishes the northern third of the map.
CLICK ON THE PICS TO GET A LARGER VERSION

This one is from Bing ™ Maps. I like Bing for thier "Bird's Eye View" , which tilts the aerial pic to give a SC4 like view.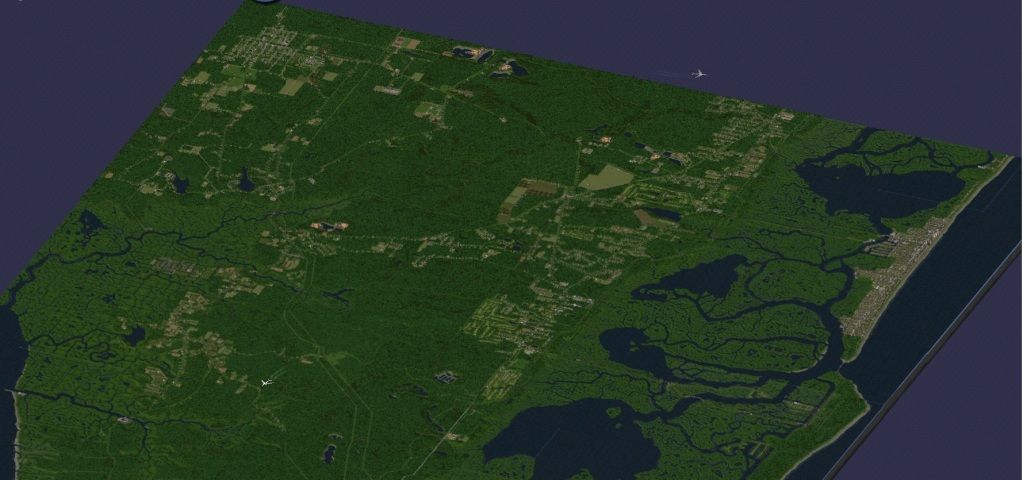 ... and the Sim version. I'll be working on mainland sections of Middle Township to build an industrial base ( such as it is) for my more populated barrier island communities. Stay tuned !
Replies :
Westy177 : Thanks. They look good, but I don't play. I'm of the same mind as the Rodney Dangerfield character in Caddyshack . " Country clubs and cemeteries are the biggest wastes of prime real estate" Glad you like them. tho. There's plenty more to come. Cape May County is home to about a dozen courses.
SimCoug : Yeah, you need to be a pretty hard core golfer to get out when the heat index gets into the triple digits. Personally, I prefer surf fishing as my outdoor activity of choice. Standing knee deep in 75 degree water at leasts gives one a chance to cool off. Thanks for the comment on the garden. I had never been there before this year. "Research" for my journal gives me an excuse to be a tourist in my own back yard.
NMUSpidey : Thanks for the comment ! Cape May County has an abundance of such attractions, from the beautiful to the bizzare. Something to keep the tourists happy when the weather prevents going to the beach.
MilitantRadical : The golf courses I'm using is ArtGolf by doctorgonzo ( link here : ) I like it because it's more realisticly scaled than other golf kits I've looked at, and infinitely better than the puny little reward golf course Maxis gives you. The maintenance costs won't break the bank either. It also allows me to squeeze in the cycledogg trees into the rough areas, covering up the Maxis styled trees that come with the lots.