Intermission : Reality Check

Just a quick look at where I've been and where I'm going. Here's the Sim version of Dennis Township. ( click on the pictures for a larger view)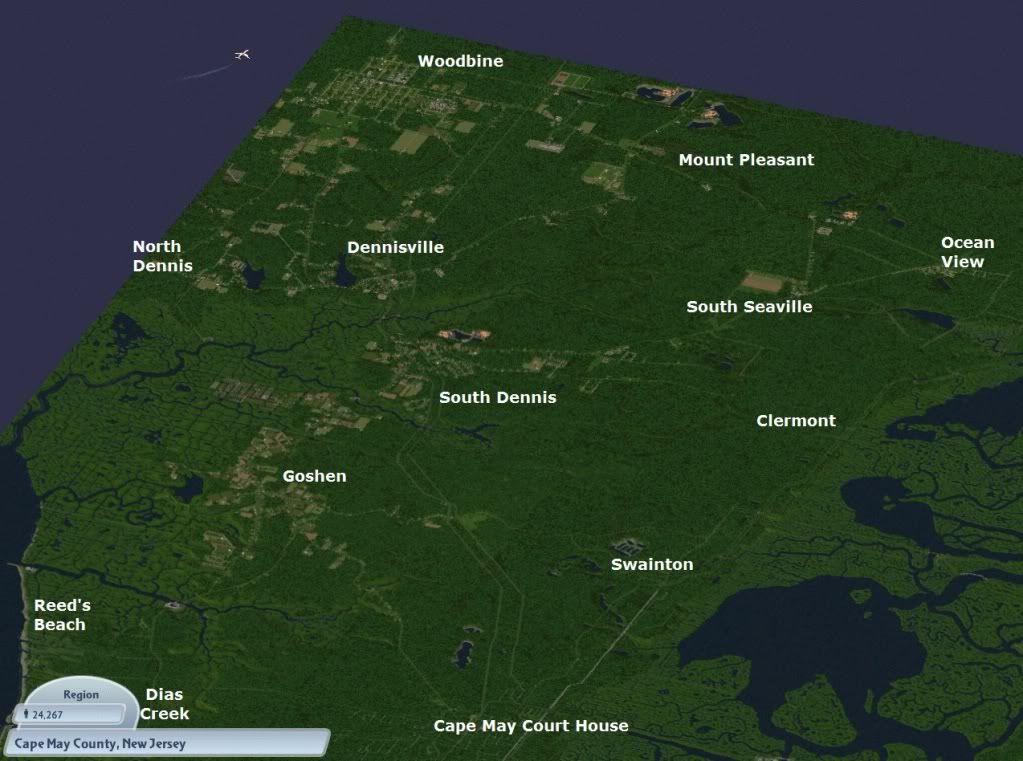 24,267 is a bit higher than the real population, but we all know Sims like to pack into thier dwellings like college students on Spring Break. The amount of jobs is also higher, so I guess it's a wash. Here's the real- life satellite pics I've been working from during this re-creation -
It may look llike I'm missing a road or two , but in actuality they are the abandoned railbeds of the Pennsylvania Railroad's Atlantic Division. They are currently used for firebreaks to help control forest fires . You can see that most of the population is in the US Route 9 - Garden State Parkway corridor. (east part of the map, from Ocean View southwest to Cape May Court House and beyond.) They provide the support for the CBD's on the barrier islands ( not shown, even farther east) Formerly farmland, it has since been taken over by subdivions and housing developments.
Replies :
Simcoug : Well , I'm getting in plenty of practice on the farms, being that so much of the northwestern parts of the county is farmland. I hope I can do as well once I get to the more densely populated areas south and east.
Benedict :. I blame the county's founders, who can't seem to make a straight road anywhere. FAR isn't all that tough, once you take the time to find the patterns. Maybe at some later time I can post something on how to make the most of a FAR network.