A Peak Inside Sparklington (Update 57)
Entry posted by simlink ·
139 Views
Spring has arrived, and with that it was time for a fresh coat of paint here in Windemere & Taschereau.
Only a light coat and dusting, though. The banners and font are the only things that have changed for now.
Update Synopsis:
Today we look at another new city in Windemere - Sparklington. Some background information: this city is not actually "new", per se. This is in fact one of my older cities from a former sand-box region which I never finished and eventually abandoned. I wanted to start working on it again, so it 'found' its way into Windemere. The highway matched up well for the continuation of the Baufeld expressway. So, not the most realistic way to arrive, but I digress. About Sparklington itself: it is a small and expanding town of around 24000. It is only expected to grow as many major roads, highways and rail lines pass through the town.
Over the updates we go through Sparkington, you will see some of the characteristics you've come to expect incorporated into it as I bring Sparklington up to my current standards.
57.1 |We start off in the middle of one of the many residential neighbourhoods. A 4-lane avenue and creek make its way through the area, and create a picturesque suburb.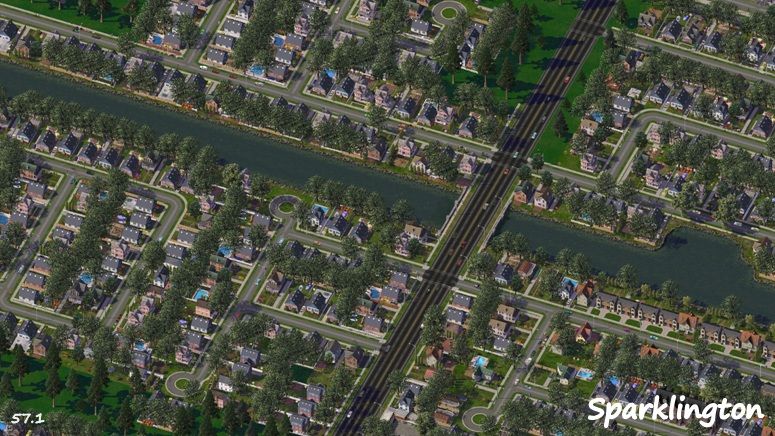 57.2 | Here we can see residential that has been built to the creek and a branch of said creek. A major rail line, and road, cross the creek.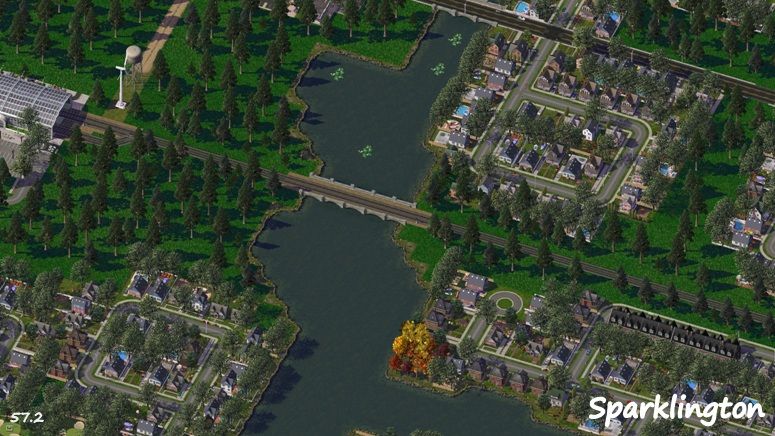 57.3|This is one of the main interchanges on the Baufeld expressway through Sparklington. This particular interchange is one of the highest volume in the town. Few soundwalls were built along the highway. The addition of soundwalls is something the region is examining.
57.4 | Here we see a commercial district. There is a gas station, grocery store, warehouse club and various other commercial entities. Note the use of pine trees - something very common in my cities several years ago.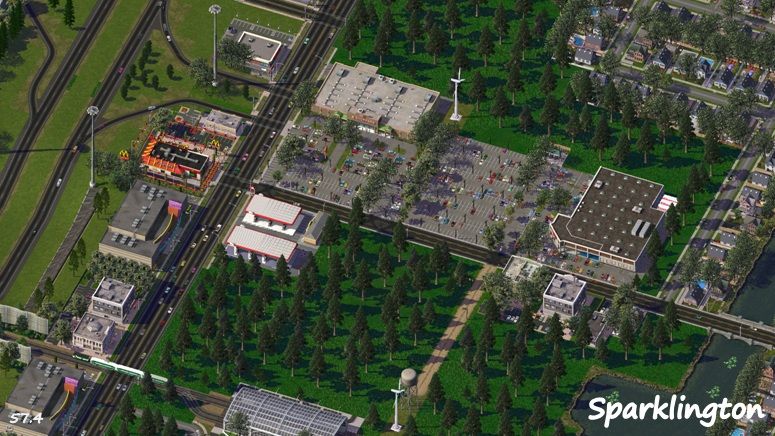 57.5 | And here is where the bureaucracy regional planning happens! This complex is the Windemere Regional Municipality HQ. Regional functions, including infrastructure, garbage, water and power, etc. are managed. Police and fire services are also managed through this facility. The region is a large employer in Sparklington.
57.6 | In the western portion of the town office buildings have been constructed along the highway as companies look for cheap land with easy access to the entire region.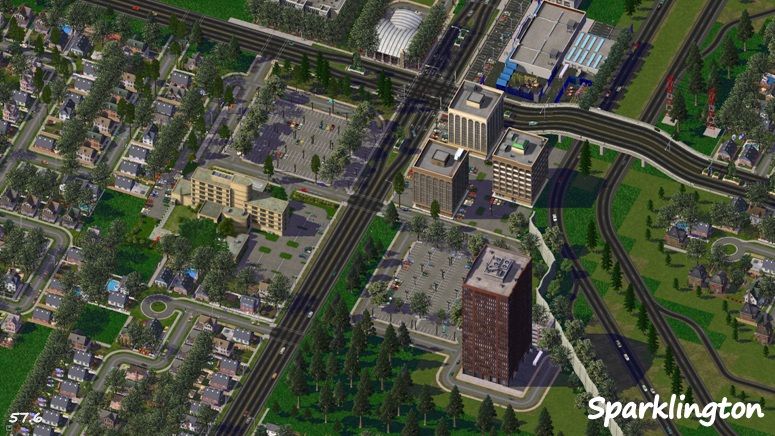 57.7 | And what would a new city, with high demand, be without construction?
As always, I hope you have enjoyed this update and are looking forward to more! Comments and suggestions are always welcome.