Update 26: Gateway Freeway
Entry posted by kj3400 ·
401 Views
Update time
....
....
I said update teim! >:|
That's better. Tonight's update comes from the capital where they are finishing a freeway project, shown below.
The part under construction is dashed. Now for some background. I-302 was originally known as I-301, the Industrial Freeway. It was built back when I-1 was being built in the Capital Corridor Project (see update 10a) as a way to shuffle traffic off before I-1 ended.
I-1 ending at I-301 (it's old, don't judge me
)
When the Johnson Gateway Int'l Airport was built, I-301 was renamed the Gateway Frwy, and redesignated I-302 for a planned connection to I-2. However, lack of funds and traffic stopped that. Now however, with development scooping up land and traffic increasing, it was time to build the remaining bit before it disappeared.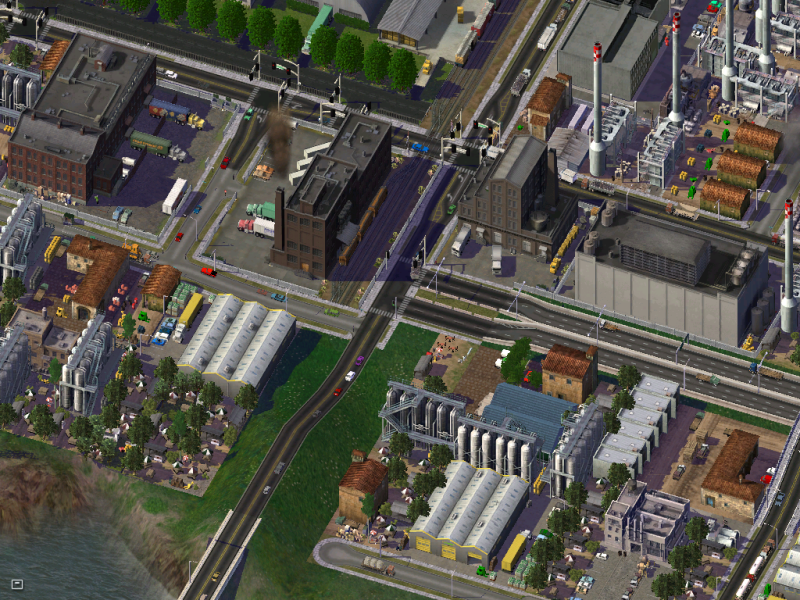 I-302's current western end.
Thee first site to be studied was the site where it would cross the Baltimore River. It was decided the crossing would be tolled and in a tunnel. the GreenPass authority in Paradise would take care of collecting tolls.
crossing site
proposed signage eastbound at exit 3
The next site was at the Great NW Rd. and Wrendale Av.(Rt 19). The construction crew's problem was the houses that would be destroyed. My problem was how I would get a interchange in such a compact space without destroying everything.
The third site was this school, Marbourne High. It was planning on building athletic fields on the freeway's right of way. Looks like they'll have to build them somewhere else.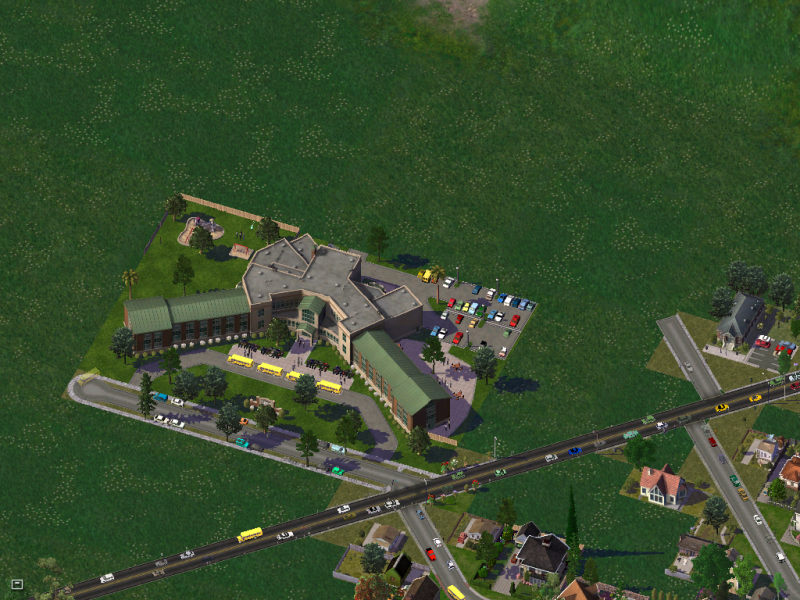 The last site was the end of I-302 where it would join I-2. This is where we'll begin.
Last view of exit 12 of I-2 before construction began. Marshall Av. (Rt 19 to south). and Wrendale Av. (Rt 19 to east) would not be shut down.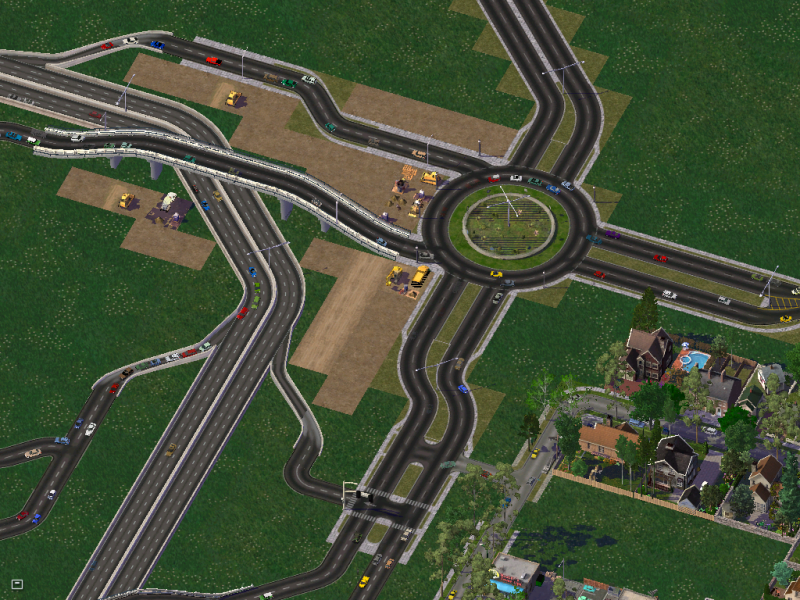 It begins....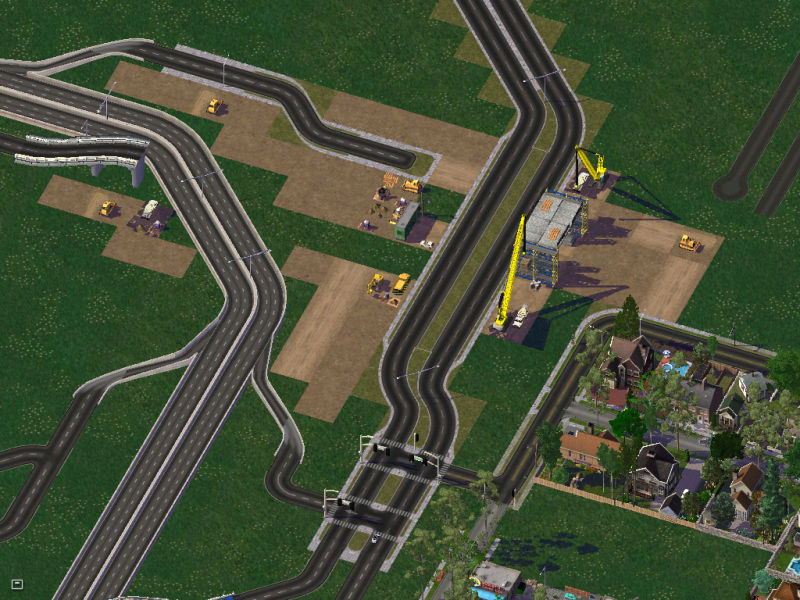 That loop ramp was the first thing to go. There would be more direct ramps built. Construction on I-302 overpasses begin. Wrendale Av was rerouted onto local streets.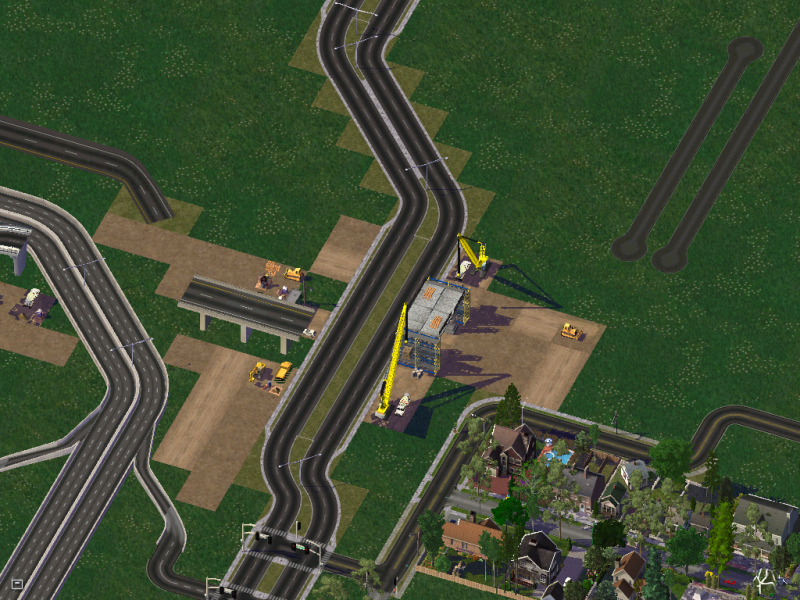 Work continues....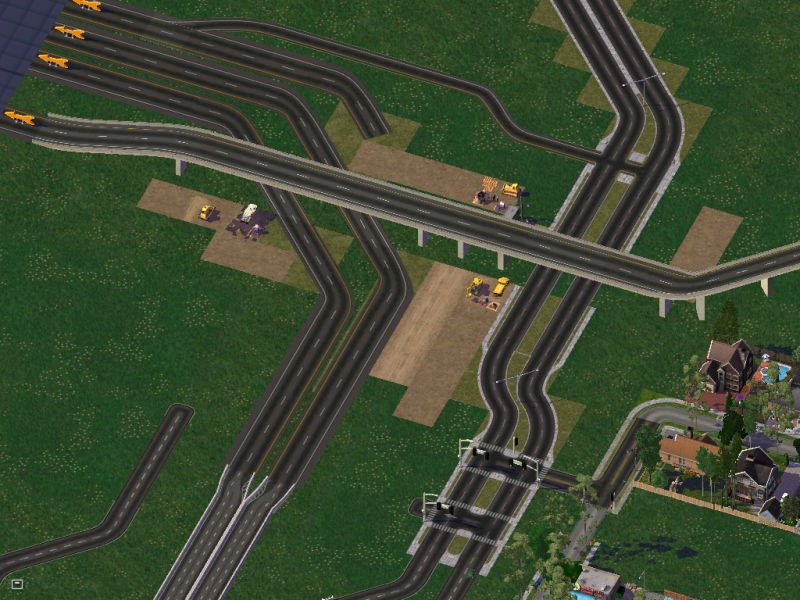 Eastbound I-302 overpass built. lower onramp to I-2 was eliminated as it was redundant. I-2 got repaved as well as part of a separate project, so it loses a lane.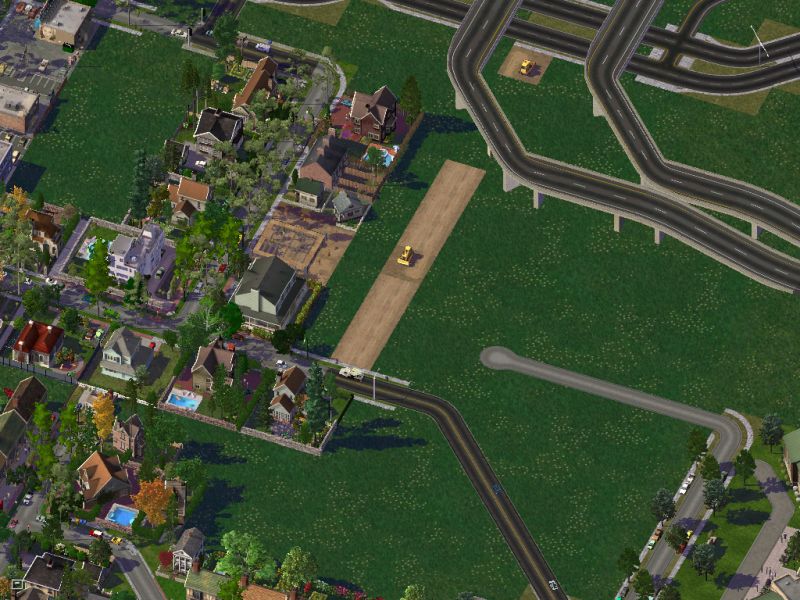 Wrendale Av. being plugged into an almost complete interchange.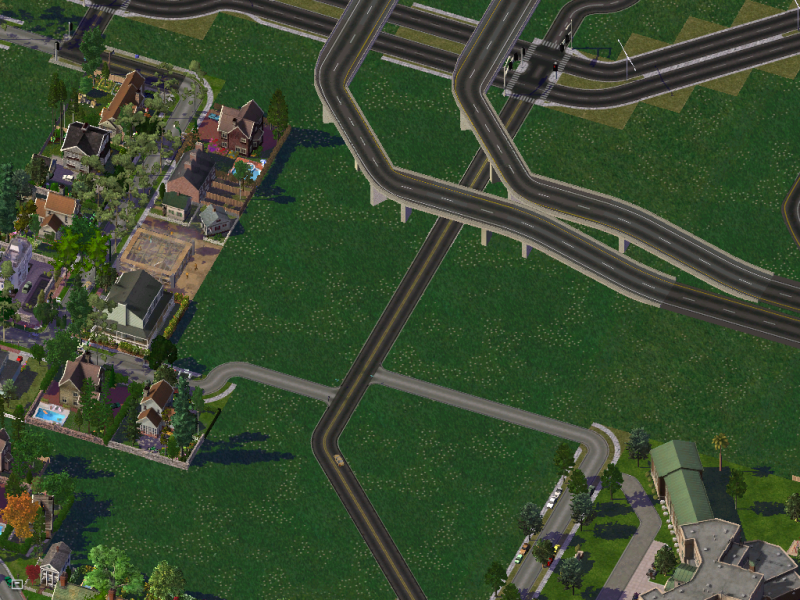 Finished!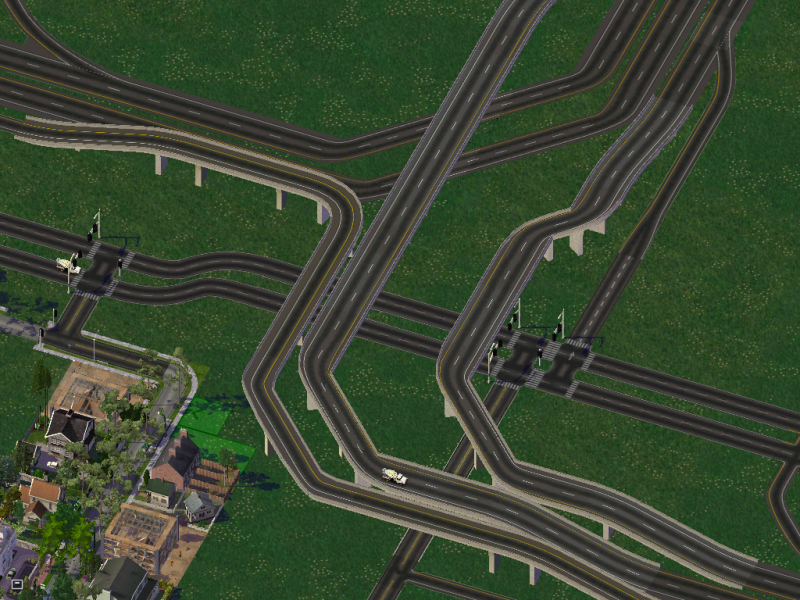 The complete partial interchange. This and two more partial interchanges make it whole.
This one,
and this one.
Let's move on to exit 2.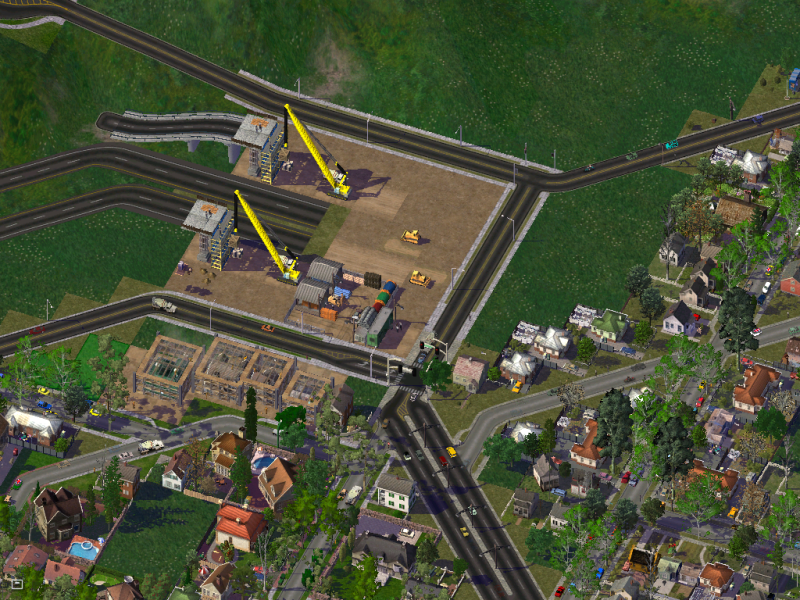 Construction begins. Great NW Rd narrowed to two lanes through work site.
Wrendale Av. traffic is rerouted over finished bridge. It will not be rerouted on the ground for the rest of construction.
Great NW Rd is rerouted onto bridge with Wrendale Av. traffic.
Freeway is extended. Wrendale Av. rerouted onto freeway temporarily.
West access point for Wrendale Av. through traffic. Interchange 80% finished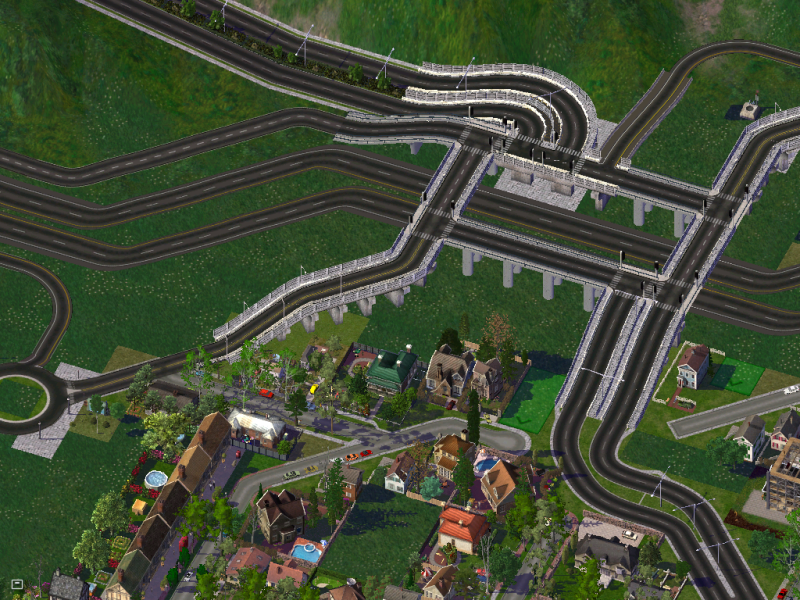 Finished product. Ain't it purdy? Unfortunately I couldn't fit an eastbound onramp because of the proximity to exit 3/3A.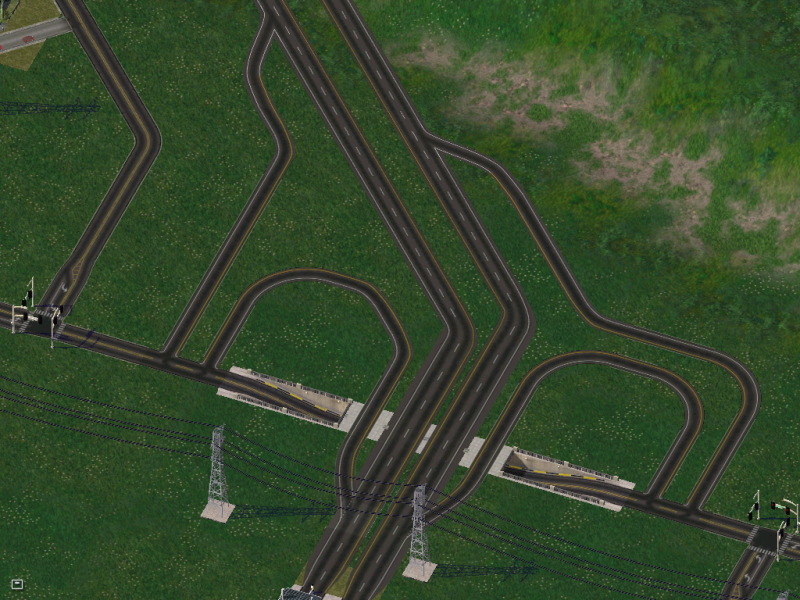 Exit 3/3A(westbound). At the bottom are the toll booths. I got to this interchange just as they finished so no construction pics. Sowwy
.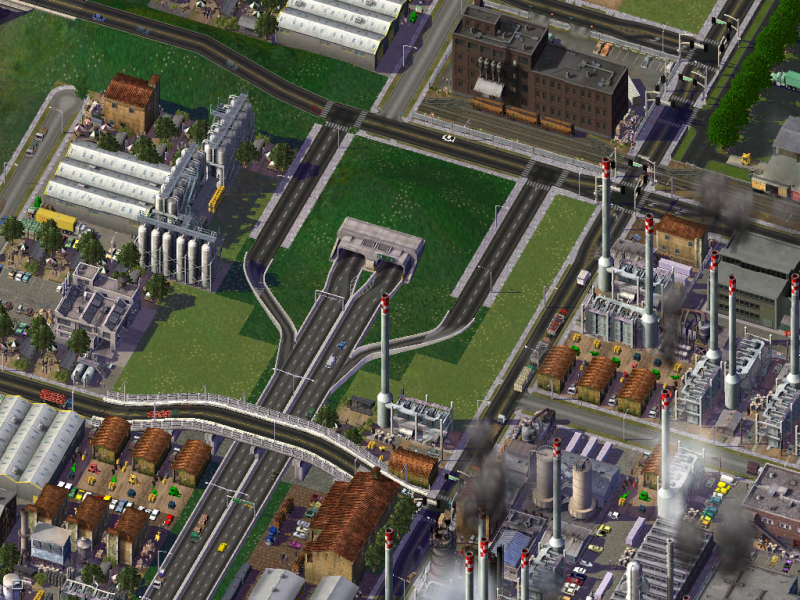 And the former western end now chugs into a tunnel. Exit 3B is a half diamond here. eastbound traffic has to get off at exit 4 or exit 3.
Well I hoped you enjoyed my update. As a bonus I got a strip map of the entire freeway. It runs north-south for exits 12-8 (upper part), and east west for the rest. Exit 8 is missing on purpose. Enjoy
.