Chapter 1: A Day in the Life of Boris Ivanov Kurshin
Entry posted by Eldaldo ·
130 Views
(click for larger picture)
It was 6am August 13th in 1913. The sun was rising but Boris could not see it. There were no windows in his room.
Still, a little light from the windows in the hallway came in cracks around the edges of his door. it was by this dim light that he awoke. The morning bell was about to sound he knew. He always woke up a minute before the bell clamored and woke the city from its slumber. He could not see them, but his wife Tanya lay next to him, and his two daughters lay on a mattress on the floor at the foot of their bed.
Boris sighed, and recounted the events that had brought him here . . .
He was born to peasant parents on the Don river in southern Russia.
Things were rough growing up there, his family lived in a very small house, and hardly had enough food to eat, and was constantly in debt to the landlord who would occasionally have his servant come and beat Boris' father to try and get money out of him. Boris was educated at the new mandatory government school and became friends with a kid named Dimitri Vyhosky. He Married Tanya when he was 17 and she was 15. He and Dimitri became very close. Dimitri was a very intelligent man and became politically radical as he grew up. just a few years ago he began to speak out against the government. This made Boris nervous because he knew what happened to peasants that criticized the government. It ended up happening that Dimitri and Boris were both arrested for conspiracy because they were friends.
For 2 months they were starved in a government prison, and were scheduled to be sent to Siberia, but the day before their transfer a rebel organisation sprung them and the entire prison in a midnight attack. in the confusion that ensued, Boris raced home and snuck his family out of the town and down the river to the city of Azov. In Azov, they hired a vessel to take them throught the black sea to Constantinople, and from there they got on a crowded ship to Inakaye. Their flight from their homeland was one wrought with danger and fear each step of the way. It forced them to run without looking back. as Immigrants to Inakaye they came penniless, but were finally free of the oppression of their homeland.
It was spring when they arrived in Mariston and
they quickly found themselves sleeping in the Arroyo Compassion House, on Arroyo Point, and begging for food to feed themselves and their two young kids. When a man in a suit came by with a contract to move to the frontier and work for the Solace Bay Co. offering housing, food, and a wage for 5 years of employment, Boris gladly signed the contract and got on another crowded boat for the second time in months. Boris for the first time since he left Constantinople felt lighthearted and hopeful. Here was a new life and an opportunity to make something for his family finally. Tanya and him would no longer fight because she felt ashamed of their poverty. But his heart sank when the ship pulled into the harbor and he saw the filthy smoke of Solace Bay filling the sky.
It was three years ago that he signed that five year contract, and he is nearly broken. He wonders if he will make it two more years. He has had two near death accidents so far in the factory. "What would happen to Tanya and the girls should i die in an accident?" he wonders. He knows that they would have no chance and would become beggars or worse in these filth ridden streets.
The morning bell rang across the city.
It sounded distant and muffled here in the heart of his apartment building. Tanya stirred next to him and he sat up in bed. Boris rose and opened the door a crack to let some light in. He had thirty minutes to get to the wood factory before the next bell rang. if you were late you got docked your salary for the week, and if it happened too much you got fined. you did not want to be late. Each member of the Kurshin family set to putting on their work clothes and preparing themselves for the day. After a brief meal including some stale bread and metallic tasting water, Boris Kissed his wife and Daughters before they all parted for work.
Boris worked just down the street at the nearby Lathe Factory. He spent the day making chair legs. on the template machine.
Tanya and the girls worked near the docks at the food sorting facility. With over 22,000 workers, sorting and delivering rations to the masses was a huge job, and also had its benefits. Whenever there was a shortage, Tanya was able to hide some away for the family so that they would not go hungry. This was very risky though, because if they were caught then Tanya would be fired and possibly thrown in prison.
As Boris walked to work, tanya and the girls hopped on one of the slow trains headed for the docks.
Because of the huge migration of workers at the beggining and end of the workday, the company ran flatbed trains at a slow pace up and down the main tracks that workers could hop on and off as they needed. this was quite dangerous because the trains stopped for nothing, but accidents only happened every couple of days and people weren't killed very often, usually someone just lost a foot or a hand.
The day started and Boris was handed his morning queue of logs to shape. his basic job was to set up the machine and make sure it worked. there was very little skill involved. if the machine jammed he had to clear it, but basically all he had to do was place the log, start the machine, stop the machine, remove the product, clean the product, Inspect the product, either keep or discard the product, and repeat . . .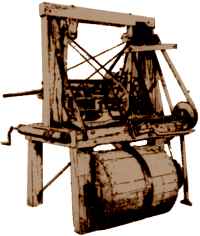 at lunch time he had nearly completed his queue, but he could not take lunch until his queue was finished. Boris rushed out the next three legs and was able to take a full 15 minutes for lunch. quite a lucky day. He wolfed down as much stale bread as he could and chewed on a mealy apple, washing both down with some warm water. Then the next bell rang and it was back to work for the afternoon shift. His afternoon queue of logs had already been delivered when he got to his machine.
At about three o'clock, the power went off in the factory, and the great roar of the factory slowly whirred to a quiet. this was not uncommon because of the massive amount of drain that the city of solace bay placed on it's power plants during the daytime hours. But this was different from the normal power outage. He could see other workers looking towards the office on the second floor of the plant that overlooked the factory floor. There was a group of men in there in addition to the normal managers. they were wearing the uniforms of the Department of Security. Boris heard other workers murmuring about trouble, but Boris had no idea why these men were here.
Finally after much nervous chatter a man stepped out onto the platform that overlooked the factory floor.
"good day citizens, I am the Director od the Department of Security, Alda Rent. You can call me Director Rent. I am here today because of an anonymous tip that someone, or a group of people in this factory are members of the Brotherhood of Derrik."
Everyone looked around at each other. Boris thought to himself, "This can't go well."
"We will be searching the factory for any kind of evidence to link someone to the organization, and will be asking each of you some questions." continued Director Rent. "If you are patient and innocent, then this should go smoothly. No one is permitted to leave until the investigation is over. Any attempt to leave will result in imprisonment."
A mix of annoyance, and fear came across all the workers in the factory. No one knew what to expect. It was common in this city to be arrested for the slightest thing. A misplaced word, a nervous gesture, even looking at an officer the wrong way could put you in the prison camp (which is almost overflowing now, I hear they're starting to send prisoners to the Iron Hills mines because the mortality rate of the miners is too high).
Boris just tried to be calm as maybe 20 officers descended to the factory floor. Some began searching through the various benches and drawers surrounding each lathe. Others actually began phisically searching workers, while other began taking down names, asking questions, and writing notes on a pad. They were making a huge mess, piles of logs and table legs were being toppled over and looked through.
Boris did his best to remain calm and stand still. Eventually the Officers made their way over to him. He saw as they tore open the drawers beneath his workstation and emptied the contents of tools and random detritus onto the floor. he felt as an officer began patting him down to feel if there was anything concealed in his clothing. he lifted his arms. and they patted down his torso. He had nothing on him except a billfold where he kept his money and identifacation papers. he gave it to the officer who was now interrogating him and the officer flipped through it, scrutinizing everything carefully.
"Name?" Aked the officer.
"Boris Kurshin."
"age?"
"23"
"Residence?"
"435 Wallgate unit 346"
"Any relations?"
"Wife, Tanya Kurshin. I have two daughters, Sasha, and Katya Kurshin"
. . .
After a couple of minutes they moved on to the next workstation, leaving Boris amidst the scattered things of his own station.
"well, that went painlessly, or at least as painlessly as could be expected," thought Boris as he started to clean up his things.
Not two minutes later he heard some yelling and shouting from two stations over,
"that's not mine, I have no idea how it got here! other people work at this station!"
it was one of his co workers, Reginald Basset. As boris looked, it seemed that they had found something incriminating, they were holding it in his face, it actually looked like a small handgun. Weapons were outlawed for workers since the 1910 riots. But this didn't make sense to Boris. Reginald was a good friend of his. He knew Reginald better than any of his other co-workers. they lived across the street from each other. on weekends they would go drinking together and on holidays their families would get together and celebrate.
Reginald wasn't in a secret society, Boris knew that. Boris was about to speak in defense of his friend when the officers found something else that seemed to make Reginald even more guilty. They kept on holding this paper in his face demanding that he explain what it is. He just kept yelling that he had no idea where it came from. All of the sudden Boris had a sinking feeling in his heart. there was nothing that could be done. they had found something and boris would be tortured until he was dead or until they found something out from him, which would be nothing because he was not in the brotherhood. This evidence had clearly been planted by them, intentionally or acidentally. Boris also realised that if he said anthing he would be brought in as well.
So boris just stood there as Director Rent walked slowly into the workspace and briefly looked at each item and then looked intently at Reginald. there was a short silence. Then he spoke.
"Bind him and take him to the truck, the rest of you continue the investigation. There may be more then one . . ."
Boris then noticed him glance back up to the platform where the factory office was and where the factory managers were. There at the railing viewing the whole scene, was a middle aged man with glasses and a mustache. He had a smile on his face as he watched the guards drag Reginald away to the truck. Boris knew this man. It was James Wyant.
He also noticed behind James, the head manager of the factory had a much different expression on his face. it was hard to discern, but it almost looked like rage. It struck Boris as interesting, because when James turned to him, he immediately changed his expression to a smile. The manager had hid his feelings from James . . . The manager was hiding something.
Boris too, felt great rage in his heart. His good friend was certainly gone from his life, but not before he endured great suffering at the hands of James Wyant and His goons. Boris wasn't sure who he was more upset with. The evil of the Solace Bay Company, or the fact the the Brotherhood had framed one of his closest friends in this awful city.
As the sun set several hours later and he finally left the factory to return to his soot covered, dark apartment. He had made a decision in his heart. He would be different now.