Exploration: Leech 2: Stargate Forest
Leech: It has been decided, the forest is where we shall go for now!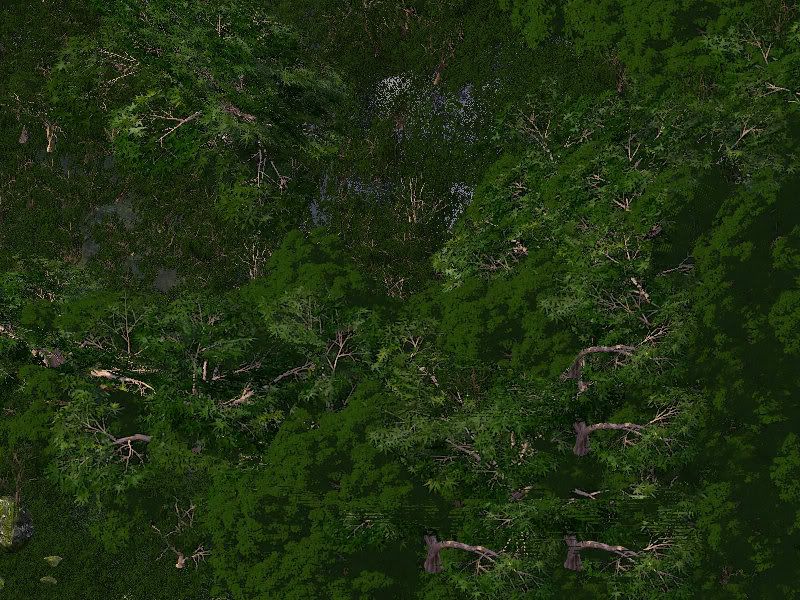 The first thing that is apparent after entering the forest, is that it is strangely quiet compared to forests on earth. There is still the sound of leaves rustling in the wind, but there are no birds to be seen or heard, and it seems like the forest is completely devoid of animal life aside from Leech. However, there are some noises, every so often, of something that sounds like leaves being bit off, somewhere in the undergrowth, so there is life in here, just hidden.
Leech: Not so many animals in here, though there should be farther away from the gate, or maybe down in the water.
Leech continues forward into the forest, and soon came to a clearing, where the ground sloped downhill back into more forest. As he walked though the grass, something that looked a bit like a green glob suddenly jumped deeper into the plant growth from its previous position on top of a bush.
Leech: Hm, if I wasn't mistaken, that was a green leech. They normally just eat plants but sting anything that gets too close to them, to keep predators away. Now, who named it that? "Green leech" is quite unimaginative, even if it is a leech that happens to be green. There are also the brown, orange, and pink leeches that are similar, though have different temperaments and differing venoms, some stronger than others. And equally unimaginative names too, for that matter.
Leech is soon back in the forest, and a gray glob-looking thing suddenly hops out of a fern, lands on a log, and begins nibbling on the moss growing on it. The blob is quite fat and has a single eyestalk, which keeps wiggling around, looking in all directions. It stares at Leech for a couple of seconds, then resumes its scanning of its surroundings.
Leech: A zoid, which at least has an interesting name. All they do is eat, and multiply, which makes up for how they get eaten by pretty much everything.
The zoid then wiggles and jiggles, before splitting into two smaller zoids surprisingly fast.
The two zoids continued nibbling on the moss, as blue blur sped along a vine before coming to a stop. Once stopped, it looks much like the green leech from before, aside from being blue, and it carefully watches the two zoids down below for several seconds.
Leech: A blue leech. They're very fast, and can also squirt a substance that for some reason is called glug glue, even though glugs have nothing to do with it.
The blue leech suddenly shot off along the fine, down a tree and across the ground to the log where the zoids were sitting, grabbed one by the eyestalk in its mouth, and dove under another fern, all in about a second, before either zoids could even move.
Leech: Yep, they're fast.
The remaining zoid then hopped back down under cover, just realizing that it was in danger.
Leech: I'm surprised there's even zoids left, they have very slow reaction times. I guess they reproduce fast enough that they don't have to worry about that. Actually, if there's no predators they soon reproduce so much that they eat up all the available food and starve.
The shoreline was soon reached off to the side of the forest, the cliff separating the forest from the water still there just as it was by the gate, just not as tall.
Leech: Not much out here on this island. There's still more to the forest, though.
Off in the distance two tiny islands were visible, both with only a few small patches of grass growing on them. Farther off several larger islands, though still smaller than the one Leech was on were also visible, slightly hidden in a fog, while the mainland was also visible off to the right, similarly partially hidden, while the water stretched out into the fog off to the left.
Leech: It's time for voting once again:
A: Head back to explore around the gate
B: Continue to explore the forest
C: Head back to base to see if the exploration vehicle is ready
D: Other, please specify in reply