Strange Happenings
Strange Happenings
July 26, 0165AL (2021)
The Narya RDPM
Cormani: Are you ready?
Tifalka: Yes.
 Laur: Indeed.
Cormani: Okay, I'm starting the transfer now.
Cormani placed her hands on Laur and Tifalka's heads and then the entire room seemed to fade away, to be replaced with nothingness. the only thing visible was Cormani, Laur, and Tifalka. (Both of who appeared to be in their own bodies)
 Laur: Did it work?
Cormani: That was only stage one. As of right now, you are still in the wrong bodies.
 Tifalka: So what do we do?
Cormani: Just relax. I will now remove your consciousnesses from your bodies, and you will both temporarily share my body.
 Laur: Okay.
Several seconds passed, and there was no indications in the virtual world of anything happening, but in the real world, both Laur and Tifalka stopped moving, other than breathing and blinking.
Cormani: Now i will put you in the correct bodies.
Much the same thing happened in the real world as before, just opposite this time.Cormani then took her hands off of Laur and Tifalka's heads.
 Laur: Did it work?
Cormani: Who are you?
 Laur: Dr. Laur Hapsedut.
 Tifalka: Then it worked.
 Laur: Good.
 Tifalka: Now, when we find Valira...
Marikalf: About her...
 Tifalka: What?
 Lauren: I've been doing some research... whenever i haven't been blowing up Mloret's ships that is, and I've found out who she is.
 Tifalka: Who?
 Lauren: She's my sister. Identical twin sister, to be more precise.
 Laur: What?
 Lauren: We were separated at birth, I stayed with my own family, while she went to live with another, I don't know what happened since.
 Tifalka: I never knew that...
 Lauren: It's nothing to be concerned about.
 Mardon: Hello.
Cormani: Wait, when did you get here?
 Mardon: Just after you finished switching them back, I've got news for you, but I don't think you're going to like it.
 Lauren: What?
 Mardon: There is something else going on in the galaxy. Already, we have lost contact with one of the Rebellion's Blikorani, just after receiving a message talking about an unidentified ship that opened fire on them.
Cormani: What type of ship?
 Mardon: They never said, they just said they were under attack, and then we lost contact.
Marikalf: Where were they?
 Mardon: Right on the edge of the Sarim Nebula.
 Tifalka: But that doesn't mean its in the whole galaxy...
 Mardon: We've also received notices about other unknown ships, this time in the area around Vladarkum's space.
 Tifalka: That was the Dlorwani that We, err... DPM-6 found on our first mission?
 Mardon: Yes, him. Like the problem with the one here, we were unable to determine what the ship or ships were. However, at least no ships were destroyed there.
 Laur: That's good.
 Mardon: Not if we don't find out who they are, or where they're going. There signature on the Rebellion's long range sensors indicates they have never been seen before, and they use a totally new method of FTL travel. Also, there's a whole fleet of them.
 Lauren: So we could be looking at a big problem if they're hostile.
 Mardon: Correct. Now, I have to tell General Yelslew that the mind transfer was a success.
 Tifalka: What about the unknown ships?
 Mardon: I told him just before I came here.
 Laur: Oh.
To be continued...
Myoria
Nick: This time you can see Jamur, the eastern suburb of Vartak.
Nikki: Home to Vartak's soccer stadium.
Nikki: And while were on the topic of soccer stadiums...
Nick: It looks a lot like the national stadium in Galesfe City...
Nick: Residential area in the northern part of town.
Nikki: And a commercial area farther to the south.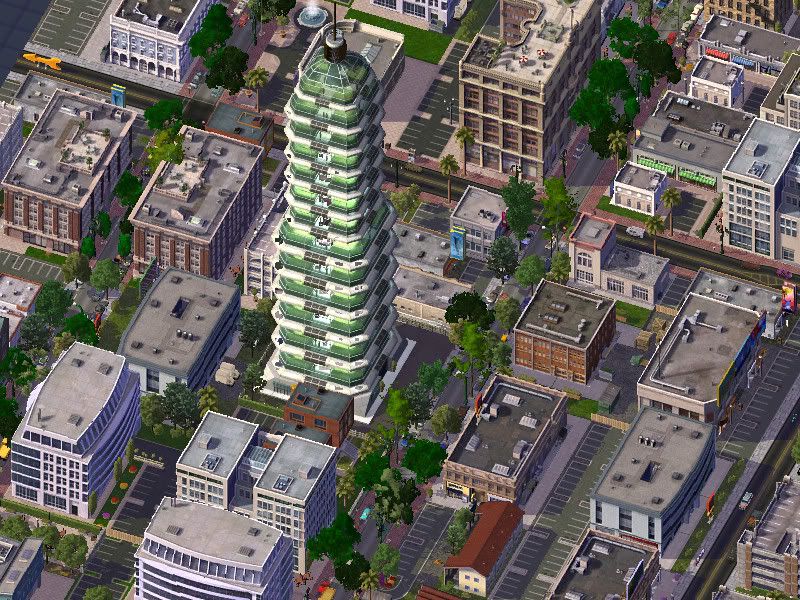 Nick: And farther to the south.
Nikki: What is that?
Nick: Looks like a farming skyscraper...
Nikki: Commercial and residential growth near the stadium.
Nikki: Isn't this the same as the first picture?
Nick: No, it's moved over to the right a bit.
Nikki: Oh. Hey, I can see Ameville!
Comments:
The next updates should have a little more action, in case you are wondering.
Schulmanator: It's actually painless... as long as you are willing.
zelgadis: You'll have to find an Ancaron or two.
PhatHead: Thanks for the comment!
jacqulina: Glad you like it!