Mloret's Secret
Mloret's Secret
July 25, 0165AL (2021)
The Narya RDPM
 Vala:  Daniel said i could stay here, can I?
Gen. Yelslew: You were the one who allowed us to get the Masura, right?
 Vala:  Yes.
Gen. Yelslew: And where are you from?
 Vala:  Amanz.
Gen. Yelslew: What is wrong with going back there?
Daniel: We uhh.. kind of stole the Masura from the Amanz Pirates.
Gen. Yelslew: I see.
 Vala:  They hadn't taken it yet, so it really wasn't stealing.
Gen. Yelslew: Yes, you could stay here.
 Vala:  Yay!
Daniel: Now if you don't mind, i would like to find something more comfortable to wear.
Gen. Yelslew: Yes, I imagine you would want to do so.
Vala left the room, dragging Daniel along by the hand, and Daniel was still wearing the disguise he had from before the battle. Just after they left, Mardon, Cormani, and Real Admiral Laura walked in.
 RA Laura: Why is Daniel wearing a skirt?
Gen. Yelslew: Long story. You might want to ask him. Or Vala. What are the results from the examination of Mloret's flagship?
Cormani: It's underpowered.
Gen. Yelslew: How exactly?
 Mardon: It has 4 power stations, each with 4 ZEGs, but these are unable to power it at the level that we have seen it preform at, according to our current knowledge of Dlorwani technology. Even if we assume that Mloret managed to get a 50% increase in output from the ZEGs, it still isn't enough to allow his flagship to do what we saw it do.
 RA Laura: Apparently, it would not be able to fire any of the superweapon blasts, or if Mloret did increase the output of the ZEGs, then it would be able to fire a superweapon about every minute or so.
Cormani: Correct. It was firing its superweapons much more often that that, sometimes even two or three of them at a time. We believe that there was an additional power source located inside the ship, possibly on a Blikora, that Mloret took with him when he fled.
 Mardon: A hyperspace window opened just before his flagship was disabled, big enough to admit a Blikora, which is how the ship escaped, without it appearing from the outside that there was anyone escaping.
Gen. Yelslew: So he opened a hyperspace window from within the ship? How?
Cormani: I'm not sure exactly, but once the ship is in hyperspace, it doesn't interact with objects in real-space, or at least not normal objects, just like one of our ships using its Wapbervkelx drive.
Gen. Yelslew: Is there anything else I should be concerned about?
 RA Laura: We had just received intelligence from the Karani that Mloret has another one of these ships ready. if he brings in a larger fleet, which he is is easily capable of doing, along with another flagship, he could take out what is left of our defenses.
Gen. Yelslew: Any good news?
Cormani: Yes, we've figured out how to switch Laur and Tifalka back to their original bodies.
 RA Laura: How?
Cormani: Like this.
She placed her hand on Mardon's head, and after a few seconds, she lifted it off again. Mardon's body just stood there, doing nothing at all, while Cormani's took on a form somewhat between the way she usually locks, and the way Mardon looks.
Cormani+Mardon: All we do after that, is put the correct consciousness in the correct body. As long as they are willing to go though with it, it will be easy to do.
Gen. Yelslew: Okay, you have a go on that, if they are ready you could do it as soon as they are rested. And can you not talk at the same time? It sounds odd.
Mardon: Sorry.
Cormani: Sorry.
Cormani put her hand on Mardon's body's head again, and after a few seconds, she went back to her original form, and Mardon's body began moving again.
Myoria
Nick: This is the town of Ameville, located between Wolema and Rothen, and east of Vartak.
Nikki: The road heading off the bottom of the picture goes to Vartak, while the one going to the left turns east, then hooks back around to go west before ending up in the industrial section of Rothen.
Nikki: Nearby farms on the road that hooks back around to Rothen
Nick: Ameville's library and commercial area.
Nikki: And some people TPing a tree.
Nick: Looks more like they're throwing paper towels in that tree...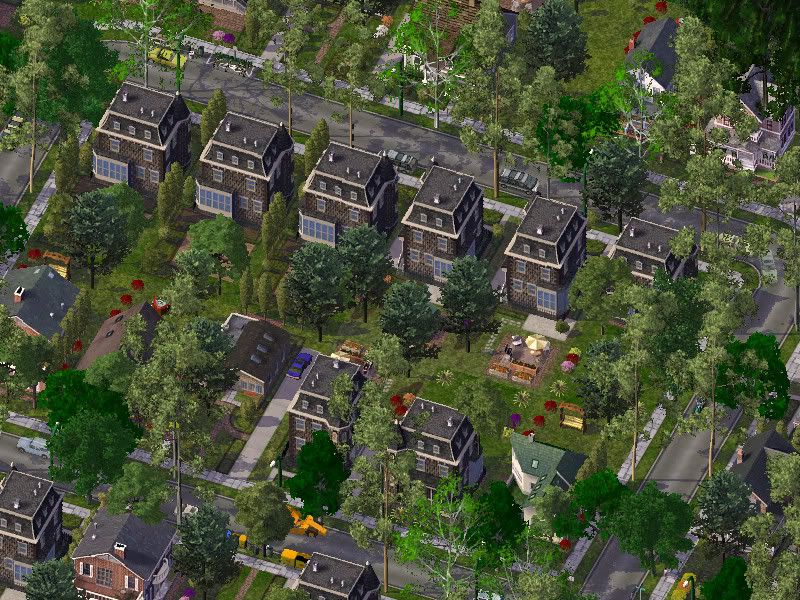 Nick: Residential part of Ameville.
Nikki: Someone seems to have been cheap, so they just built 8 of the 12 houses on the block the same way...
Nikki: And all though town.
Nick: The rest of the commercial area.
Nick: The road heading off the top of the screen is the one that runs though Ameville, while the one going off the right side and bottom of the picture goes south to Wolema and Bargor, and north to Leechville and Murn Lake.
Nikki: Geothermal power plant for the Ameville area.
Comments:
Schulmanator: That's very possible...
anik: You'll have to wait and see.
zelgadis: Maybe in the first part of "The Battle of Narya?"
It has no relation to the superweapon in New Carpathia II.
jacqulina: thanks for the comment!