Schulmania
Schulmania's Gonna Learn You Good!
For the greater good and the edification of all readers, I am going to give you a photographic education about my Thanksgiving weekend. We went on a donut scouting and foraging expedition to the Donut Den and stopped by a few sites around town whilst devouring the Pastries o' Perfection. Gather 'round and prepare to be learned good.
THE PARTHENON
Built in 1897 to celebrate Tennessee's centennial, this Nashville landmark (in Centennial Park, of all places) is the only complete and full size Parthenon in the world. Time traveling ancient Greeks came to Nashville sometime after 1897 and took the plans for the building back to ancient Greece. Pericles then had a building built to match the one in Nashville. But, only the Nashville one is complete.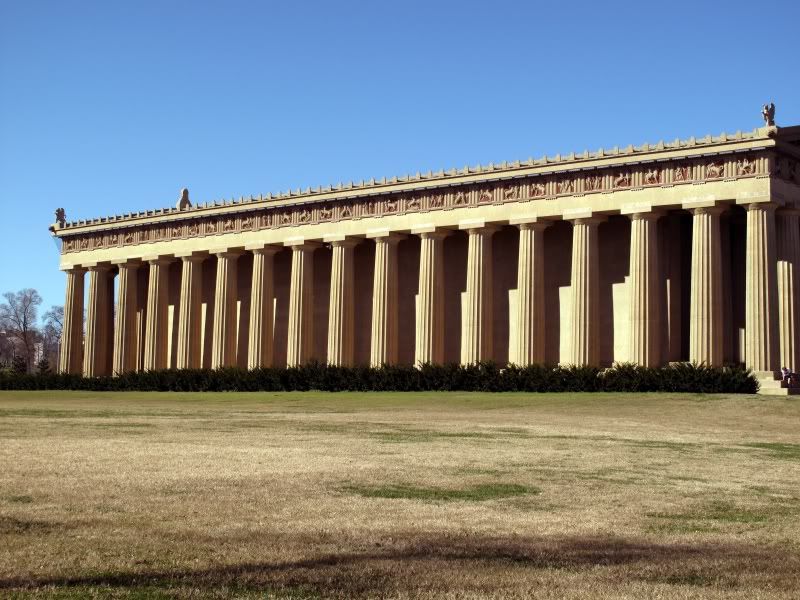 The Parthenon is the world's second most famous building, right behind the Luxor Hotel in Vegas. The Parthenon has all sorts of architectural details and designed to impress. One of the most impressive features is that the flutes in the columns are just the right size and shape to serve as backrests when you want to recline and enjoy the sunshine. Now, that's what I call engineering!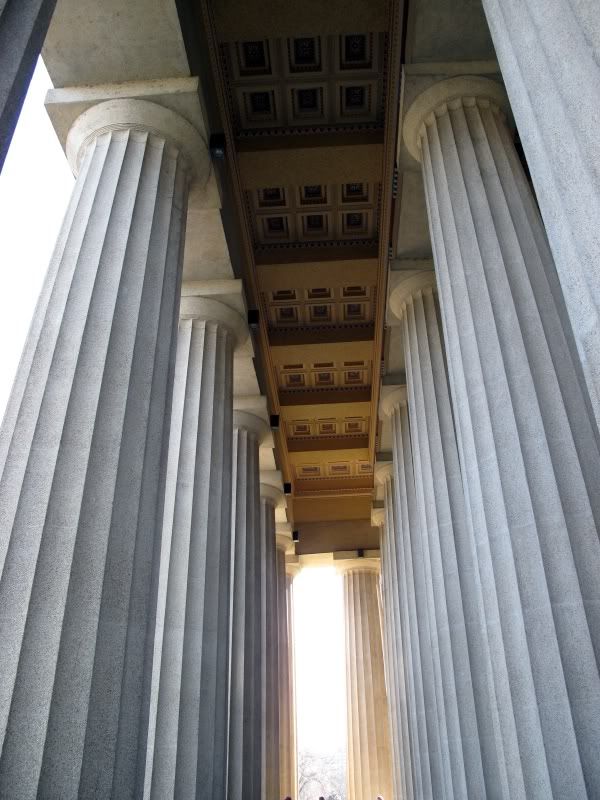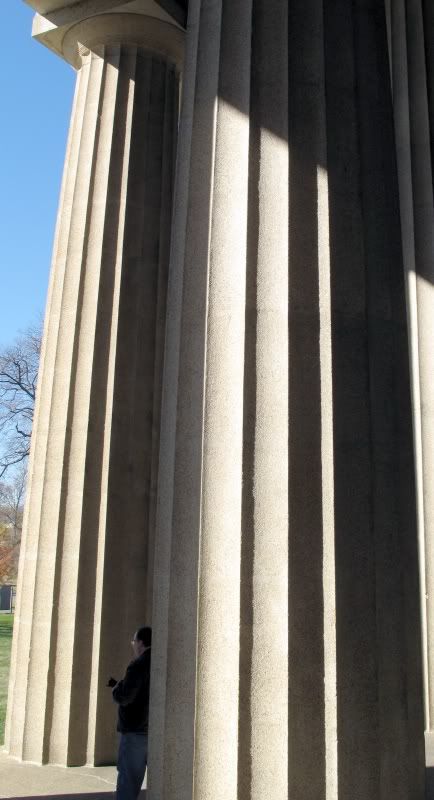 There are all sorts of statues and stuff too. These do not come with pigeons- those are sold separately.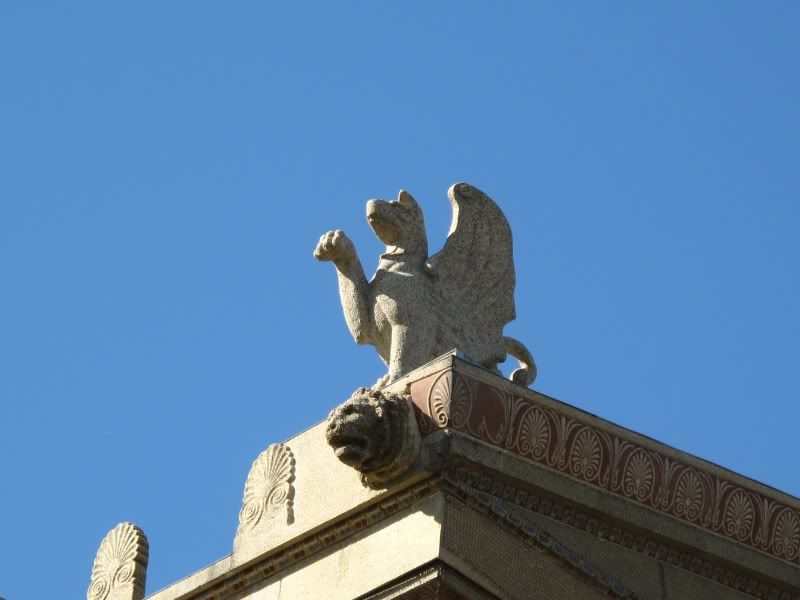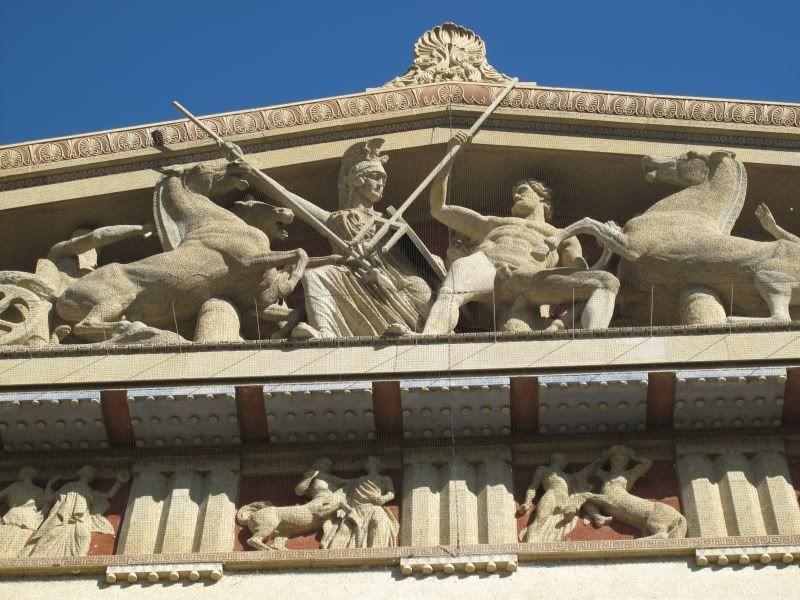 Of course, evidence of the cultural influence of the ancient Greco-Schulminions is evident as well.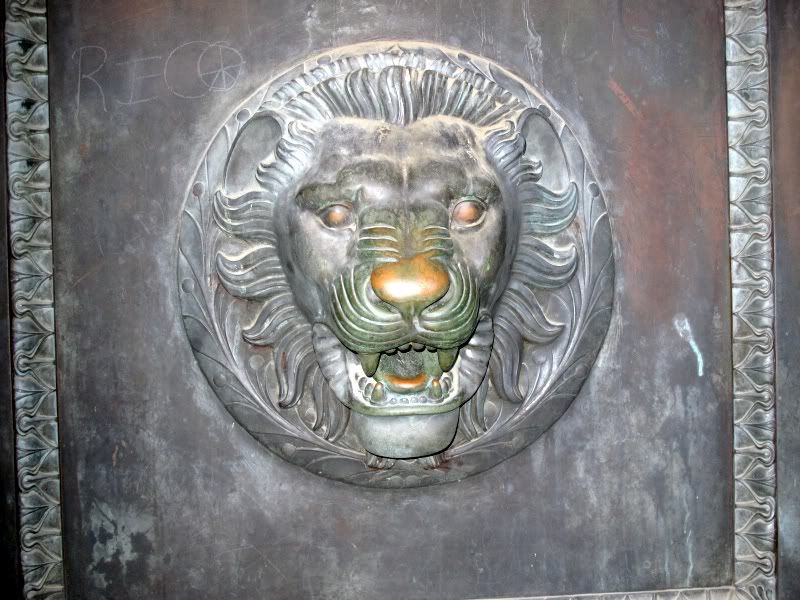 Now, behave while you are here!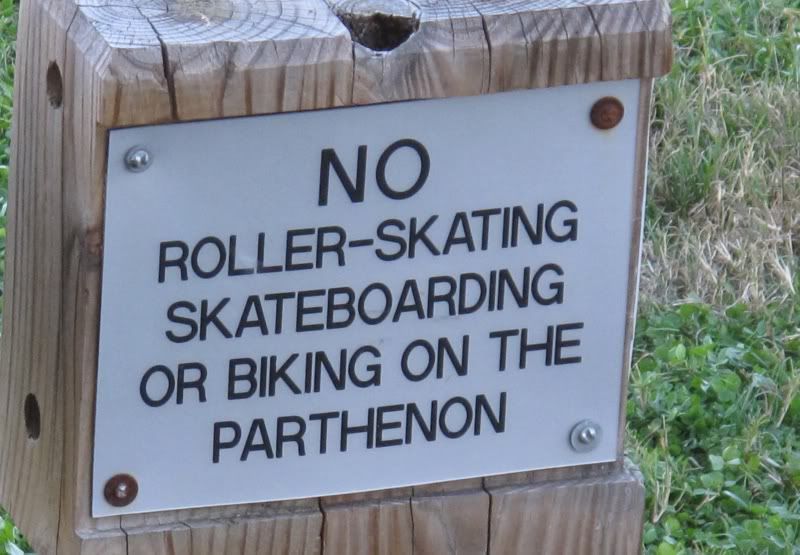 OTHER STUFF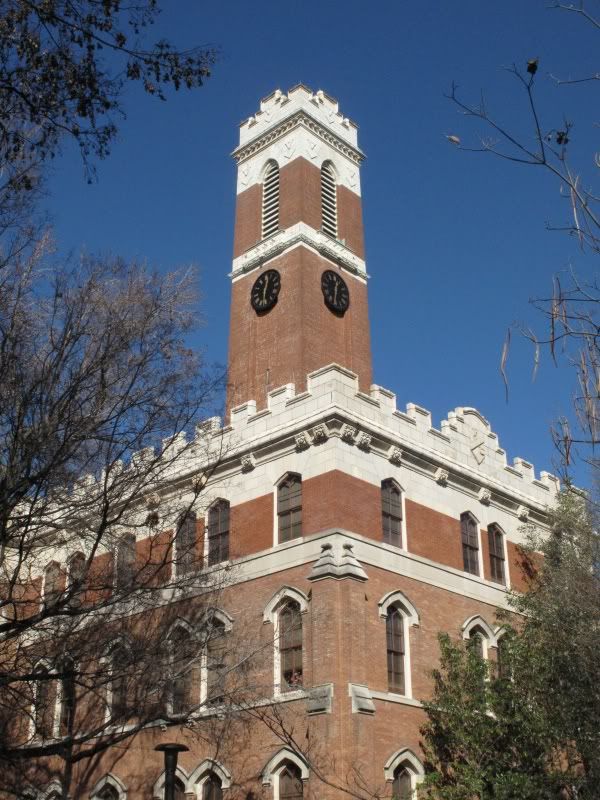 This is all right down the street from Vanderbilt University. Founded in 1873, Vanderbilt is home of the Commodores, who wear black and gold.
Closer in to downtown, one hangs a left onto 7th Avenue North and heads up to the state capitol. We don't have a dome on our capitol building because they were out of fashion at the time of its construction.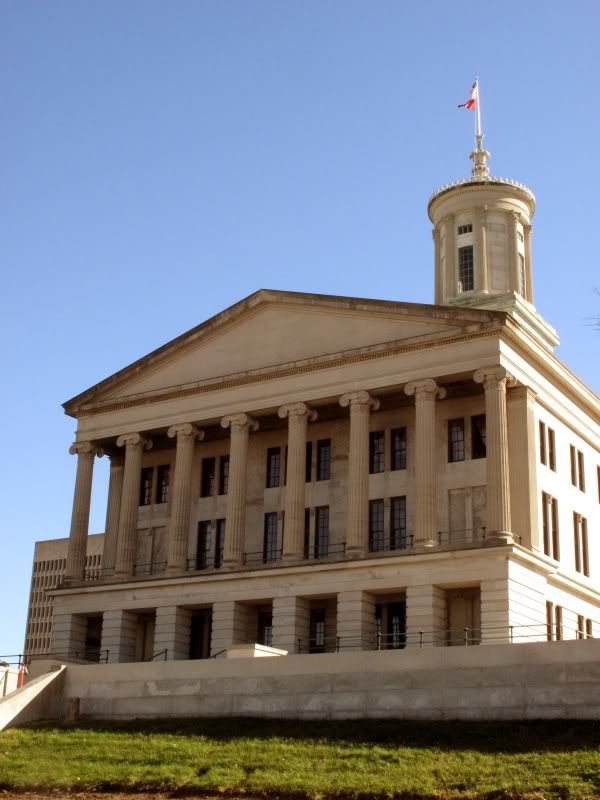 It does have some nice stuff around the grounds, though. We have statues and even a new music liberty bell. I did not hear it chime, but I have to wonder if it chimes with that "high lonesome sound."
Next door is the War Memorial Plaza. It continues the classical theme and has a statue inside a courtyard.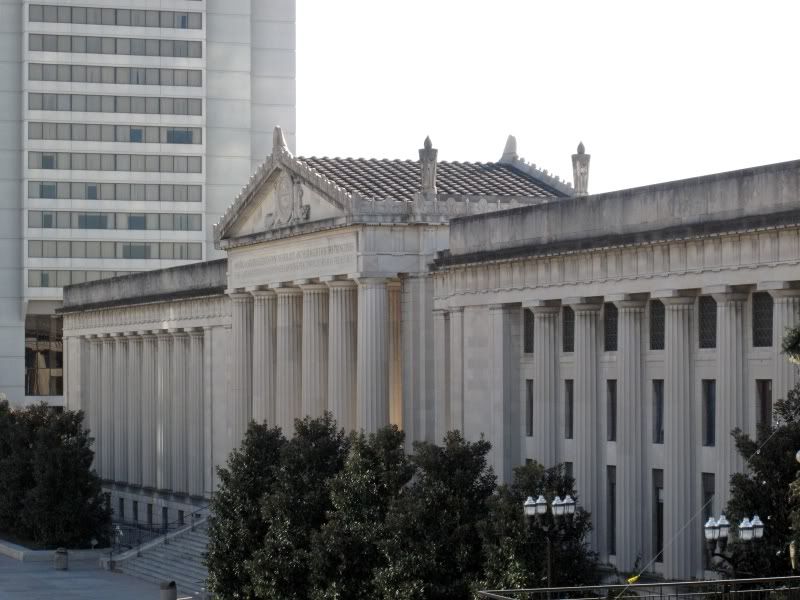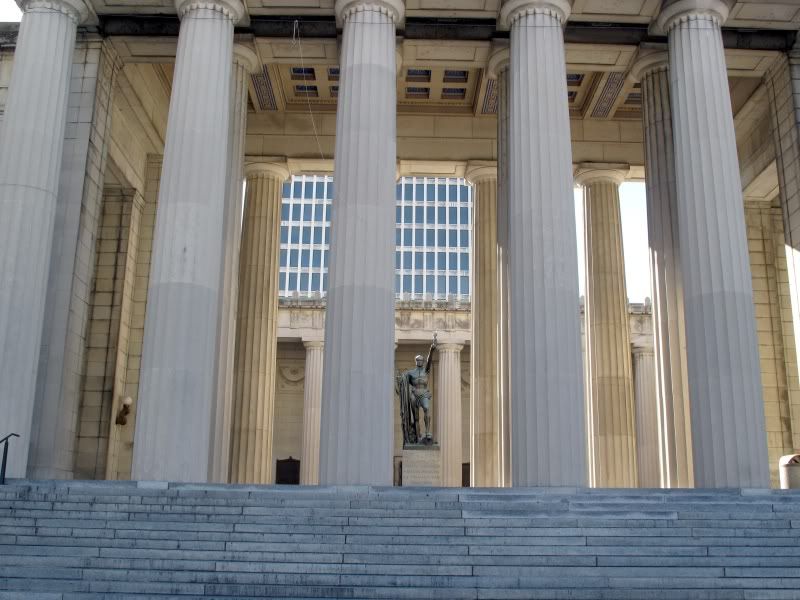 After wandering around a bit, we found the entrance to the Tennessee State Museum. So, get ready to do some serious learning now!
Anyone know if this 1799 map of Tennessee is downloadable off of the STEX? I may want to play it in SC4...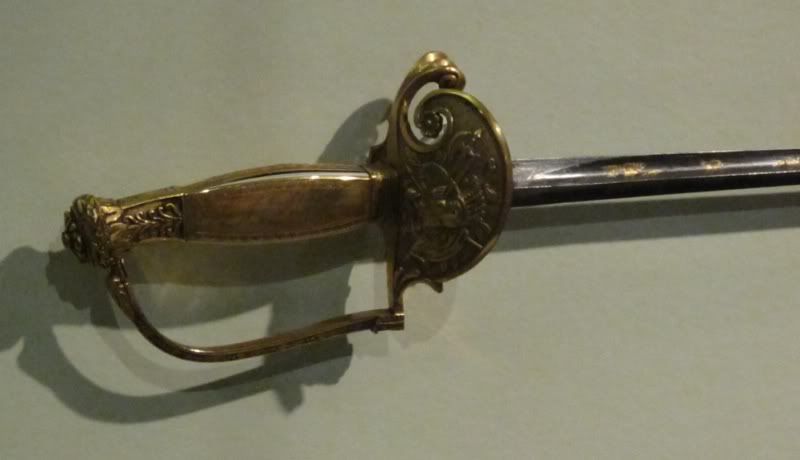 OK... now where's this justice in this?!?!: The state of North Carolina gives a sword to future governor John Sevier for helping to win the Battle of Kings Mountain. But, *I* have to take a *53* mile detour because of a rockslide in the mountains and I get NOTHING!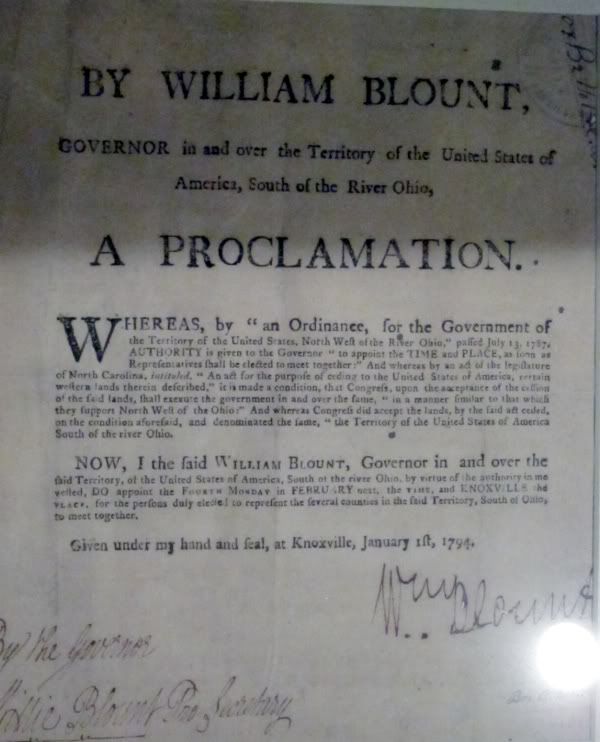 And, what's the deal with the "s" looking like an "f"? Whose idea was THAT? [pretend the aforementioned was done in a Seinfeld voice... it works better that way]
Tennessee's birth certificate... signed by George Washington. I have to wonder if the state ever has to pull it out for identification purposes...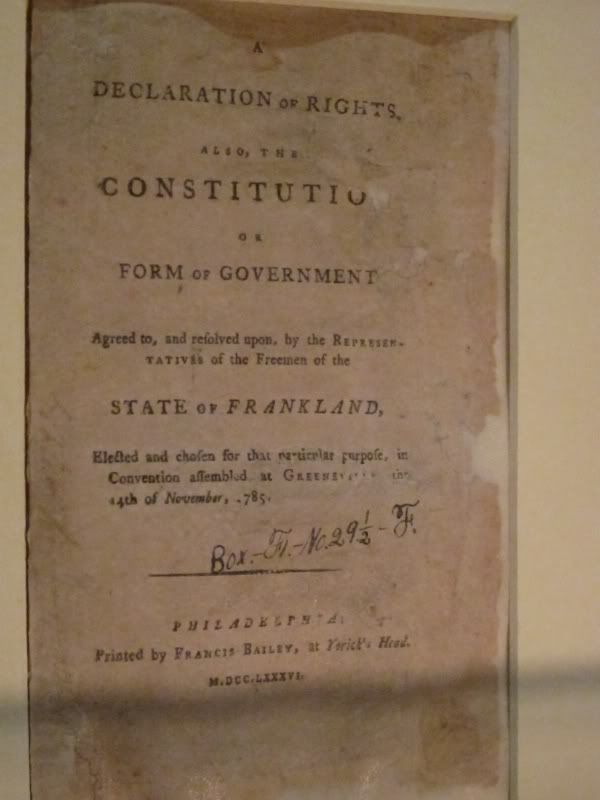 Now, here's something you don't see everyday. Tennessee tried to become a state before it became one, forming the State of Franklin (aka Frankland). It's actually a pretty interesting but forgotten part of American history. Read about it here: http://en.wikipedia.org/wiki/State_of_Franklin.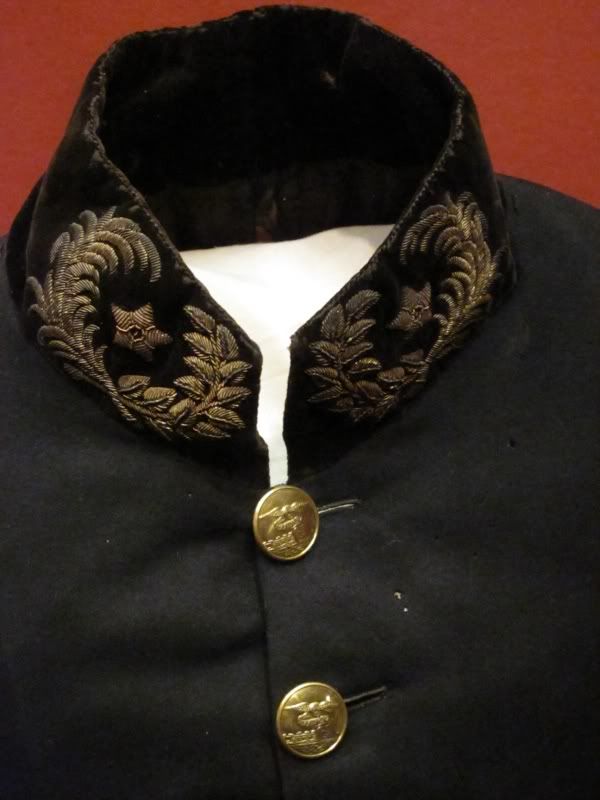 Ya know, if I owned this 1800's US Army jacket, I would so wear it EVERYWHERE. Isn't it cool?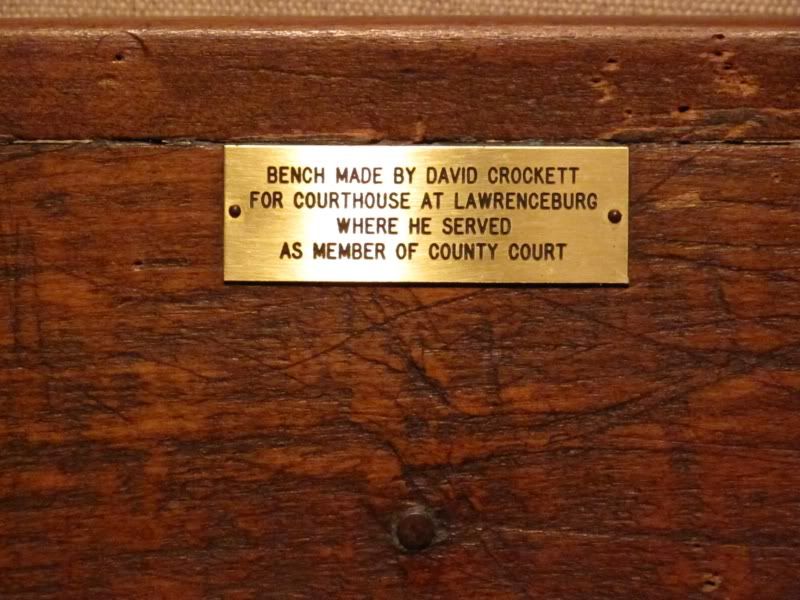 Before becoming king of the wild frontier, Davy Crockett was the prince of poplar trees. Felling the tree was probably not as songworthy as killing a bear at age 3.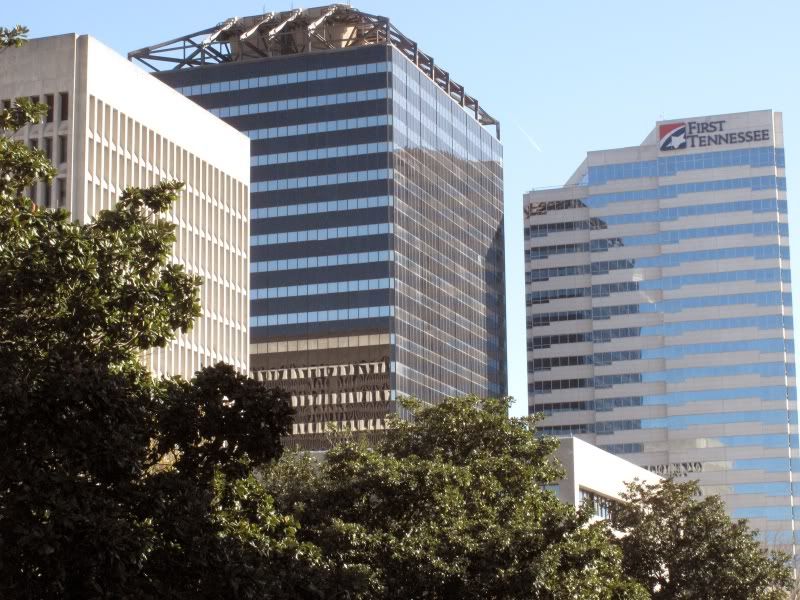 Is it just me, or does the First Tennessee building look like one of those Maxis modern condo towers in SC4?
Now, since everyone has been paying good attention and behaved well, we will stop by for dessert before we leave.
Oh, the Donut Den, center of donut energy of the universe. Savor the succulent, sweet pastries, glistening with goodness and bearing flavors so enchanting and so tempting that the mere thought one such donut will fill the heart with joy. No trip to Nashville is complete without a trip there. And, when you go, buy me a few extras. Or, perhaps a whole box.
---
Now that you have learned so much, it is time for your test. Answer these questions carefully by selecting the best answer:
1. What is not a good idea to do at the Parthenon?
a. pop wheelies off of it
b. take pictures of it
c. use the columns as a backrest
2. What archaeological evidence best supports the presence of ancient Greco-Schulminions in Tennessee?
a. bronze cat heads found on Parthenon doors
b. ancient scrolls written in feline Greek
c. my say-so
3. What else can the music liberty bell do?
a. Westminster chimes on the hour
b. sync with your iPod
c. late at night, when no one is around, the hokey pokey
4. What is the modern successor state of Franklin?
a. Tennessee
b. Franklin 2.0
c. Schulmania
5. What's with all of the skinny slanty old fashioned writing?
a. everyone thought it was cool
b. no one could read back in those days, so it didn't matter that you wrote so skinny and slanty
c. it was the only font they had in those old fashioned wood powered word processors
6. What is Davy Crockett best known for?
a. killing a bear at age 3
b. felling a poplar tree using only telekinesis
c. starting the coolest fur hat fashion sensation EVER
7. What type of Donut Den donut is the most ineffably delicious?
a. glazed
b. cream filled
c. jelly filled
d. all of them - gimme NOW!
BONUS QUESTION:
Which of these flavors of donut did I eat this weekend?
a. blueberry
b. maple
c. raspberry jelly filled
d. cream filled
e. all of the above
Good luck with your test... let's hope everyone gets a 105%! (bonus is worth +5 on the final grade) Good luck, scholars!
---
Our Schulmania site visitors:
Thanks for coming!