Spruce Grove: SGTS - Spruce Grove Transit System
Entry posted by beebs ·
53 Views

Iit's update time! Now, my apologies for being late, I was busy hard at work trying to prepare Spruce Grove ready for a full show-off, but I didn't quite make it. So I'll have to apologize again if this update is a little underwhelming. I promise this weekend (maybe a little sooner?) I'll have some substantial stuff to show you guys in Spruce Grove. For now, let your imagination roam..
Please click the image to get the full view. Detail is lost on this scrunched image.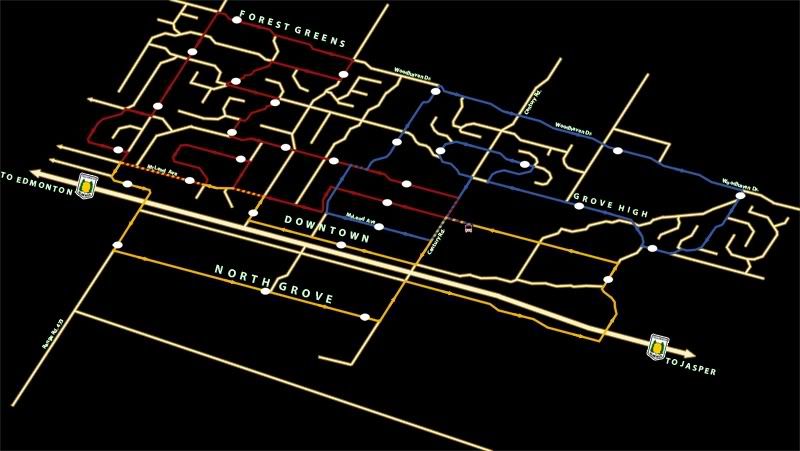 This is shows the three bus routes in Spruce Grove at the moment, although plans are in the works to expand the reach of some (there is more to the city than what this map shows..). Route 1 (Red) was the original route, and services most of the older town area. Route 2 (Blue) was added just recently, providing service by both schools and some of the newer areas. Route 3 is just a work shuttle, essentially. Running only from 7am to 9am and 5pm to 7pm. Surprising some city planners, the bus services get very high volume for the size of the city and overall length of the routes. It is looked at by some as a model transit network for small towns.
And... er.. underwhelming? Yeah, I know.
But unfortunately, that's all folks! Check back in a few days and there may be much, much more!