Overview
Location
In the southeastern corner of the state of New England is Alexandria, the state's capital and second-largest city. It sits at the mouth of both the Halifax and Seneca rivers. Boston is an hour to the north by train, and New York is two and a half to the west.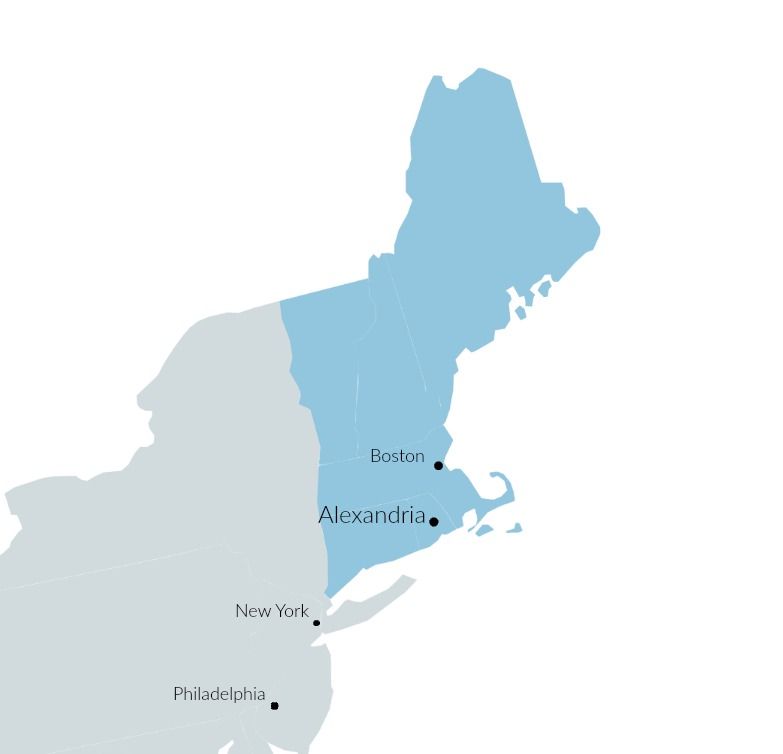 History
Alexandria was founded in 1636 by English settlers and was for many years a religious refuge. It remained a small city through the Revolution before growing rapidly in the mid-19th century, largely thanks to the banking industry. By 1920, over 150,000 people lived in Alexandria. Most of the banks left the city in the 1970s and 80s, but the emerging technology companies took over, driving a period of innovation and growth- the population grew from 250,000 to 325,000 during the 1990s alone.
Alexandria Today
Today, Alexandria is a center for innovation, rivaling even Silicon Valley on the West Coast. It currently is home to 460,000 people. Unfortunately, the city was hit hard by the 2008 financial crisis. Every bank that still had offices left the city, and unemployment reached 11%. The city is slowly making its way back up, but it will take time before Alexandria is the financial powerhouse it was.
Transportation
Alexandria's unique geography, with its downtown surrounded on three sides by water, has made typical American transportation planning difficult. As a result, there is only one freeway, Interstate 85, which runs around the East Side and bypasses Downtown to the north. To make up for this, Alexandria built a rapid transit system, the M (short for Metro), which opened in 1973. The combination subway-and-elevated rail network is unusually comprehensive for such a relatively small city.