Anatomy of the Blaze
Entry posted by beebs ·
109 Views
Iiit's update time!
Welp... here's how the fire expanded. Starting from the last newspaper, on the 15th, you can see the fire that's expanded into the Capilano Valley area was rather small and contained in the valley. Unfortunately, due to a rather dry few days, the fire ballooned to encompass the H3, closing it from the H3/H7 interchange. From the 17th to the 20th, there was a windy day which basically fanned the flames up the valley towards the city. As the "shield" around the city wasn't yet complete, the flames easily went around the dirt area, although some bystanders claimed they saw flames leaping across the hundred yards of nothingness. From this point on, it was pretty much over for the southern section of the city.. with not enough firemen and air support from the province, the city was overrun quickly. Using one last tactic against the flames, they started controlled fires, directly across the river from Capilano Park. By doing this, they essentially pre-burned a decent area of the city before the true danger hit. By the time the forest fire came, there was nothing left to burn and it slowly died from that point on.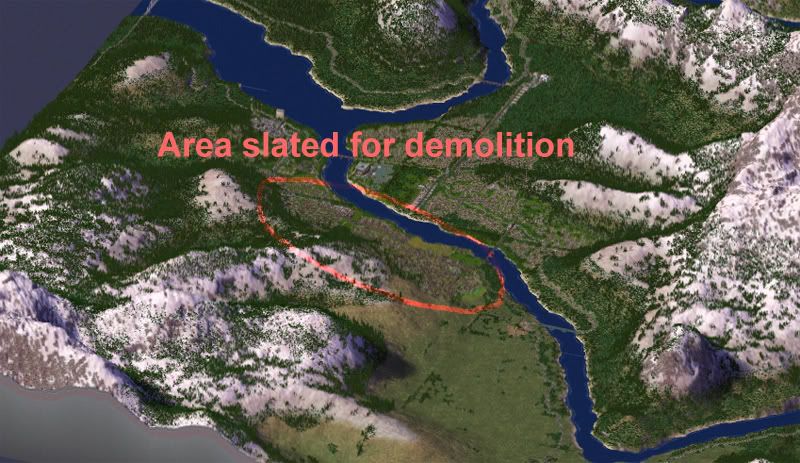 Now, due to the mass damage that the area took from the fire, the entire section will essentially have to be demolished and rebuilt. For now, housing has been set up on the northern side of the city, and I'll show some pictures of that in the next update. Some residents have also been set up in the Capilano Arena, and in Capilano Park, as that has basic facilities for campers (in fact, it used to be a campground in its former life).
Sorry for the short update again today. Hope it suits you until next time!