Around the Valley
Entry posted by beebs ·
101 Views
Alrighty, here's the proposed location of the Monument, as laid out by Mayor Mandel. Right on the riverbank, and off Capilano Avenue. Fitting location, no? Some changes will need to be made, such as a relocation of the transformer you see near the bridge, it's a bit unsightly to have beside a park celebrating the city, IMO.
My plan was for walking paths extending out into the strip of land, with a nice statue, or something similar on the bank. I'll lay it out in more detail on my next update. (Stay tuned!) For now, here's some more pictures from around Capilano Valley.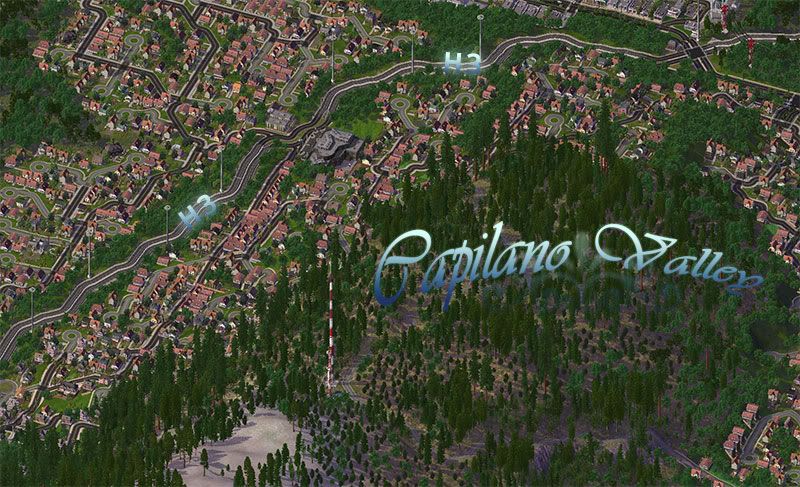 One of the TV and Communications towers found around the hillsides in the valley. Also seen is H3, the highway that runs directly through the city. While there are no real overpasses yet, the Mayor has proposed the idea of upgrading the intersection you see at the top left to a full overpass. With some 3000 cars passing through there, it gets to be a bit of a mess come rush hour. However, any changes won't be for a while down the road. (haha, pun!)
The high mast lighting you see was installed before the city expanded so close to the highway, and there has been started a petition to remove them, as it shines quite brightly on the houses built against the highway. Stay tuned for updates on that.
A shot of the H22 snaking through the mountains. If you read the newspaper, you would have noticed that sections are awaiting upgrading from the province..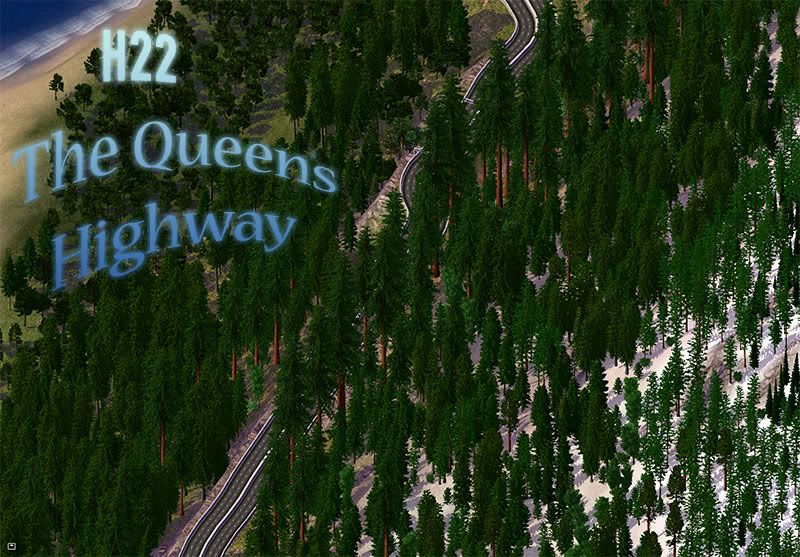 ... Areas such as this. While there are concrete guard rails on the edges of the highway, it is still perilous to drive, especially once winter hits. Thrice already this year have cars gone off the edge, all in but one occasion involving fatalities. After much lobbying by the municipal government, the Province has agreed to help fund an upgrade to the highway. In some reports, there will be a large strip of land between the highway and the edge, in others the highway will be rerouted completely. News on this front should become available to the press within the next few weeks.
At this time, I'd like to point out some mods and (gasp) cheats I've used to create this city. I use the NAM (who doesn't?) as well as cycledoggs tree mods. I also make heavy use of Buggi's new cheats, specifically the Moolah cheat. Lets just say that Capilano has a large oil reserve somewhere?
Also, I'm using a small 1x1 grass lot to provide all the services to some of the city tiles, as I consider it unrealistic to have a coal plant in each city.
Also, I use the super demand ordinance to kick start the city into getting it going. Finally, I have a small 1x1 grass lot which provides commerical $$ jobs to some of my cities. In order to make this a realistic impression of a city, it's impossible to keep the supply/demand up in each tile. Hopefully you guys can understand that and live with it; I just don't want to hear about how I'm evil since I 'cheat.';)