Rebuilding
Schulmauckland: Rebuilding
The market town of Wirdlington, Schulmauckland District, was destroyed in a fire caused by an enemy attack [refresh your memory here]. It was a case of mistaken identity – enemy agents misunderstood and thought Wirdlington was Wirt, the national capital. The City Planning Office has completed the reconstruction of the town, and it has a totally different feel to it now. It is less of an agricultural crossroads, thanks in part to increased maritime traffic on the Sea of Simtropolis and the development of settlements near Huddleston Bay in Schulmania's deep south. The wholesale change in the look and feel of the town was precipitated by lead architect Pedro Parker, who gained his legendary super powers of urban design after being bitten by a mysteriously glowing radioactive flea. He hails from Hestorbia, South Wirdleonia and has based the town's architecture upon his hometown.
Come, see the work of Pedro, Master Planner.
Pedro Parker... perhaps you have heard of him?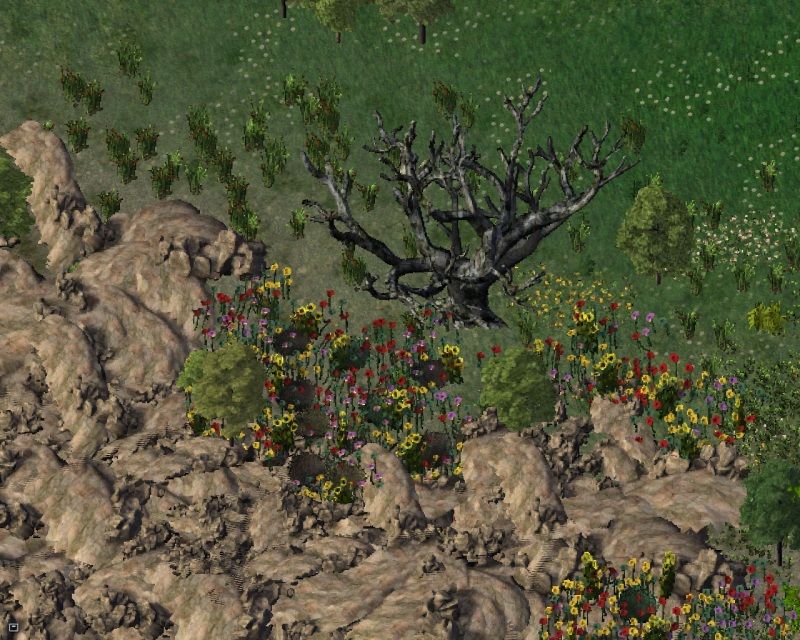 He wisely left natural areas around the town, including a length waterfront park along the rocky shore
For those of you who are sticklers: yes, the area did not used to have these rocks. But, I got me a few more ploppable nature thingies and was in the mood. So, the joy of a virtual world is that these things happen. So, just pretend like you didn't notice the nature from before. Here's the new shoreline; put on a happy face as we all nod politely and remark how it is just like it was before…
Nice, just like last time!
Remarkable how it is just like before. What a great job replicating it exactly!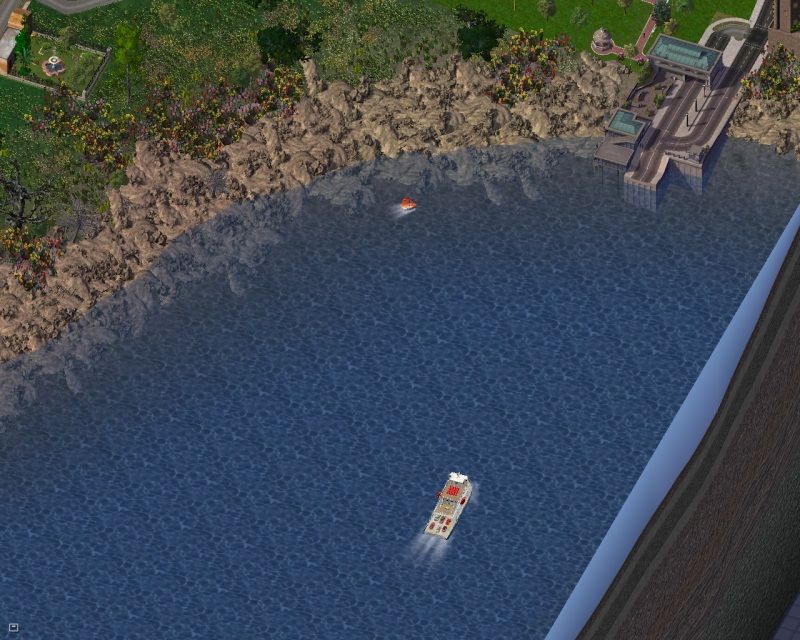 [snick!] See, even I couldn't get through that with a straight face! I admit it – I was having fun with Sorchin rocks and flora. And then some other stuff.
And now, on to the former agricultural crossroads…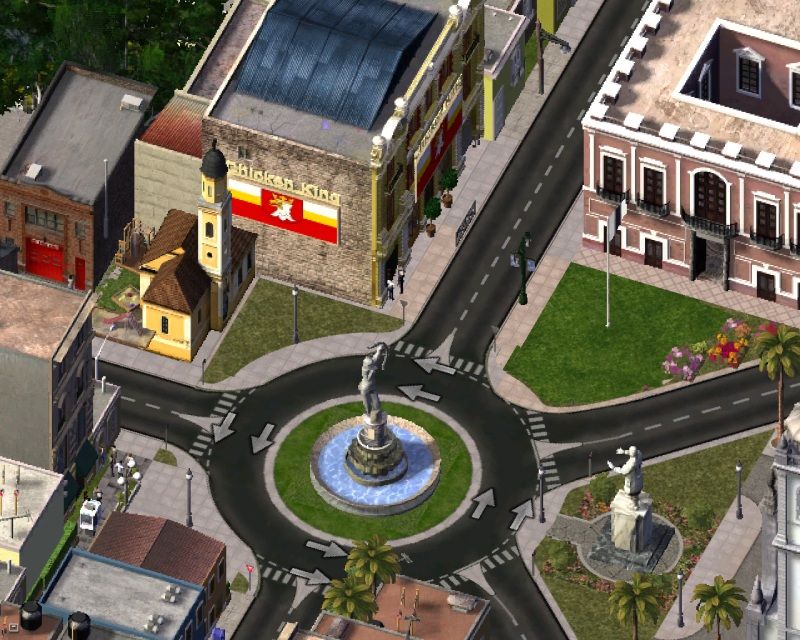 No crossroads! All roads meet here: Five Points.
Ever noticed how many towns have a place called that? I can think of a couple. Some of those Five Points are not in the happiest parts of town. But here, it is quite nice. I like the lovely fountain in the center. And of course the ubiquitous Chicken King is on the corner. Well, can you have corners on one of these? Let's be geometrically correct (GC) and call it in a vertex of the intersection. Good, now Mr. Smith my geometry teacher will not have to send me to detention. Anywho, notice a big difference from Wirdlington 1.0? If not, go back and look at the link above and see it. Go ahead… I'll wait.
[insert pause and http://www.youtube.com/watch?v=0Wi8Fv0AJA4…]
And, we're back. In our first of two chapters about the new town, we will explore some of the amenities of Wirdlington 2.0. Unlike many upgrades, this one did not cost anything. Well, it did, but the Regal government paid the entire cost. Princess Katherine funded the restoration out of her discretionary funds in the Wirdleonian budget. There's some nifty things in town, so pay attention!
Casa Dorado is a charming yellow apartment building in town. The nice thing is that the 'gold house' is a free residence for senior kitties. Any cat too old to pounce on stuff anymore can live here and receive top quality care and ultra-slow prey to chase.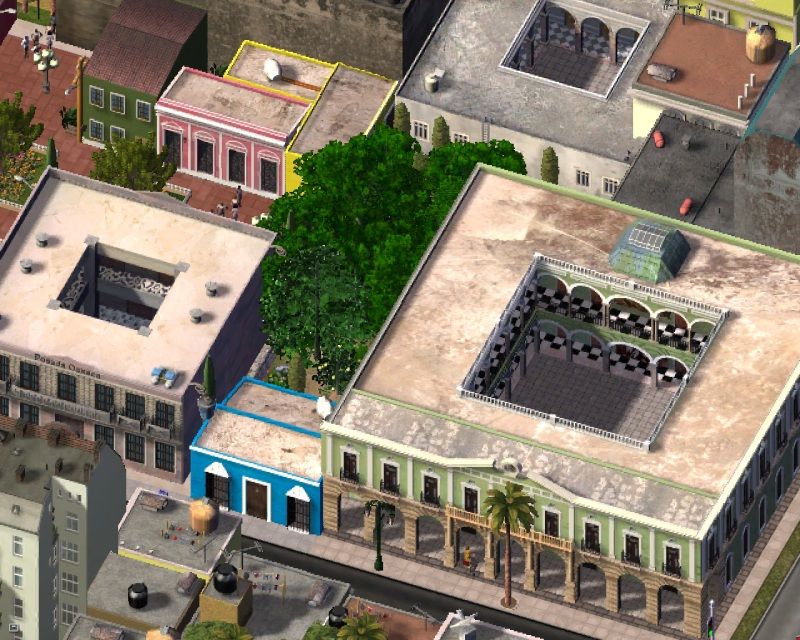 Schulmania's first music conservatory is house in this airy green building. The
Music Conservatory hosts frequent concerts in the courtyard. Seating is limited and tickets are highly coveted.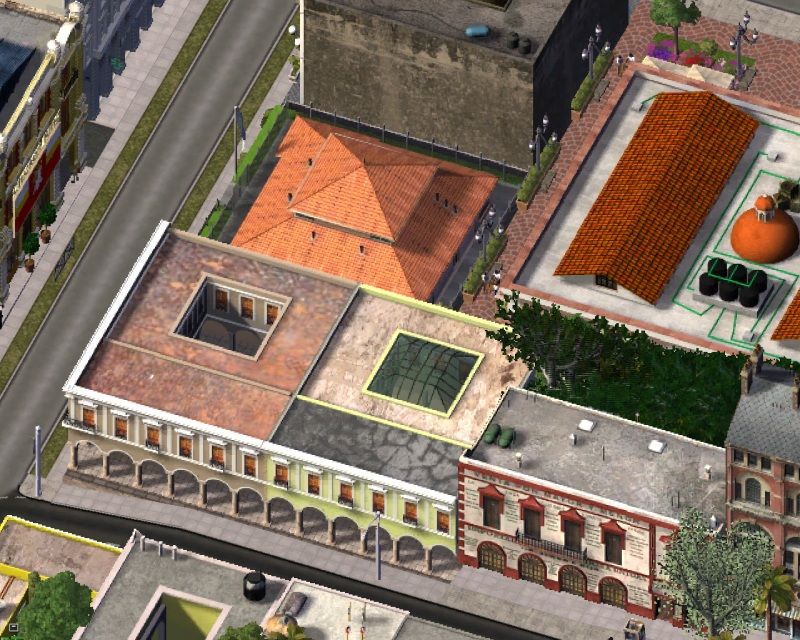 Behind the lengthy arcade along this street is the town's busiest marketplace, the Mercado de los Gatos Gordos. It sells more than its fair share of Friskies, Pounce, Fancy Feast and Meow Mix.
A new feature is the religious retreat, Mission Santo Domingo
Need to hang out your shingle? Set up shop? Why not try the new, prestigious office building on the corner? The Oficina Schulmanicana offers a great location, great lease rates and convenient access to Chicken King.
If you think you have seen all the new Wirdlington has to offer – think again, pal! You have seen half. More is yet to come in a future chapter.