#2 - Mas Panic!
Replies:
iuri99 -
Hahaha, you know, I've never thought of doing that...but I'm a bit protective, so there'd have to be a specific terrain and size and such. But if you want to know, some of those names (including Power City) actually come from other people's cities
. Thanks for the comment!
nico15821 -
Nice! The largest population I got in a single (large) city tile was probably 220,000 or so. Never got that close again!
AIX -
The wait is over
! Thanks for the comment!
Okay...so [that first entry] wasn't really random, I admit. This one will be. Not so much introduction, just three pictures:
1.)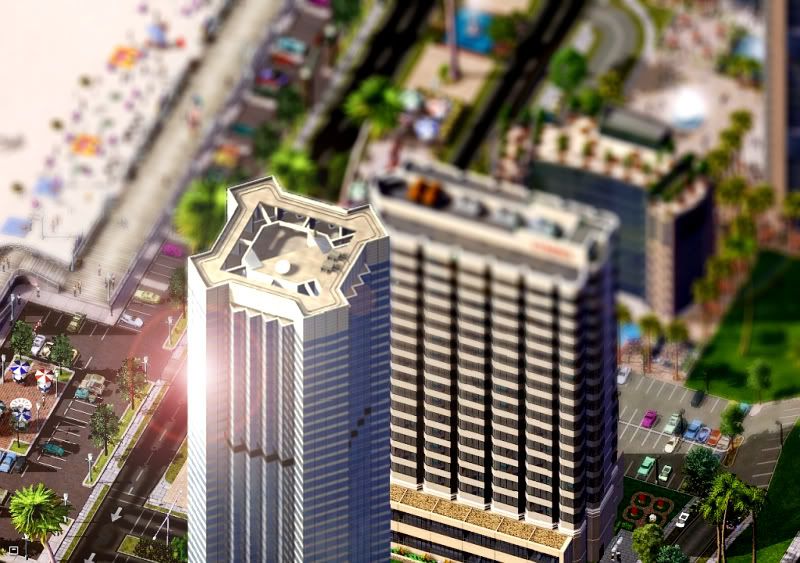 This picture is from [Condor Bay (Fordville)]...Condor Beach, to be exact. I was trying to combine three different effects in this picture: the fade-to-blur, keeping the Marriott hotel in focus), and the sun-glaring-off-building. I had tried the first two effects in different pictures before, but never together...and I'd never done the sun glare before this, so I wanted to try it out. The blurring effect came out all right, I think, and it makes the Marriott really stand out; the sun glare isn't all that cool simply because the picture wasn't taken at the right angle to be able to see the sun in the picture. Also, the parking lot in the back is kinda wonky there. Oh, well
...other than that, it ain't so bad a picture, methinks
.
I might add that the Marriott is one of my favorite B.A.T. buildings, not only because it looks awesome, but also because it's actually floating on top of a very small lot, which means I can put it on hills and such and it doesn't look to bad
.
2.)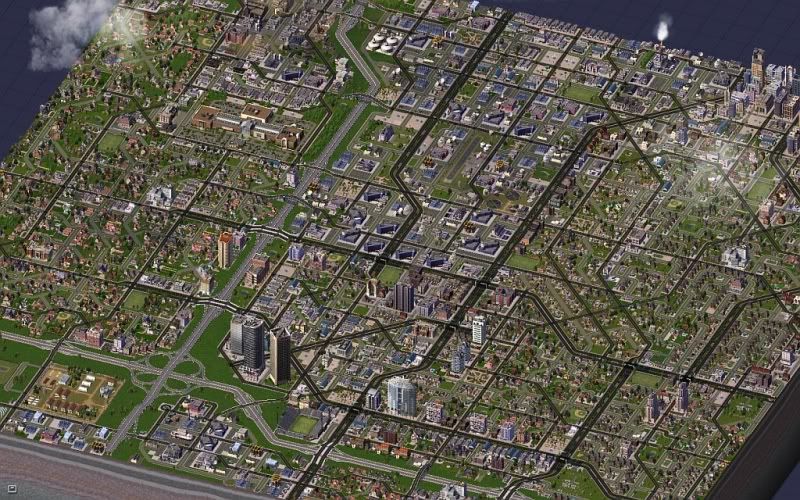 This is the suburb of Livingston, in the Oasis River Valley (Power City) region. Livingston represents my first attempt at creating a suburban-to rural tile (back in my early days of SC4 Deluxe)...and, well, you can see how well that turned out
. The problem was the north/south running freeway (and the fact that I didn't really know how to handle farms back then)--if I hadn't built that, I probably wouldn't've felt the need to build up around it
.
Don't know if you can tell from so far away, but there's a huge jump in time between the stuff on the right side of that freeway and the stuff I built on the left. The right side has all the streets close together because I was trying to emulate the suburban style that I had started out with in an adjacent tile, and I was still experimenting with diagonal streets, because those were fairly new back then (showing my ST age
). The left side of the freeway happened way later, and shows the more open-street design I adopted after playing for a while--the streets are farther apart, and there are open spaces in the middle of some the blocks of houses.
Also, the tall buildings near the interchange are plopped--tried to make a bit of an edge city there (again, because of the freeway). And don't get me started on that industrial area...
.
3.)
This is the central business district of Oasis Delta as seen at night. Now, Oasis Delta is a suburb of Power City, which actually makes this an edge-city, or a satellite business district, that falls very close to a major freeway interchange (if you live in Houston or Dallas, TX, you know exactly what I was going for here
), which explains why it's rather small in area. As it is, however, it's the largest concentration of commercial jobs in the entire region, and the only area in which I zoned high-density commerce in a region of 440,000 sims, which means that it grew up A LOT taller than it should've...in fact, to this day this is the tallest commercial district I have ever managed to grow in SimCity 4. Rest assured, you'll probably see A LOT of pictures from it in this CJ
.
As a side-note, somewhere in this picture is [P.D.A.'s Clark Tower], which was one of the very first skyscrapers I ever downloaded from the STEX, and remains one of my very favorite B.A.T.'s ever
.
...And that's that! Hope you enjoyed it...let me know what you think!
Random Fact-
I pronounce STEX as "East-ex," and the only reason I can think of for doing so is because of the Eastex freeway in Houston.