#3 - Mas Confusion!
Replies:
DCMetro34 -
Thanks! That picture was just an experiment in photoshopping; could've came out a bit better, but that's okay :-P. And yeah, I don't know why I started pronouncing it that way (especially since no one really calls that freeway in Houston "The Eastex," it's just "59" to the locals)...but there you go! Thanks for the comment! :-D
Jchan_777 -
Thank you! Hope you enjoy this update!
---
All right! Three more random pictures:
1.) (Looking south)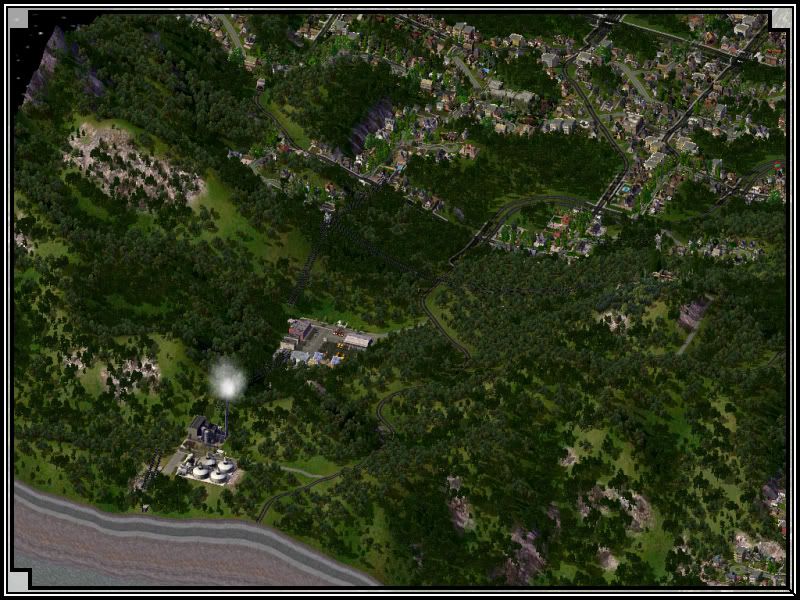 This city, located in the northwest corner of Condor Bay, was the last one I ever built on in the region...and in SimCity 4 in general, actually (except for the airport). It was a definite exercise in building on slopes (and I didn't have a slope mod, else it wouldn't've worked at all). It also turned into an exercise in using the wide-radius curves--in fact, of all the roads and avenues in the city tile, there is exactly one non-wide curve (maybe two, not sure). Definitely the first time I used them so much.
I love the way you can actually see the elevation change in the road winding through the mountains in this shot. But I don't like bland uniformity of the trees...something I hope to change in a new region, should I ever start one
.
2.) (Click through for 1440x900 pic)
My first city from Cities XL, called Buonocitta. I'm a big fan of the game and some the freedom it affords you as opposed to SimCity 4. I worked hard on Buonocitta for a good long time, but I can't seem to get it to transfer over to CXL '11, and it's kind of dampened my spirits with the game just because of how much I love the city (it won me my first Trixie
). Hopefully, though, I'll get back into it with a new city (Praeocia); in the meantime, I'll try and put up an overview of Buonocitta, which is where the vast majority of my CXL pictures will come from.
This picture was taken in the original CXL, before mods became popular (as you can tell by the default-textured streets), but it remains one of my favorites. I think someone actually used it as their desktop background.
3.)
I'm pretty sure I shouldn't like this picture as much as I do...but I do
! There's a lot of Maxis and old B.A.T.'s and such...but I think it's just the lines and the levels that draws me to it. And that Maxis El-Train really fits with the colors of it, which helps. I don't know...even years after I've taken, it still remains a personal favorite of mine.
---
BONUS!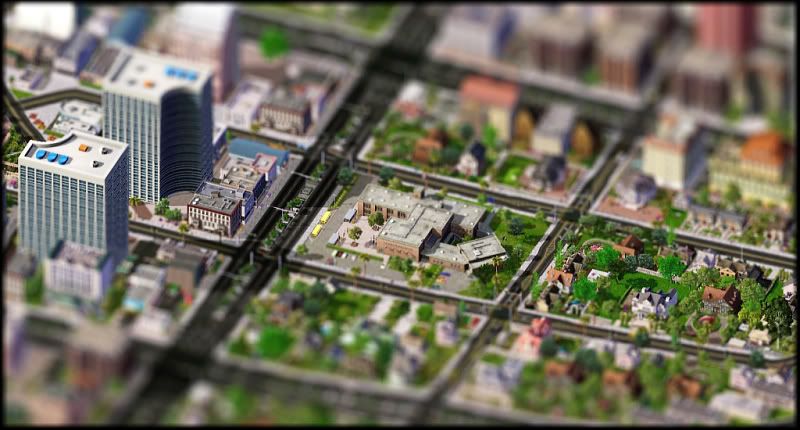 Tilt-Shift in SC4! I figured having it candy-colored would make the effect a little better
.
---
That's all for now. Leave a comment if you want, yeah?
Random Fact -
I spread the nickname Mas to give people an alternative to my full screen name "Masochist," which is a bit...shocking to some. I pronounce "Mas" like the Spanish word for "more"--'mahss'.