#1: Mas Pandamonium!
Right...as any of the 50 or so people in the entire SC4 Community who visited the SimCity Mild Enthusiasm forum may or may not remember, I had a journal wherein I did nothing but post 3 or so random pictures and talk about them. So yeah...that's what I'll do here. Any picture in my entire SC4/CXL back catalogue may or may not be posted here, just whatever I feel like posting.
Really, this journal is an attempt at easing myself back into the community from which I've been absent for so long (read up [here]).
All right, enough of this. Here we go...three random pictures:
1.) (Click through for larger picture)
This is my first region on SC4 Deluxe, Oasis River Valley, a.k.a. Power City (don't ask about the strange name). Power City is a city that I had great success with in SimCity 3000 Unlimited, so I decided to carry that city over to the SC4 platform...and, as it turns out, this remains my most populous region (441,724 residents). Let's see...if you take the big river (Oasis River) from the ocean, you cross quite a few bridges (and a city boundary line). The group of tall buildings on the southside of the river between the fourth and sixth bridges is the most dense commercial area I've ever built in SC4 (and you will see MANY pictures from it, trust me ;-)...). Running north from Oasis River is Emerald River, towards Emerald Lake. The area directly to the west of that river is the first area I ever built in SC4 Deluxe (lots of nostalgia for me looking at it again). Good times...
2.)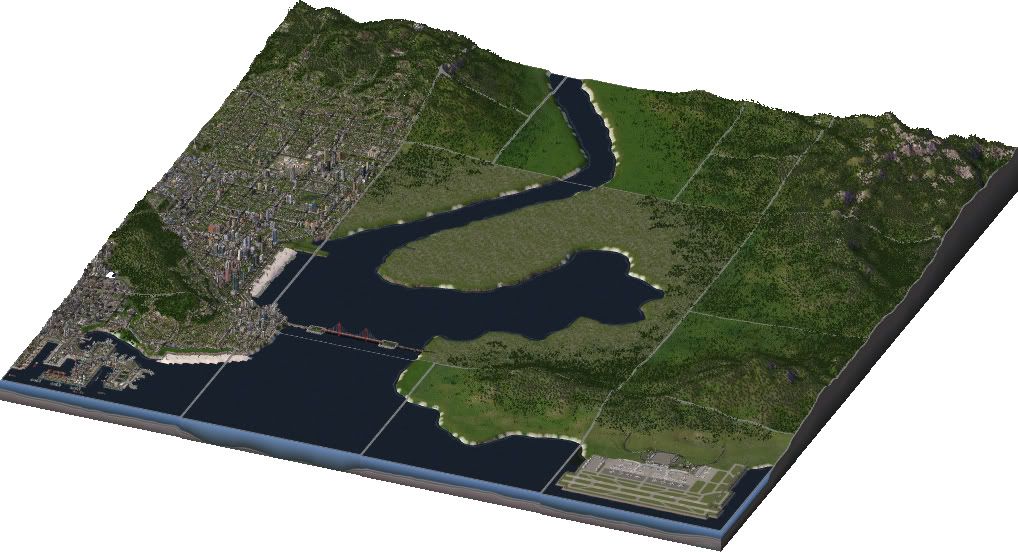 This is Condor Bay (a.k.a. Fordville). This was the subject of my first ever City Journal. This region only ever managed to make it up to 148,261 people, but I consider it to be my most successful region due to all the things I learned, all the new things I accomplished (note the custom airport and seaport), and how satisfied I was with it. You can see two beaches along the western coast: the southernmost one is Royal Beach, which I never did anything with; the other is Condor Beach, which I did more with than any other single area of that city other than perhaps the seaport. I was happy with how it turned out (and I have the pictures to prove it). The airport never actually made it into the city journal (which is locked now, I think, because someone posted in it over a year after I had abandoned it), but I think most people have seen pictures of it by now...and if not, you'll definitely see some in here
.
3.)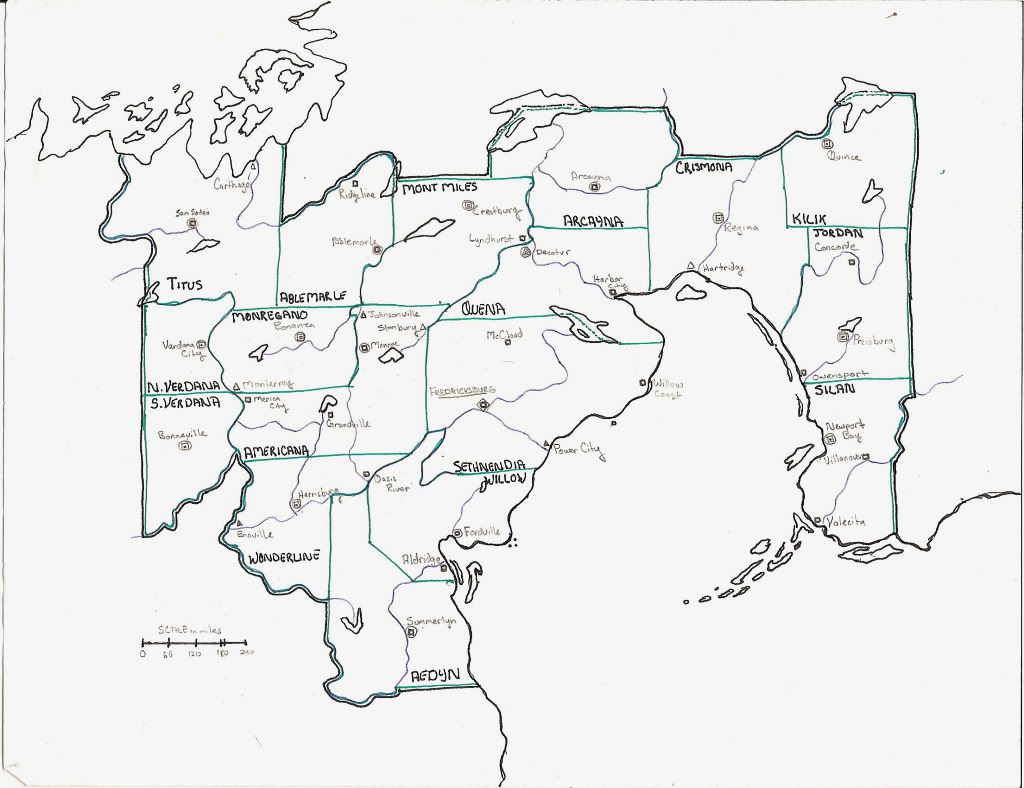 This is a map of the country I created that contains all the fictional cities I've ever worked on in SC4. You can see Fordville and Power City along the coast of Willow Bay (which oddly enough isn't named on this map, but it's the big body of water that splits the country), and you can also see other cities that you'll probably hear about from time to time: Fredricksburg (the capital of the country), Concorde (one of the first towns I worked on in the vanilla SC4), and Valecita, which is the name of the city that lies in Meredith Valley (my next region, three years overdue). The nation doesn't have an official name yet, but the working name for now is Aurella. I'm also working on getting a more official, computer-drawn map out.
Since it's without a legend, the basic rundown is that cities with a triangle have at least 1,000,000 people within the city limits, and dark squares with white squares in the middle have between 500,000 and 999,999 people. The only cities on here that have less than 500,000 are state capitals (circled); the national capital is encased in a diamond shape. Rivers are blue lines, state boundaries are green lines, coastlines and national borders are black lines.
So yeah...that's it for now. That's how it's gonna go. Hope you enjoy this a bit!