190 AD: Emperor Commodus dies without issue, triggering a succession crisis. Septimus Albinus, Commodus' nephew and governor of Benevia, amasses his legions to fight for the throne. Before he sails for the Continent, Albinus builds a defensive wall around Riddium and establishes a fort on the site of the old Celtic hill fort to defend his capital city. For a while, the building of the wall and the fort spurs economic activity in Riddium. However, it was not to last.
Riddium, 200 AD
205 AD: Albinus is defeated after a battle in southern Gaul against rival claimant Clodius Severus, who becomes emperor himself. Severus reasserts imperial authority over Benevia, and he decides to split the province into two and limit the number of legions posted here to reduce the power of individual governors.
Map of Benevia, 210 AD
Severus' decision has a negative impact on Riddium, even though it remains the provincial capital of Bevenia Superior. The reduced number of troops is concentrated on defending the north from the Scallis, and less money is spent on Riddium. The city enters a period of slow decline.
200 AD – 290 AD: The political and economic situation across the empire worsens. Barbarians are now pouring into the empire, while the internal political situation is as messy as ever. Inflation is also beginning to run rampant, damaging the empire's economy. In Riddium, a new threat arrives from the east: Wessan pirates are increasingly raiding the countryside around Riddium, and harassing the trade between Benevia and the continent.
290 AD – 300 AD: With the empire crumbling from the insides, it was a matter of time before a second rebellion occurred in Benevia. The two governors of Benevia agree to declare independence from Rome, but they squabble between themselves over who should become emperor, and the rebellion is put down. Emperor Diocletian divides the empire into four, and further divides Benevia further into four provinces. Diocletian also orders the decommissioning of Riddium's fort and demolishes the grandest public buildings.
Riddium, 300 AD
Map of Benevia, 300 AD
300 AD – 410 AD: With administration and trade now dispersed across the province, and as increasing attacks by the Wessans take their toll, Riddium shrinks to a small settlement clustered around the bridge. In 410 AD, the last of the Roman troops on Benevia are recalled to the Continent to fight the barbarians. With no effective government and unable to resist the strong and frequent Wessan invasions, residents of Riddium begin to move out en masse. Within a generation, the town is completely abandoned.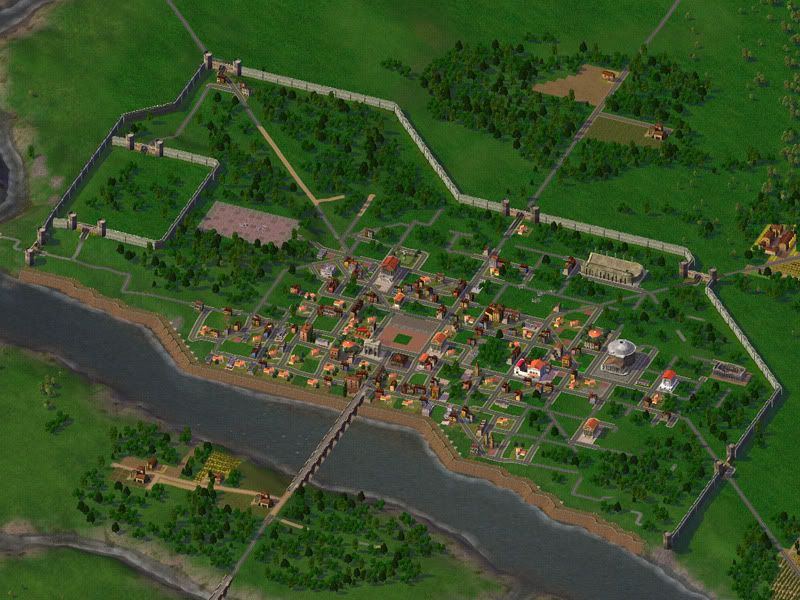 Riddium, 400 AD
Riddium, 450 AD
Acknowledgements
Walls: jbbry232, Serjean, roulback
Barracks: Adm Lee J.E. Braden
Ruins: mrbisonm, guinea, Habibi_Joe, delija21