The Big Eruption
Entry posted by davemap ·
119 Views
Its was a calm bright sunny day when...............
.
Volcanologist was caught off hand because their monitoring equipment on the island has malfunction after a typhoon passed by just several days ago.
Huge pile of lava was released from the crater...rushing out to the sea..causing an enormous steam that would cause poor visibility for the observers aboard a nearby ship...flights were restricted due to the volcanic ash.
It would take a number of days before they can see clearly what happen in the area.
45 DAYS passed before the lavaflow stopped and a 7.0 earthquake have occured causing more destruction as Tidal wave washed up the area
..steam has yet to desipate..just to be safe the Volcanologist requested assistance from the Airforce to do reconnaisance flights around the area and take recon photos just to have an idea whats the aftermath the volcano has done.
A single RF-8 Crusader was ordered to the photo flights
In a few minutes it has already taken raw photos of the after effects of the eruption
The weather was not friendly as a low pressure system near the area caused heavy rains.
Lt. Ortega did all his best to keep the camera rolling for a long period.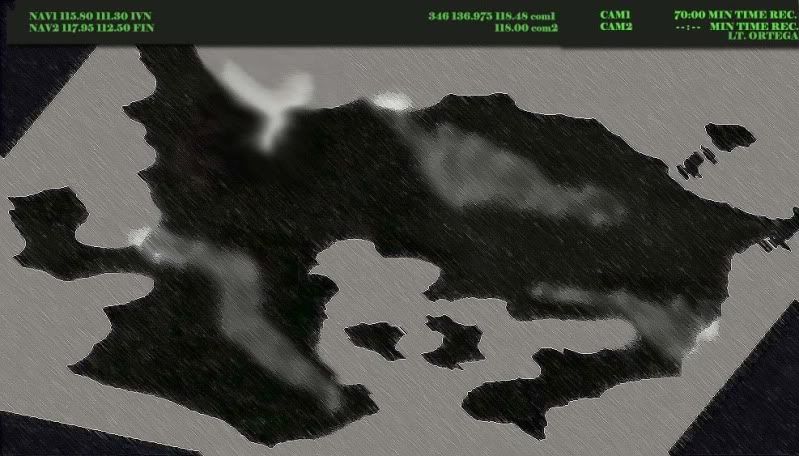 Upon return the Volcanologist in no time study the photos and videos handed by the Airforce.
Volcanologist concluded that the Volcano has stopped complete activities and the 7.0 earthquake might have sealed the crater well for good (as of now).
Amazingly the tidal wave has washed up most of the sulfur and pyroplastic deposit on the island.
Whats more amazing the island grew by as much as 1000 times in size..The Director of the Volcanologist has come up an idea...since the  Volcano is inactive and well be inactive for a long time..a study was started if the island can be suitable for habitation..the results was a BIG YES
...