More pictures of the public transit network
Entry posted by Frdm920 ·
141 Views
Firstly replies:
Vivapanda - apologies about taking to so long to respond, thankyou for your postive feedback and yes that is Amsterdam CS
Towerdude - I agree the city does need more buildings (it also needs more people given that the current population is 0) but these screenshots are from the development stage (the current stage) of the city
Tigeria - Yep the photos are more to focus on the Mass transit and glad you like it
DC - Thanks your positive feedback, glad to see you like the GLR. Hope you like these ones as well
Now a map!
Legend: 
Blue = CAOV's Eastern Tram Line running between University and the City Zoo
Red = CAOV's Southern Tram line servicing the southern suburbs of Centraal and connecting University and West Interchange (where you can transfer to the Green Line)
Green = CAOV's Western Suburbs Line, running between West Interchange and Karl Platz this line has some of the highest ridership levels in the CAOV network
Yellow = CAOV's ring-line, mainly operating as a subway network the yellow line runs between the 2nd and 3rd ring roads occasionaly surfacing.
Grey (Both shades) are NS's inter-district services (High-speed North to South and Normal rail West to East)
Dark Purple = Connexxion's GLR Line 1. Designed to fill in the gap between CAOV's Yellow and Blue lines the Connexxion Line 1 serves a large area (however riders are required to pay a surchage for travelling on a private service)
The Turquoise (I think that's the colour) = Connexxion's GLR Line 2 Servicing the outer Western Suburbs and linking with the Connexxion Line 1 this line is perfect for those who live in the newer part of Centraal (again a surchage applies)
A Connexxion station located on Line 1, as mentioned in the previous entry Connexxion converted many of the original NS train stations to GLR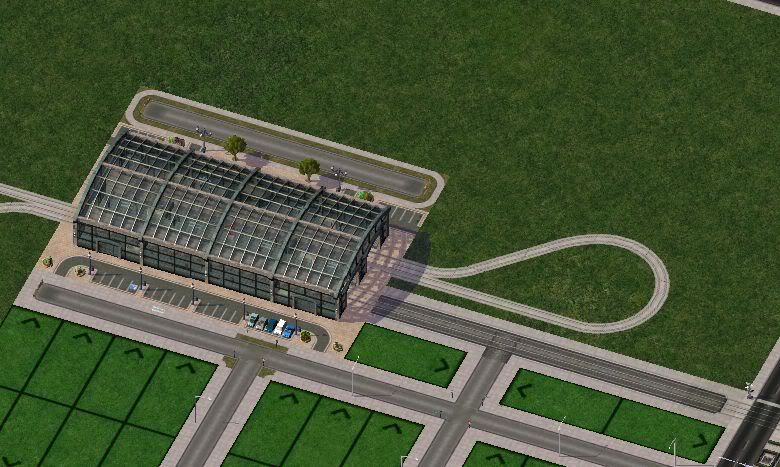 Ring 5 interchange station between the two Connexxion Lines.
The ring 3 interchange station between CAOV's Yellow and Red lines along with a Yellow line station, as you can see both lines sink underground after the interchange in an effort to save space (and to help pass under the canal network)
Lastly a look at Centraal station again, the elevated road is one of Centraal's dedicated busways that run the whole length of the city