Introduction to Henenval
Entry posted by Frdm920 ·
118 Views

Welcome to Henenval!
Henenval is a semi-autonomous city-state located on the coast of the Oegensfeld Sea. Its offical name is "The Kingdom of Henenval" and its motto is "For the People, of the People"
Founded in the year 2020 on the new continent, Henenval started out as a small community of Dutch settlers before expanding to it's current size and being granted autononony in 2040. It is now the largest city in the Dutch colonies with roughly one-and-a-half million people living in it's Central district with another one million in the outer-suburbs. As a consequence of this commercial and industrial business boomed and the Kingdom is a major hub for all sorts.
Henenval is divided into 16 districts as shown below
: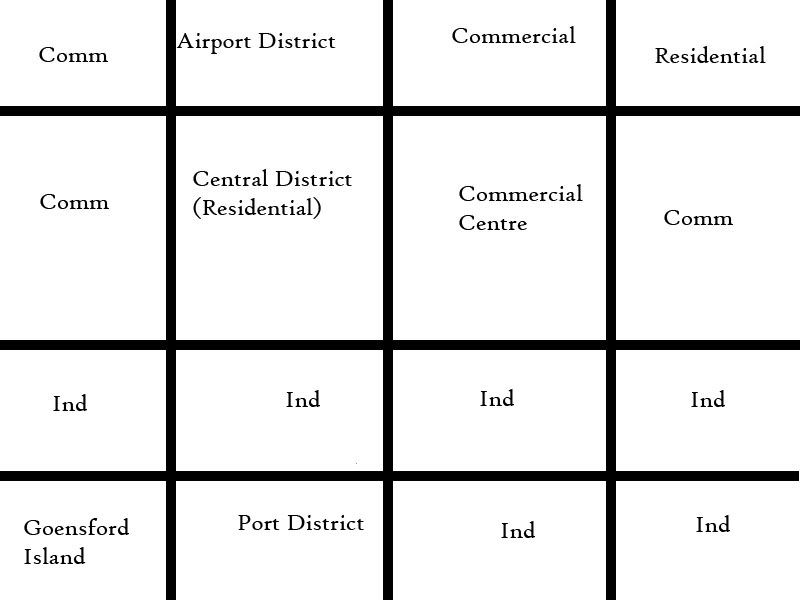 Ind = Industrial
Comm = Commercial
Goensford Island is a mixture of an Industrial and Residential area (the Residential zones are on the island, Industrial on the mainland)
Well that's the basics of Henenval, further entries will focus on each of the districts (starting with the Central District)
Notes:
The Following Mods/Addons will be used extensively in this region:
NAM - Network Addon Mod
NVM - Network Widening Mod
RHW - Real Highway Mod
HSRP - High Speed Rail Project
BSC Canals - Self explainatory
BSC Parks - Self explainatory
BSC Raised Parks - Self explainatory
Radical Ordinance Mod - Increased demands, removes pollution, decreased crime, increases health and education. This is NOT a natural growth region!
PEG CDK - Custom Seaports and Harbour fronts.
Simolean Mod - Not sure which one but increases starting simoleans.